On my way to try the business classes of all 5 star airlines I was specifically looking forward to this one: ANA's Business Class is known as one of the best in the world, and combines exceptional modern service with traditional Japenese influences.
During my last trip to Japan I was finally able to try the All Nippon Airways Boeing 787 Business Class. In the following review I'll try to give you a complete idea of the hard- and soft product, and if it's worth the (often) hefty price.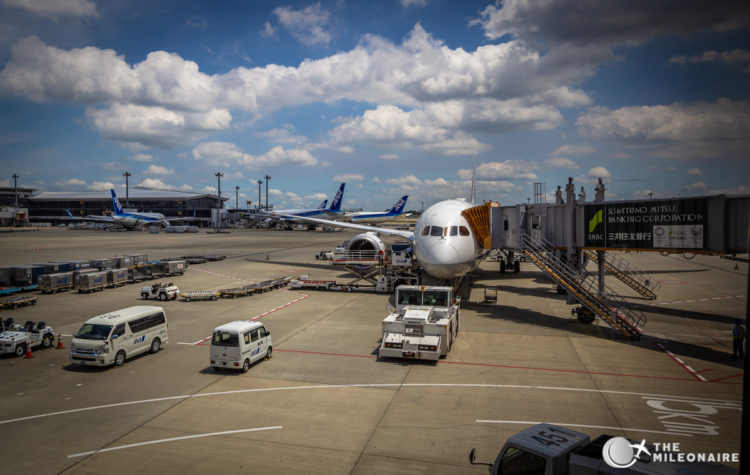 ANA Business Class: The Cabin
All Nippon Airways offers a 1-2-1 configuration in its business class cabin, and it's built in a 'staggered' layout. This creates additional foot space without wasting the all-so-expensive space on the plane. While the two middle seats are perfect for couples, the single seats at the windows are ideal for single travelers. I reserved seat 4K for my trip, one of the 'real' window seats: due to the staggered configuration, some window seats are closer to the aisle.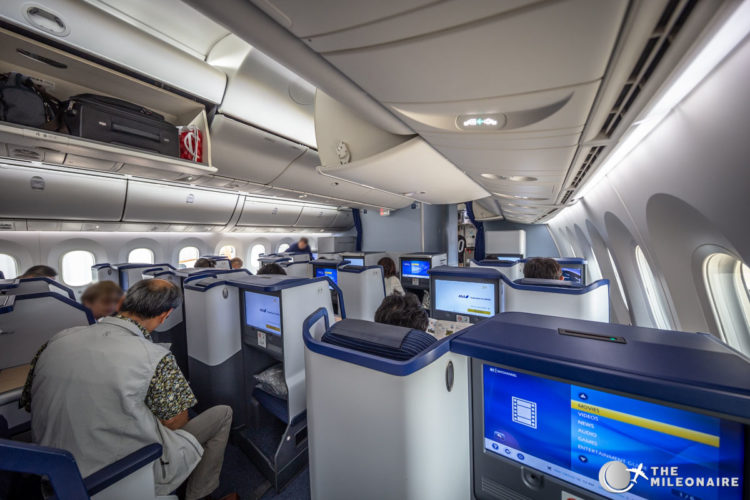 One of the benefits of this configuration is that every seat has aisle access. The middle seats aren't too close as well, so it doesn't feel awkward when a stranger sits next to you.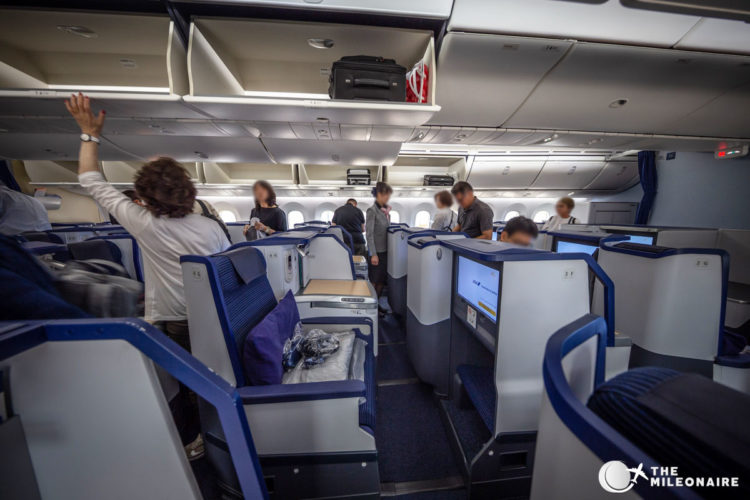 ANA used bright grey colors throughout the whole business class cabin, as well as blue highlights and seat cushions. This makes the cabin feel bright and modern, but also a bit sterile. But hey – it's better than having too much 'bling' and 'gold' like some other carriers do.
All Nippon Airways Business Class: The Seat
As I mentioned above, I reserved window seat 4K for my flight. This seat offers the maximum amount of privacy, as the side table acts like some sort of divider from the aisle.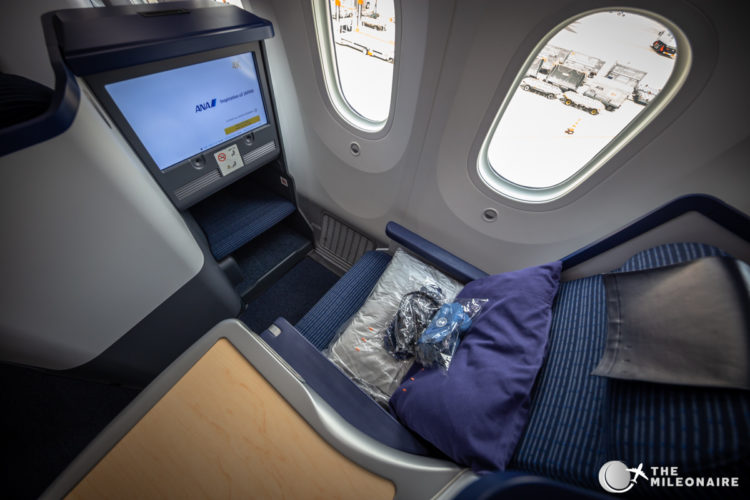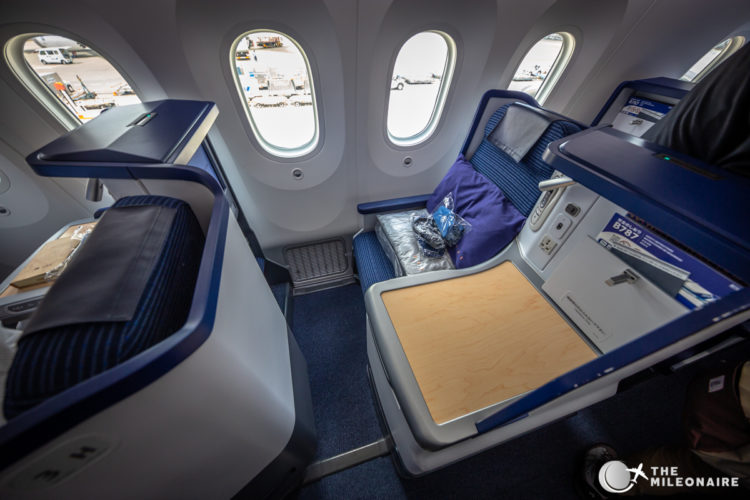 There's an ottoman in each seat's foot space to put your feet up during the whole flight. Your personal screen is right above it, but it's only average-sized.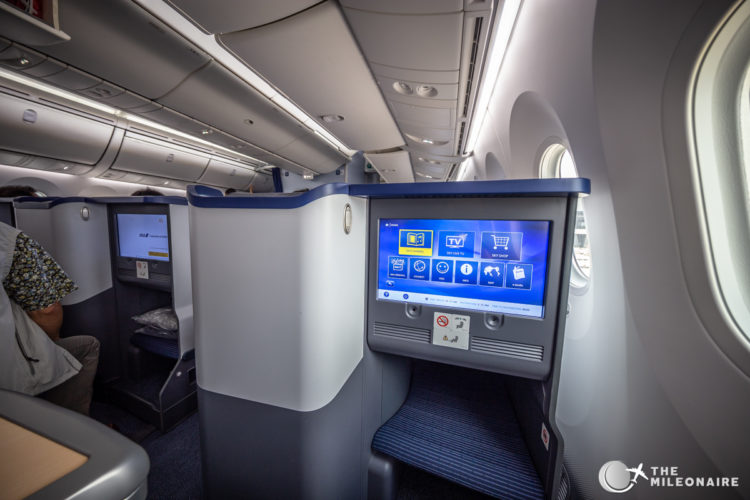 ANA's business class seat is completely lie flat, so you can convert it to a full bed. The controls to do so are right next to you: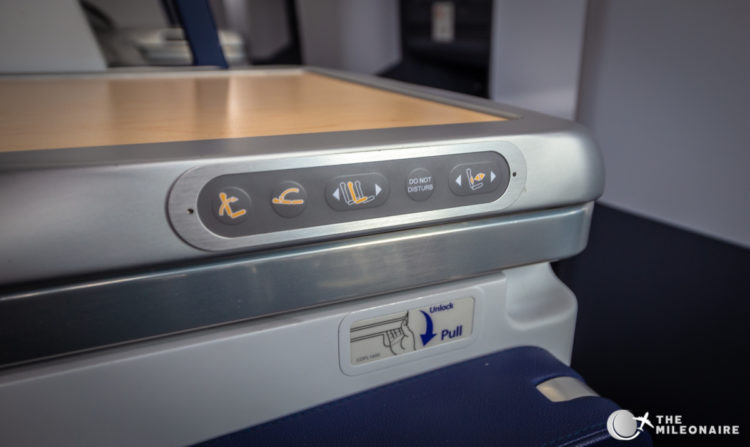 On that side are other quite useful things: a small handheld to control the inflight entertainment system, multiple outlets to charge your devices and a reading light. ANA's IFE was a bit disappointing though, with only a limited amount of movies and TV series.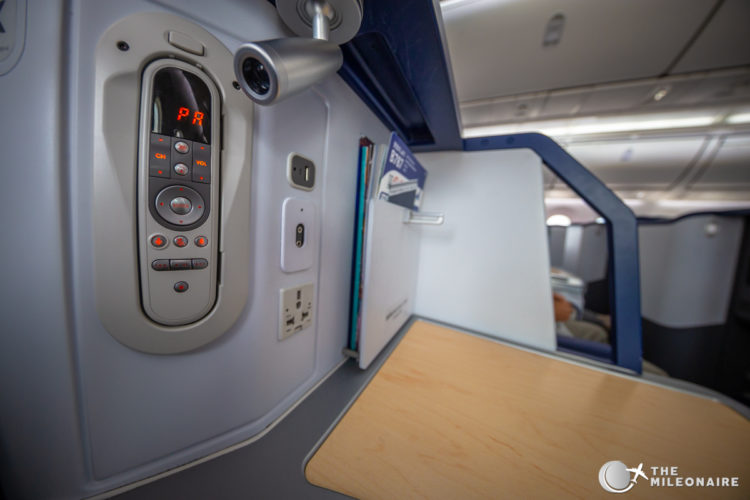 When boarding there are multiple things waiting for you at your seat: there is a pillow, a soft blanket and a bed cover.
There are also slippers for the cabin…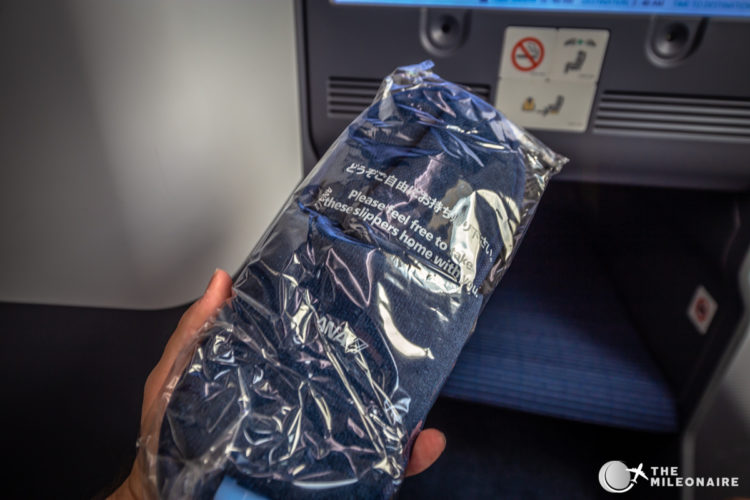 …good headphones…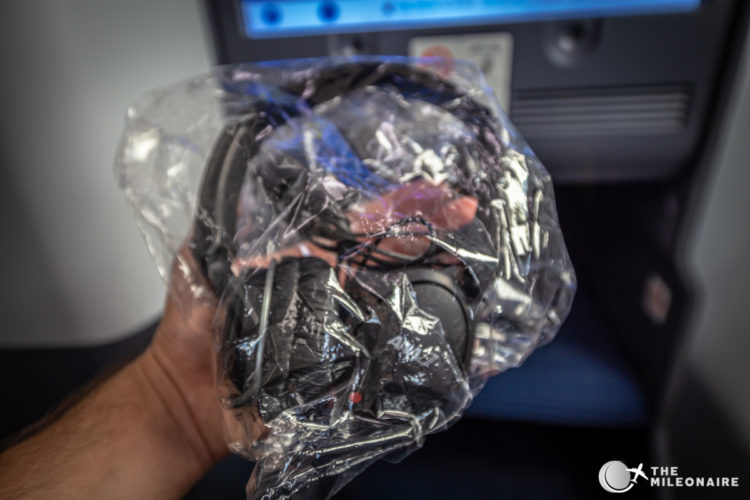 …and the amenity kit.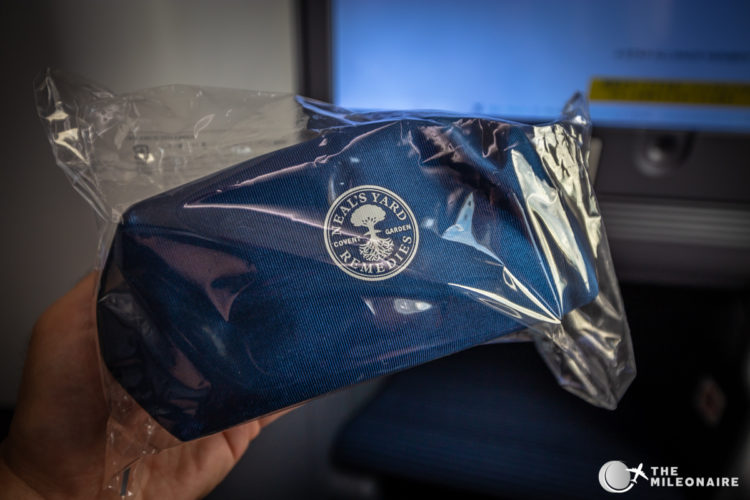 Overall I really liked ANA's business class seat: the level of privacy is good, the cushioning comfortable and the bed large enough for average travelers. The only downsides were that the cabin started to show some wear and tear, and there could be another blind at the side to add even more privacy.
ANA Business Class: The Service
The true highlight of ANA's business class is the service though. Here's where All Nippon Airways truly showed why they rank among the best in the industry. The start was disappointing though: the round of pre-departure champagne on the ground was served in a plastic cup instead of a real glass.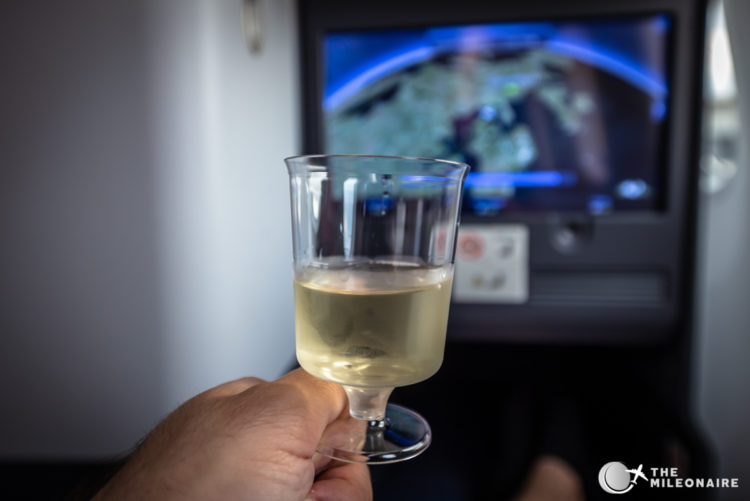 ANA serves Castelnau Cuveei Brut Reserve as their business class champagne. It's not the most expensive champagne, but I enjoyed it. It was served alongside a first round of hot towels, presented on a small plate (better than just getting a hot towel in your hand).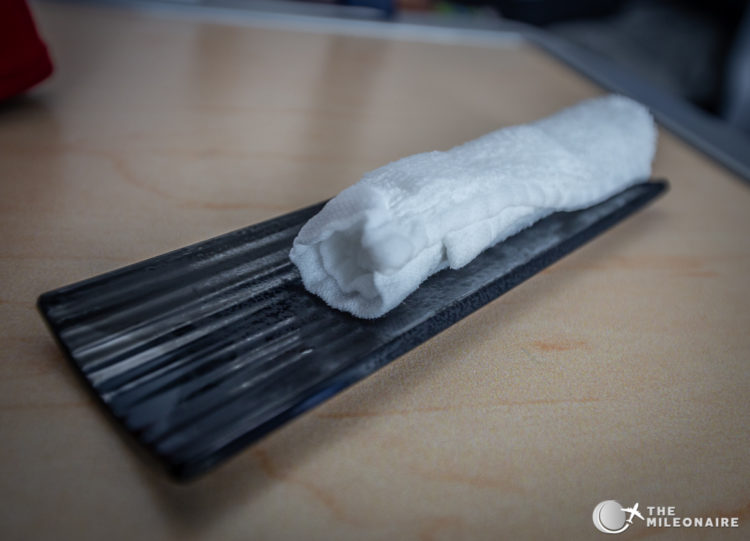 Afterwards I studied the menu for today's flight. You can choose between a Japanese and a Western menu with different options each, quite promising: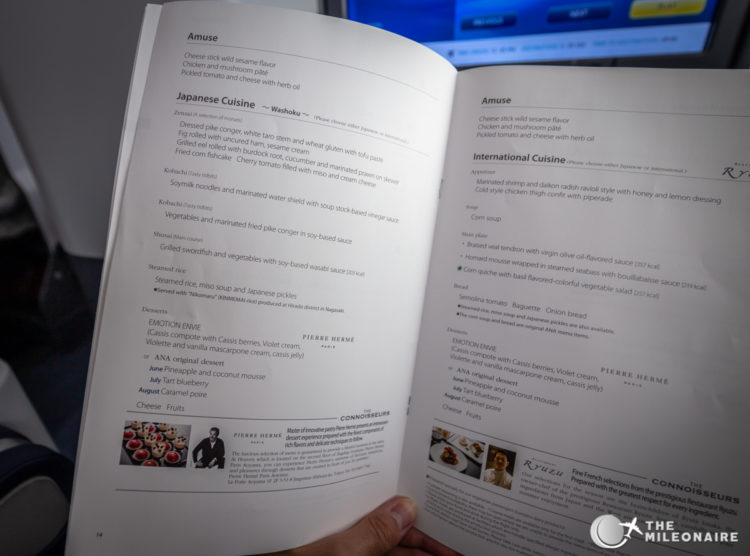 The bar menu was impressive as well with many Sakes, Sojus, Cocktails and non-alcoholic drinks. Another nice detail: all three major Japanese beer brands (Asahi, Sapporo, Kirin) were available.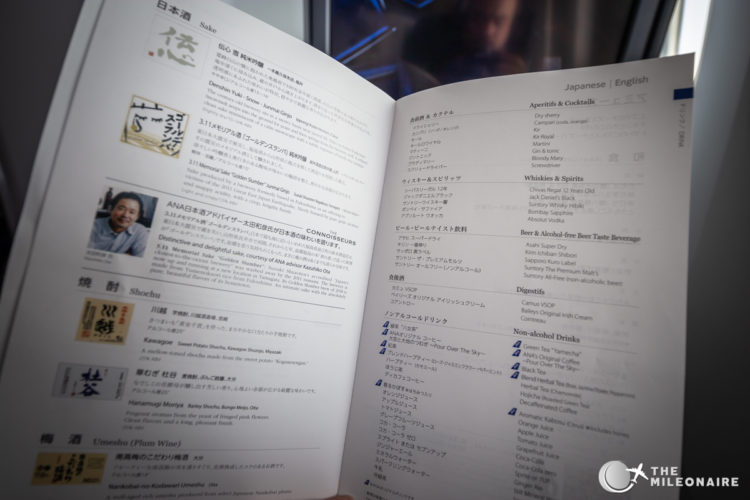 The (spoiler alert!) excellent lunch service started with another champagne, this time in a real glass: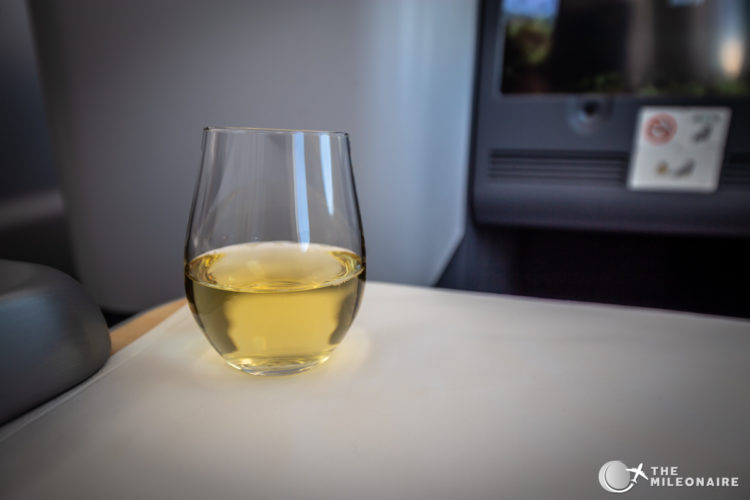 As a firstamuse gueule came a nice trio consisting of a cheese/sesame stick, a chicken/mushroom tarte and some tomato/feta: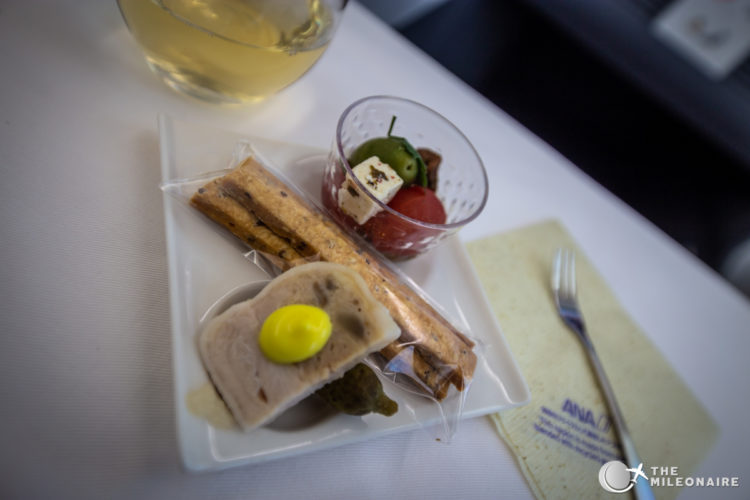 I chose the Japanese menu for this flight, and it started with Zensai as the appetizer: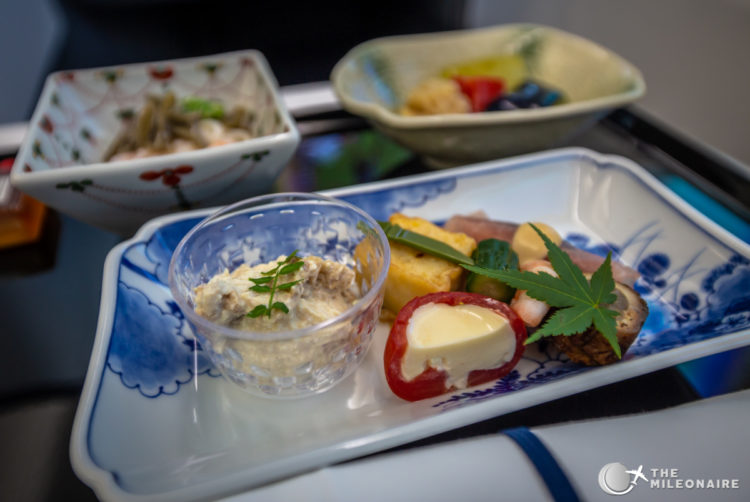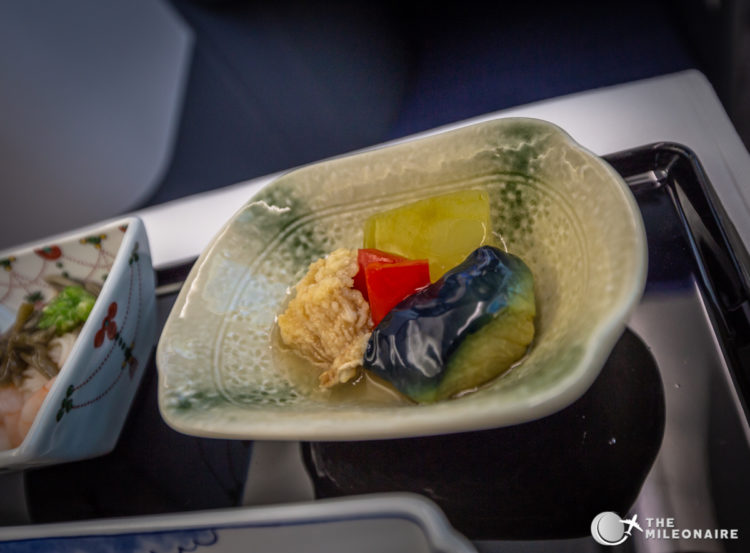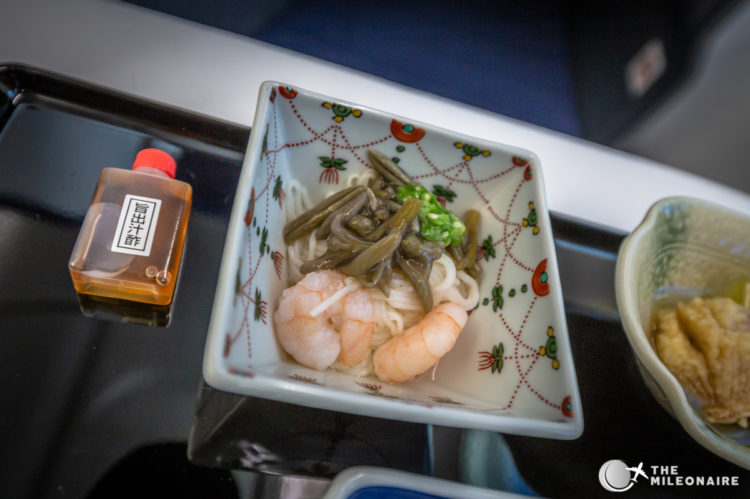 As you can imagine from the photos, the appetizer was wonderful. Each dish had an interesting unique taste, and the presentation in traditional porcelain was top notch as well. I was then served the grilled swordfish with miso soup and rice as my main: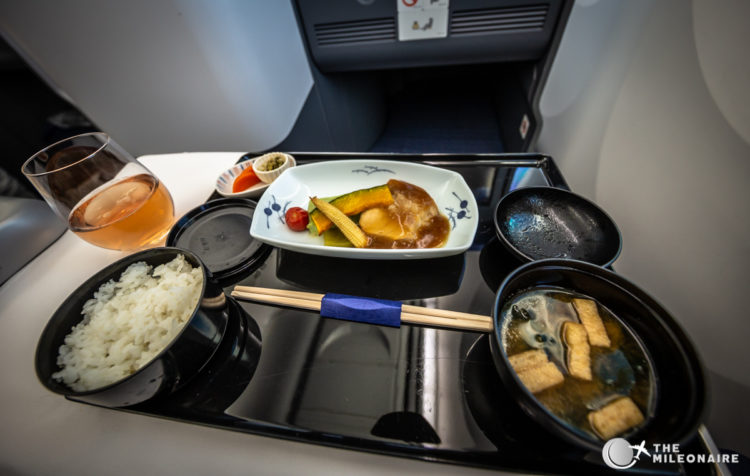 To top it all off, I chose the 'Emotion Envie' dessert, created in collaboration with Pierre Hermé: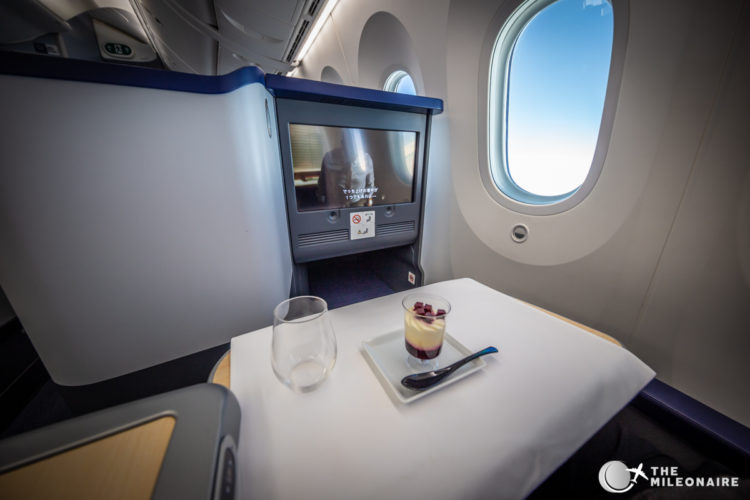 Good, even though it was served in a plastic cup (again?).
After lunch I converted my seat to a bed, put the cover on it and slept for some good hours.
I woke up over Helsinki and felt hungry again. ANA's business class menu offers an interesting variety of warm snacks, and I couldn't resist ordering an Okonomiyaki. Of course they can't pull off the true Okonomiyaki experience with a real grill, but given the limited tools available on a plane it was really good!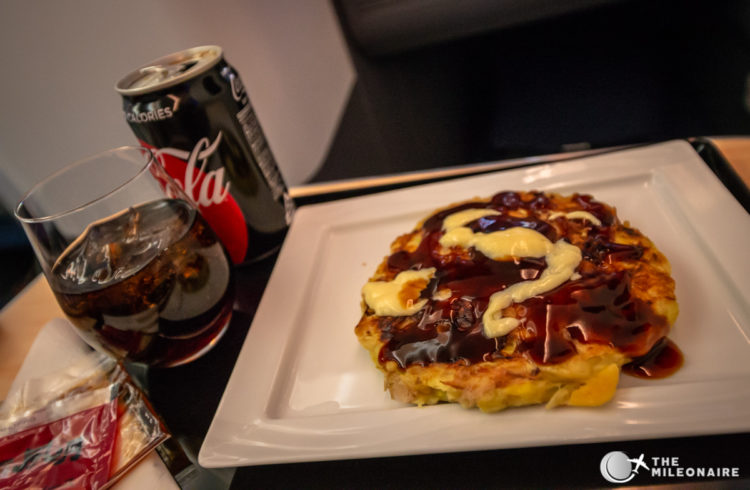 I also wanted to try the Ramen soup. While it was good, it was quite different from the Ramen restaurants in Kyoto.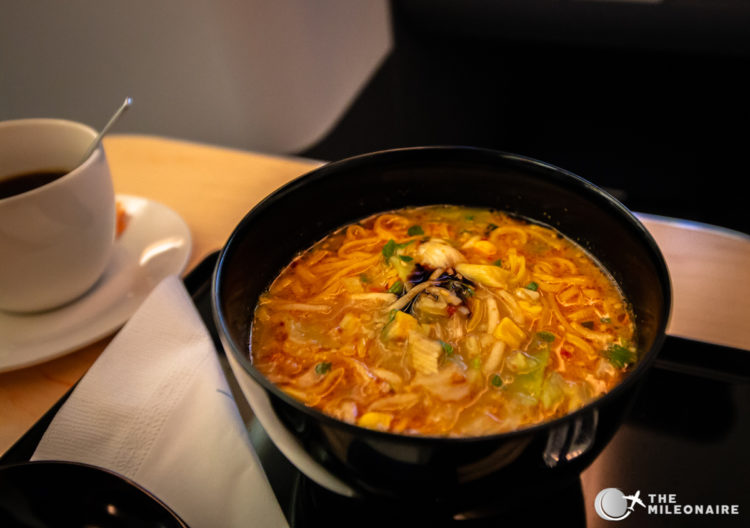 With a full stomach and a smile on my face we landed in Düsseldorf, after a wonderful flight with ANA's Business Class!
Conclusion: All Nippon Airways Business Class
ANA's Business Class is truly one of the most exceptional travel experiences on the market right now: just the food service alone made this flight something very special, and the hard product and service are definitely worth the 5 stars. All Nippon Airways' Business Class is pricy, but a wonderful product I can highly recommend.