If you ever needed to book a flight from the always-so-trendy (haha) German capital Berlin, you'll know the aviation hell called Airport Berlin Tegel already: crowded terminals, architecture from the 70s, no public transport besides buses and incompetent service staff.
But: there is one way to escape that hell: the Air France Lounge at Berlin-Tegel offers at least a small retreat from Tegel's chaos. As I've been living in Berlin for the last three years, I wanted to share what the Air France Lounge in Berlin looks like.
Air France Lounge Berlin-Tegel: Location
If you know the way to Starbucks, you know the way to the Air France Lounge in Berlin: near Gate A15 you'll find a spiral staircase (and an elevator) that leads to the lounges of British Airways and Air France above. Sadly, there are only very few signs that lead you to the lounges (similar to most things in Tegel).
Air France Lounge Berlin-Tegel: Access
The following passengers can use the Air France Lounge Berlin (if you have a flight departing on the same day obviously):
SkyTeam Elite Plus guests, that travel out of Berlin with Air France, KLM or Alitalia (as these are the only Skyteam airline in Berlin)
Business- or First Class passengers flying with a Skyteam airline
Until September 2017, also Air Berlin passengers were allowed to use the Air France Lounge in Tegel (despite being in a different alliance); sadly with Air Berlin going bankrupt, you will not have access as a Air Berlin frequent traveller.
Air France Lounge Berlin-Tegel: Review
Once you escaped the 'Tegel Hell', a lounge employee will welcome you at a counter inside the lounge. Sometimes they are motivated, sometimes you just feel that they hate their jobs (which happens quite often in Berlin).
The first thing you'll realize after entering the lounge: Air France's Lounge in Berlin is not that big. It's more or less just one room, with the typical 'Tegel Windows' at two sides. Positive things first: these large windows create a very bright and warm atmosphere in the lounge, much better than the darkrooms people nowadays call airport lounges. Plus, all the aviation enthusiasts out there will get a good view on at least some planes to 'spot' underneath the lounge windows. The negative part though: whenever direct sunlight hits the windows, the seats below get super hot and you'd want to move somewhere else immediately. There are some window blinds, but no one actually adjusts these or seems to care.
There are 2-3 wooden room dividers in the Air France Lounge Berlin, that at least give a basic feeling of having separate areas. There's a good amount of red or grey leather chair with small tables nearby that are actually pretty comfortable. Behind that you'll find an area with proper tables and chairs if you want to sit down for some food or work.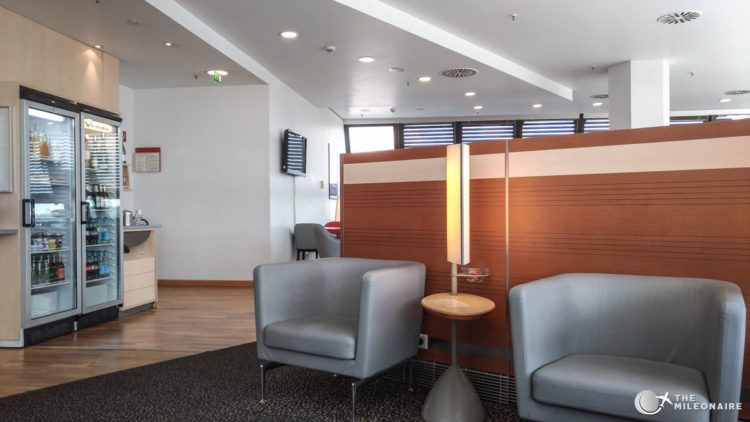 On the left side of the photo above you can spot the two fridges with all sorts of beers (Heineken and local brews), as well as a solid choice of soft drinks and different wines. There are also some snacks (sandwiches, cheese,…) and always some sort of Prosecco in a cooler nearby. I normally just grab an ice-cold Heineken at the start (highly recommended):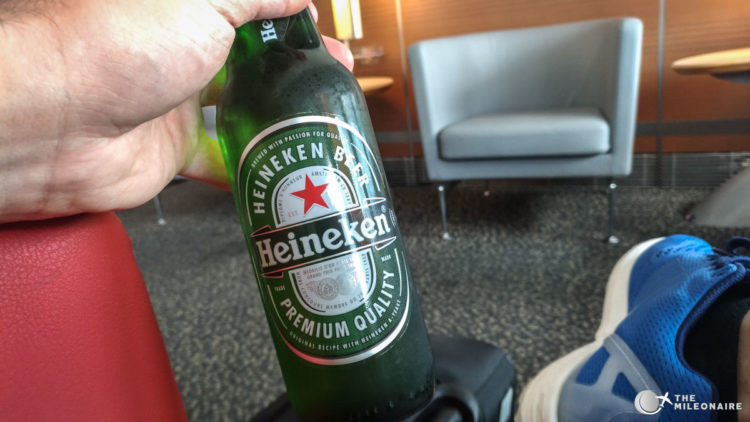 Again on the left you'll find the food area of the lounge, which is (surprise!) pretty small as well; so when you're hungry, Burger King downstairs might be a better choice. There's a coffee machine (pretty good) and a couple of smaller snacks (cake, brownies, fruit, chips). A little further back (behind the newspaper shelf) is another area with additional food. There you'll find the typical German lounge food choices: sausages, potato salad, bread, ketchup – and some fruit bowls and cup noodles on top of that.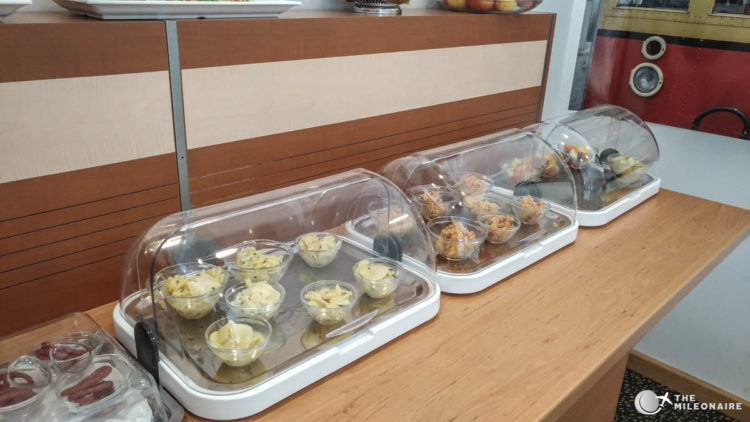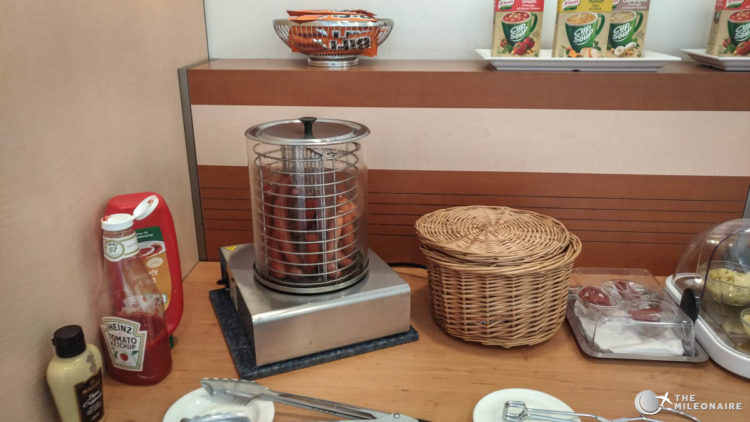 I'd love to write more about the features of the Air France Lounge in Tegel but quite honestly – there's actually not much more. There are no lounge toilets or washrooms, and it also lacks other amenities or services (besides the pretty good WiFi).
Conclusion: Air France Lounge Berlin Airport
If you're expecting new benchmarks for global lounge luxury in Berlin-Tegel of all things, you will be disappointed. But (despite all jokes above) the Air France Lounge in Berlin at least offers all the basics you would expect in a lounge: quietness, WiFi, snacks and some drinks. And this is exactly why (despite all its limitations) I am happy that this lounge exists: because you can escape the aviation hell of Berlin Tegel and at least relax a bit while waiting for your flight.