When you're one of the persons that frequently browse Instagram or travel blogs, you might've heard of Bagan before: that incredible place where the sun rises above endless pagodas, with a fleet of hot air balloons making the sight even more stunning. The normal reaction is: 'I need to get there as well'!
But: how do you get to Bagan? Myanmar sadly is not as developed as other countries in Southeast Asia, and travelling around is harder than e.g. in Thailand. I finally visited Bagan last year and want to show you how you can also get to Bagan! And – in the end, it's way easier than you might expect 🙂
Getting to Bagan: Your Options
Taking the Train to Bagan:
There are trains from Yangon or Mandalay to Bagan with some of them going at night. While the luxury sleeper train from Yangon might be more comfortable, the rest of the trains are…let's say…very basic. The trains are often super crowded with no privacy, and trains (and their tracks) are pretty old. The ride is long and bumpy, so this is definitely only a good choice for people that want to explore this once.
Taking the Bus to Bagan:
Taking the bus also takes looong: while the five-hour bus ride from Mandalay is somehow acceptable, the ride from Yangon takes half a day. And: the wird music in some of the busses doesn't really make it better. At least the ride only costs a few dollars, but that doesn't make it more bearable.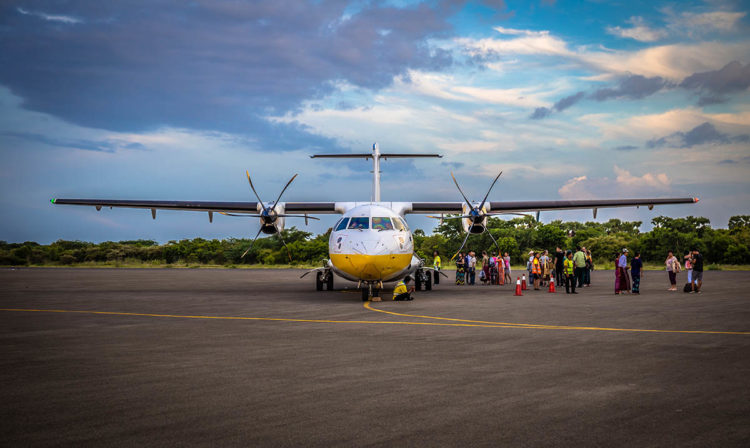 The best Option: Flying to Bagan
Not only because I love flying but also because of the level of comfort of air travel in Myanmar, flying is definitely the best way to get to Bagan. There are even some good connecting flights from Europe or the US to Myanmar, e.g. when travelling with Qatar Airways via Doha or Thai Airways via Bangkok to Yangon. You can also just use Bangkok as your homebase and take a flight with e.g. Bangkok Airways to Yangon or Mandalay.
Bagan itself can't be reached by plane from other countries directly, but you'll have to do a stopover in Mandalay or Yangon. That's why you will need to book a local flight from one of the two major cities (Airport-Codes MDL or RGN) to Bagan.
The Airport in Bagan:
If you want to get to Bagan, you'll have to fly to Nyaung-U Airport with its short code NYU. The airport is just 15 minutes away from Bagan by car, and there are multiple daily flights from Mandalay and Yangon with various airlines. Don't expect too much infrastructure there though, as Nyaung-U Airport only consists of a small terminal building and not much else. So – please remember to get some Kyat (local currency) in Mandalay or Yangon already.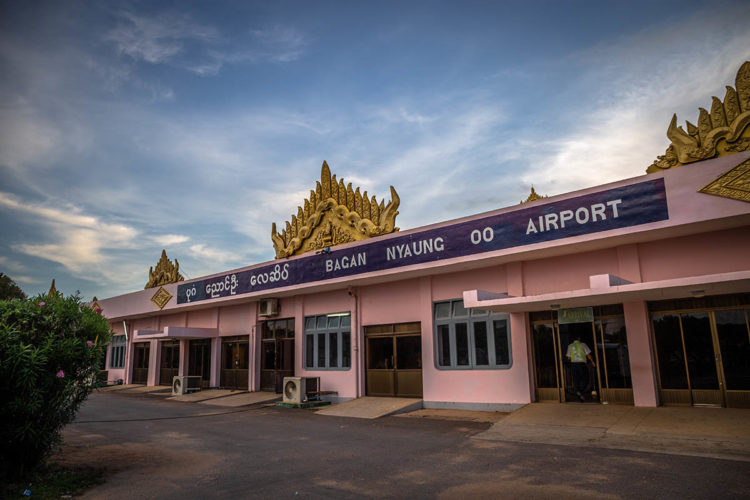 Which Airlines in Myanmar are safe?
Choosing the right airline to travel in Myanmar has historically been difficult, as the safety hasn't been on a 'Western' level with old planes and questionable maintenance. The good news though is that the satefy standards improved a lot in the recent years, and all seven national airlines are solid choices with mostly all of them using the same plane type (ATR). In the end, you might not even fly with the airline you booked anyway: when I booked two flights with Mann Yadanarpon Airlines, none of them was actually flown by them – but rather with Myanmar National Airlines and Air KBZ. The good thing is though: nowadays flights with these airlines can be booked via the normal online booking portals like Orbitz or Expedia, and you will get an eTicket right after.
Compared to a few years ago it is super easy to get to Bagan by plane, so I hope you'll also manage to get there one day and enjoy its beauty!