2018 slowly comes to an end, and as always it's time for me to look back at my flight year 2018!
Yes – I'm one of the nerds that enter their flights into a database every time, so I can do some (very basic) 'Big Data' as well! This not only allows me to look back at every single year of flying, but also provides a great overview of all kilometers flown, the amount of segments and my preferred airlines or plane types. I use OpenFlights for this, a wonderful OpenSource project with all the options I need. And even in case you'd want to change to another platform, it provides all the common export options (CSV, GCMap, etc…).
Enough talking, here's my flight year 2018 visualized: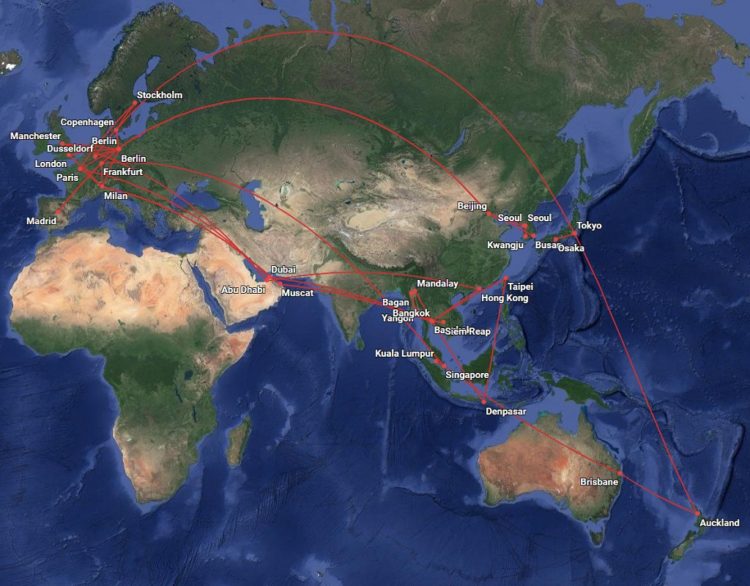 In total I had:
46 Segments
123.078 Kilometers flown
34 Airports
22 Countries
26 Airlines
The flights in Europe were mostly due to my job, just like that one flight via Beijing to South Korea and back. The rest of my flights were part of three longer trips to Asia: once to Bangkok, Hong Kong and Cambodia, once via Singapore, Brisbane and Auckland to Japan, and once via Bangkok and Taipei to Myanmar and Bali.
Some of my highlights in 2018:
My whole 'flight career' since 1994 looks like this now:
293 Segments
More than 900.000 kilometers flown
70 Airlines
Here's to an even more exciting 2019!