Oman Air's Business Class is known as an insider tip among frequent flyers for a while now: their old Business Class was often called a 'First Class among Business Classes' due to the comfortable 1-2-1 seating in lie-flat, which was better than many First Classes at that time. Towards the end the product showed its age though, and other airlines came up with better business class products.
For quite a while now Oman Air has been replacing their old business class with a new one: the new Apex Suites in a 2-2-2 configuration are highly praised among my colleagues, and should feel close to current First Classes again. In September I was finally able to test the new Oman Air Business Class on a total of four flights, and take a ton of photos for you. Is all that high praise justified? Let's find out!
Oman Air Business Class: The Cabin
After nearly the whole Oman Air fleet has been converted to the new business class, you won't find the green-brown plastic world in there any more. After boarding (strictly by classes) you're welcomed by a warm, bright cabin with beautiful grey colours. There are some colorful accents though, like the seat cushioning or the arm rests. The turquoise colours from the previous business class only remains on the cabin divider curtains (guess they just didn't exchange these).
Oman Air only has two different widebody aircraft models in the fleet (Airbus A330 and Boeing 787), and both plane types offer the same cabin. Here's the business class cabin in the A330: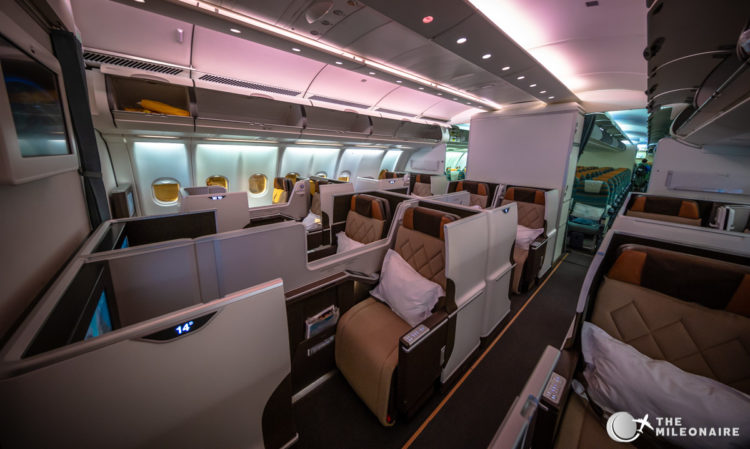 Here is the business class cabin in the Boeing 787 Dreamliner for comparison: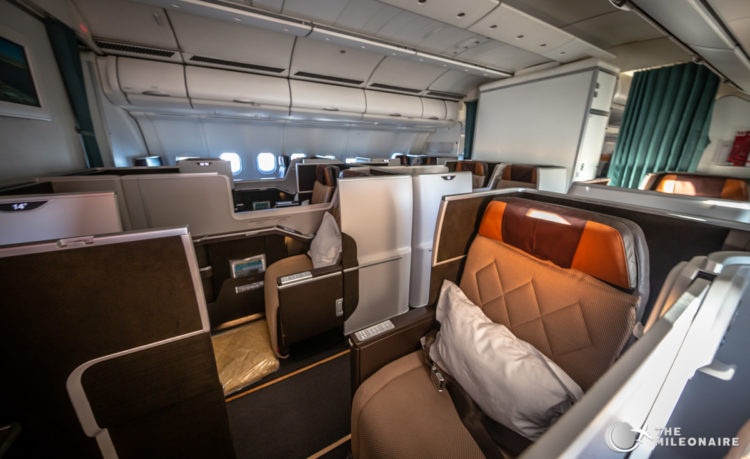 The difference is mostly just the amount of seating rows per cabin as there are multiple different configurations. My favorite was the mini cabin in the Dreamliner behind the main business cabin, as there was only a single row of seats. If you like a quieter and more intimate atmosphere, book this one whenever possible.
The APEX Suites are installed in a 2-2-2 configuration, so that you'll always sit in pairs of two: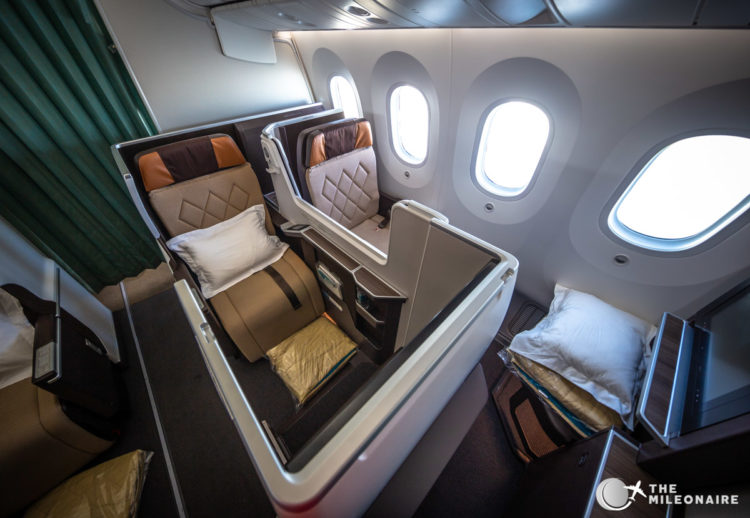 They still deserve being called 'suites' though, as the dividers between the seat pairs add an awesome amount of privacy. The whole suite feels like your own compartment, especially when you have a window seat. Additionally, every seat has direct aisle access – so you won't have to climb over other passengers' legs as in 'normal' 2-2-2 configurations. Here you can see the divider between two seats when it's lowered: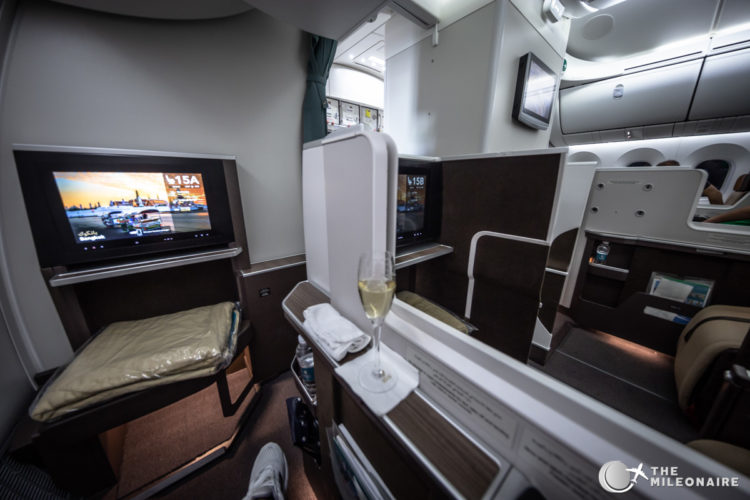 Oman Air Business Class: The Seat
Oman Air's Business Class Seat is more than spacious: every suite feels super long due to the individual aisle access, so you'll get plenty of space when sleeping. Of course the Oman Air business seat is fully lie-flat, so you can actually get a proper rest during your flight.
One more added bonus of the window seats: due to the aisle access setup, these are longer than regular seats. If you're into even more space, these are the ones to get.
Storage space at your seat is rather limited, but still okay. On the right side are multiple little compartments to store smaller items, and the shoes can just be put under the ottoman. One small design flaw: the space on the side where they put your champagne is a bit too narrow, so your glass might fall down at some point. Coincidentally, a flight attendant broke a glass on my return flight.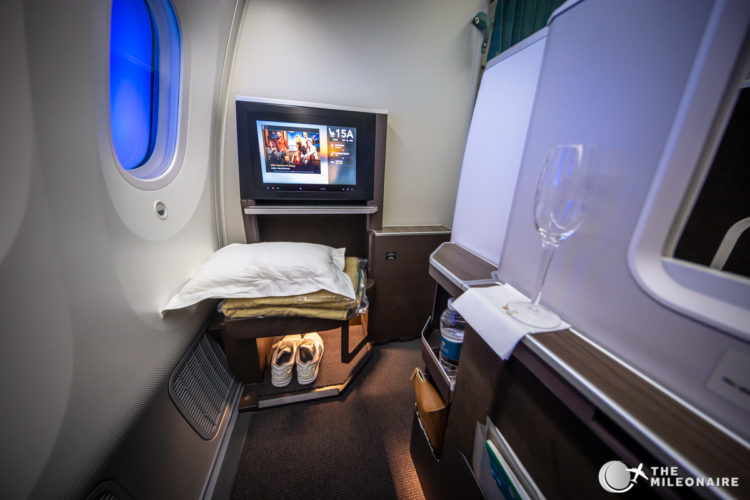 On the right side of your seat is the control panel for the Inflight Entertainment System. You navigate through the menu via touchscreen, and I kinda liked the usability. One minor design flaw though: the touchscreen is stored right where your elbow normally is, so you sometimes accidentally change the program.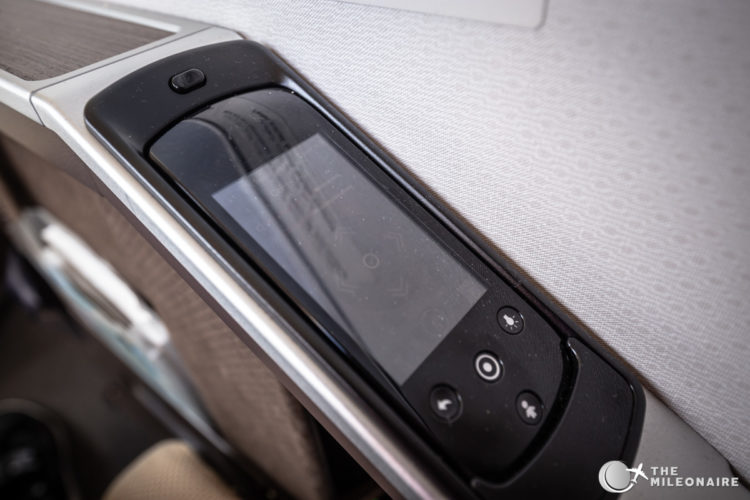 On the other side are the seat controls: besides the four presets you can adjust every part of your seat individually. There's also a massage function, but I found it a bit too weak.
I tested the Inflight Entertainment System as well and would call it average. Despite the good menu the screen is too small (as it's far away) and the selection of movies and TV series is mediocre.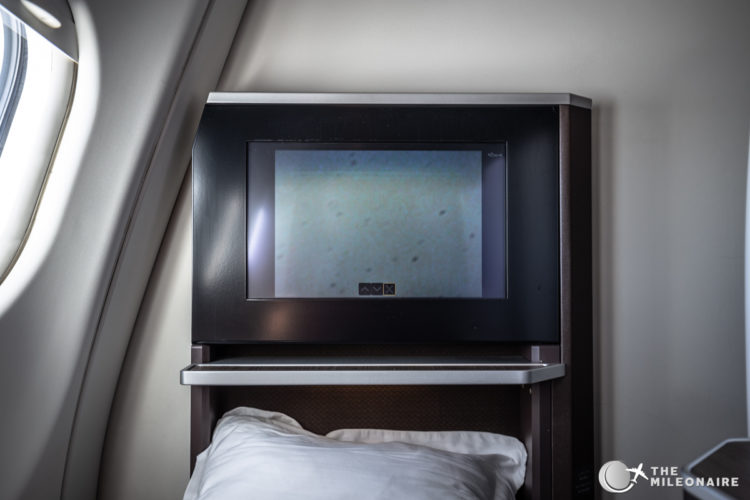 These drawbacks I mentioned are all minor though and shouldn't distract any of my readers from the fact that the Oman Air Business Class seat is one of the best in the industry, providing excellent levels of privacy and personal space.
Oman Air Business Class: The Service
After the seat and cabin of Oman Air's Business Class already impressed me, the service was the real highlight of the Oman Air Business Class. Once you've boarded the service begins with a hot towel (on a small plate), a bottle of water and a first round of drinks. I went for the champagne on almost all flights: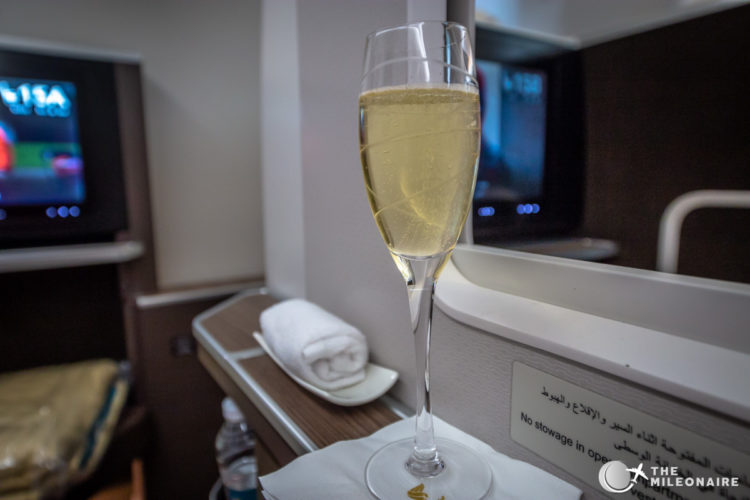 Oman Air serves the excellent Laurent Perrier Champagne in Business Class. Another small detail (yeah, I'm a sucker for small details): the champagne flutes onboard Oman Air are among the most beautiful I've ever seen on a plane, with nicely carved lines that (at least to me) looked like flight routes.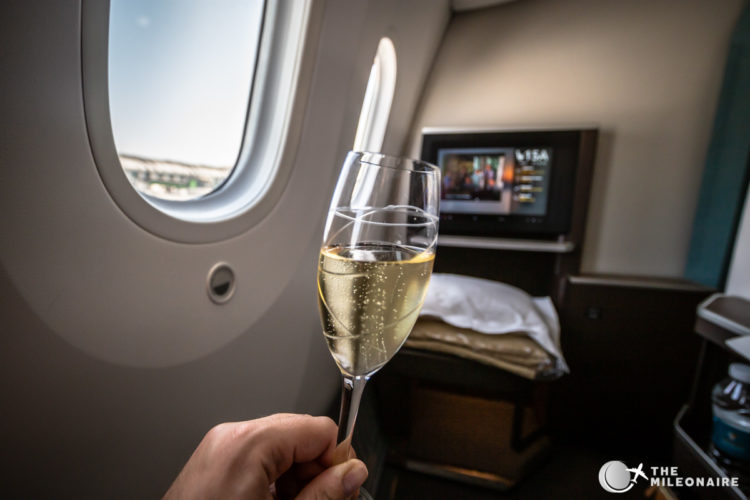 You'll also find a blanket and a pillow at your seat, and during night flights you'll get pyjamas and slippers for the cabin. Sadly there's not a lot of storage space at your seat, but there's normally plenty of space in the overhead bins. The flight attendants hand out solid headphones before takeoff:
My biggest surprise was the catering onboard Oman Air's Business Class though: while I've regularly flown with Emirates and Etihad and considered their service to be good, Oman Air just outperformed both of them by a huge margin. I had four flights with Oman Air in total, and the following photos should give you a good idea about the quality of the onboard food.
Before service begins, flight attendants hand out dinner and drink menus in beautiful leather covers: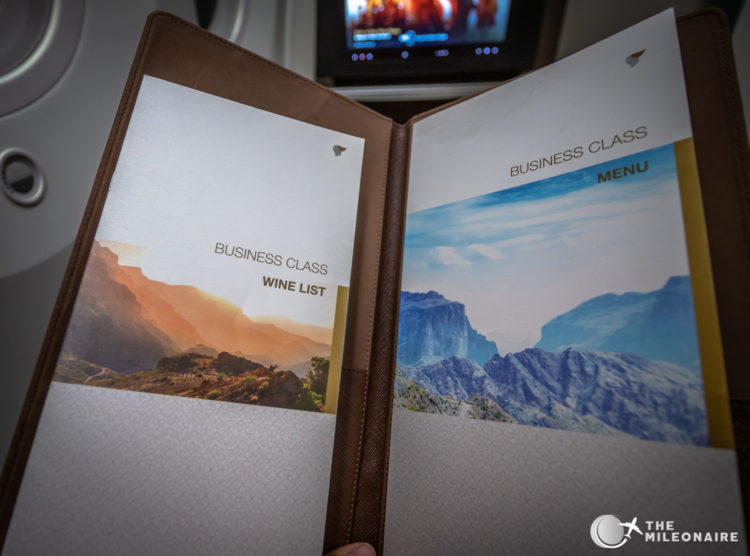 Although all of my flights took around 6 hours, there were always two food services on each flight with multiple options for each of them. Oman Air's dinner and lunch services involve mostly four or five different courses each, plus an amuse-bouche to kick it all off: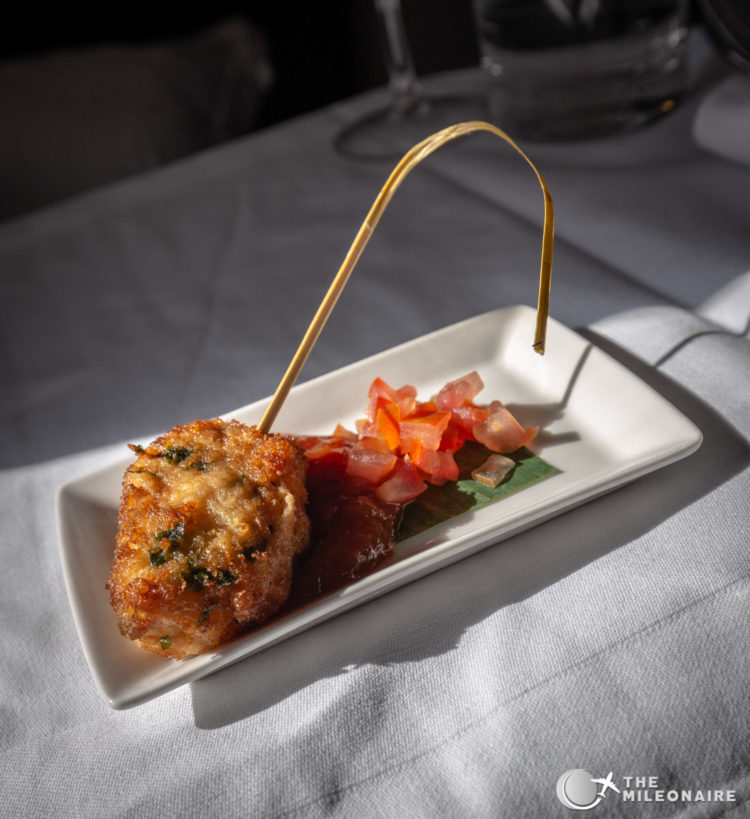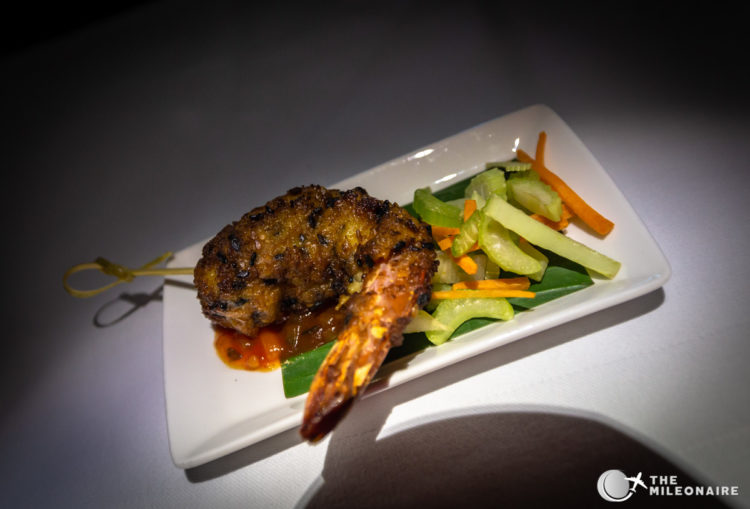 Quality of each of these was excellent, and I appreciated the fact that there was a different amuse on each flight (and not just 'same old, same old'). After the amuse you could choose between different appetizers, each of them served on a glass plate. Oman Air seems to have a weakness for these rectangular glass plates, as they were used during each course. The appetizers were all excellent though, each of them arranged individually by the cabin staff. In general: the flight attendants in Oman Air's Business Class have a ton of manual work to do, as most dishes are rather complex to arrange and cook. Here's a selection of appetizers I had on my flights: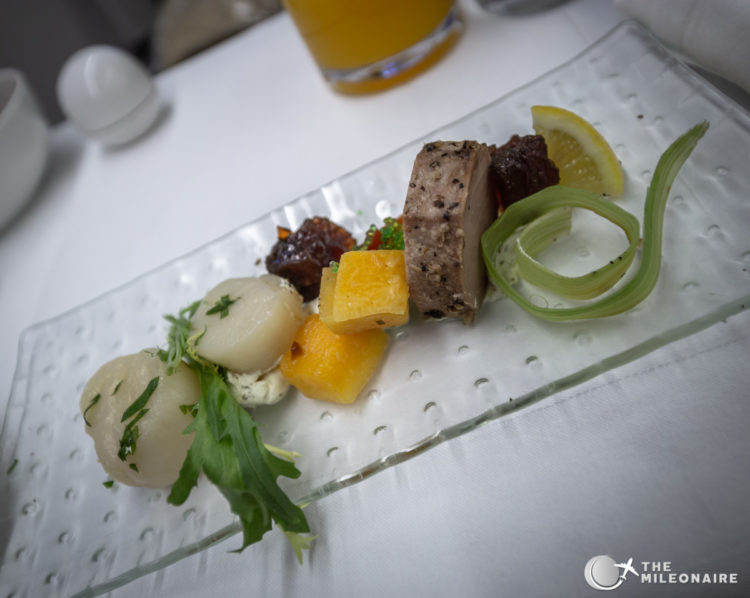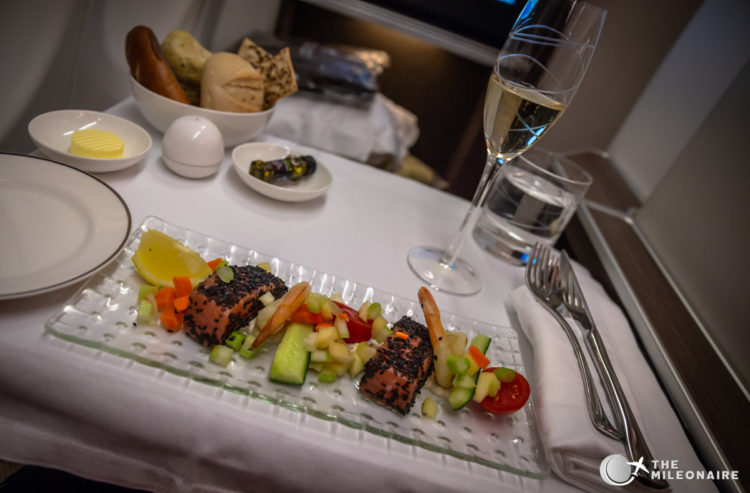 The salmon and scallops were incredible, maybe only a little bit too cold. Additionally you always got a little bread basket with a small selection of bread and pastries. The food service was also pretty fast, which is even more impressive given the complexity of some of the dishes. Afterwards came the main dishes, which were super interesting as well. Here's a selection of the ones I had: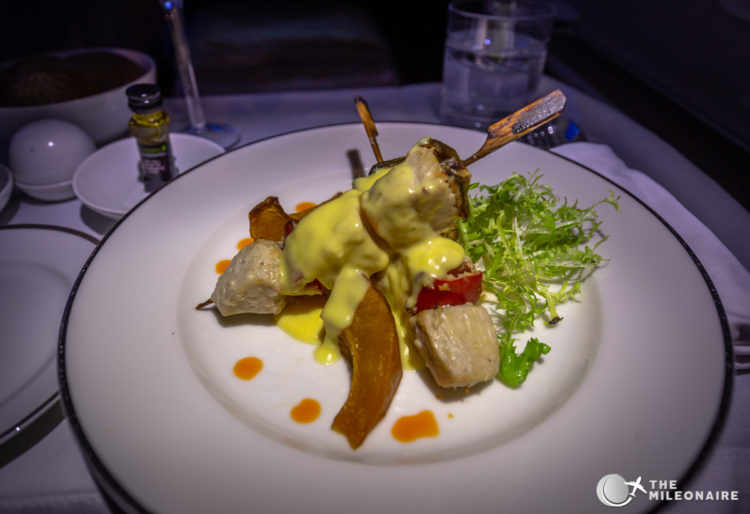 After that you could get a dessert, even though I mostly skipped it (there was just too much food)…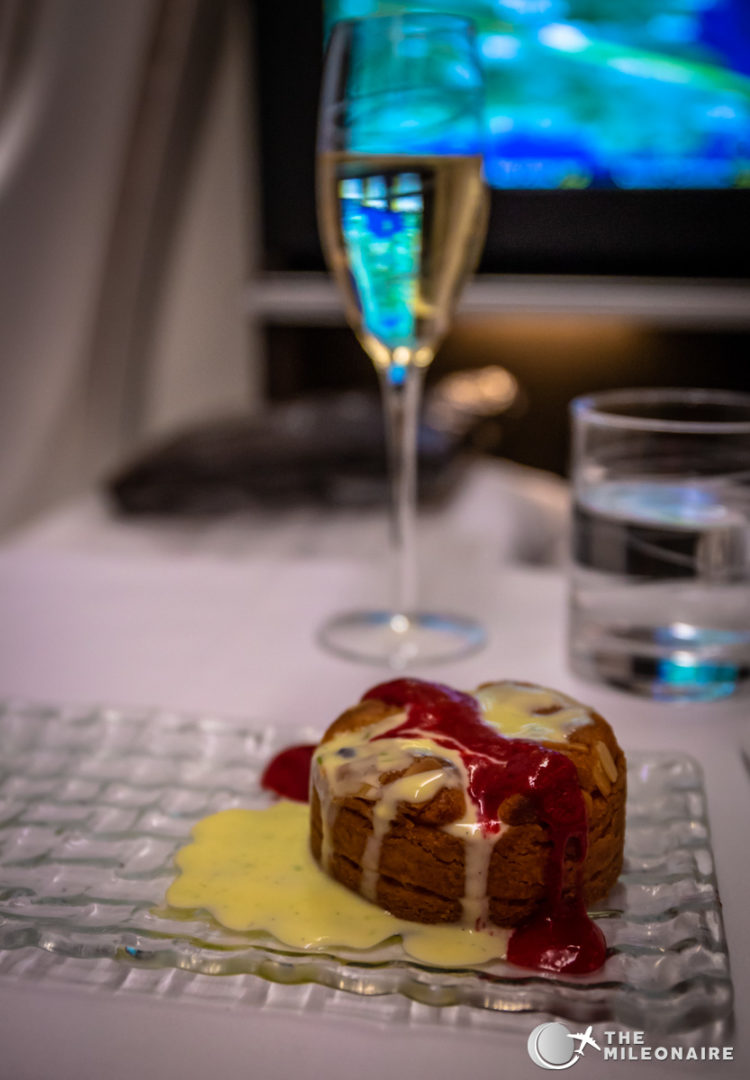 …and a cheese plate:
The breakfast in Oman Air's Business Class was outstanding as well. I actually had my best onboard breakfast ever on one of these flights, some incredible banana-chocolate crepes:
After these excellent food services I mostly just converted my seat into a bed and slept for a while – or watched some old episodes of 'Who's the boss' (hint: it's Tony Danza). The seat is actually a pretty comfortable bed, and I've arrived pretty relaxed at every destination.
Conclusion: Oman Air Business Class Review
Who needs a First Class, when there's such a Business Class? Of course I'm exaggerating a bit as a proper First Class will always be a level above it. But: the difference between First and Business Classes becomes smaller and smaller, and some parts of the Oman Air Business Class (seat, service, champagne) could also be offered in a First Class. Oman Air offers an excellent Business Class product which I can highly recommend to my readers.