Even though you might've flown Business Class a couple if times, First Class is still a whole new world with (very often at least) the highest level of comfort and service. That especially applies to Emirates' A380 First Class as they were one of the first airlines to introduce a Suite Product into their premium class. By closing the suite door, passengers suddenly had a room of their own on longhaul flights.
Of course, the Emirates A380 First Class Suites are pretty expensive. There is a small trick though how you can enjoy these Emirates Suites without paying a fortune: the Emirates route from Bangkok to Hong Kong is short (2:30h flight time), but offers First Class for very often just over 500€. I booked that flight last summer to experience the Emirates First Suites in the A380 myself.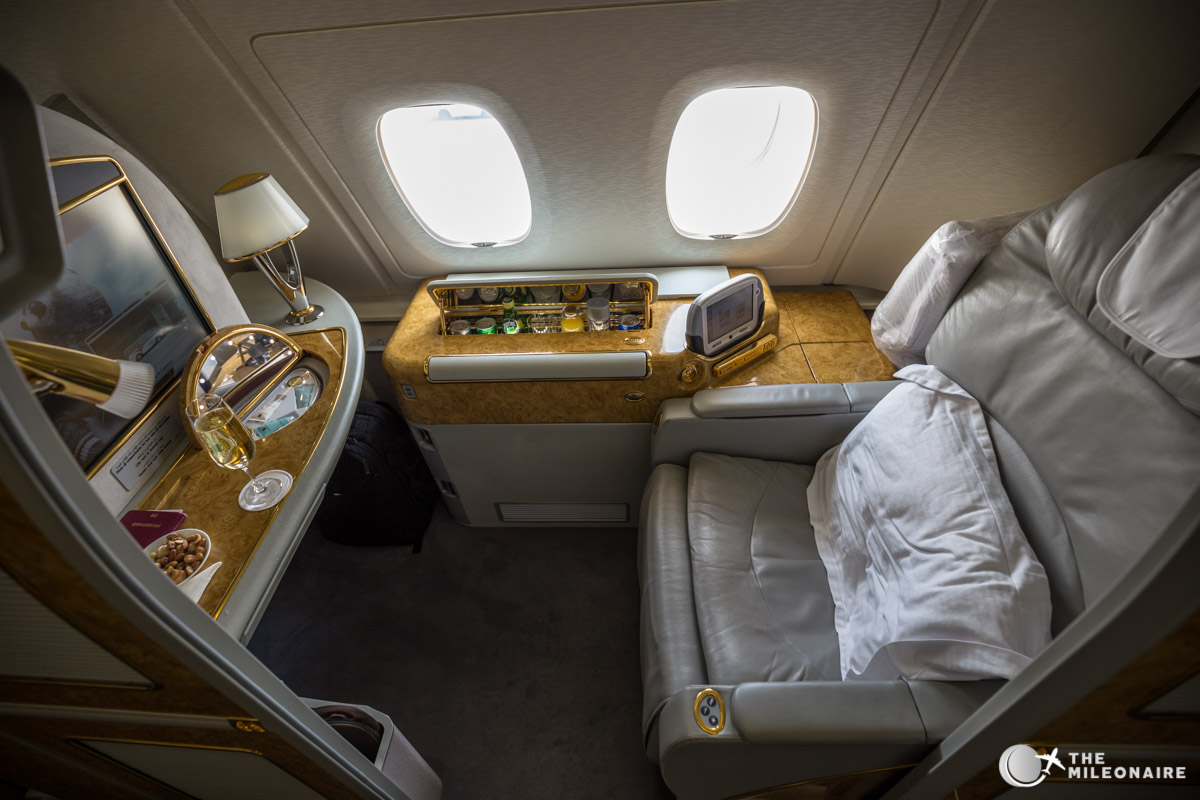 Emirates A380 First Class Suites: Cabin & Seat
The Emirates First Class Suites are located right at the front of the A380's upper deck. When departing Bangkok, there's a separate gangway for First & Business passengers. Once you've boarded, the cabin crew will take you to your seat.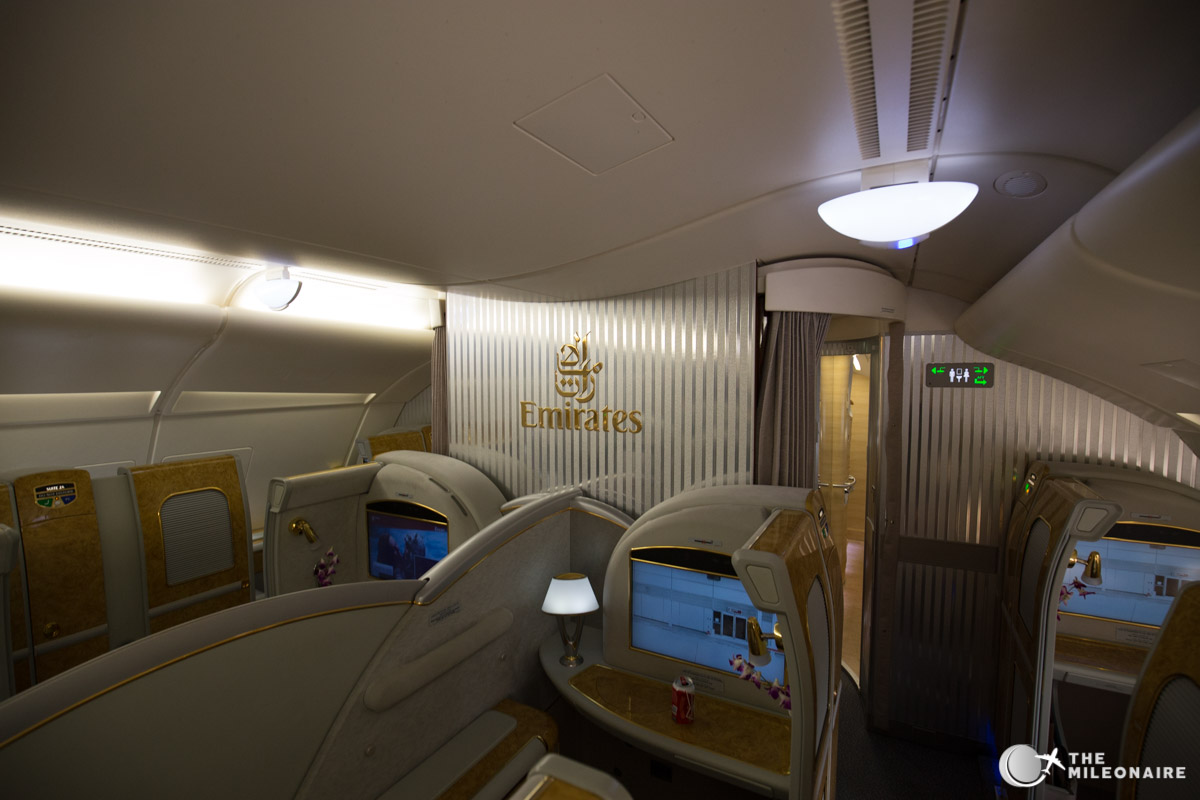 The Emirates First Cabin in the A380 only has 14 seats, which is great for additional privacy and a low noise level. The 1-2-1 configuration offers 8 window seats, and a total of 6 honeymoon seats in the middle. That way both single travellers and couples can find their perfect seat.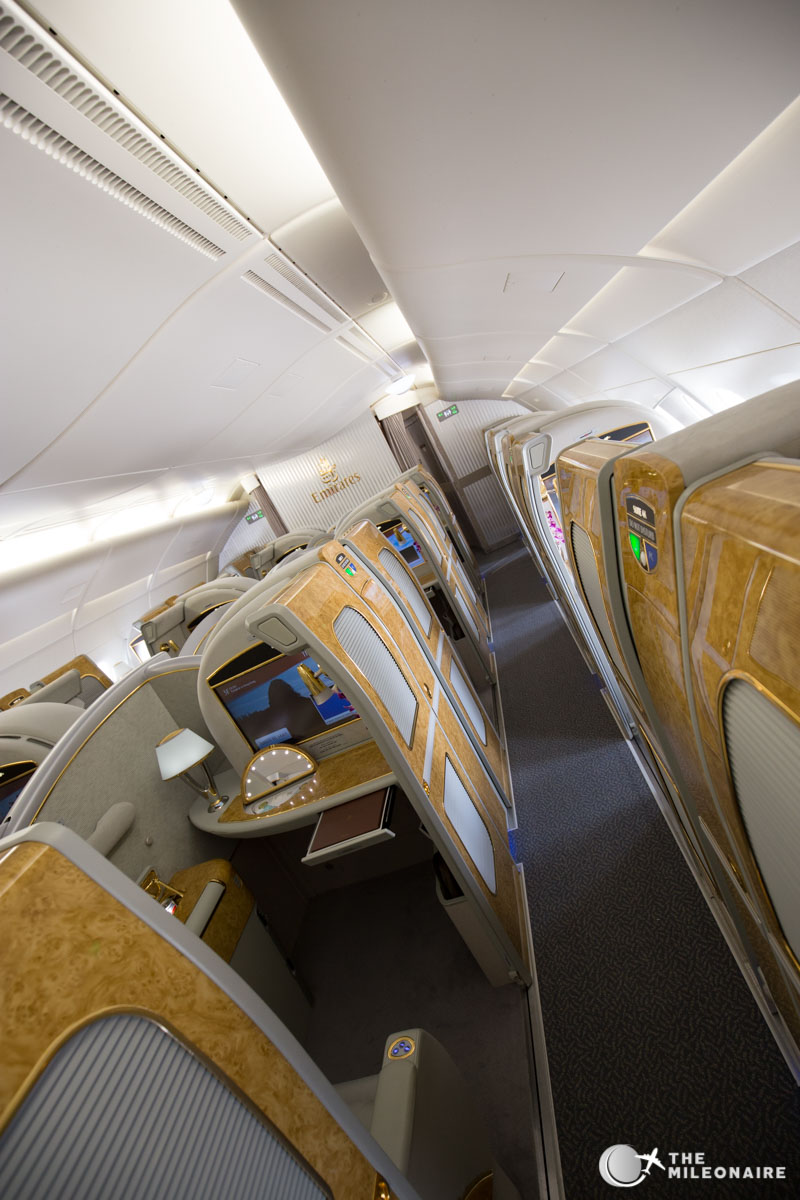 The cabin design is a bit "special": different shades of grey dominate the cabin design, as well as tacky light brown wood veneer (maple?). Additionally, lots of golden design elements (lamps, frames, emirates logos) make the cabin "shine bright", but (at least for my taste) looks too tacky and "blingy". Maybe that's what the rich Emirates target group wants, but I personally prefer e.g. Etihad's cabin as it feels less tacky, but more elegant.
I've booked suite 4K for my trip, a single seat on the right side of the plane: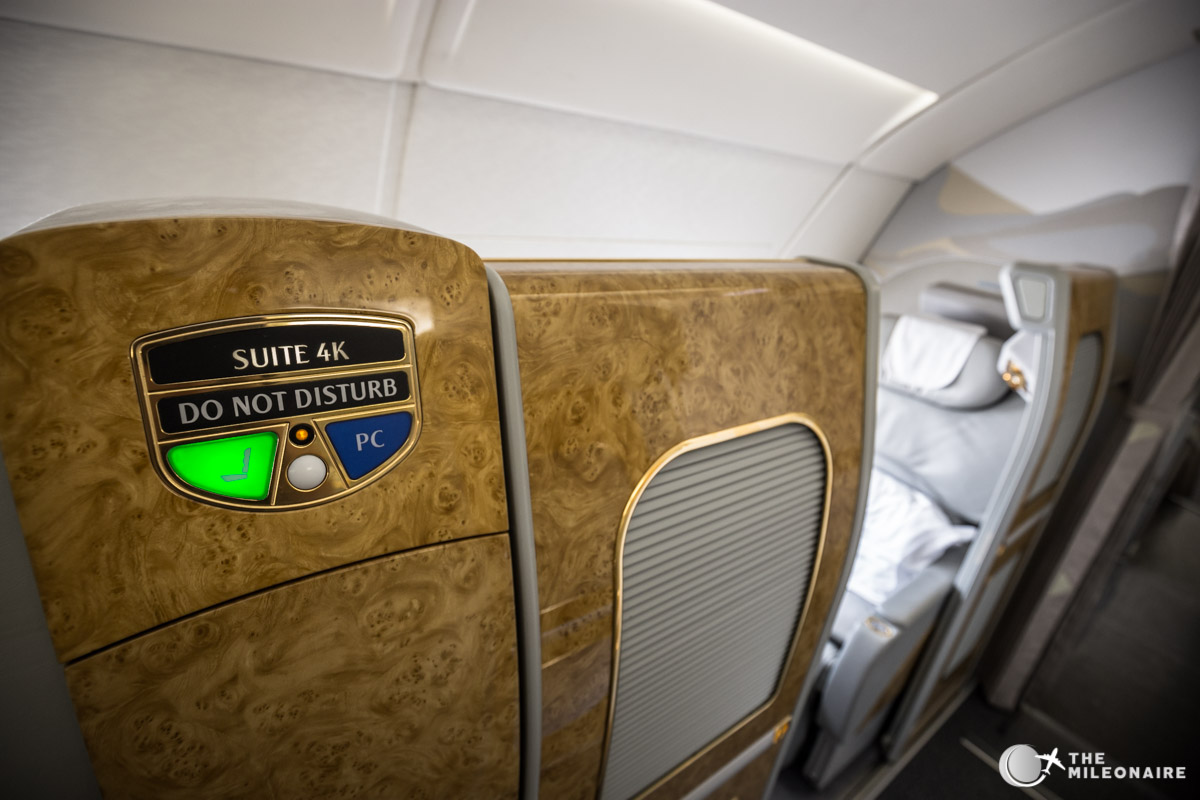 My first impression of the suite was excellent: the sheer amount of space and privacy is outstanding, and even with the suite door open (which is required during takeoff and landing) you can't actually see your First Class neighbours.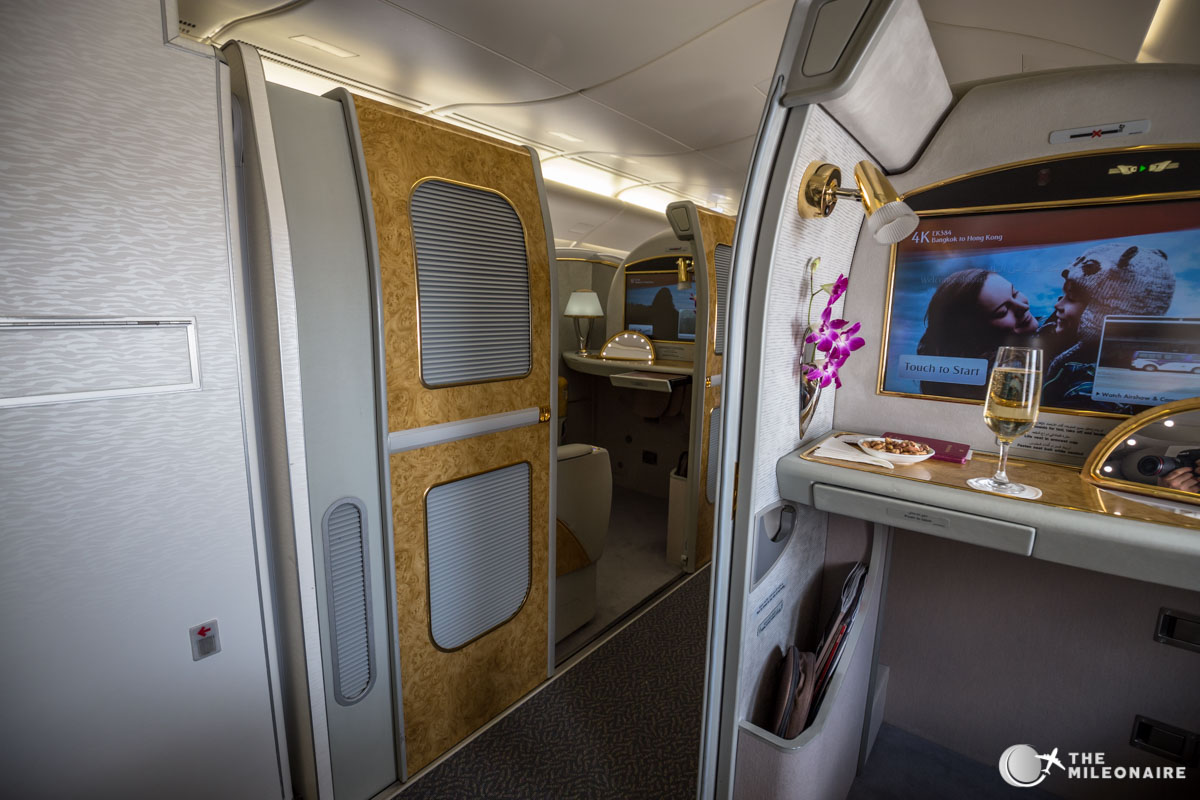 There's a surprisingly huge amount of leg room and storage space for your luggage: even my large backpack was able to fit on the right side without losing any leg room: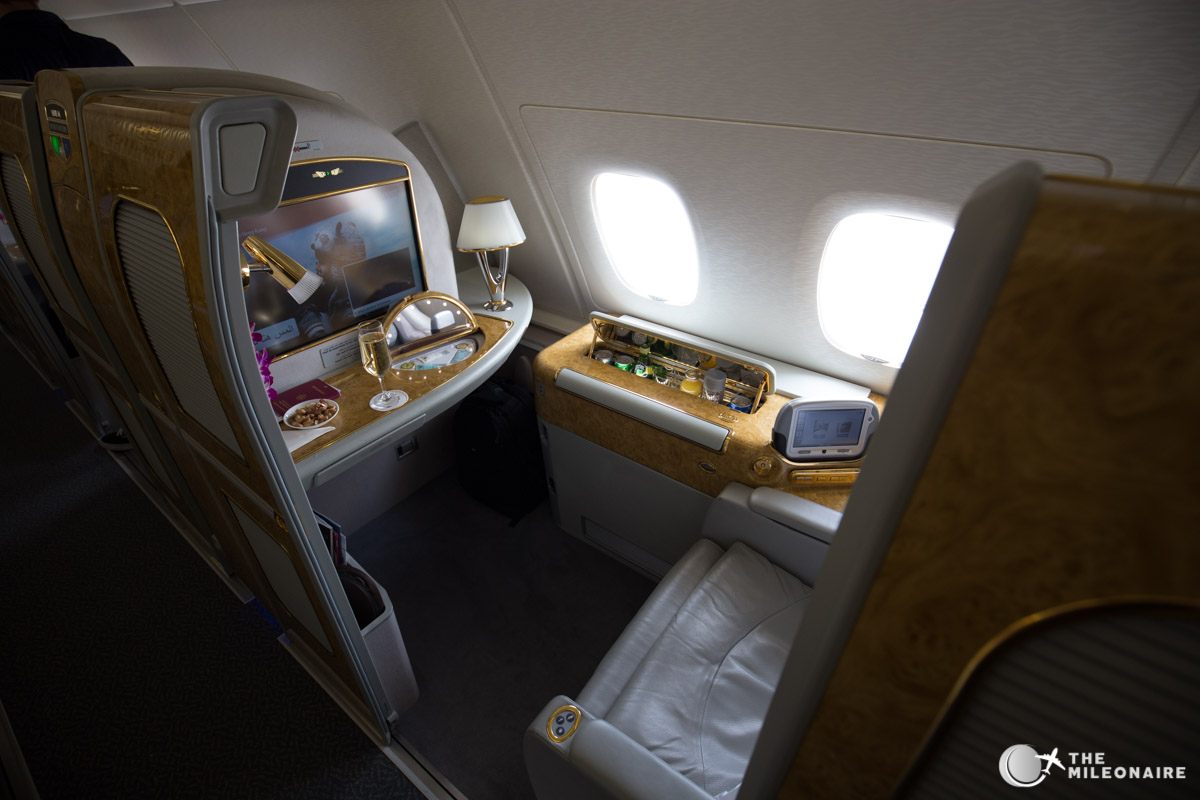 The center of Emirates A380 First Class Suites is the very wide leather seat that can be converted into a lie-flat bed. This is done via a touch pad at the side, that can be used as a (very thick) handheld device to control nearly everything about your seat: seat position, massage options, suite lighting and the door.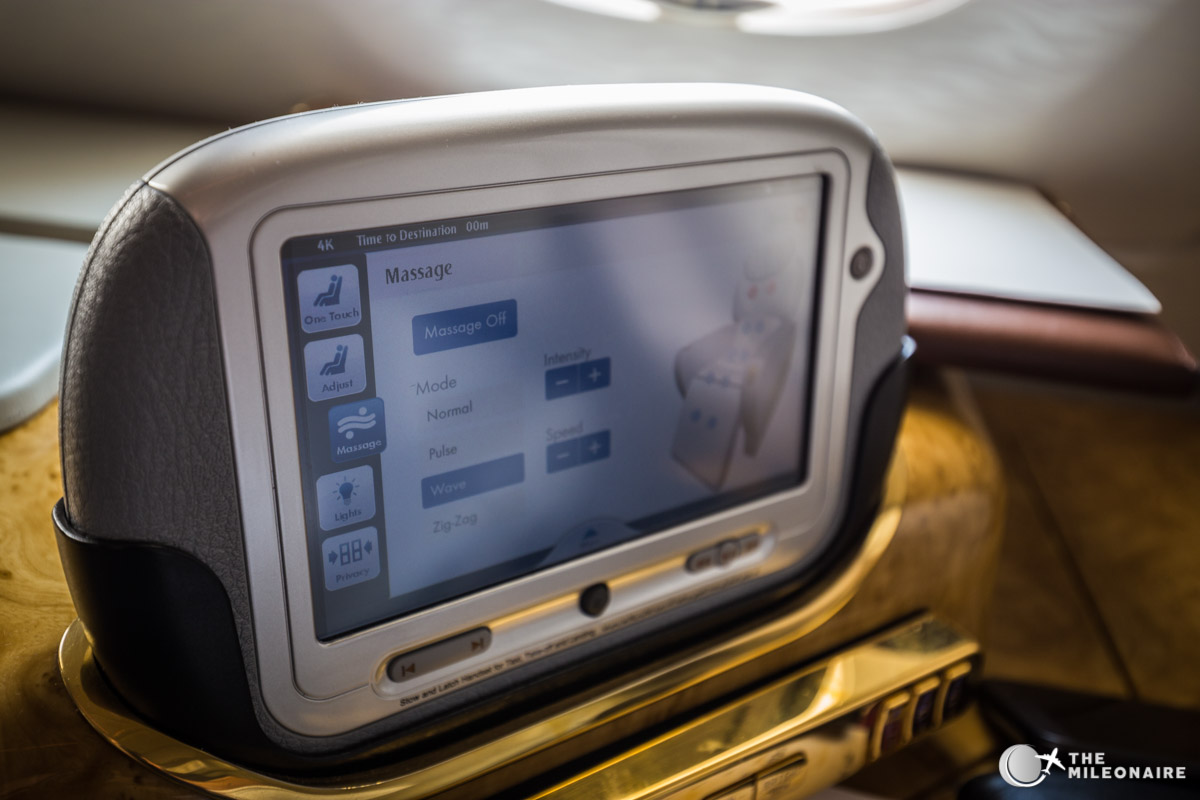 In front of the huge screen is a small table (again with that tacky wood veneer) with a nice little makeup mirror, as well as some cremes and lotions.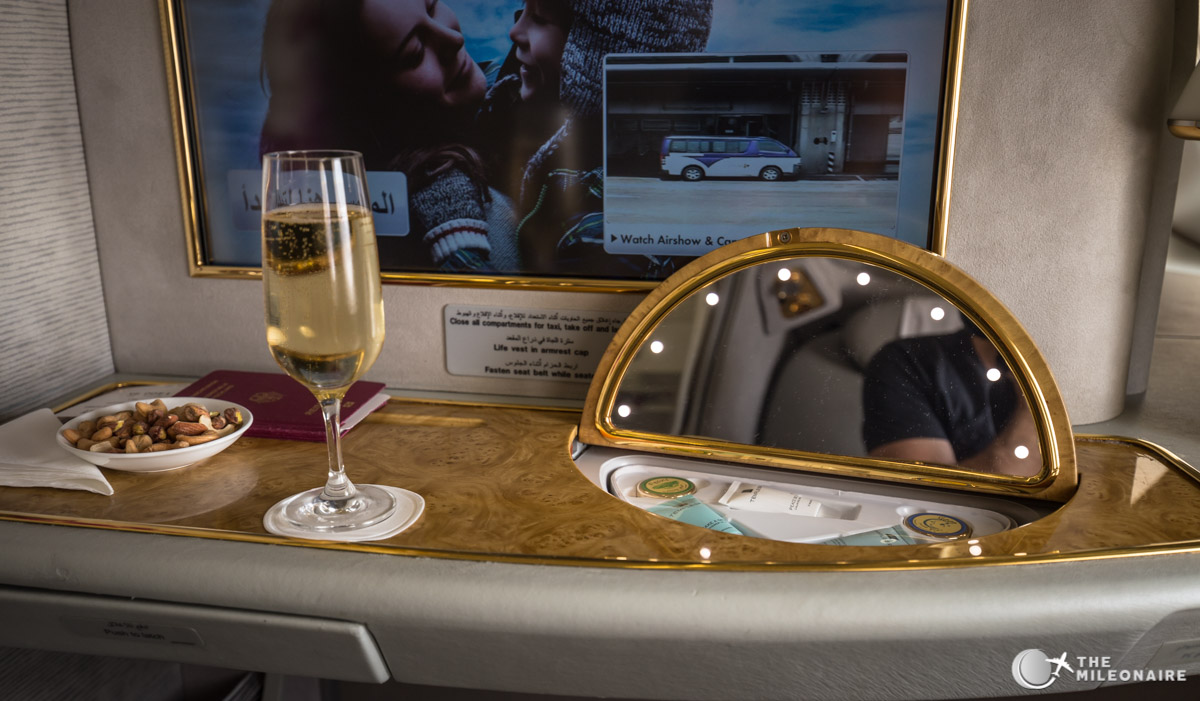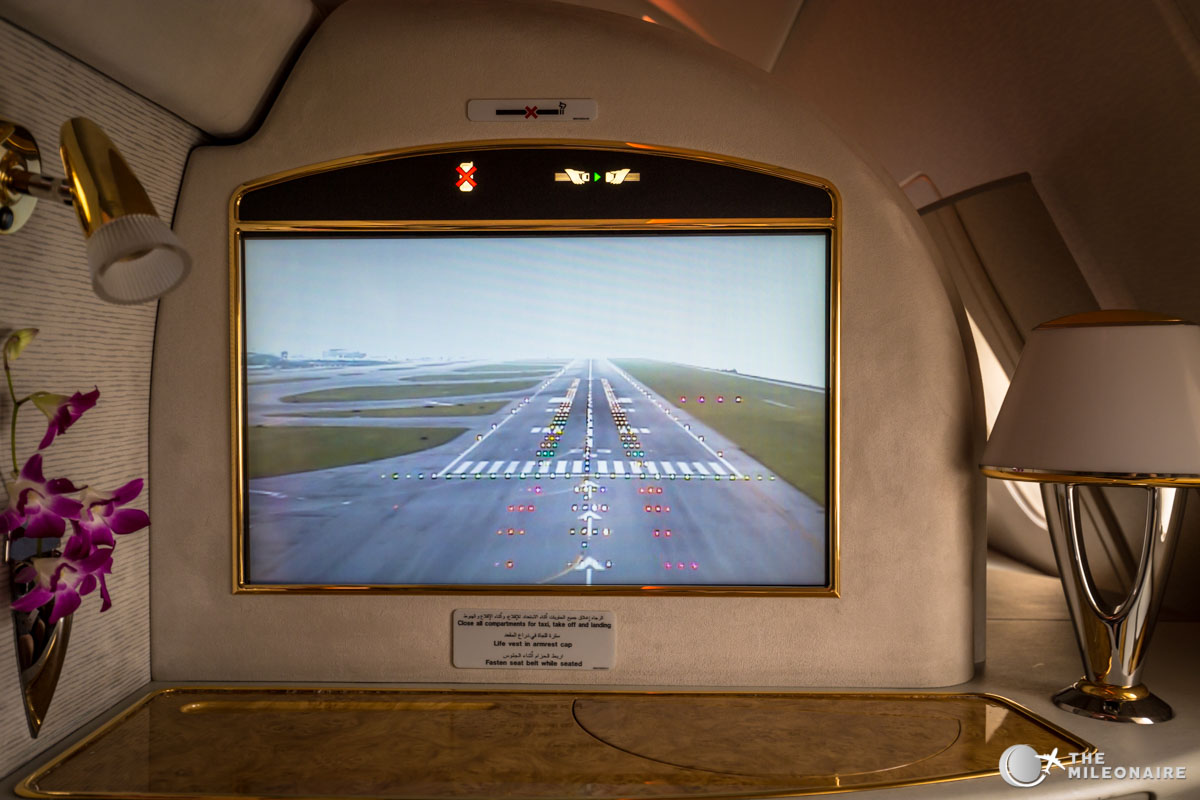 On the outer side of the suite (below the window) Emirates takes good care of thirsty passengers: multiple soft drinks and water are waiting for you in your personal minibar. Although this is a nice touch, I don't see it as a big bonus when you can just call the cabin crew to bring you every drink you wish straight to your seat anyway. The true highlight of the suite obviously is the possibility to "close the door": even though the suite is not fully closed (other passengers can still peak over the door if they want to), it feels very intimate and creates a whole new level of inflight privacy.
Emirates A380 First Suites: Service & Lunch
Even though the flight from Bangkok to Hong Kong is just a short trip (under 3 hours), Emirates offer a full lunch service on that segment (minus the Kaviar though). Once you've made yourself comfortable, the first round of drinks will be served. Emirates offers Dom Perignon (even on the ground) in the A380 First Class: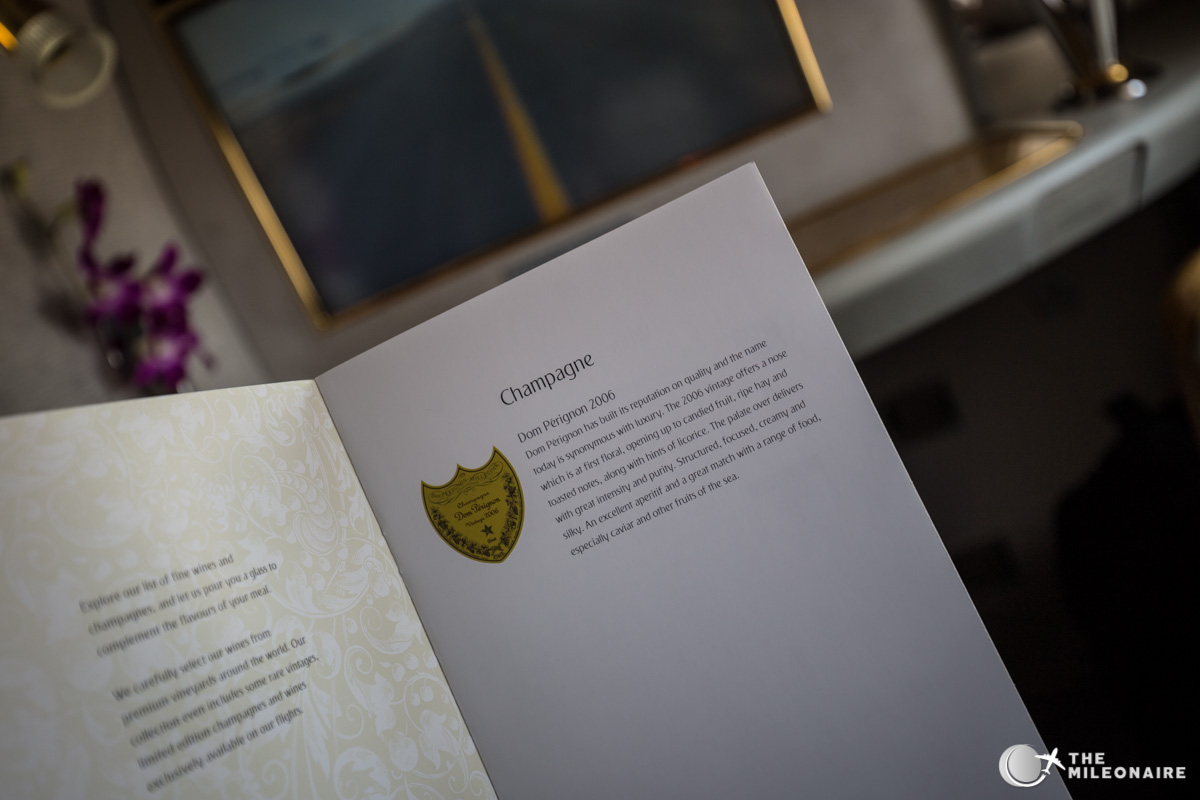 Throughout the flight the cabin crew made sure that my glass was never empty. The lunch service started with warm nuts: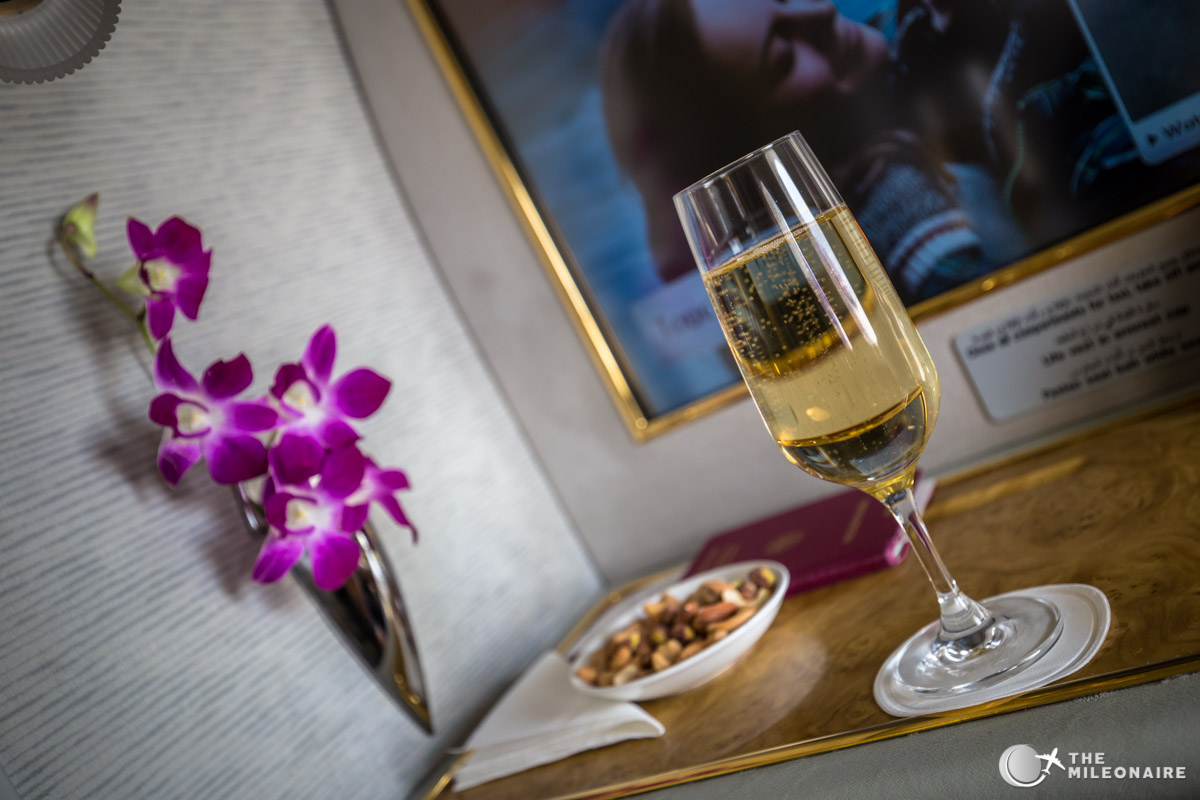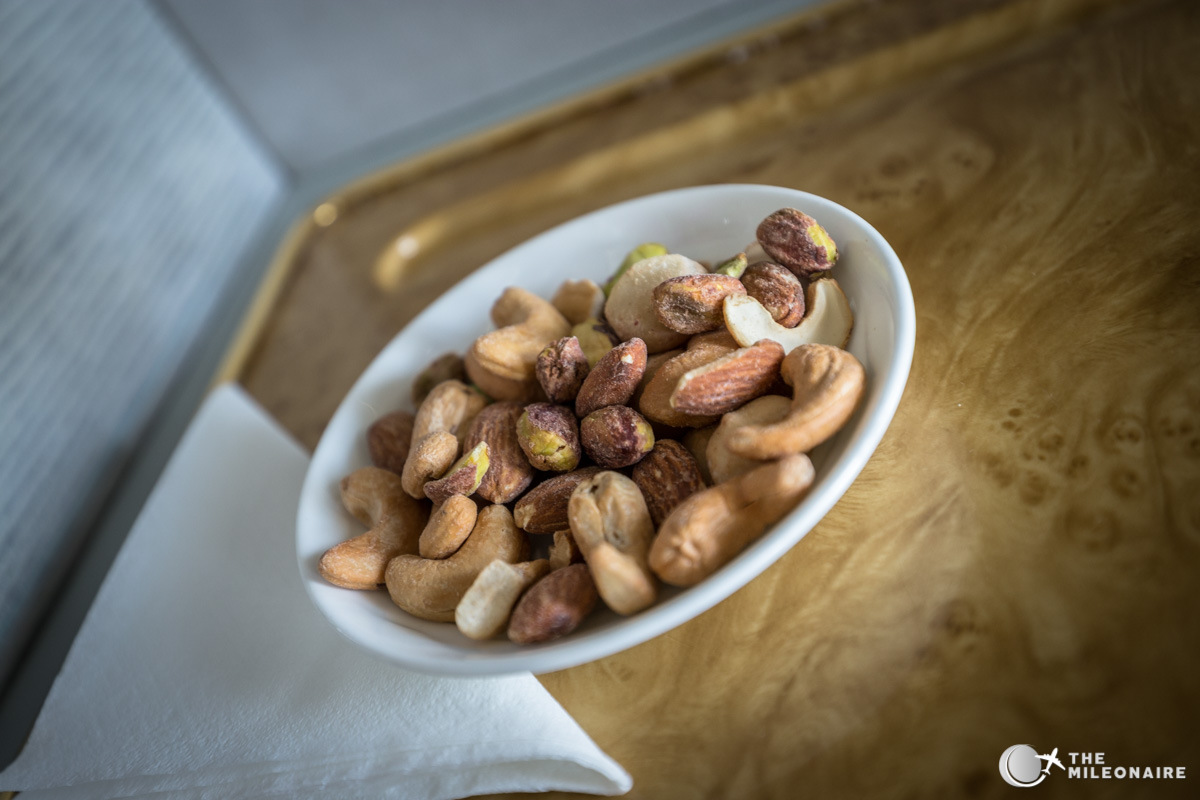 After taking my full lunch order, a member of the cabin crew came by with the trademark Emirates dates and an Arabic coffee: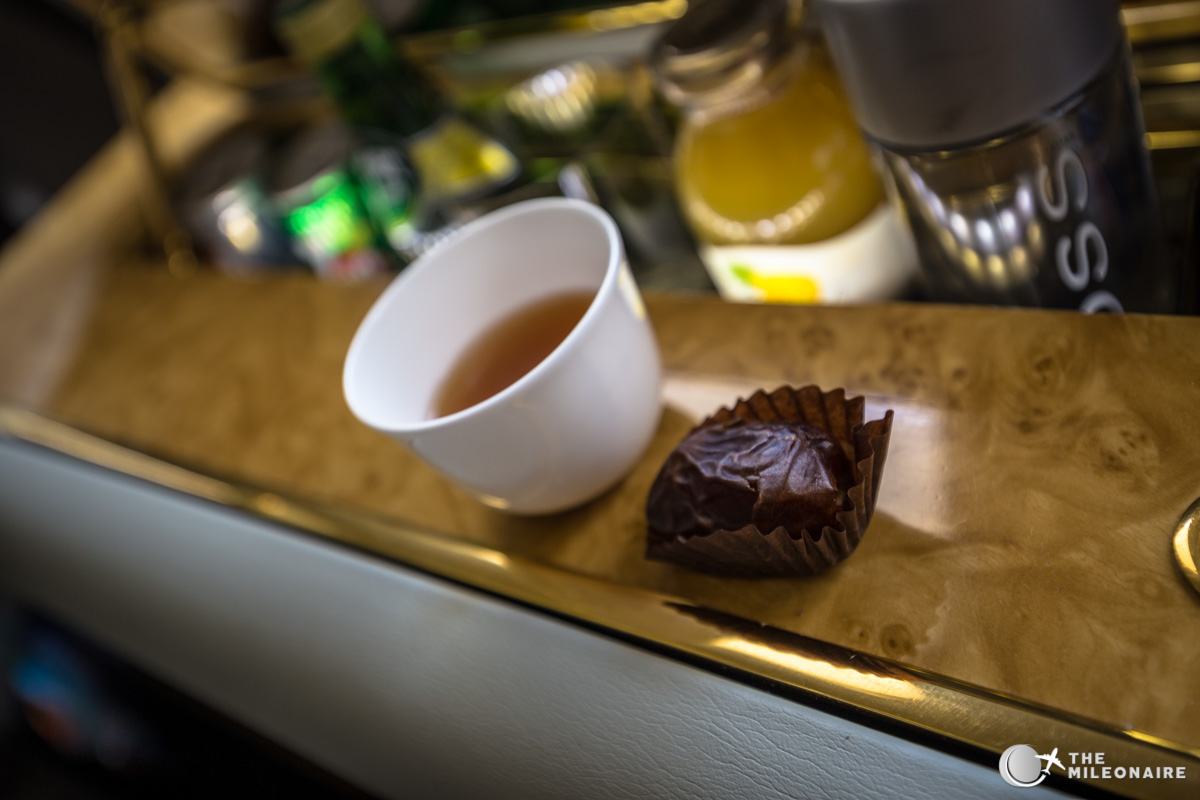 There was a total of two appetizers and four main dishes to choose from on this flight's menu: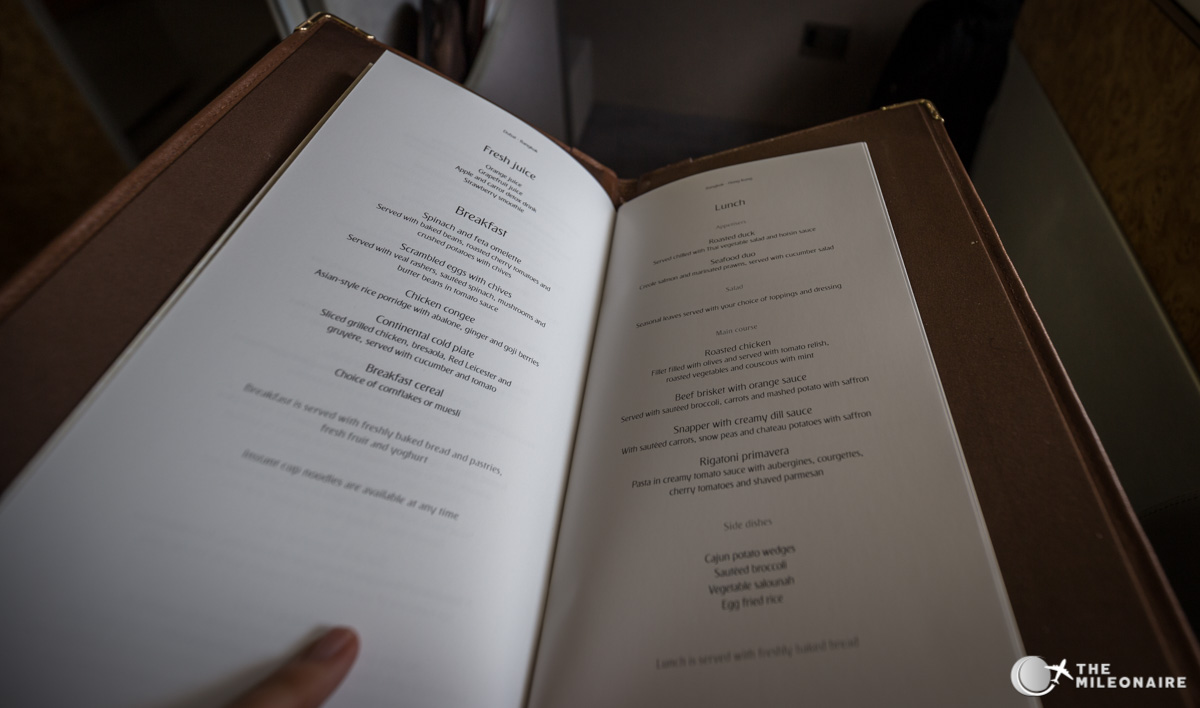 I chose the Roasted Duck as a starter. The cabin crew came by and set the table: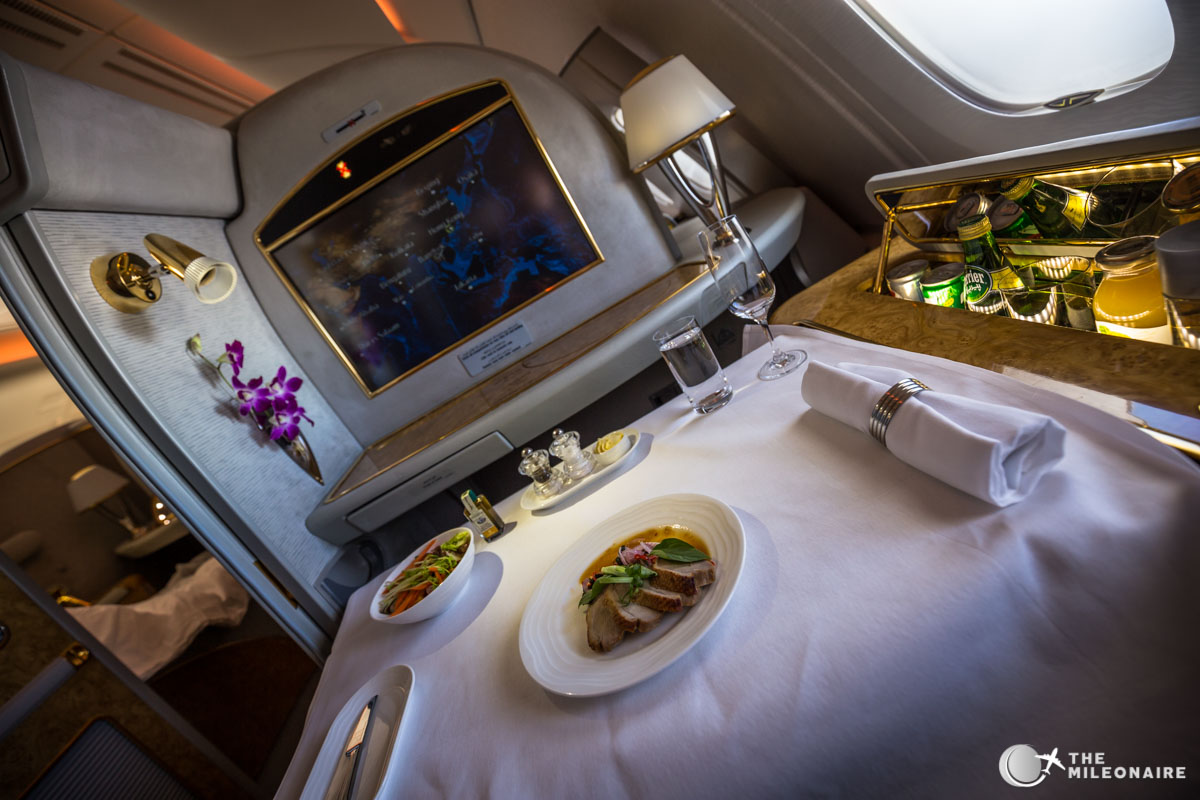 The duck was a bit on the drier side, but tasted and looked great. After that the main course (Orange Beef) was served: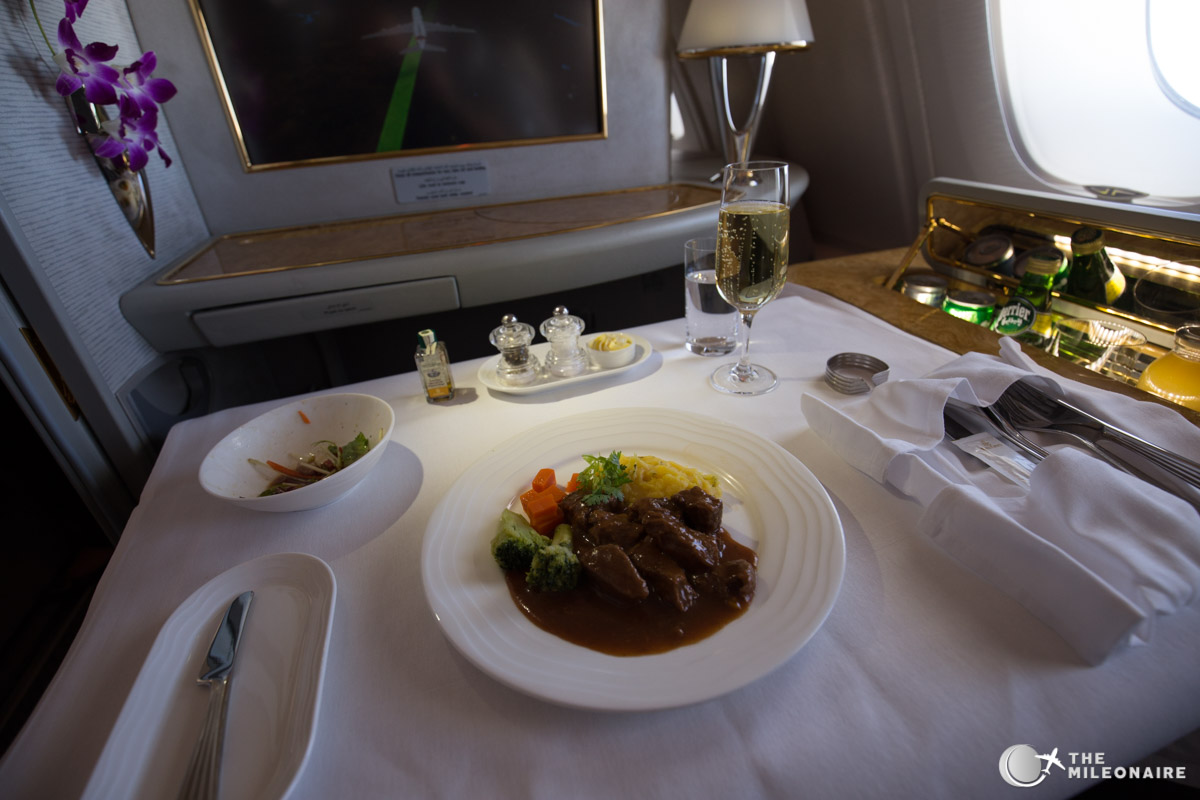 Even though it sure was tasty, it lacked a bit of creativity and surprise elements that you would expect from Emirates' First Class. Afterwards I went for the cheese platter; while it looked nice, some parts of it didn't look super fresh but rather dry: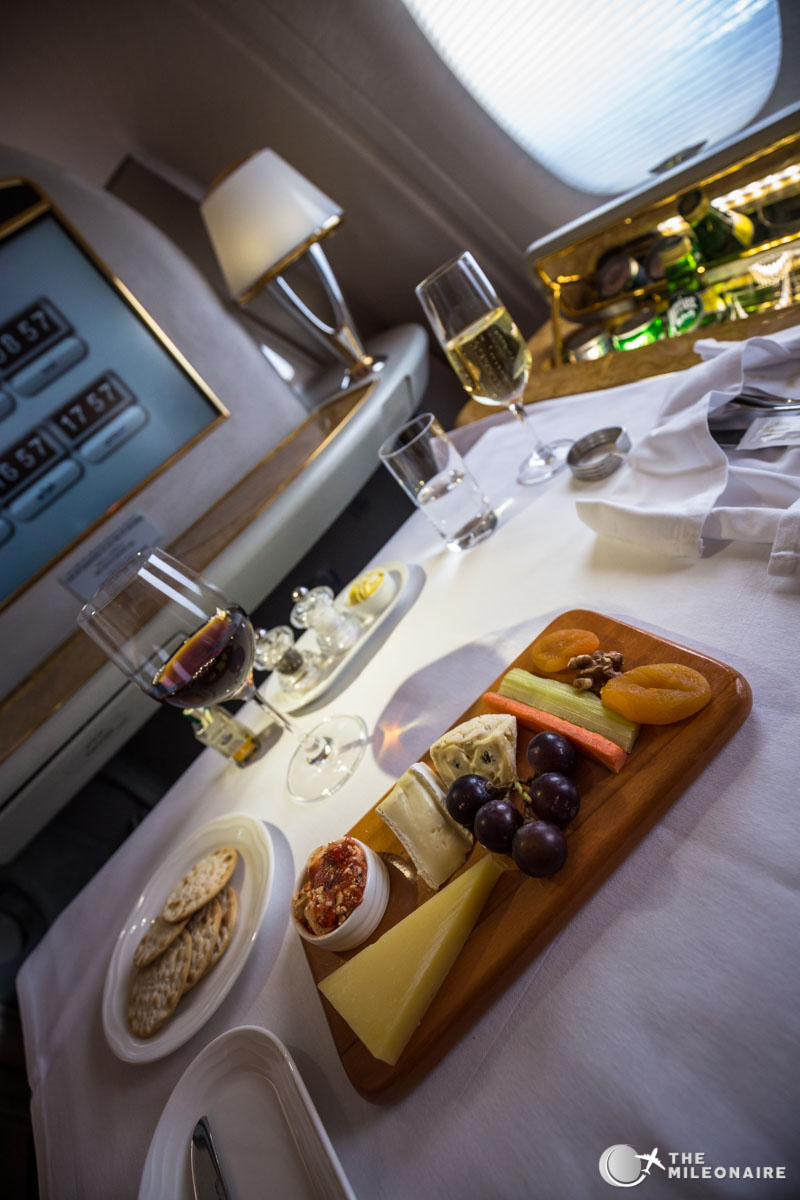 A dessert wine and a fresh full glass of Dom Perignon rounded out the lunch service for me, and I made myself comfortable in my suite. Another highlight of the Emirates A380 First Class obviously is the onboard shower: even on short segments like these you can take a shower at 30,000 feet.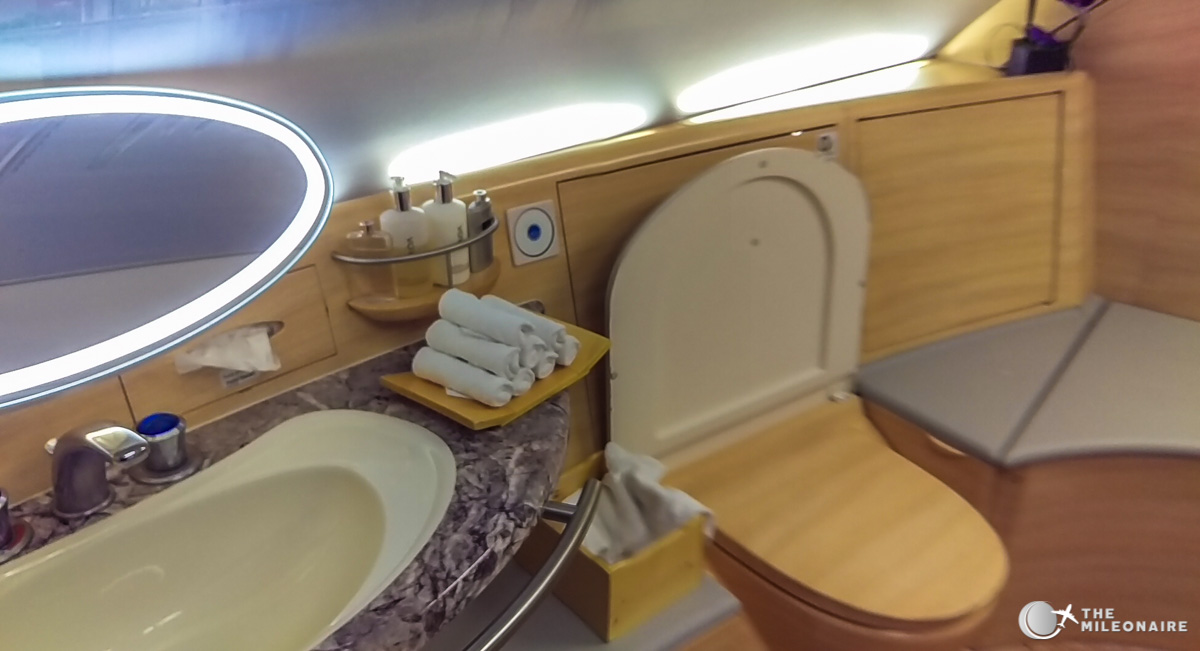 Even though I normally love to try out things like these, I didn't want to be "that guy" that has to take a shower on such a short segment (I let 16 year-old YouTubers do that…). I rather relaxed and enjoyed the perfect service and the impressive inflight-entertainment. After just about 2:30 hours the short hop from Bangkok to Hong Kong came to an end already.