While many parts of Southeast Asia are perfectly covered by airlines like AirAsia nowadays, flying to and around in Myanmar has always been difficult: airlines there had common safety issues, and you weren't able to book them via the regular online booking portals. In addition, most airports in Myanmar lacked some basic infrastructure and were hard to get to.
This has changed since some time though, as flying in Myanmar is easier than ever – and awesome destinations like Bagan are convenient to reach. As I've flown across Myanmar in the last months I wanted to share my experiences about how to fly in Myanmar!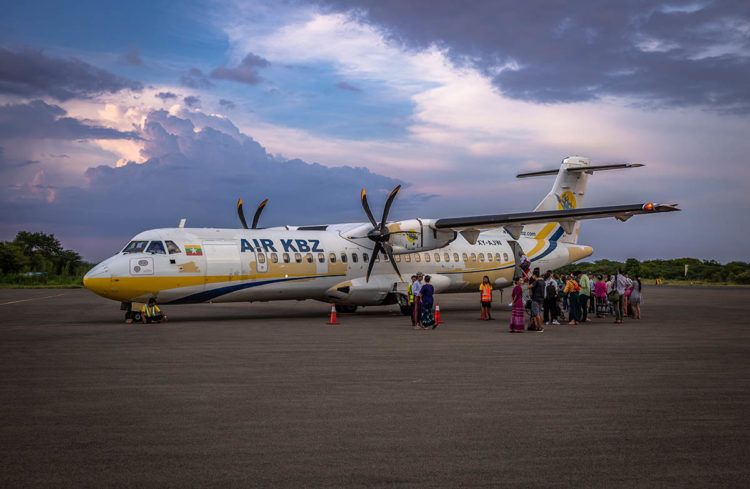 Flying in Myanmar: The Basics
You're at the beginning of planning your trip? Here are the most important basics about flying in Myanmar!
Airports in Myanmar: Where can you fly?
Myanmar is not on the same level as other countries in Southeast Asia when it comes to infrastructure, so please keep that in mind. The international airport in Yangon is up to Western standards, and serves direct flights to e.g. China, Korea, Thailand, Japan, Qatar, Dubai and India with its three Terminals.
Yangon Airport is the exception and not the rule though, as all other airports are way smaller and lack infrastructure. Only Mandalay airport offers a few international flights, but you won't find anything else than just the airport building with two or three restaurants. The electricity even dropped twice in the whole building while I was waiting for my luggage.
The other airports in Myanmar are super small regional airports. This also applies to popular destinations like Bagan (Airport Nyaung-U) or Inle Lake (Airport Heho). That's why you should always get the most important things (Kyat in cash, WiFi, SIM cards,…) before flying to more remote airports.
How expensive is flying in Myanmar?
Flights in Myanmar are on a pretty normal level, most of the time you just pay 100-150 USD for a oneway flight like Yangon to Bagan or Mandalay to Yangon. You should just make sure to book early: if all flights are booked out, they're just booked out.
Flights from other Asian countries to Myanmar are pretty inexpensive to get as well: when you're flying from Bangkok you can get flights to Mandalay or Yangon for just 80 USD oneway, e.g. with Bangkok Airways which I found to be pretty good. From there you can travel on to smaller airports in Myanmar.
How can I book flights in Myanmar?
While other guides still write about how difficult booking a flight with Myanmar's national airlines is, I found the opposite to the case: since quite some time you can just book these flights on the regular booking platforms like Orbitz or Expedia, or use Google's own meta search engine to compare prices.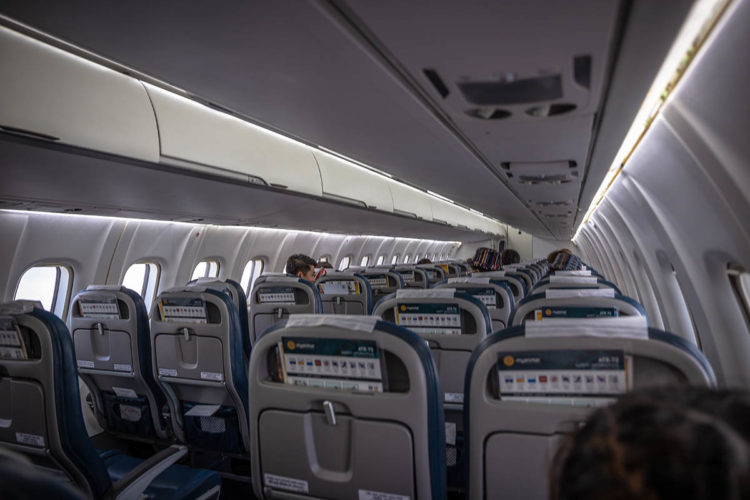 Safety: How Safe is Flying in Myanmar?
The biggest issue of air travel in Myanmar has always been safety. Airlines there used to have very old planes with a lower level of maintenance. In the meantime this has changed though and the airline safety has improved a lot, with many newer planes and lower average fleet ages. You should still do proper research when new airlines come up, but the general level is way better than before.
With which airlines can you fly in Myanmar?
Currently Myanmar has the following airports:
Air KBZ
Asian Wings Airways
Golden Myanmar Airlines
Mann Yadanarpon Airlines
Myanmar National Airlines
Myanmar Airways International
Yangon Airways
Among these airlines is no rotten apple with severe safety issues any more. Most airlines in Myanmar operate the same plane type (ATR) on most routes anyway, so you'll mostly fly with the same plane in Myanmar. I personally had good experiences with Air KBZ and Myanmar National Airlines during my travels.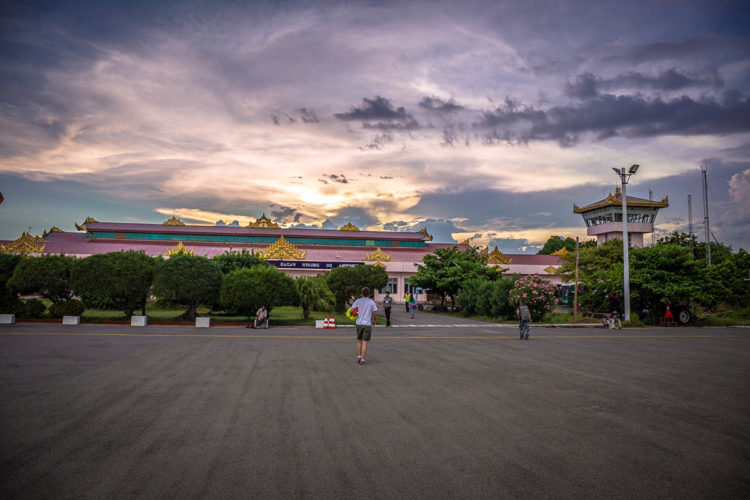 Flying in Myanmar: A Few Quirks…
Here comes the fun part for everyone that's only used to 'normal' flying: there are quite a lot of differences in Myanmar when it comes to air travel, that make the experience very special!
1. Stopovers
What you have to know while booking: many flights in Myanmar are rather like shared taxis that fly to multiple destinations on their route. In simple terms: a couple of ATRs start in Yangon in the morning, flying to all major destinations in Myanmar with short stopovers – and in the evening they fly back. That's why a flight on Orbitz might show one or two stopovers on your way to Bagan, where you just have to wait until passengers left the plane until your flight continues.
2. (Over-)Punctuality
While it's annoying when flights are late, Myanmar offers quite the opposite experience: some flights just leave earlier than planned, and if you're not there – bad luck. I had that experience in Mandalay, where my flight was scheduled to leave at 11. Boarding started at 10 already though, and we were airborne at 10:20. That's why you should always be a bit earlier at the airport, or your flight might be gone already.
3. Airline Roulette
All considerations about which airline you'd want to fly with or not might be a waste of time anyway: it happens quite often in Myanmar that flights from different airlines are just pooled together, so that you fly with a different airline anyway. Funny example: when travelling through Myanmar last year I booked two flights with Man Yadanarpon Air, but never actually flew with them. My first flight didn't even show up on the departures screen, and my flight ended up being the one with Myanmar National Airlines at the same time. The second flight was then just completely handled by Air KBZ. That's why you should always look at the time your flight leaves, maybe it's a different airline you're flying with.
4. Bag Roulette
Similarly 'creative' is how bags are handled in Myanmar: there is no traditional baggage claim in smaller airports, but rather airport employees that carry the luggage to the terminal. Once you see your bag you need to shout 'HERE', otherwise someone else will just take it… 😉
Conclusion: Flying in Myanmar
My conclusion after all my flights: flying in Myanmar is easier than ever, despite all quirks and the lack of infrastructure in some areas. That's why I hope this little guide brought you some inspiration for your own travel plans to explore Myanmar yourself!