Flying Business Class is something special. Flying Business Class with the most awarded airline in the world is something really special. That's why I was quite looking forward to flying with the Singapore Airlines Business Class for the first time this May. Thanks to a great fare I was able to book a trip from Frankfurt to Singapore and onwards to Brisbane for cheap, and could finally experience it in the Airbus A380 and the Boeing 777.
So – let's find out if the Singapore Airlines Business Class' excellent five-star reputation is justified!
Singapore Airlines Business Class: The Cabin
After a well-organized boarding process in Frankfurt and Singapore I entered the cabin of the A380 (FRA-SIN) and the B777 (SIN-BNE). Cabin and seat in both of these planes is nearly identical, so this review applies to both plane types.
Once entering the Business cabin you'll be welcomed by elegant brown and beige colors. I really like the design of the cabin, with just the right amount of elegance and luxury without too much bling (Hey Emirates!).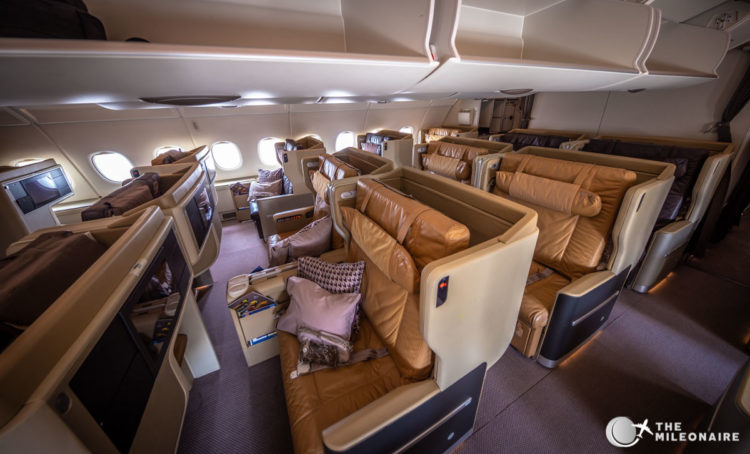 Both plane types feature a 1-2-1 configuration in the Singapore Airlines Business Class, which offers a huge amount of space for every passenger. Just as a comparison: super wide aircrafts like the A380 or B777 often feature configurations like 2-2-2 or even 2-3-2, while only the First Class offers 1-2-1. The seats are only slightly staggered, so that every row offers the same seat experience. This also means that you'll be quite close to your neighbor in both middle seats, but at least there's a divider you can pull up.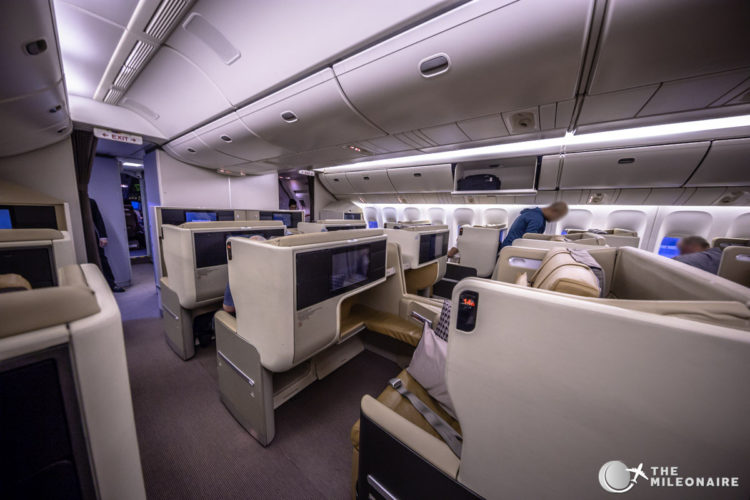 The Business Class in most Singapore Airlines planes is divided into two sections: a larger one and a smaller one. I always prefer the smaller cabin as it feels more intimate and quieter. I especially liked the color of the leather seats, as they alternate between brown and beige.
Singapore Airlines Business Class: The Seat
Speaking of the seats: the seats in Singapore Airlines' Business Class are huge. They feel more like couches instead of plane seats, and are way wider than anything else I experienced in Business Class so far.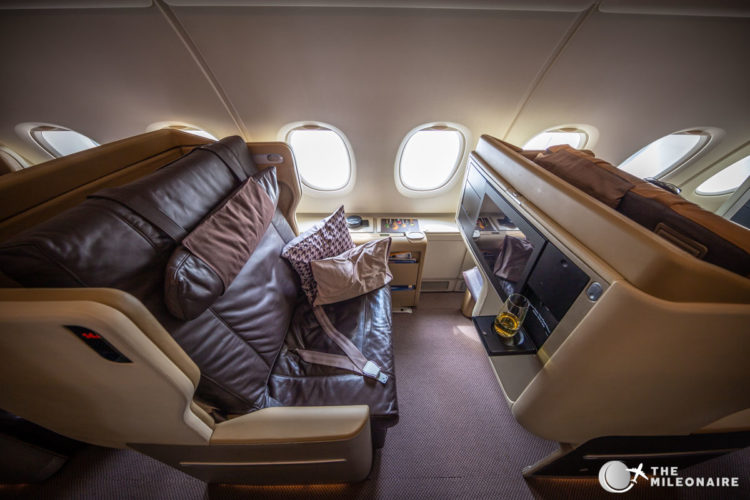 The leather cushion is super thick and feels comfortable, same goes for the headrest which is also adjustable in its height. When you're boarding you'll find two pillows on your seat, which makes it easier not to get lost in your couch.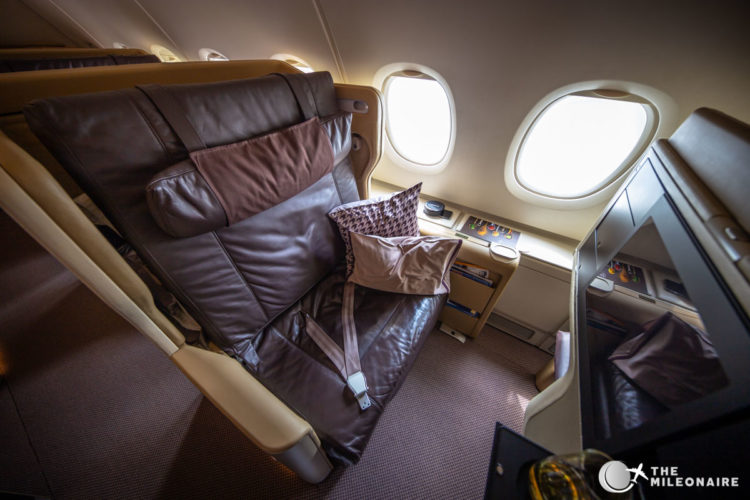 The configuration and the wide seats offer a high level of privacy, especially on the window seats. The rows are slightly staggered and have an additional panel at the side, so you won't have to stare at your fellow travellers once you're seated.
You'll also find an ottoman in the foot area – and even though the seat is very spacious, the ottoman isn't. There's only a very narrow space for your feet when lying down, and it's on the side of the sear – so you have to sit diagonally. It works, but it feels a bit odd.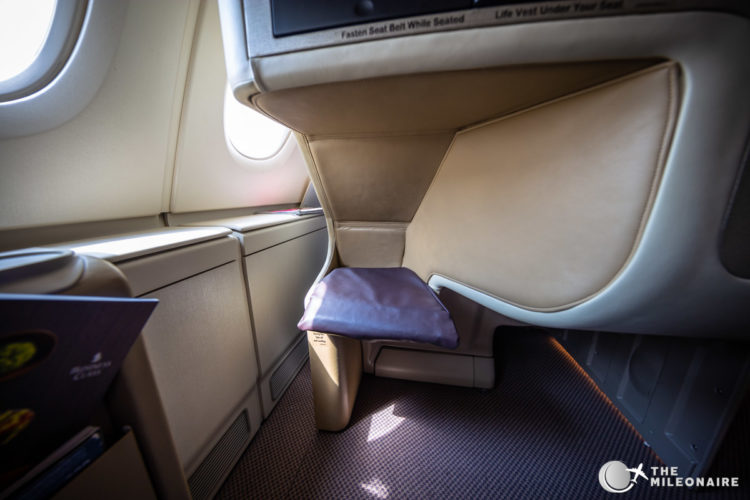 In the right armrest are the seat controls to move it into a 'lounge' position, or to move the foot rest. There's also a button to call the cabin crew or switch on the seat light.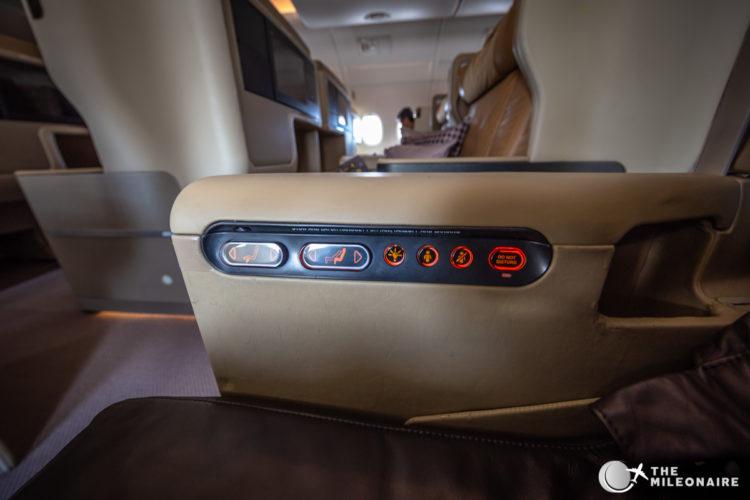 There you'll also find the remote control for the inflight-entertainment system: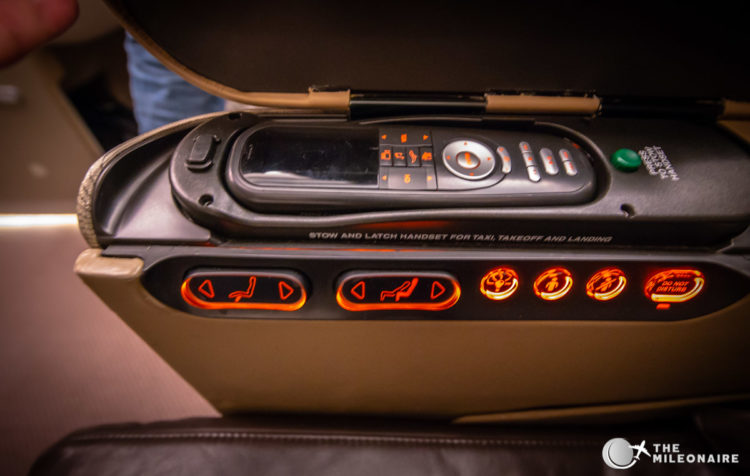 Talking about the IFE: the screen is embedded into the seat in front of you and can't be moved. Its brightness is sufficient, and you can look at it from all different angles you have in your seat couch. The IFE itself is quite solid with a good selection of international and specialty movies, series and music albums – but I expected a bit more. WiFi is also available, but it's rather expensive (and not available over India).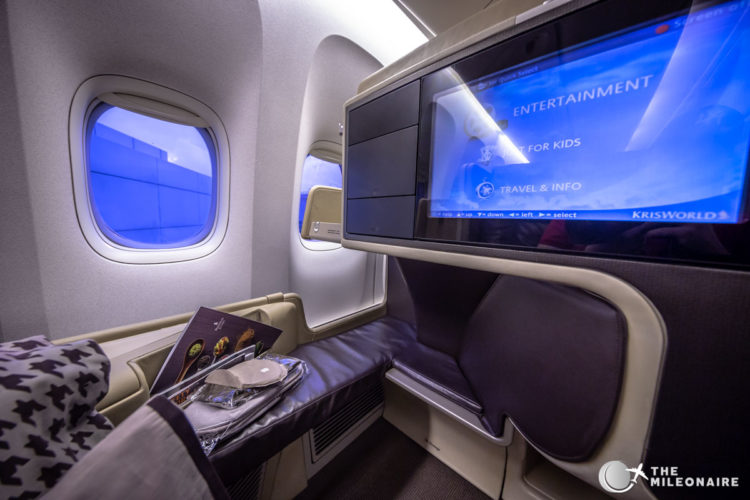 On the left of the screen is a small lid you can open, and there you'll find multiple plugs to charge your devices. On the right is a small mirror, and a place to put your drink.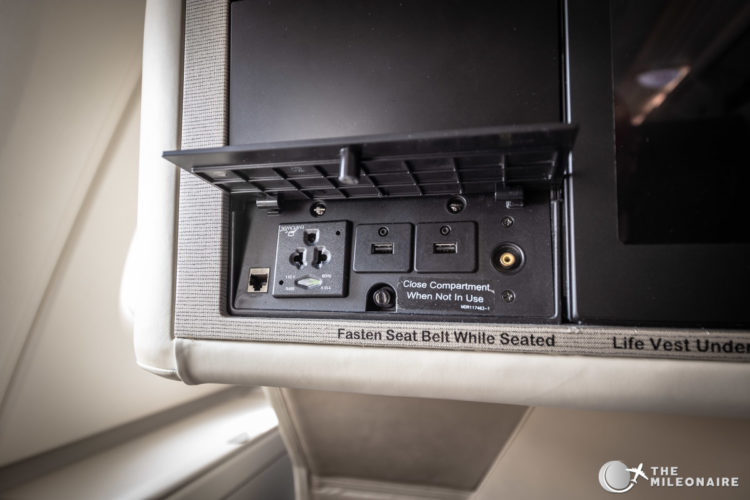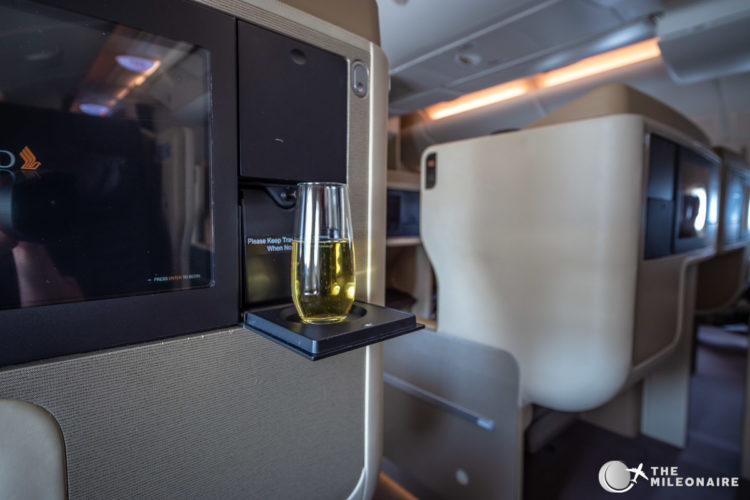 As with most current business class seats, the Singapore Airlines Business Class offers a lie-flat seat that you can transform into a full bed. The trick here is though that you need to flip over your back rest, and then sleep on the back of your seat where a duvet cover is already pre-installed. Once you're done (the cabin crew was happy to help), your bed looks like this: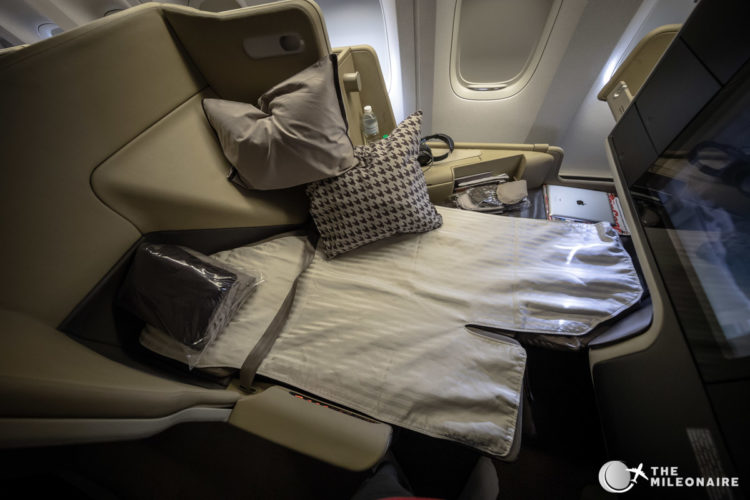 Singapore Airlines Business Class: The Service
Besides the huge seat there's something else the Singapore Airlines Business Class is famous for: the excellent service, provided by the so-called 'Singapore Girls'.
When you're boarding the plane, there are already some things waiting for you at your seat: socks and slippers…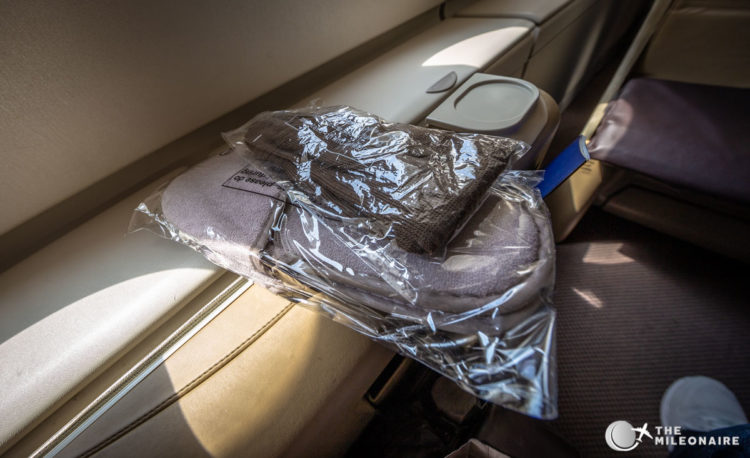 …as well as good noise-cancelling heaphones: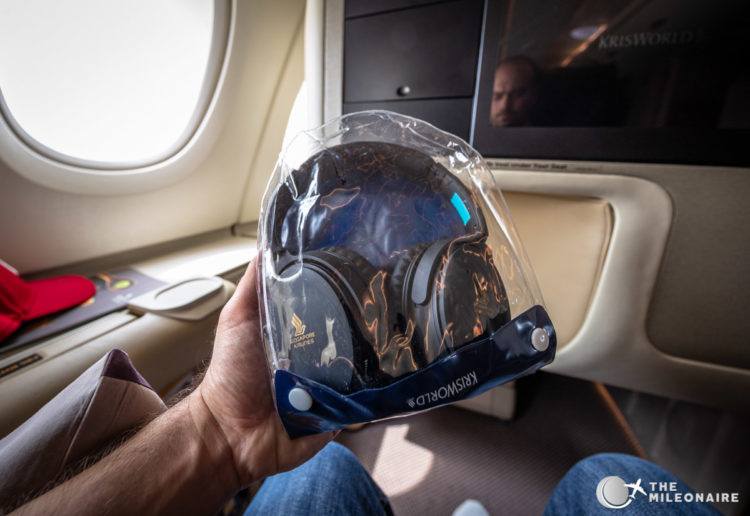 I didn't find an amenity kit during both flights – maybe I was just unlucky. What you'll find though is the menu for each flight, which offers a good selection of dishes and drinks. You can also use the 'Book the Cook' service ahead of select flights which allows you to order a specific meal.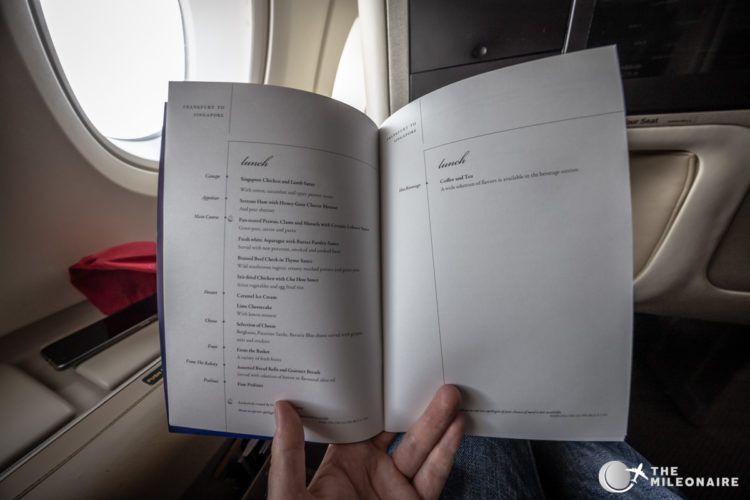 The excellent service on-board started with a round of pre-departure drinks, in my case champagne. Singapore serves Charles Heidsieck Brut Reserve in its Business Class.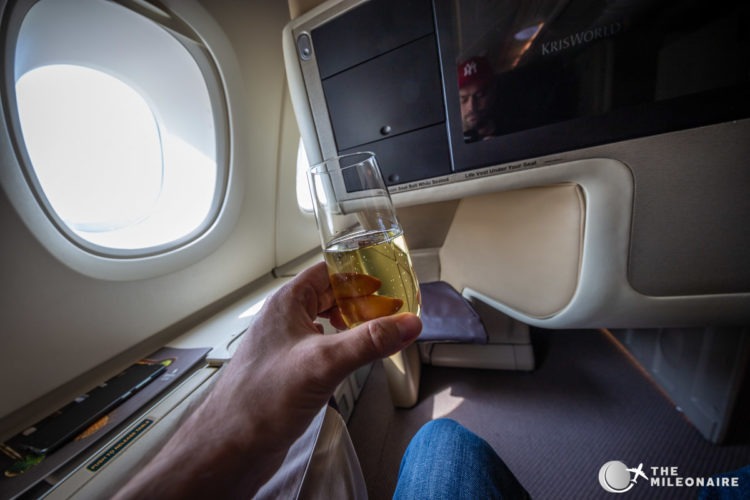 Afterwards the lunch service started on the segment from Frankfurt to Singapore, and I was already looking forward to it. Showtime!
The service started with a Singapore classic, the tasty satay skewers: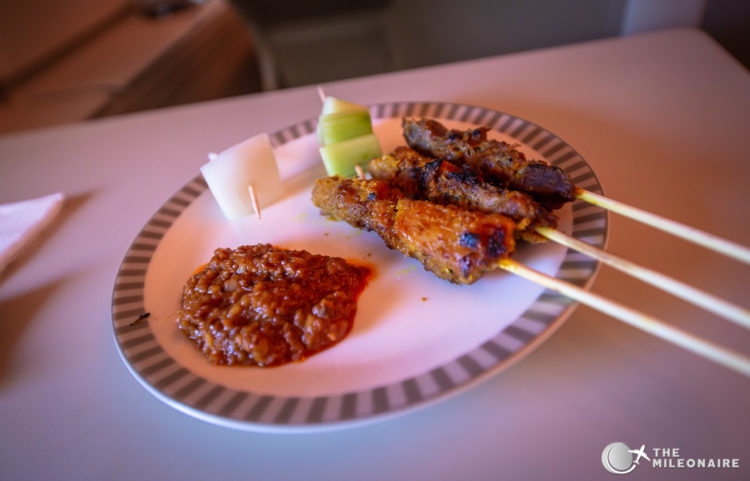 This was followed by the appetizer (only one dish to choose from), Serrano Ham with an excellent honey/goat cheese mousse: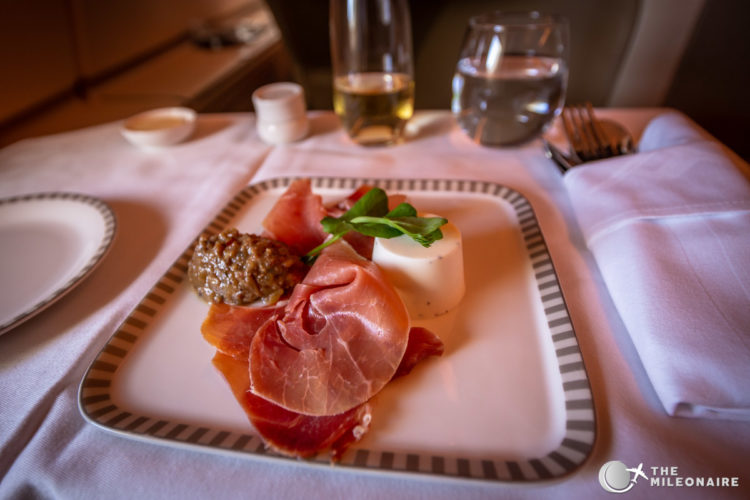 Besides 'Book the Cook', there were four options to choose from as a main dish. I went for the prawn and seafood noodles in lobster sauce…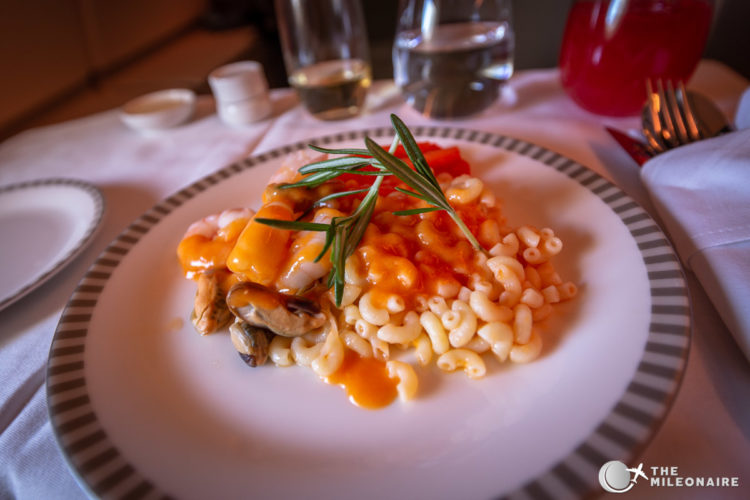 …followed by a lime cheesecake as dessert, as well as a cheese plate (served from a cart):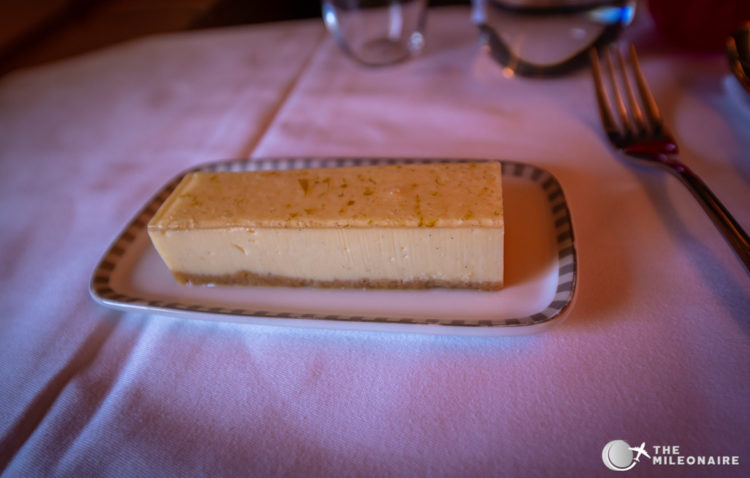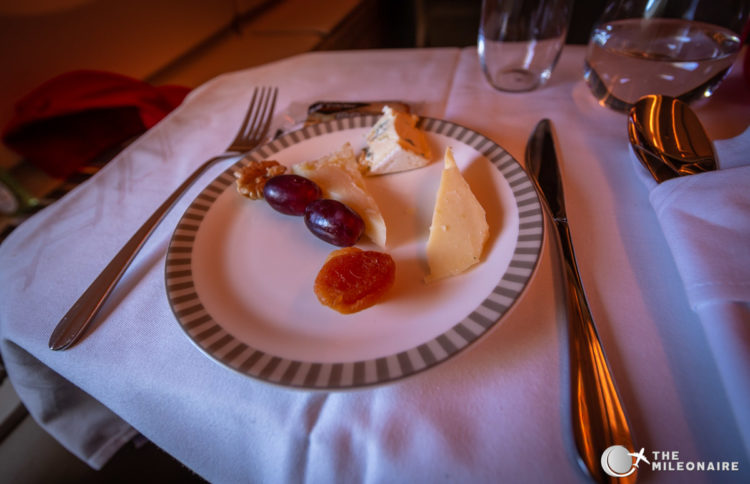 There are also plenty of snacks available during the remainder of the flight. I passed and just went for the breakfast before landing: fruit, croissant and Indonesian noodles: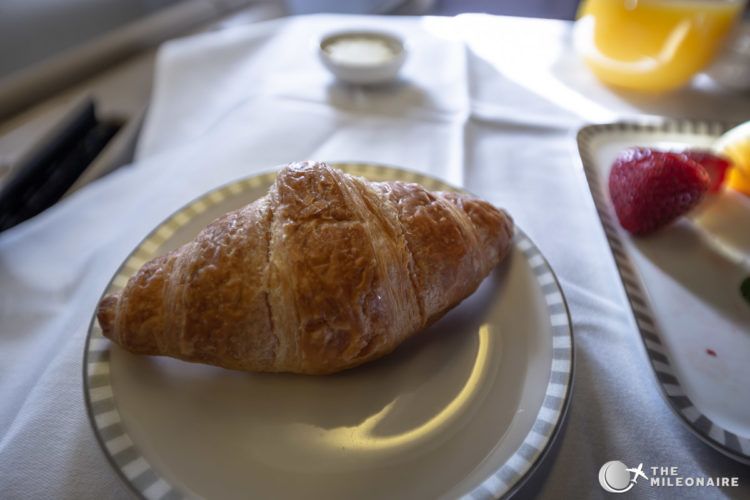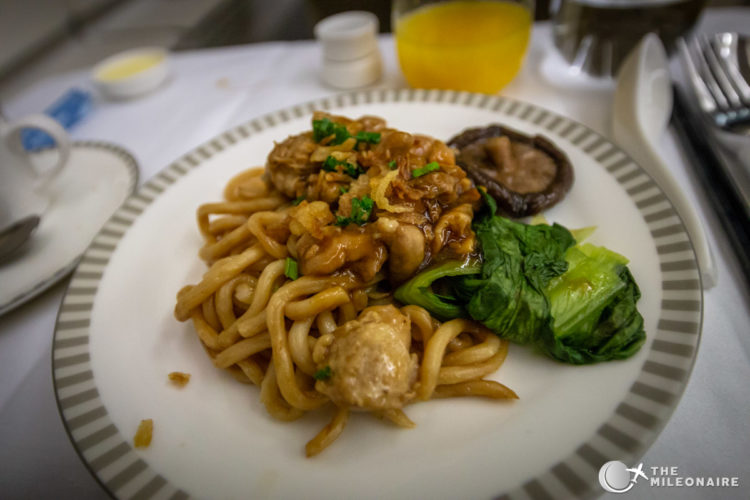 The breakfast on the Singapore-Brisbane segment was similar, this time with super interesting Dim Sum though: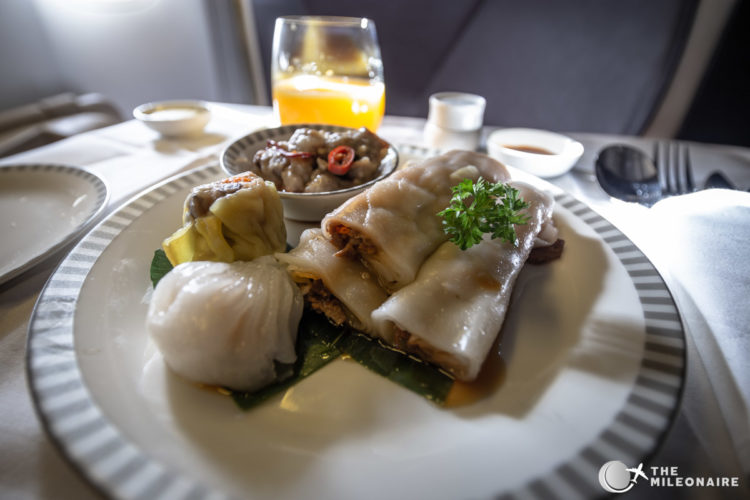 The quality of food in the Singapore Airlines Business Class is terrific, the service excellent – just as you would expect it from a five-star airline. There's some room of improvement for the presentation of some dishes though – e.g. the fruit plate could use some more love. Both flights arrived on time, and after two segments I was finally in Brisbane.
Conclusion: Singapore Airlines Business Class
While some airline awards seem sketchy from time to time, a flight with Singapore Airlines as the most awarded airline will rebuild your trust. A huge seat with lots of space and privacy that outperforms some First Classes. An excellent service with good catering and terrific crews. In total, a full five-star performance from the first check-in until you leave the plane.