All Nippon Airways has a fantastic reputation among frequent flyers: their onboard product among the best in the industry, and their service quality truly deserves that five-star rating. This May I was finally able to try out the ANA Business Class in the 787 when travelling from Tokyo Narita to Düsseldorf.
Of course I also had to check out the All Nippon Airways Lounge at Tokyo Narita Airport – as a flagship lounge on an airline's main hub always promises to offer something good. In this review I want to share my lounge visit with you, so you can decide for yourself if the ANA Lounge at Narita Airport is worth a visit!
ANA Lounge Tokyo Narita: Location
All Nippon Airways operates multiple lounges at Narita Airport, for both domestic and international departures. When flying abroad, there are two business class lounges to choose from: one near Gate 40 and one near Gate 50. Both are in the South Wing, so you should go through the Southern immigration lines. After passing the passport control the lounge near Gate 52 is directly to your left, whereas the lounge at Gate 44 is a bit further away to your right. Once you're at Gate 44 (which is the lounge I prefer at Narita) you just have to take the escalator to the First or Business Class Lounge.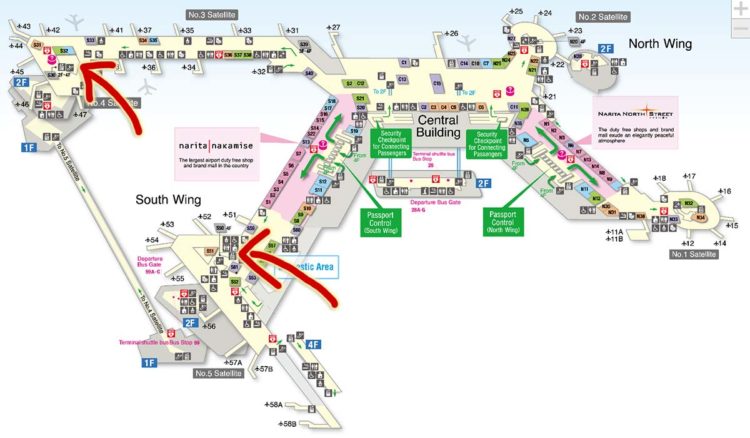 Lounge Access: Who gets in?
The following guests are allowed to access the ANA Lounge at Tokyo Narita:
Passengers in First or Business Class with a same day ticket for ANA or another Star Alliance carrier
ANA Diamond/Platinum Service and Super Flyers Card members with an ANA / Star Alliance flight on that day
Star Alliance Gold members with an ANA / Star Alliance flight on that day
ANA Premium Economy passengers with a flight on the same day
ANA Lounge Tokyo Narita: Review
My flight to Düsseldorf departed at 11AM in the morning,so I got to Narita Airport early. After passing through security I went directly to the lounge at Gate 44. Walking there takes a while, but at least there are signs everywhere so easily find the lounge. Once you're there, just take the escalator up: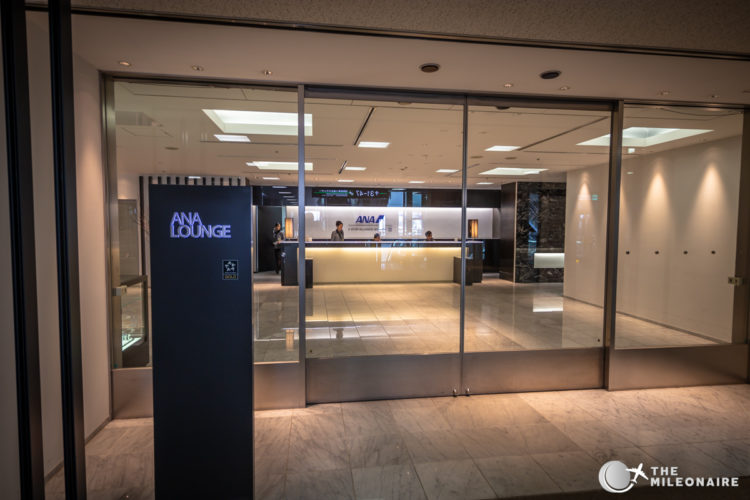 I was greeted by a beautiful model of ANA's Dreamliner in the infamous Star Wars livery, a nice little touch:
The lounge reception is there as well, and I checked in with my business class ticket. You then pass through a marble corridor…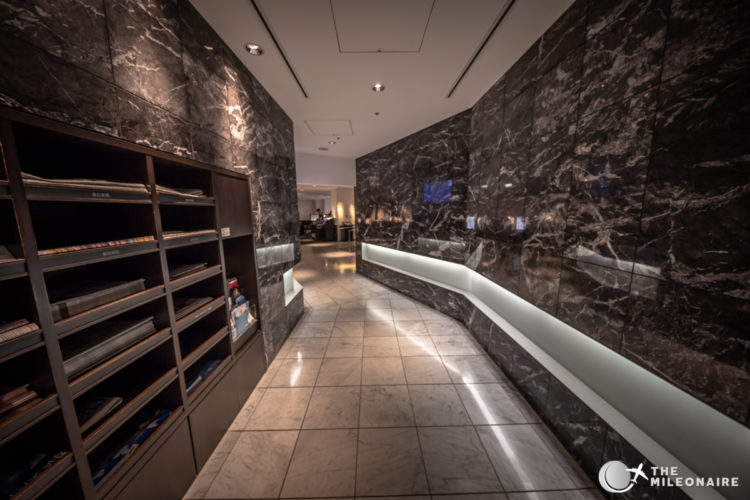 …where you'll find a shelf full with Japanese and International newspapers…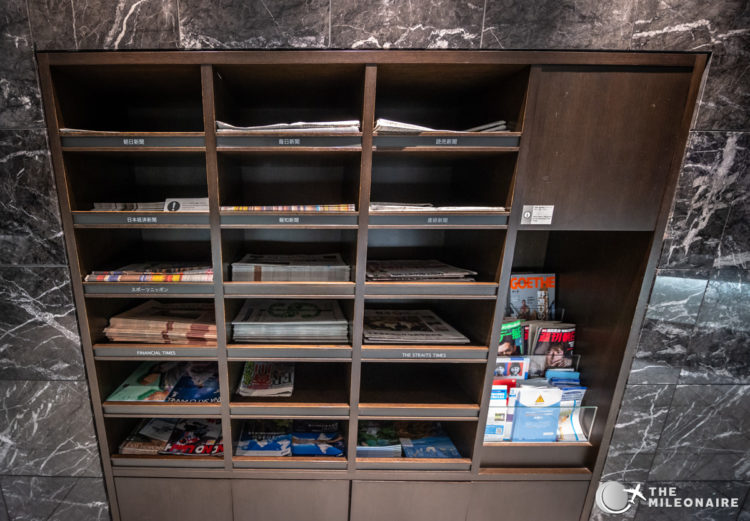 …until you're in the lounge. The interior design is very elegant, with dark furniture and white marble floors. To the left is the main area of the lounge with the food buffet and various seat areas: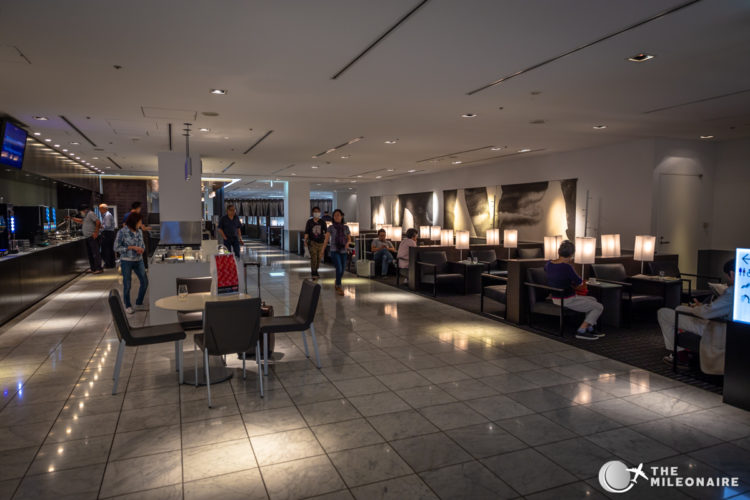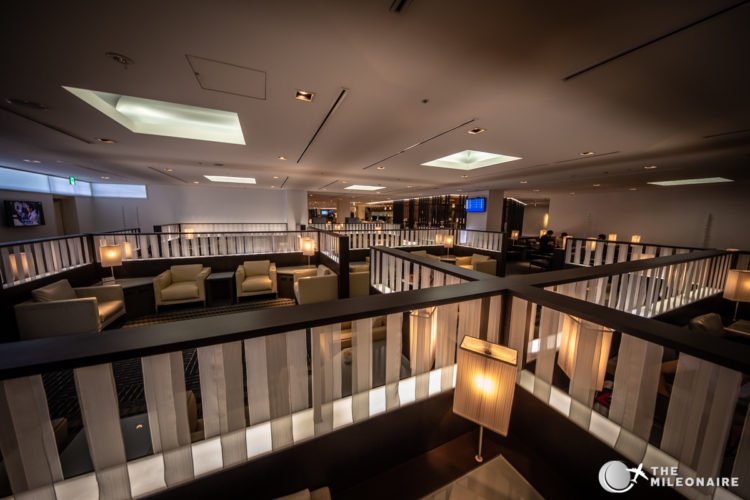 To the right is one of the highlights of the lounge: the Sake Bar! Various different sake kegs and bottles are waiting for you to try: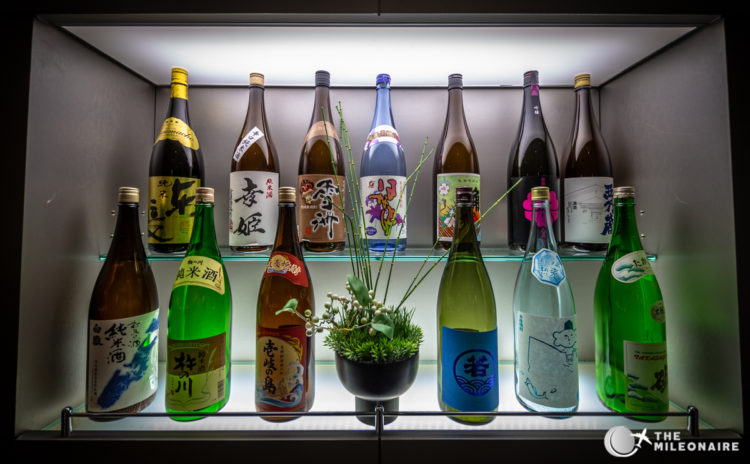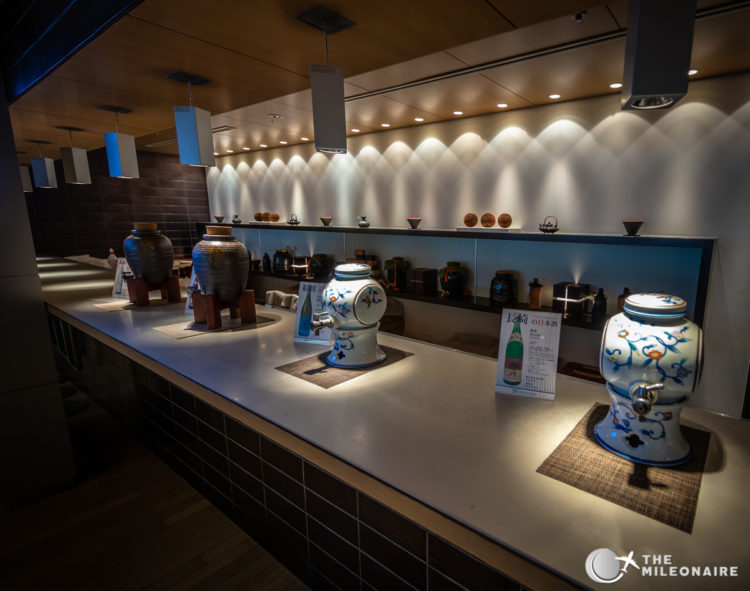 As I didn't want to go ham with the Sake that early in the morning I rather opted for the main area of the lounge to the left. Super comfortable leather seat groups were waiting for me there, perfect for families and smaller groups. Multiple dividers in the room also add some level of privacy.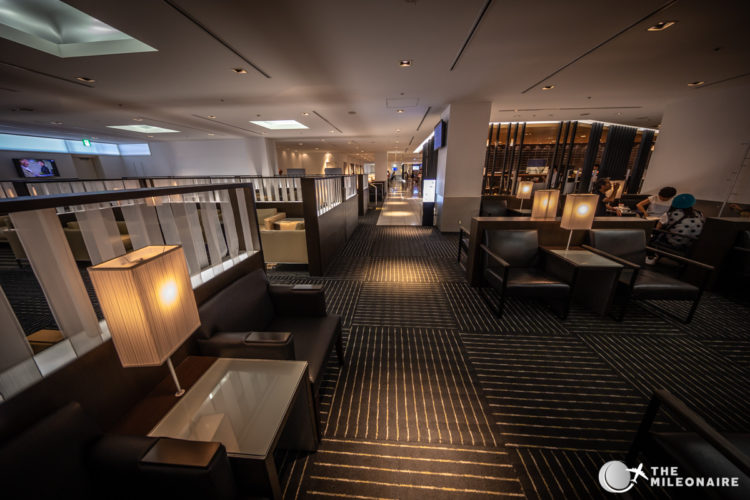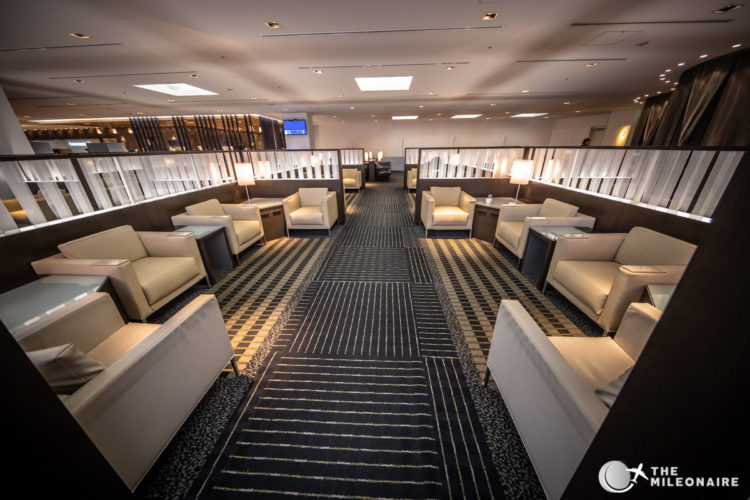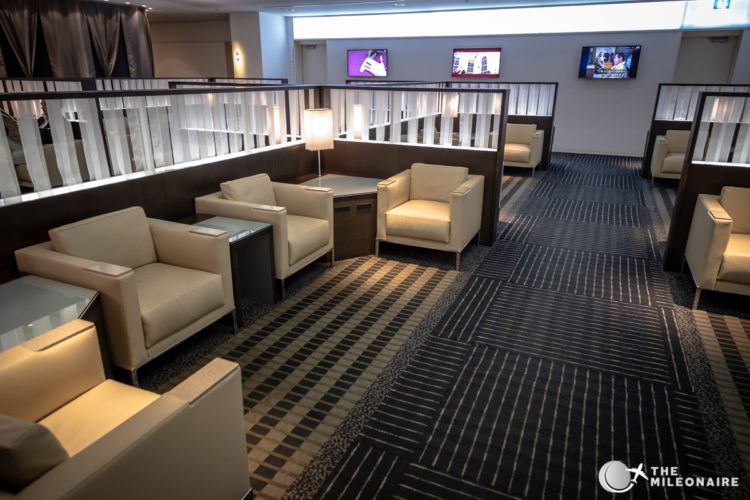 As it should be in a tech nation like Japan, you'll find multiple outlets to charge your devices at the seats.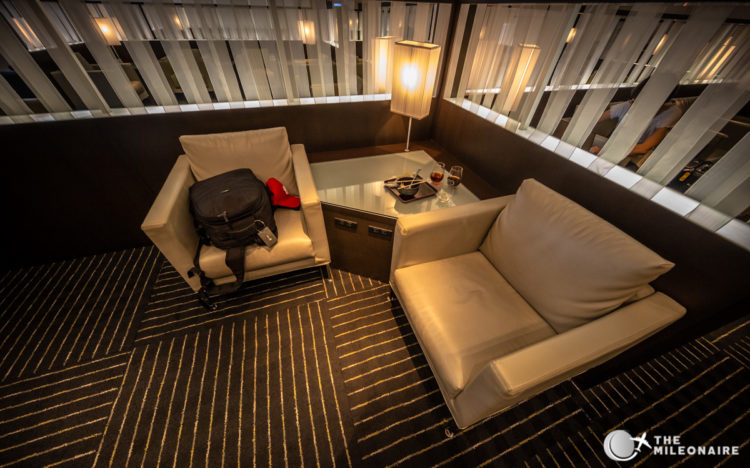 In the back of the lounge is quiet area with reclining lounge chairs to take a nap. It looks a bit odd as the area is just covered by some black curtains, but it does the trick.
No Sake and no power nap for me though: I rather headed for the breakfast buffet as I didn't have any breakfast that morning. The ANA Lounge in Tokyo Narita has a large buffet with Japanese and Western snacks and dishes.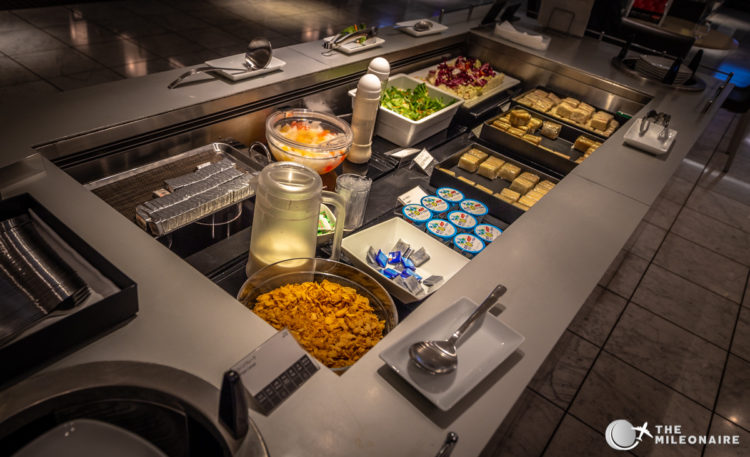 I especially liked the small Sushi rolls…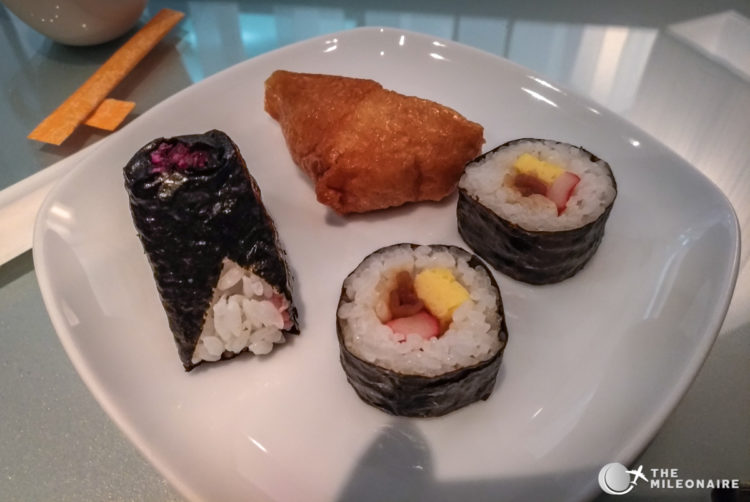 …and the cookies with ANA branding: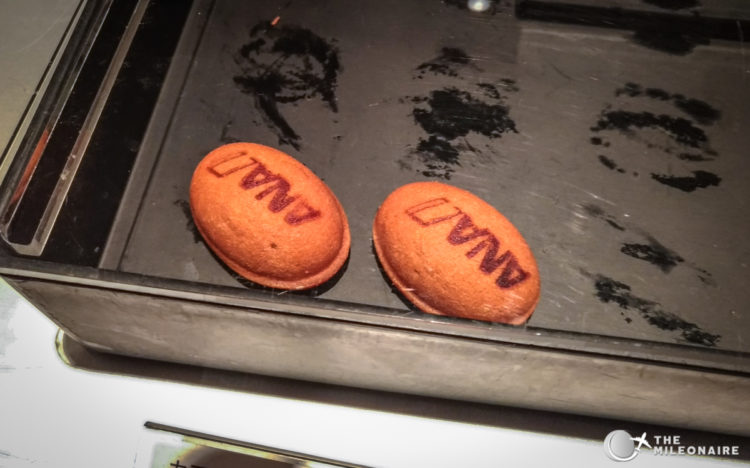 The lounge also has the typical Japanese draft beer machines and a small wine selection: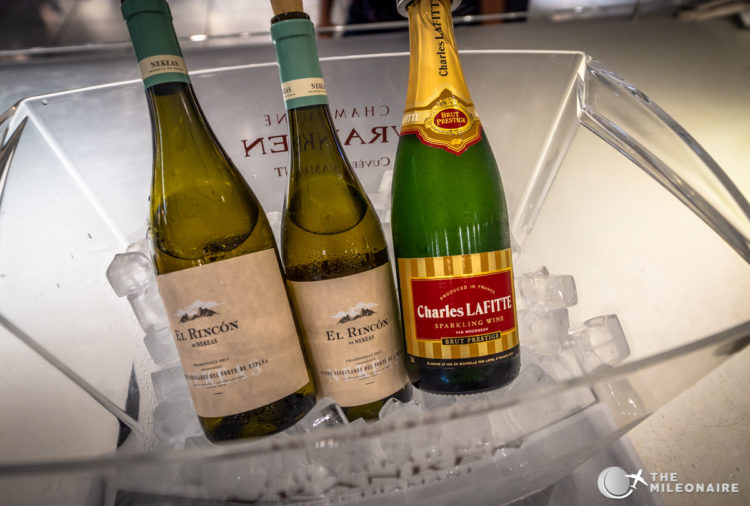 Even better: ANA offers some good liquors in its Narita lounge, including some really good Japanese whiskeys!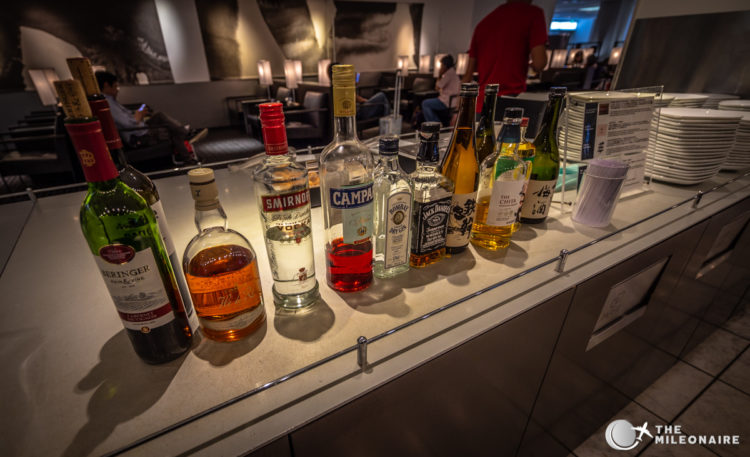 I poured me one of these Whiskeys, sat down in a lounge chair and worked through some mails with the good lounge WiFi.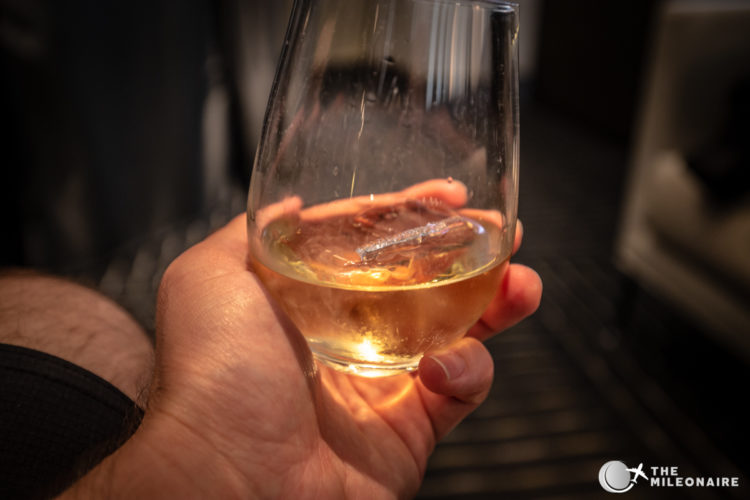 My personal highlight of the ANA Lounge Tokyo Narita was the noodle bar though: similar to Cathay Pacific's lounges, ANA offers various fresh noodle dishes made to order. The noodle bar is in a little 'cage':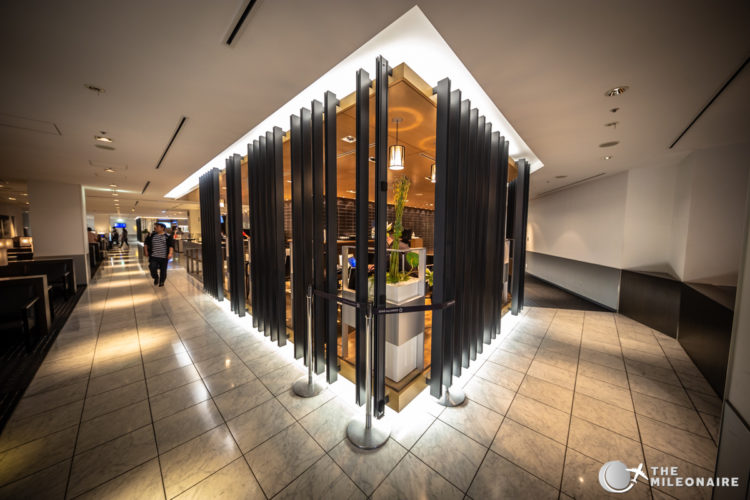 You just order your dish at the window, and a beeper tells you once it's ready.
I tried Kakiage with Soba noodles first…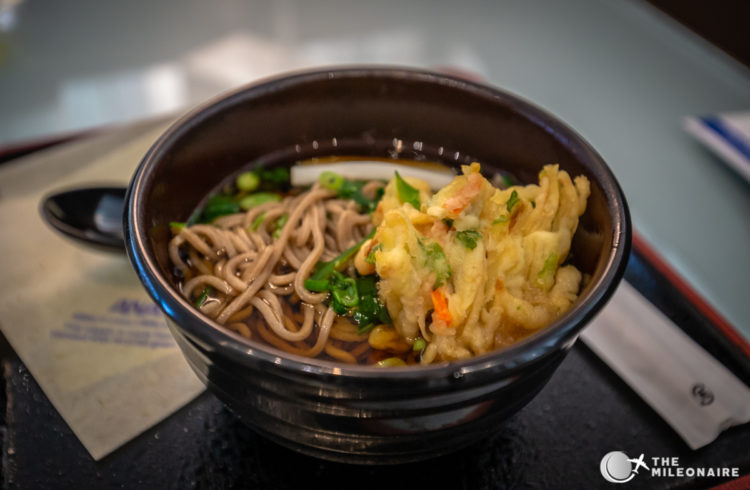 …followed by a Ramen soup: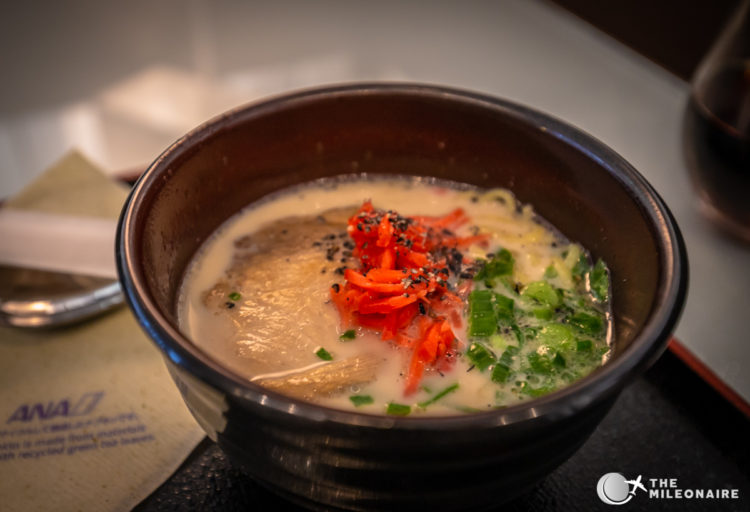 Both was good, and as the dishes are rather small you can try multiple ones during a visit. Afterwards it was time for boarding already, and after a short stop in the clean bathrooms…
…I walked to my gate.
Conclusion: ANA Lounge Tokyo Narita
The ANA Business Lounge in Tokyo Narita definitely met (and in some parts succeeded) my high expectations of a 5-star airline. Beautiful interior design, solid food, comfortable chairs and clean bathrooms make it a good place to relax before your flight. Highlights like the noodle bar, the sake tastings and the selection of Japanese whiskeys add an awesome local touch that stands out among lounges. If you can, I highly recommend checking it out before your flight!