Last June I finally had the chance to try out Cathay Pacific's new Business Class in the Airbus A350. The regional flights in Asia are quite expensive most of the time in Business Class, but pretty good deals when you're using miles. I used some old Air Berlin miles back then to get from Singapore to Bangkok, and from Bangkok to Hong Kong. Besides trying out Cathay's Business Class, this also allowed me to fly with the A350 and explore the beautiful lounges in Hong Kong (The Pier First Class and The Wing First Class).
Cathay Pacific A350 Business Class: Cabin
After another refreshing stay at the "The Wing Lounge Cabanas" I travelled all across the airport to my departure gate. Cathay Pacific has a pretty strict priority boarding with consistent status recognition. Before boarding you should definitely have a look at the A350 in its beautiful Cathay Pacific livery, especially its raccoon eyes: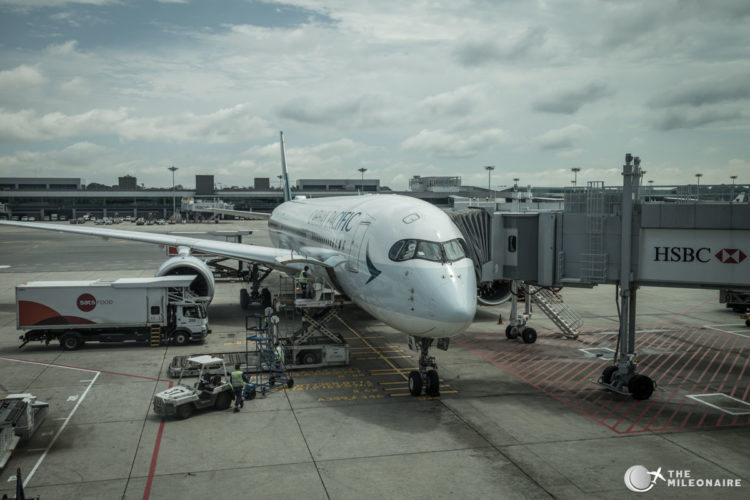 After entering the A350 you'll be guided to your seat by the friendly cabin crew. The business cabin in Cathay's A350 is pretty long with a total of eight rows á four seats in a 1-2-1 configuration. Behind that there's another small business cabin with two more rows á four seats.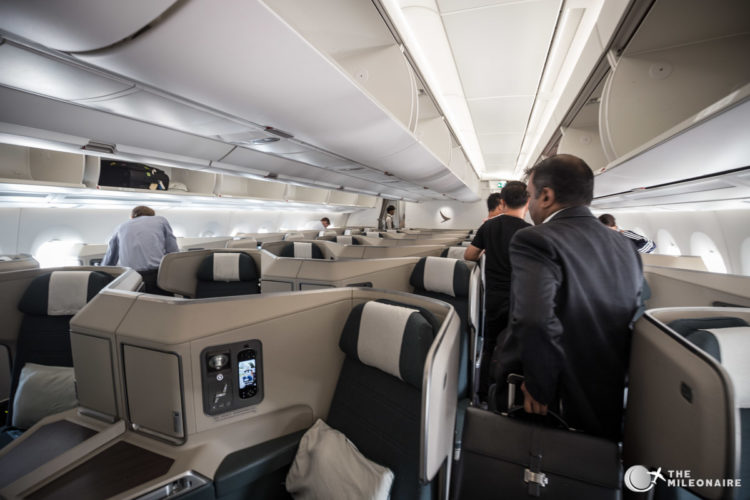 The seats are made by Zodiac and are arranged in a "Herringbone" setup: this means that they are angled towards the window or center line of the aircraft, which results in a lot of added privacy (as you're literally facing the window when choosing a single seat).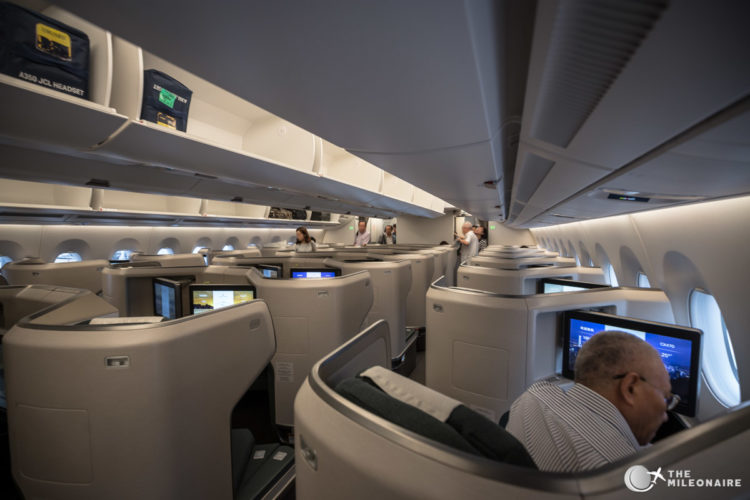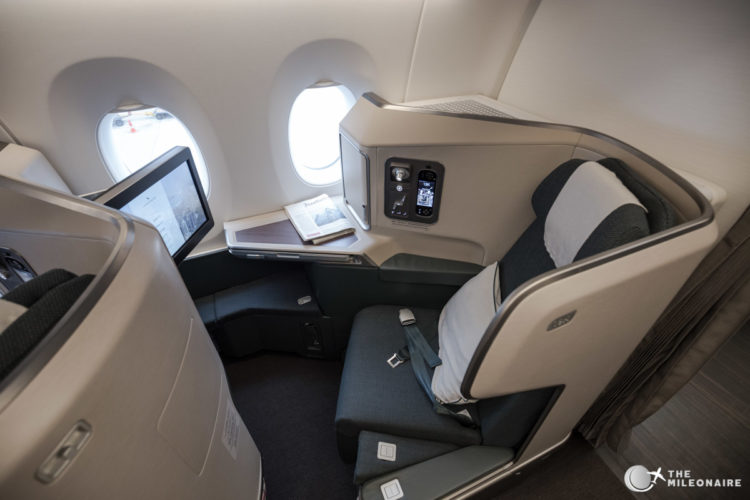 The corporate color of Cathay Pacific is turquoise green, which also shows inside the A350 Business Class cabin: while the seat shells are bright grey, all seat cushions are turquoise green. Even though that makes the cabin look more sterile than e.g. the Etihad Business Studios with all its beige tones, Cathay Pacific's A350 business class has a very clean elegance to it.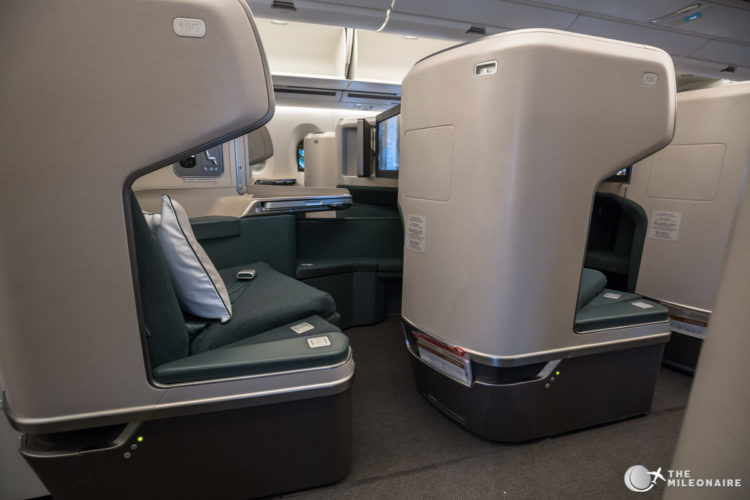 As described above, the 1-2-1 configuration allows a high level of privacy: the single seats at the window are just perfect for solo travellers, while the double seats in the center are perfect for couples. They still don't feel awkward when there's a stranger sitting next to you, as it's the case in multiple of today's 2-2-2 configurations (Hello, Lufthansa).
Cathay Pacific A350 Business Class: The Seat
On my segments I always chose one of the single seats near the window as I don't have any friends that fly with me (j/k):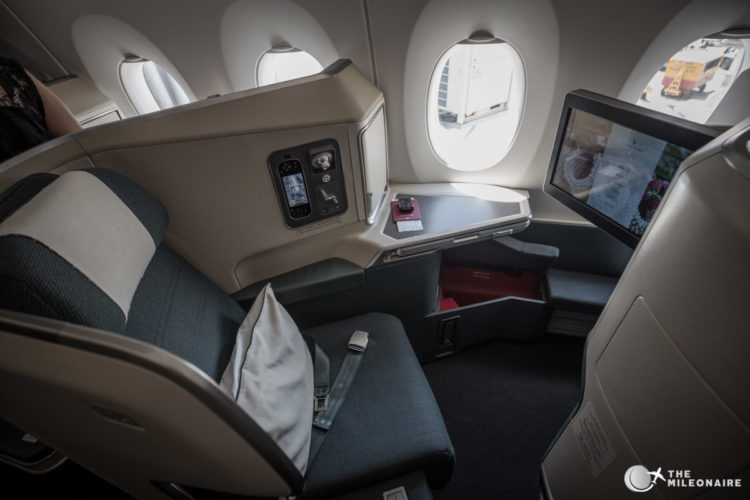 What always strikes me first with herringbone seats is that the leg space is very wide and offers lots of space: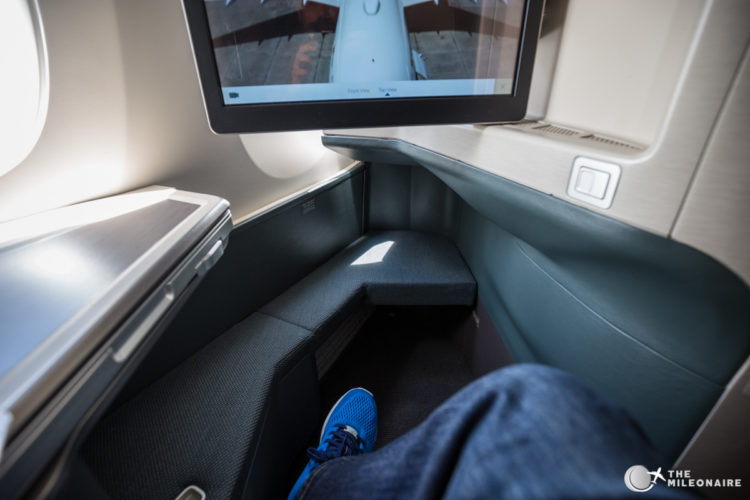 Being not incredibly tall I could sleep very well as I had enough space in all seat settings. Cathay's business seats in the A350 are all full lie-flat obviously and can be transformed to a real bed. This is done via a small control panel at your side, where you can adjust three different buttons: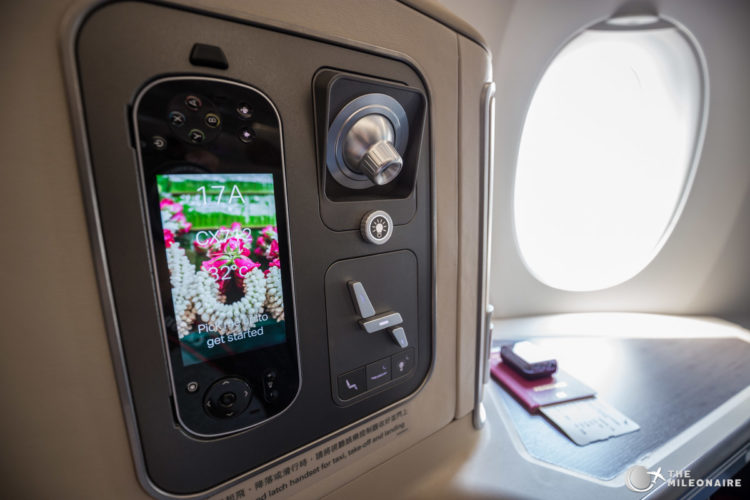 You'll also find a reading light there, as well as a small touchpad to control the in-flight entertainment system. The screen itself is pretty large (bigger than the one in the 777 Business Class) and can be stowed away at the side.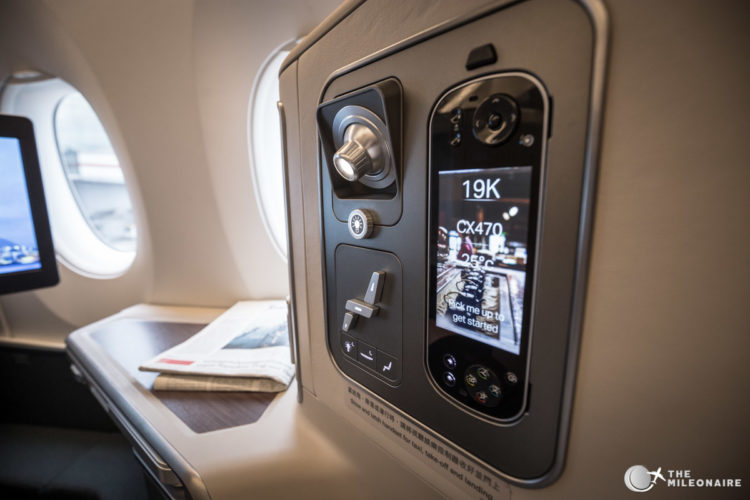 I only used the in-flight entertainment to watch the outside cameras which had an awesome quality. The movies and series in the IFE looked pretty promising as well though: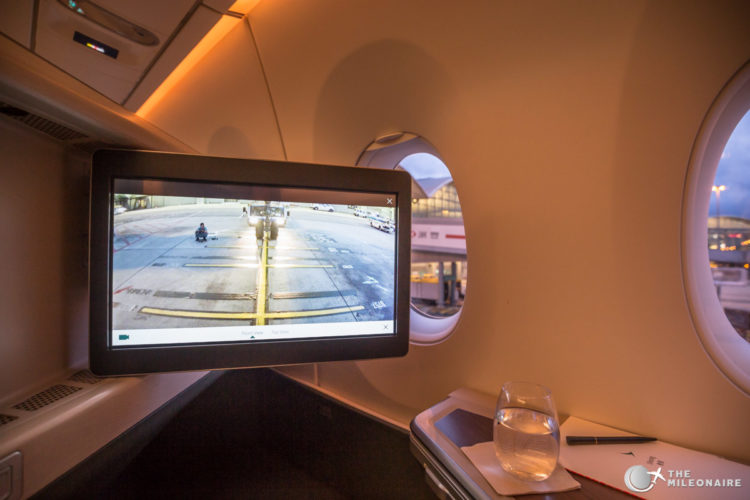 Behind the touchpad and seat controls you'll also have a small storage space with the headsets inside – and a small mirror: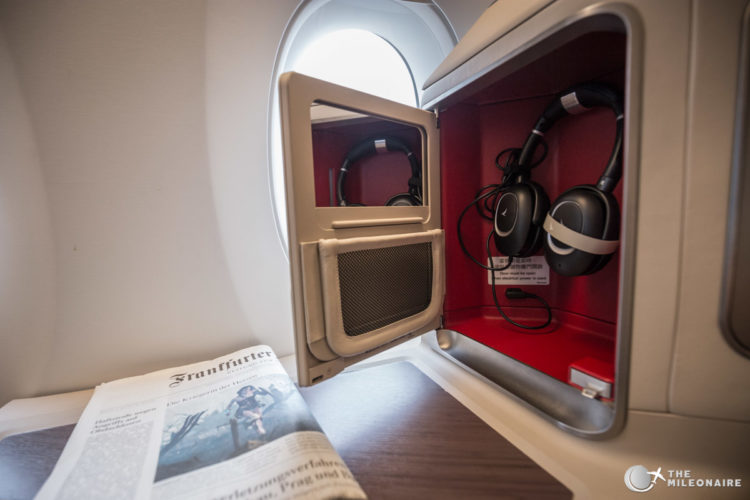 Speaking of storage space: as the seat is pretty wide compared to non-angled setups, there are lots of small compartments that offer additional storage space. The seat itself is very comfortable, the only thing I missed was an armrest on the aisle side. The angled configuration also made it a bit difficult to look outside the window.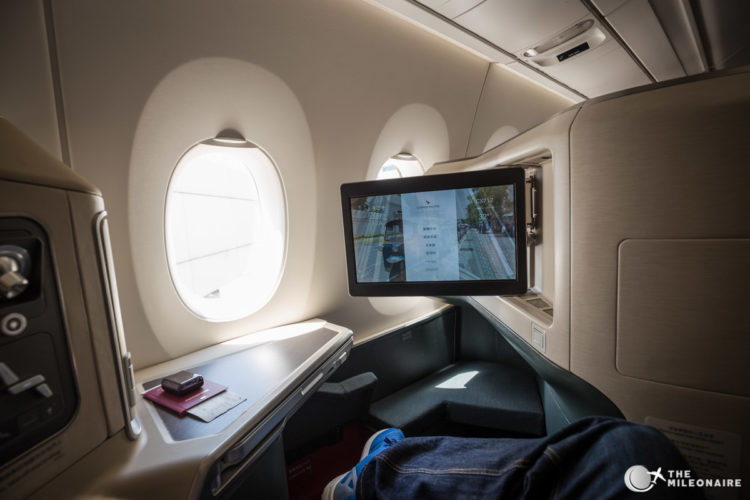 Cathay Pacific A350 Business Class: The Service
The service on regional legs in Asia starts with champagne in Cathay's A350 Business Class. Cathay serves Billecart-Salmon Brut Reserve on board: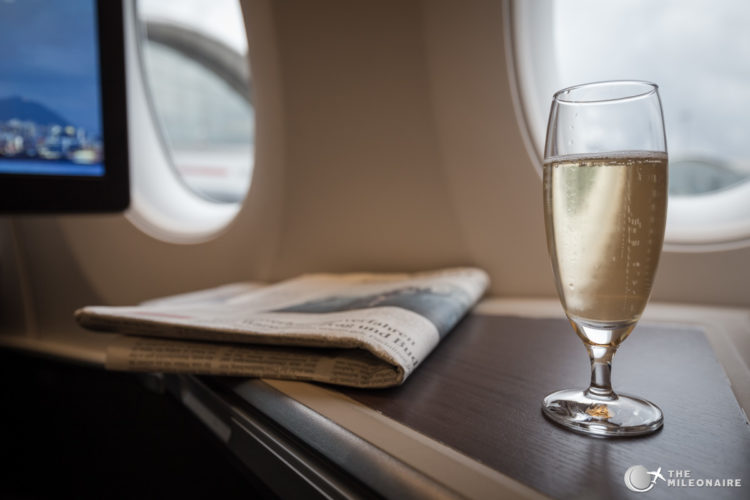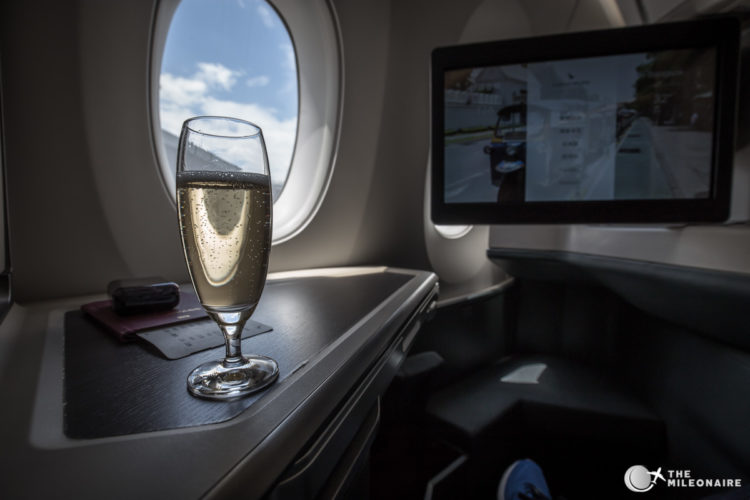 Followed by a hot towel service: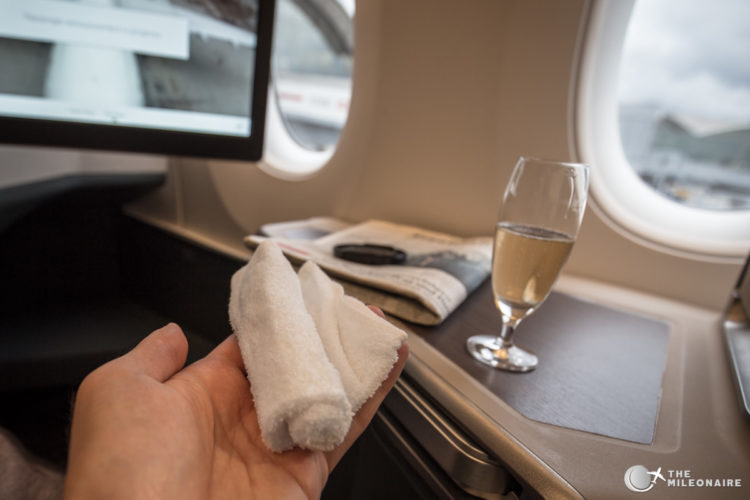 Afterwards you'll get a dining menu, despite the short segment. A small little detail: these menu cards look awesome and have a great, luxurious feel.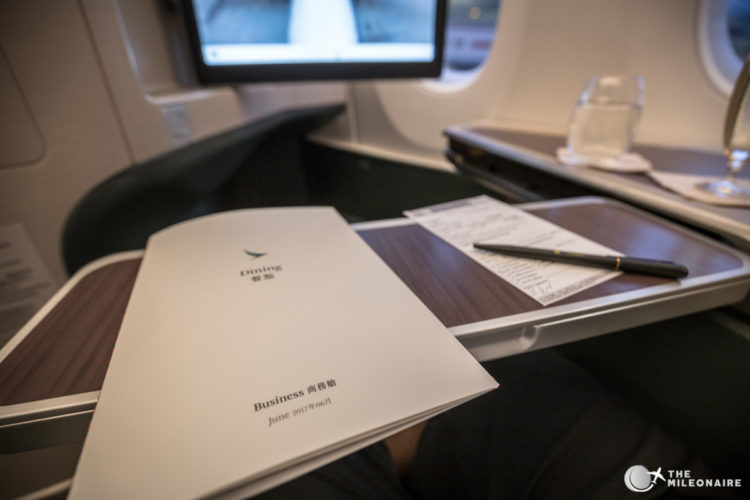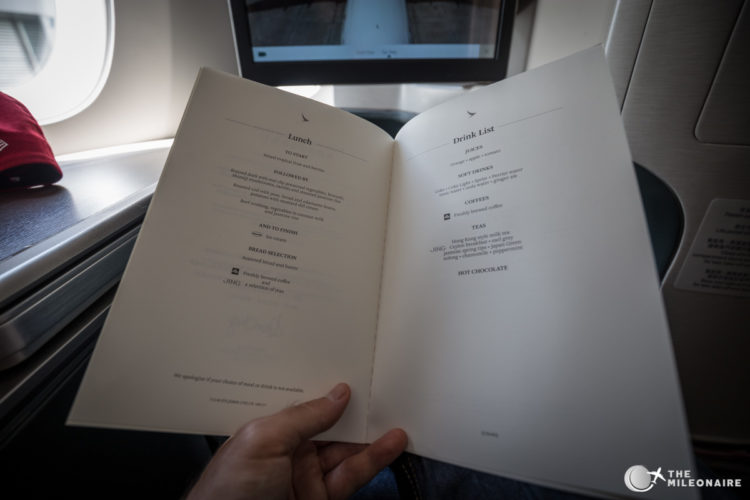 After takeoff there was another round of drinks (champagne again for me, suprise). Then the table was set with a proper table cloth, and some fruits plus a selection from the bread basket followed. The garlic bread is highly recommended: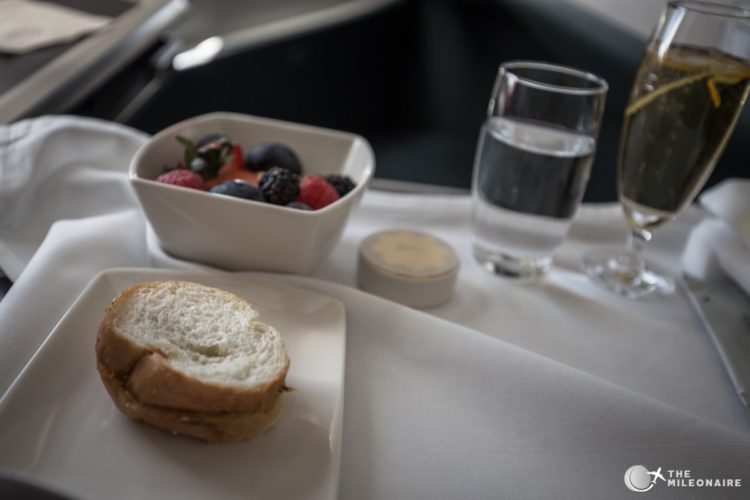 Afterwards the cabin crew came by with a small cart that had all the different main dishes on display. Even though the presentation of each dish is not super fancy, it's a nice touch that you can actually see each dish and then choose spontaneously. The taste of my Chinese food choice was excellent though, and the Häagen Dasz ice as dessert was great as well.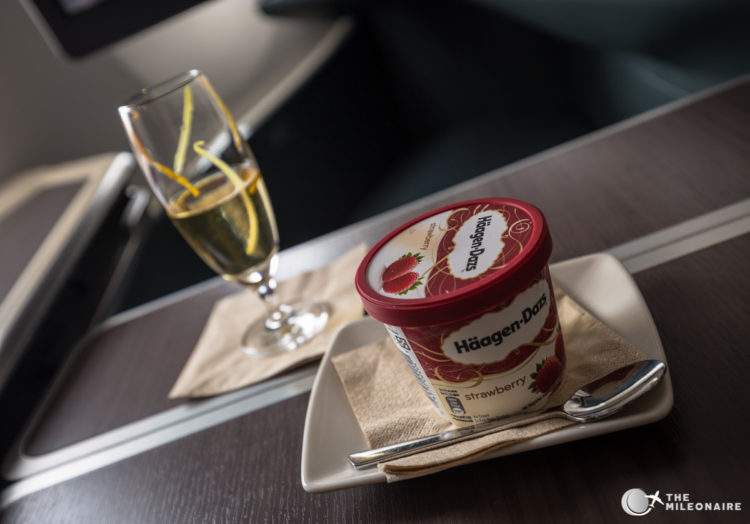 Conclusion: Cathay Pacific A350 Business Class
Cathay Pacific's A350 Business Class is an excellent product, especially for regional travel in Asia. While European airlines just block the middle seat in economy class and call it "business class" for shorthaul flights, Cathay Pacific uses a real business class in its brand new Airbus flagship. The excellent 1-2-1 configuration offers a very spacious seat and cabin, as well as a comfortable lie-flat seat. The cabin crew is perfectly trained and provides a friendly, outstanding service. Even though Cathay's Business Class isn't the cheapest way to get from A to B in Asia, it definitely is one of the most luxurious ones.