This summer I was finally able to visit the Cathay Pacific Lounge in Bangkok. I've built  a nice itinerary through Asia with my Topbonus miles and managed to sneak in some days in Bangkok. With its good airport, nice (and inexpensive) hotels and the great flight connections, Bangkok is always worth a visit. As my next stop would be Hong Kong, using Cathay Pacific (and their Lounge in Bangkok) for just 40.000 Miles in Business was a great choice.
Cathay Pacific Lounge Bangkok: Location & Access
Cathay Pacific's Lounge in Bangkok is located airside (after security/emigration) close to the G-Gates, and a little bit hidden on the Mezzanine level: coming from emigration, a small escalator leads downstairs where multiple airlines have their lounges – e.g. Emirates, Air France, but also Cathay Pacific.
To gain access to the Cathay Pacific Lounge in Bangkok you'd have to meet one of the following criteria:
Travelling in First or Business Class with Cathay Pacific or Cathay Dragon
Marco Polo Club members with silver, gold or diamond status
Emerald Oneworld members
Cathay Pacific Lounge Bangkok: Review
As I wanted to have some additional time in Hong Kong (to visit The Wing), I took one of the earliest flights out of Bangkok in the morning. That way you also avoid the nightmare that is Bangkok's rush hour traffic. If you're travelling in one of the premium classes, Cathay Pacific will provide you with a Fast-Track-Pass that allows you to use the express lines for security and emigration.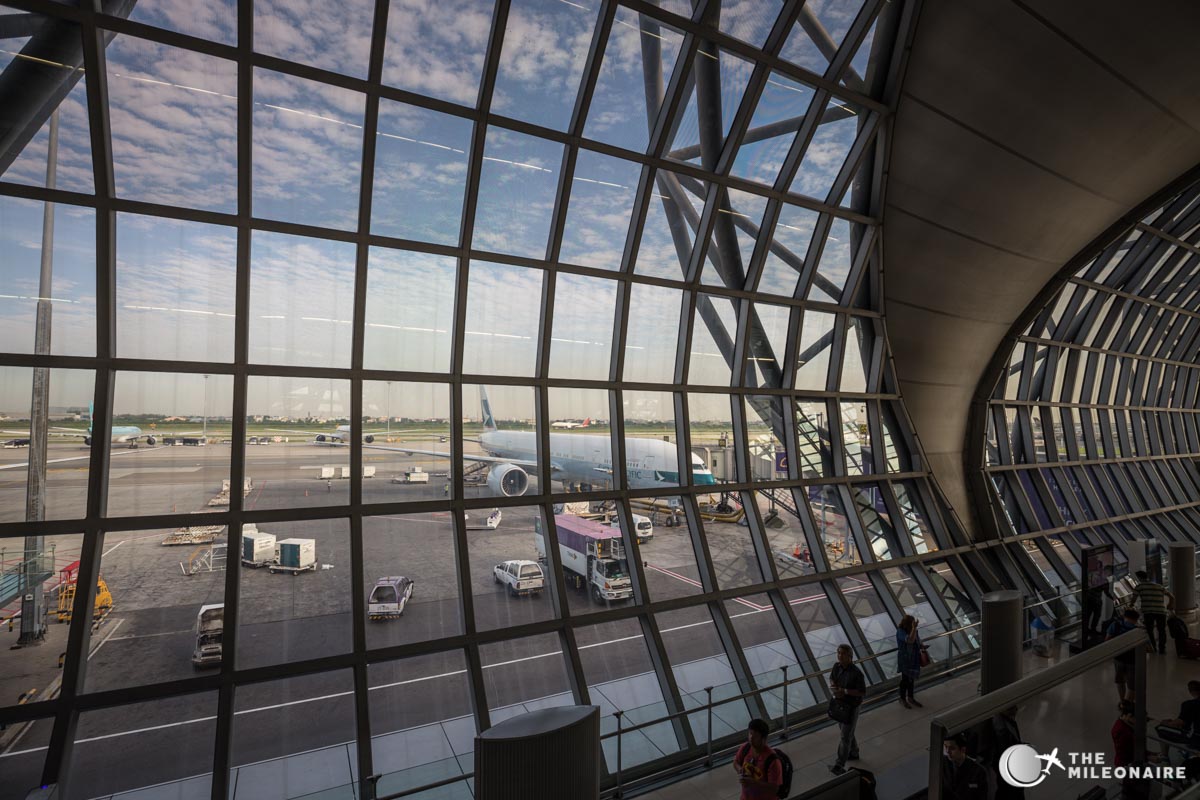 The Mezzanine level is rather unattractive compared to the rest of the airport, but even from a distance you can easily spot the entrance to the Cathay Pacific Lounge Bangkok. You can already see that it's being built according to Cathay's new lounge design, so frequent flyers will feel at home instantly.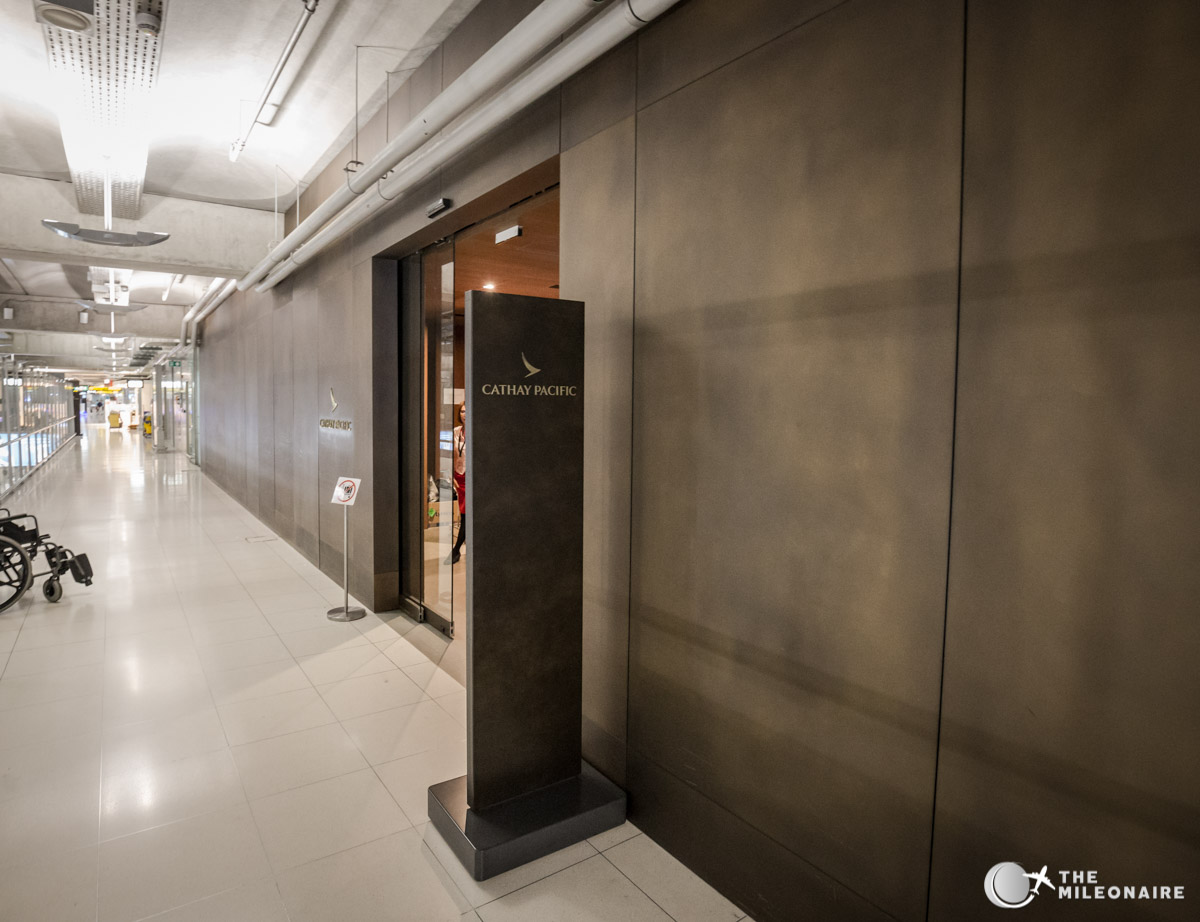 After entering the lounge you'll directly be in the "Snack Area", where a few snacks and drinks (and a coffee machine) are located around a counter. There's multiple bar stools facing the window front (ideal to work and grabbing something to eat quickly) and a couple of high tables.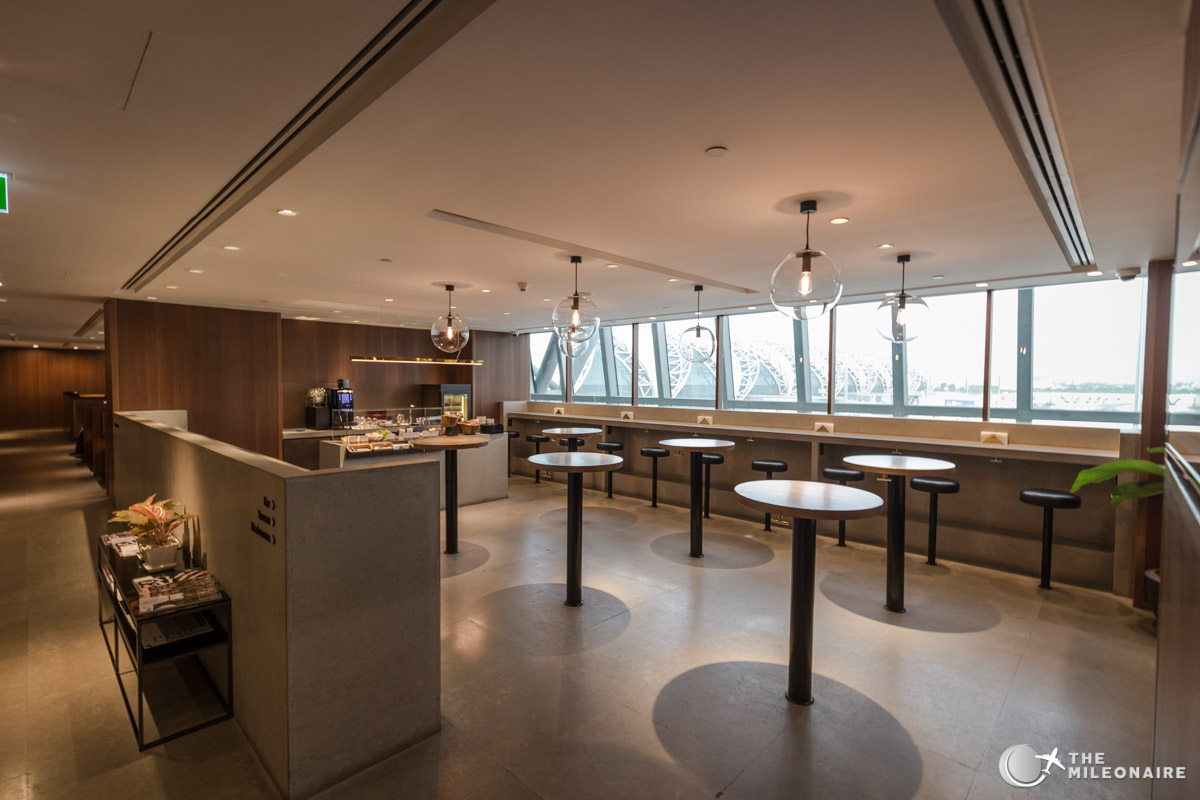 On the left you'll also find a small shelf with newspapers and magazines. Of course you won't have as many to choose from like in The Pier, but definitely better than nothing. I especially like that area for a quick snack while writing some business mails or checking on some projects.
I also like the overall design of the lounge: with the bright window front and the light brown wooden wall panels the Cathay Lounge in Bangkok feels very bright and friendly.
When you turn left after entering the lounge you'll find my personal highlight of most Cathay lounges: the noodle bar! Even though I arrived at the lounge super early, the cook welcomed me enthusiastically and asked me what I wanted to have. If you don't know how these lounge noodle bars work: there's a menu at the counter with a couple of hot noodle dishes and interestings sides (e.g. dumplings or desserts) you can choose from. After ordering, you'll get an electronic beeper that lets you know when your order is finished.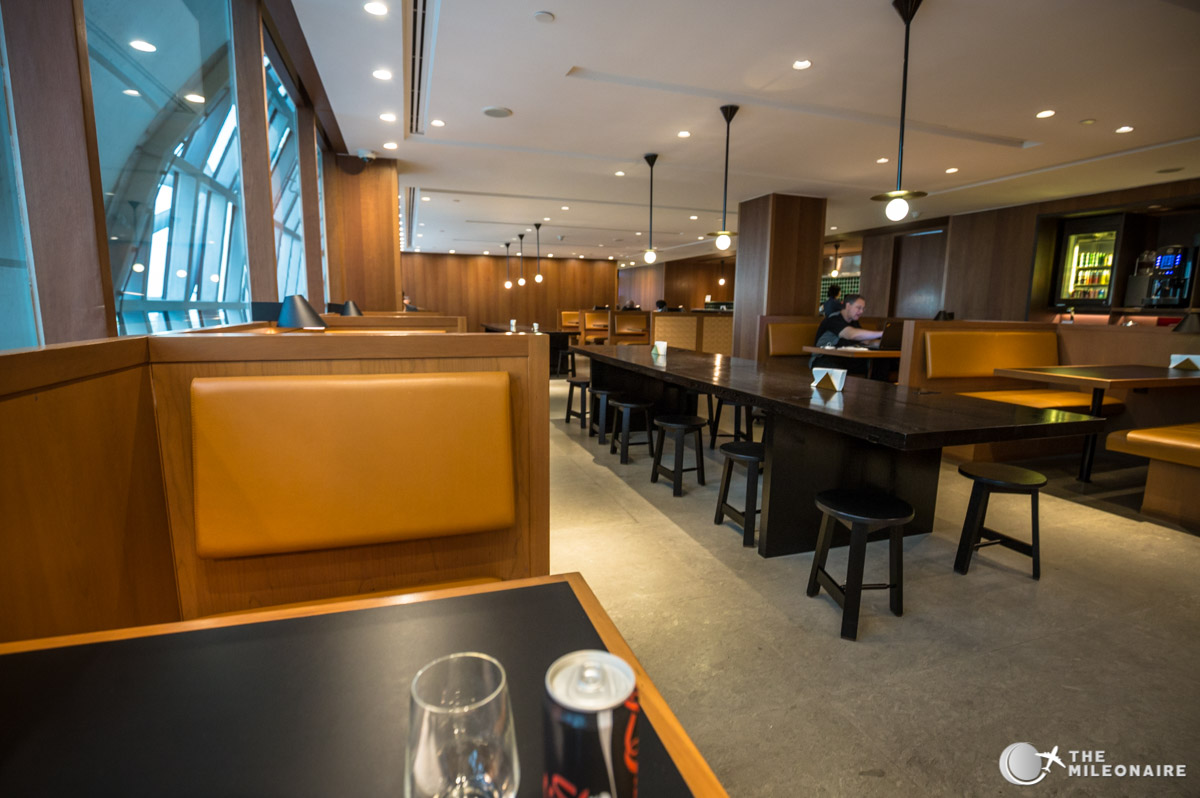 I ordered the Wantan Noodle Soup and some sides, as well as an ice-cold Coke Zero: a perfect start into the day!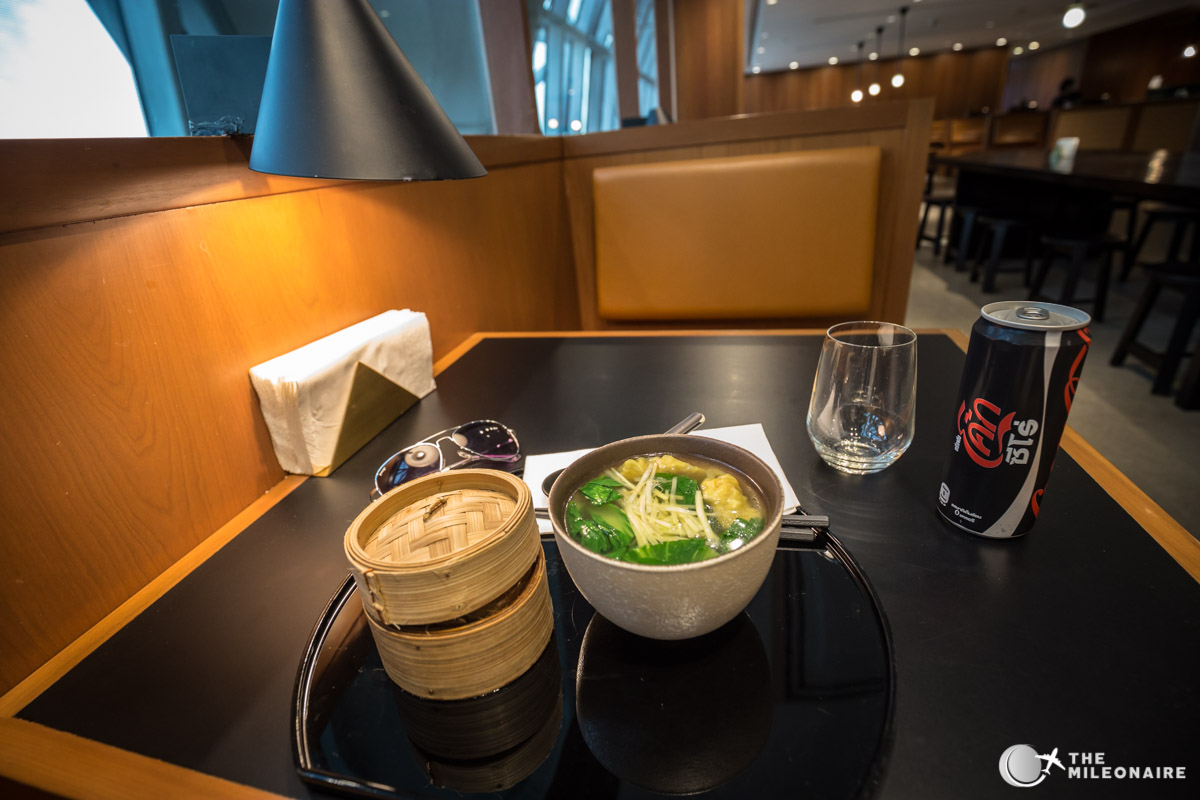 The dishes are all pretty small, so you can try 2-3 different options if you're hungry. Of course the items on the menu aren't super fancy (how fancy can noodle soups be?), but they excel where it matters most (taste!). I love these Cathay lounge noodle bars!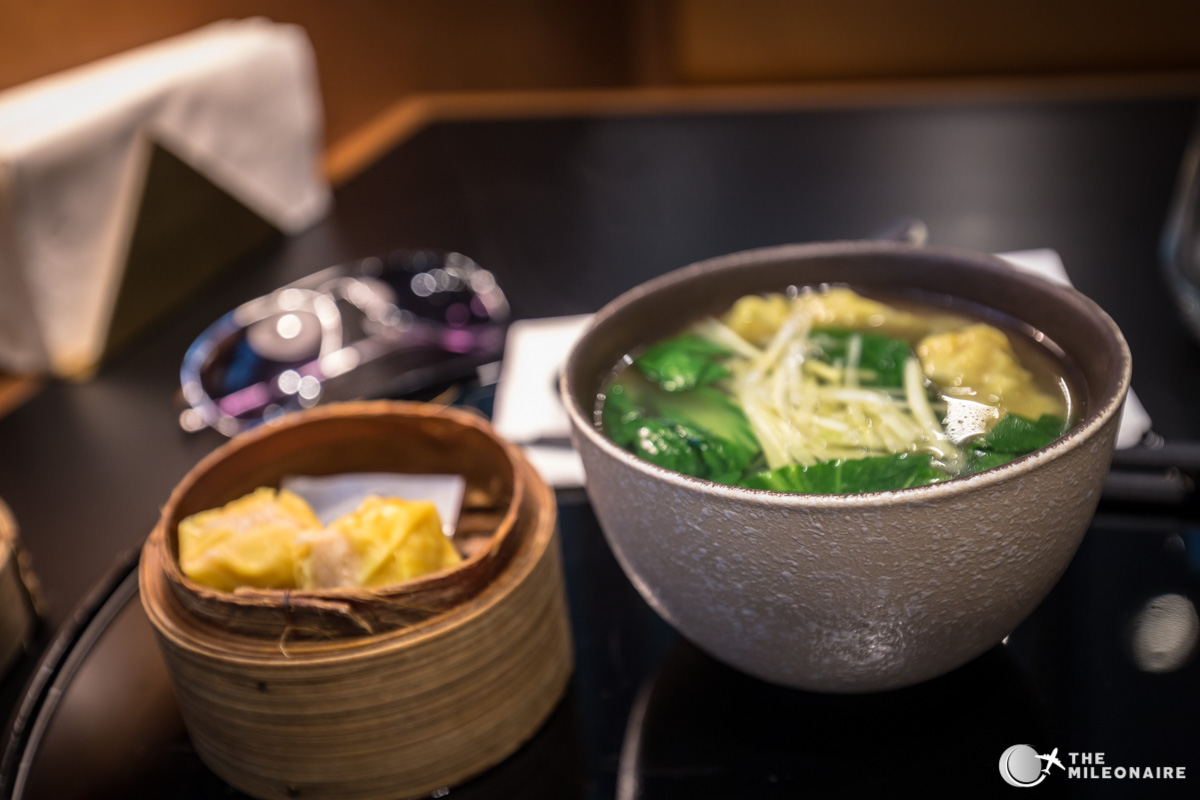 Afterwards I went back down the corridor to explore the back part of the Cathay Pacific Lounge in Bangkok. There you'll find a seating area with comfortable chairs, and also the way to the lounge washrooms.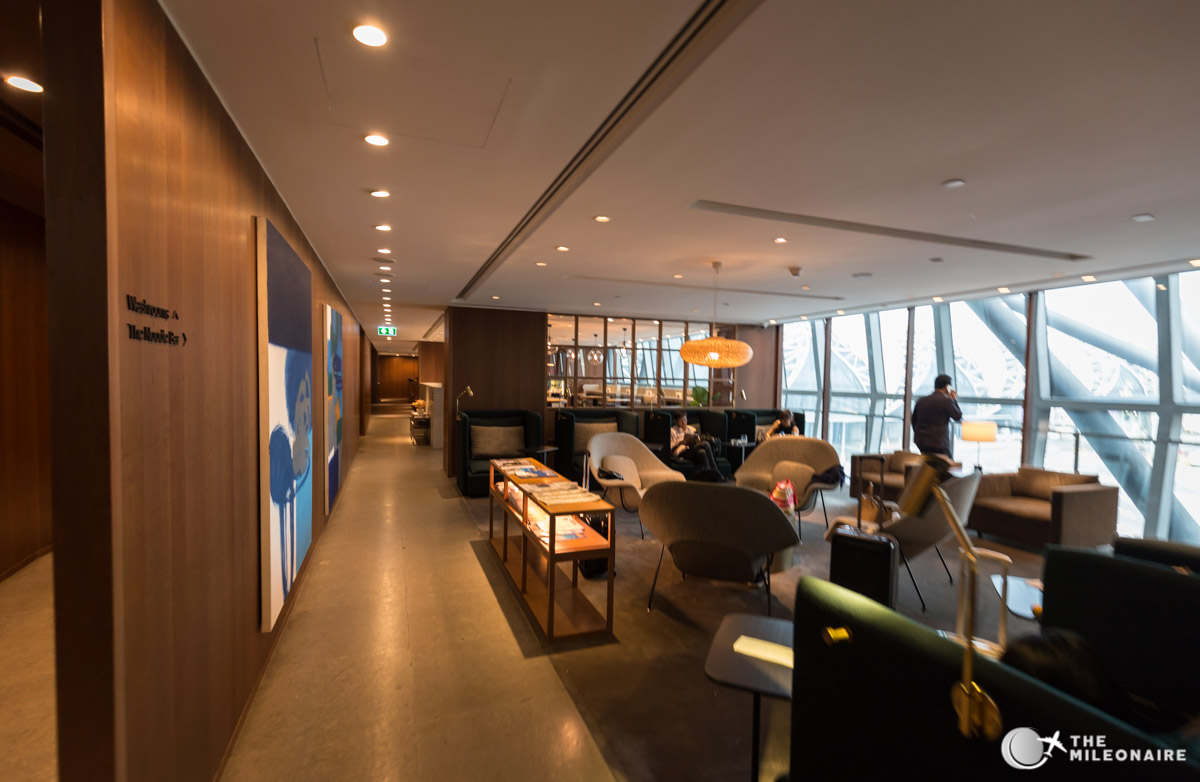 There you'll also find a pretty nice bar with a great selection of drinks. As I was there early in the morning, there were also some baskets with fresh bread and croissants. With a tasty chocolate croissant and a double espresso from the bar I made myself comfortable in one of the lounge chairs with an included foot rest.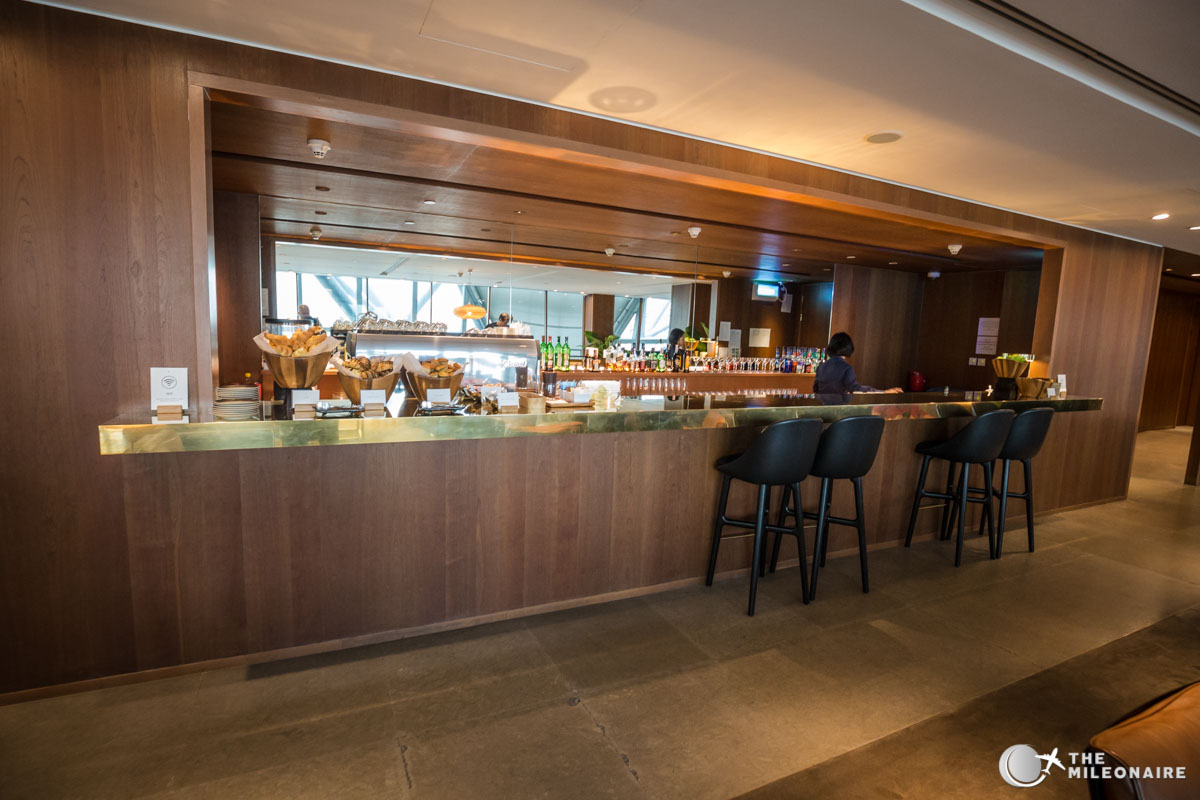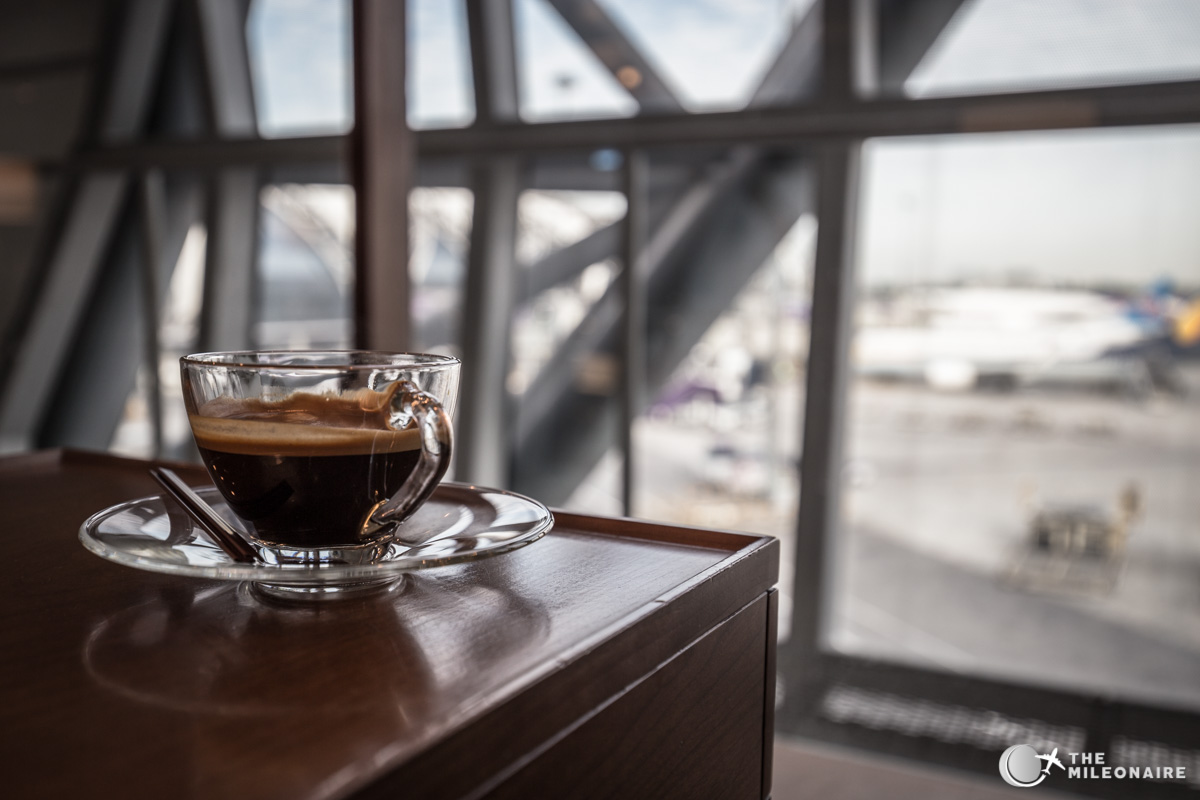 From these seats you'll also have a great view of the airfield – perfect for plane spotters and aviation nerds like me.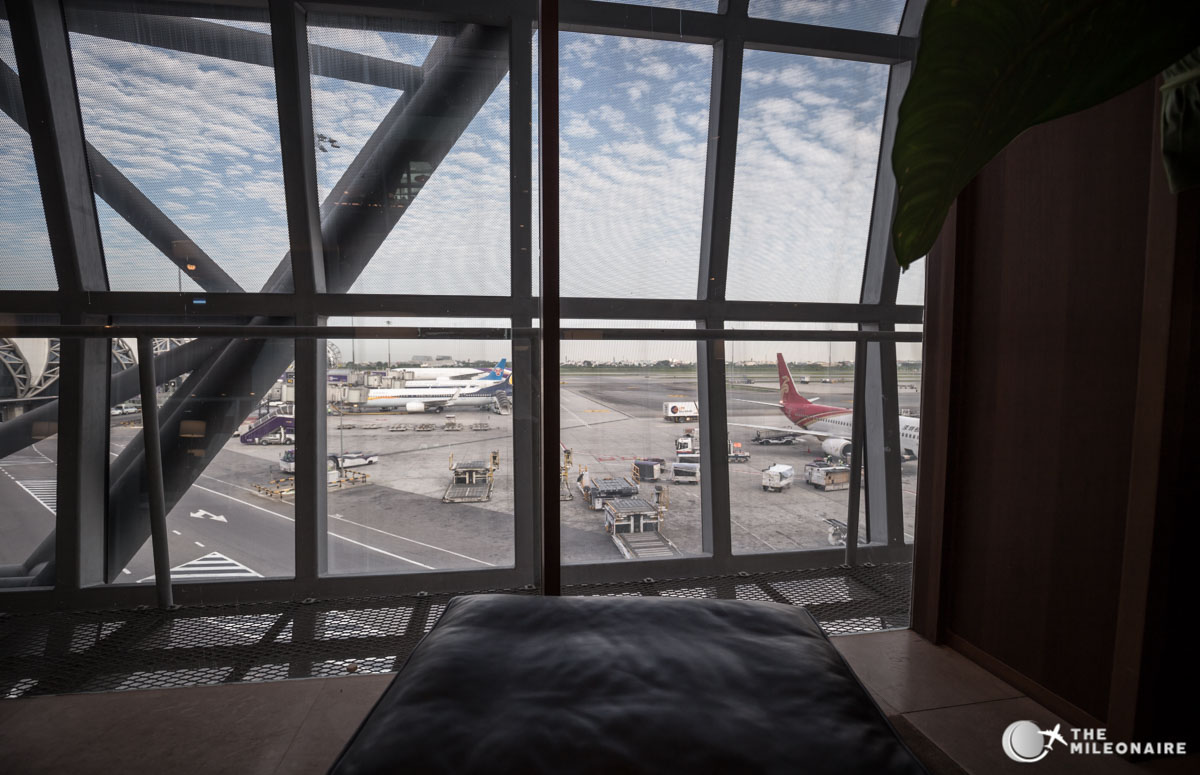 This area is also the far end of the Cathay Pacific Lounge Bangkok, where a huge window wall overlooks the terminal.
Fazit: Cathay Pacific Lounge Bangkok
The Cathay Pacific Lounge in Bangkok is small, but really nice: the interior design is very bright and feels pretty new, plus you have that beautiful Cathay Pacific lounge design that they nowadays use in most of their lounges. Comfy seats, clean washrooms, great drinks and the excellent noodle bar make this lounge a really great stop before your flight out of Bangkok.