Taipei Airport is one of the destinations that Cathay Pacific serves multiple times each day from Hong Kong – so it definitely made sense that they renovated the Cathay Pacific Lounge in Taipei as one of the first ones after the redesign. In June 2017 I was headed from Taipei to Hong Kong and had the chance to experience the Cathay Pacific Lounge in Taipei first-hand.
Cathay Pacific Lounge Taipei: Location & Access
After emigration and the security check in terminal 1, you just have to head to the left towards the B Gates. After turning left once more you'll see some stairs on the left that lead to the 4th floor where the entrace to the Cathay Pacific Lounge Taipei is.
The lounge is accessible for the following passengers:
Travellers in Cathay Pacific's or Cathay Dragon's First- or Business-Class
Cathay passengers with Silver-, Gold- or Diamond Status with Cathay's Marco Polo Club
Oneworld travellers with Sapphire- or Emerald Status
Cathay Pacific Lounge Taipei: Review
After heading upstairs you'll see multiple lounge entrances, with the Cathay Pacific Lounge Taipei being one of them – including the well-known golden logo on a grey wall. Even though the area outside the lounge doesn't look that appealing, once you step inside you'll soon recognize Cathay's trademark design style.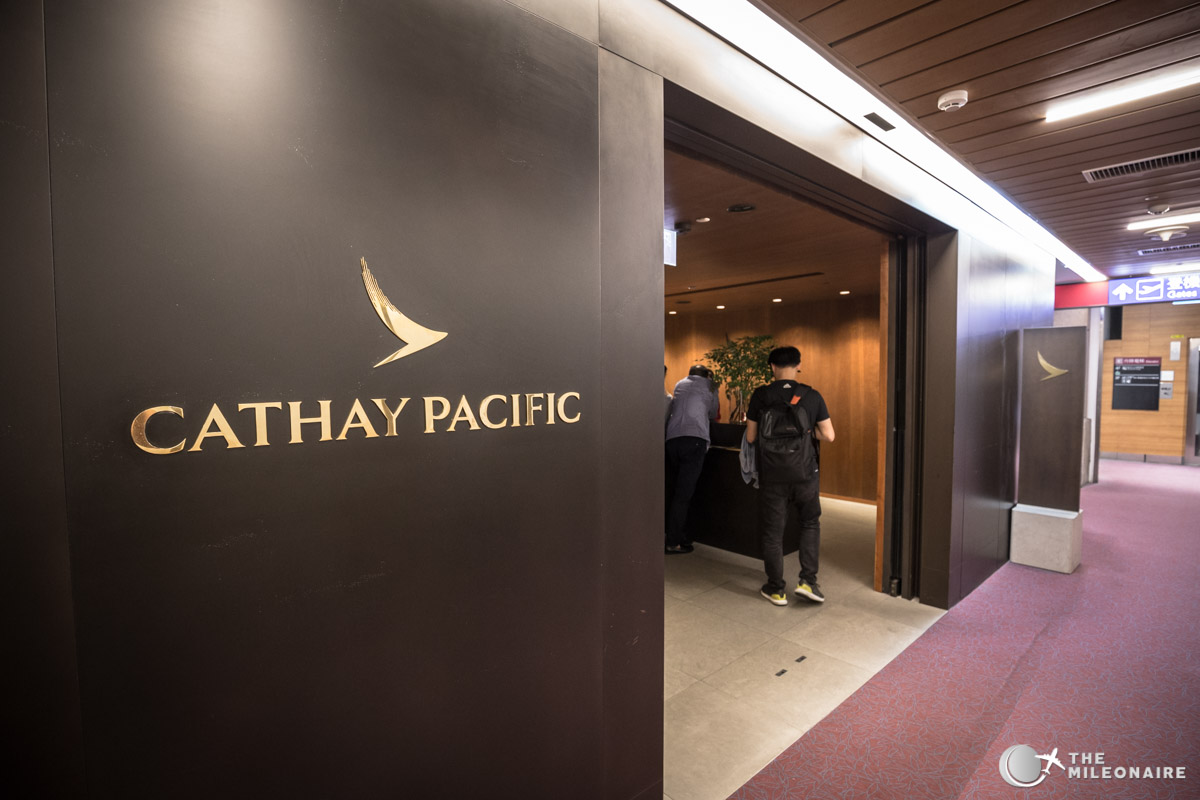 After entering the lounge, a long corridor connects all the different areas.Cathay Pacific's lounge design is very consistent: colors, materials and shapes are similar across most of their renovated lounges in Asia, so as a frequent flyer you always "feel home". The walls are made of brown wooden panels, and the floors are beige marble. Big letters on the wall guide you through the lounge: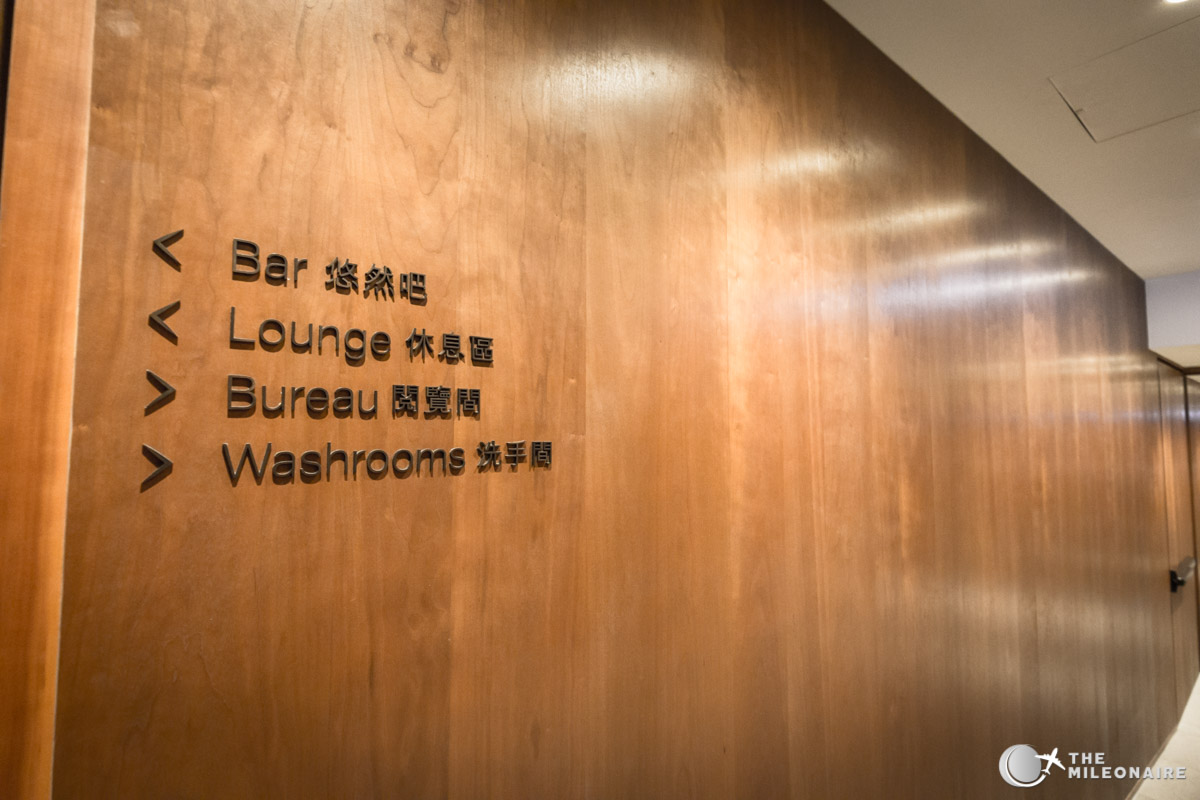 One long, central corridor connects the different lounge areas as soon as you've passed the entrance area: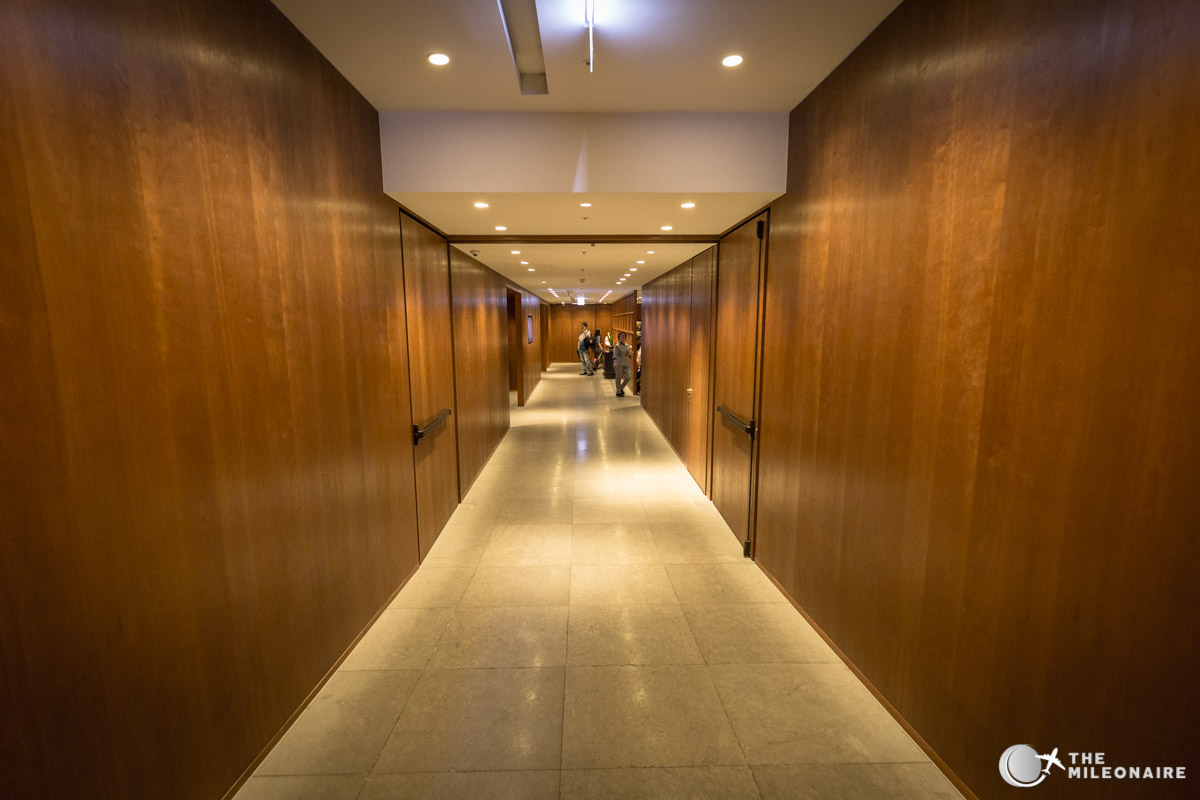 Directly at the entrance there's a small area with a Self-Service Bar: multiple fridges offers drinks and small snacks, as well as desserts. There's also a small coffee machine: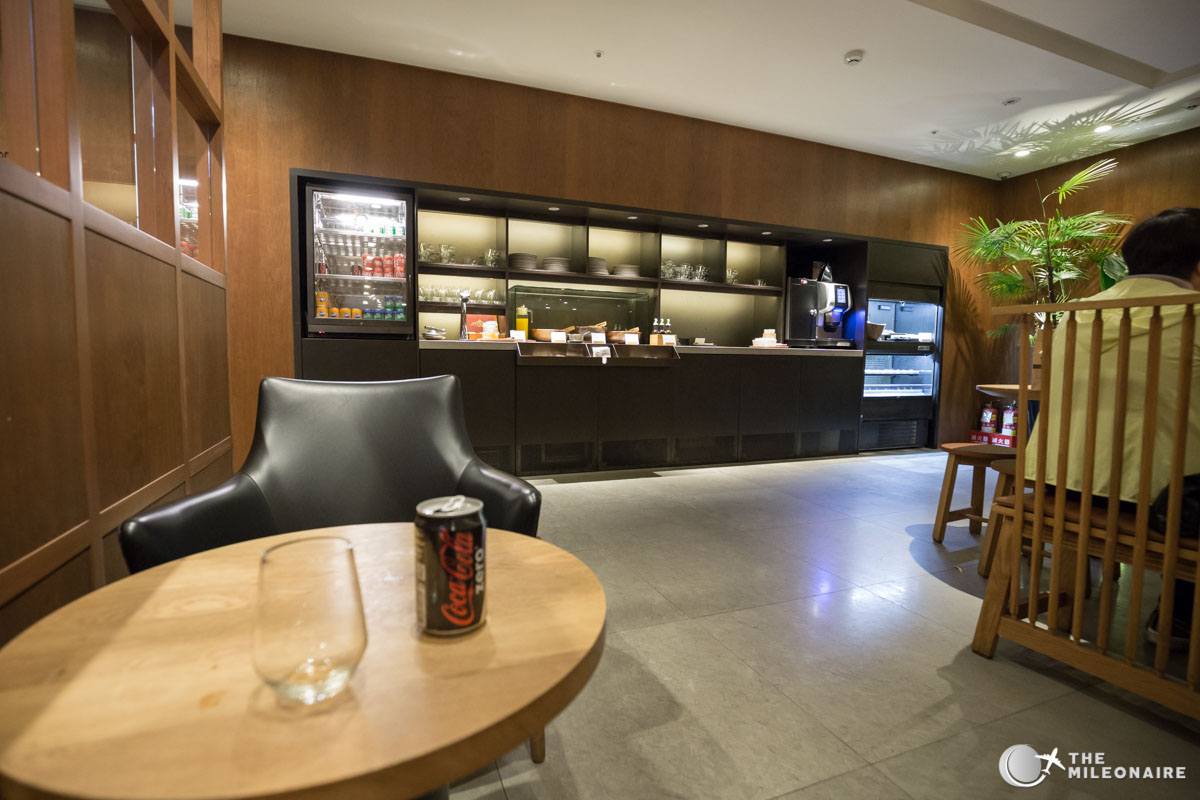 You can sit down at a large table in the center, or use the smaller table setups on the side. To the left you'll find the washrooms.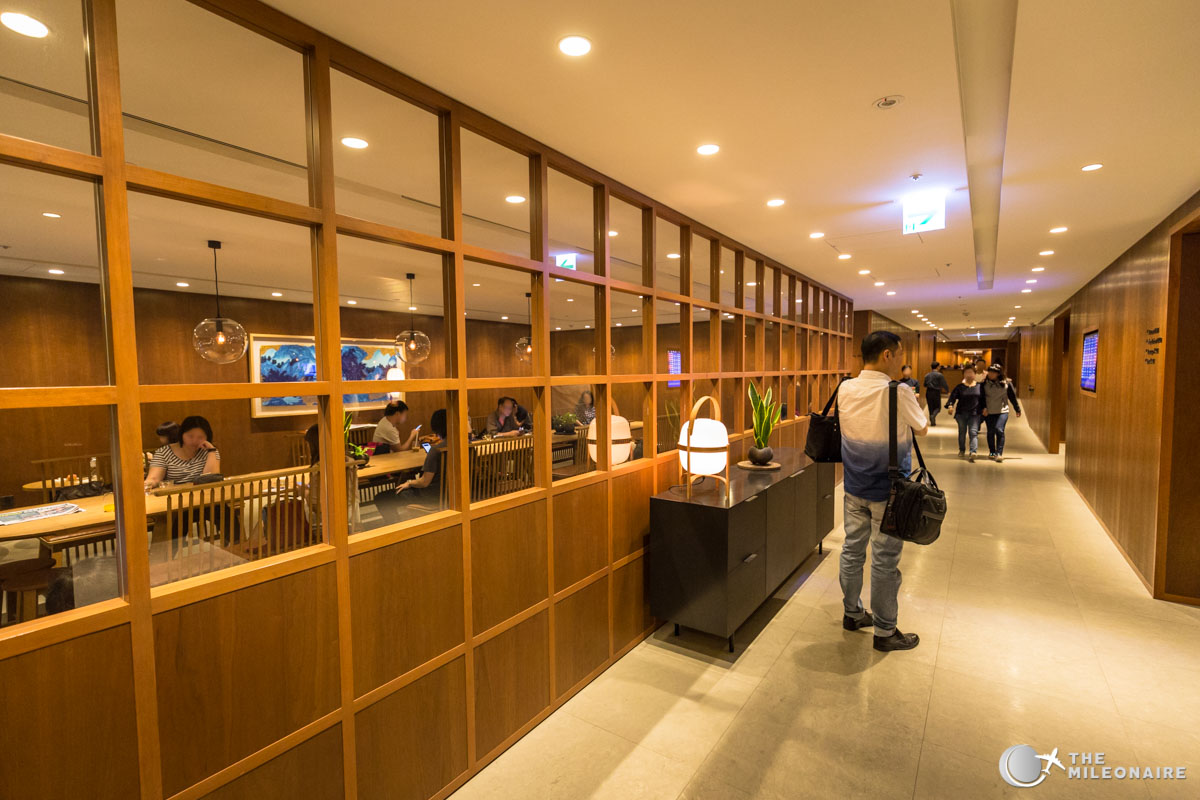 Heading further down the corridor you'll see a small business center on your right with a couple of Apple computers. Sadly there are no single cabins to work in a more quiet setting, so you might have some kids playing FIFA near you.
A few feet further down the lounge you'll get to my personal highlight of every Cathay Pacific Business Lounge: the Noodle Bar.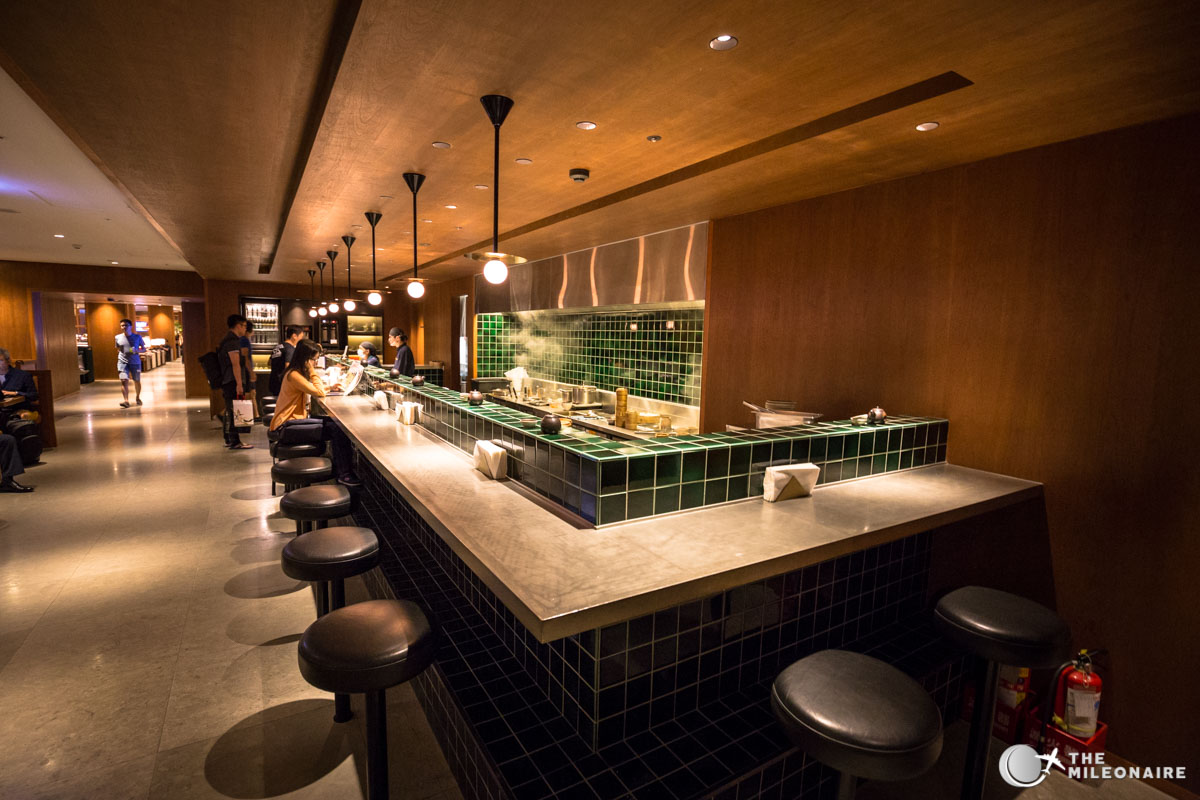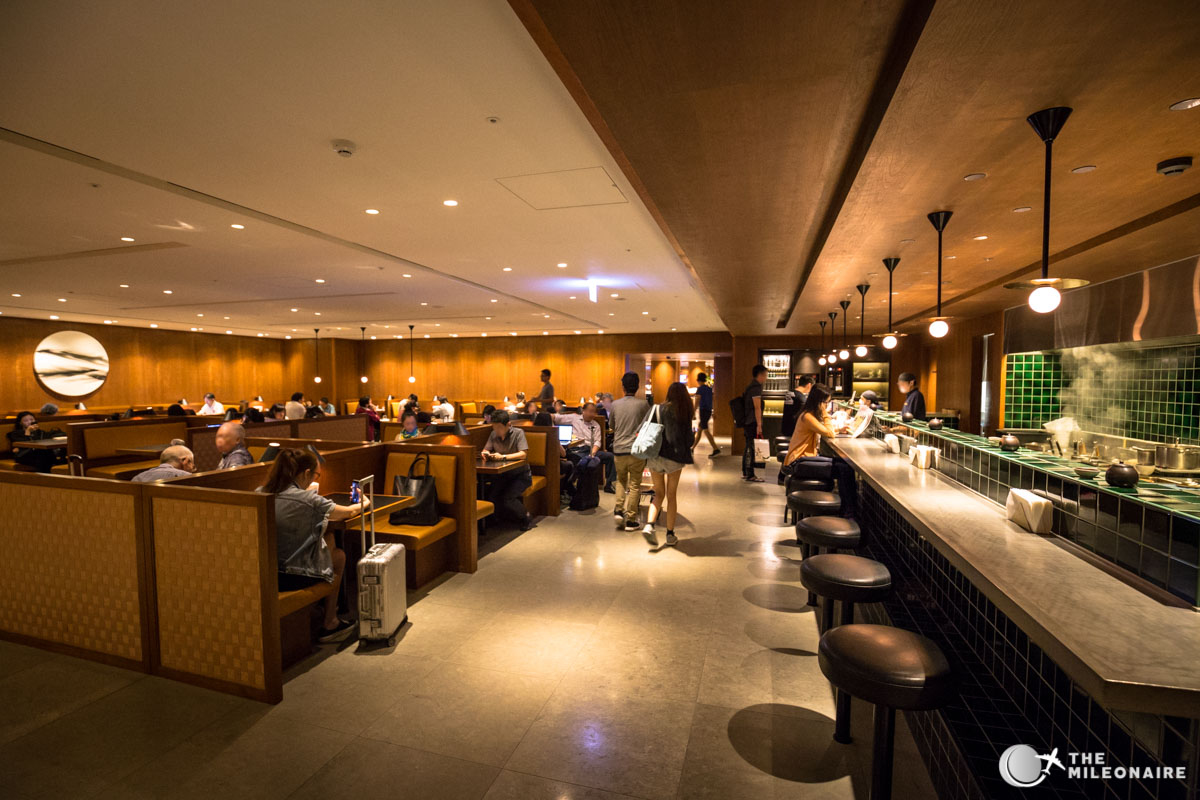 There you can choose from various different menu options (Chinese, Malayan, Japanese) and pick them up once your order is ready (as signaled by a small buzzer). My favourite was the beef noodle soup, but also the wantan soup with the small dumplings as a side was excellent. As the portions are relatively small, you can also just taste 2-3 of them during your stay.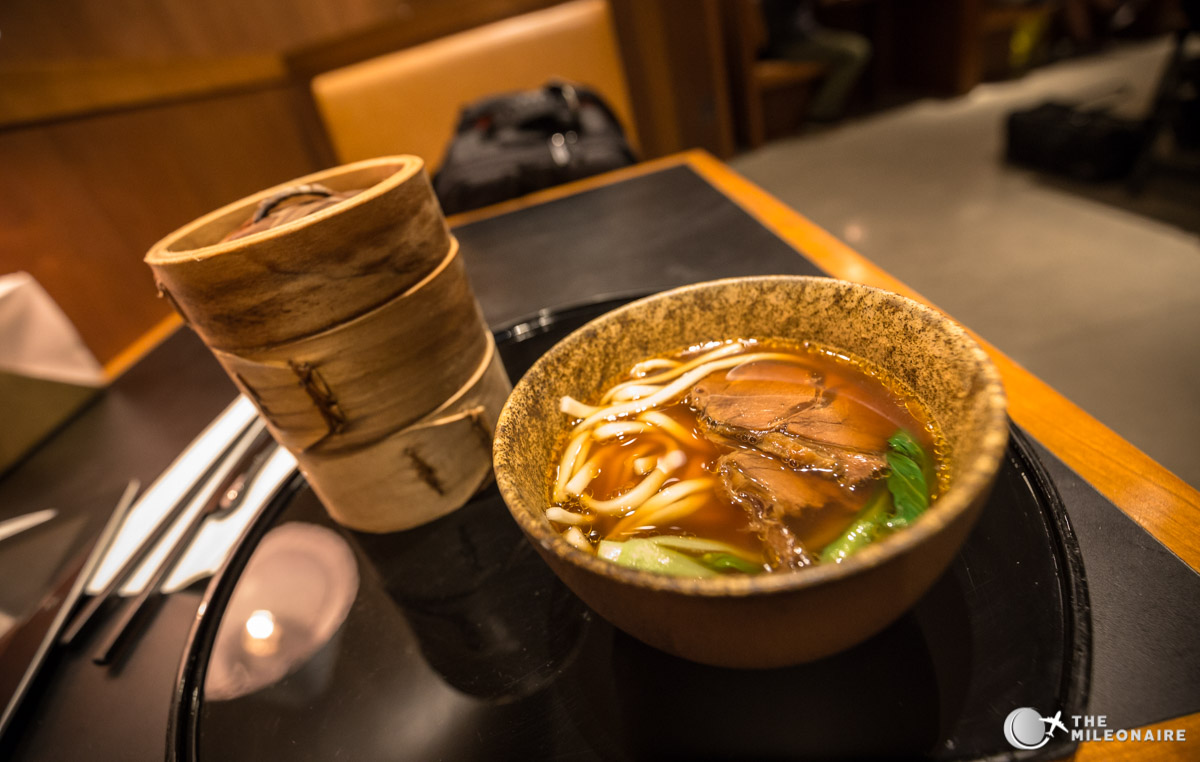 When heading even further down the Cathay Pacific Lounge Taipei (it definitely is a loooong lounge) you'll get to the final part of it: the huge bar area with lots of chairs and couches. At the very end you'll see the actual bar, where you can get nearly everything you might need drink-wise (except champagne). As this area was quite crowded during my stay, I just sat down on one of the bar stools and had an excellent Double Espresso.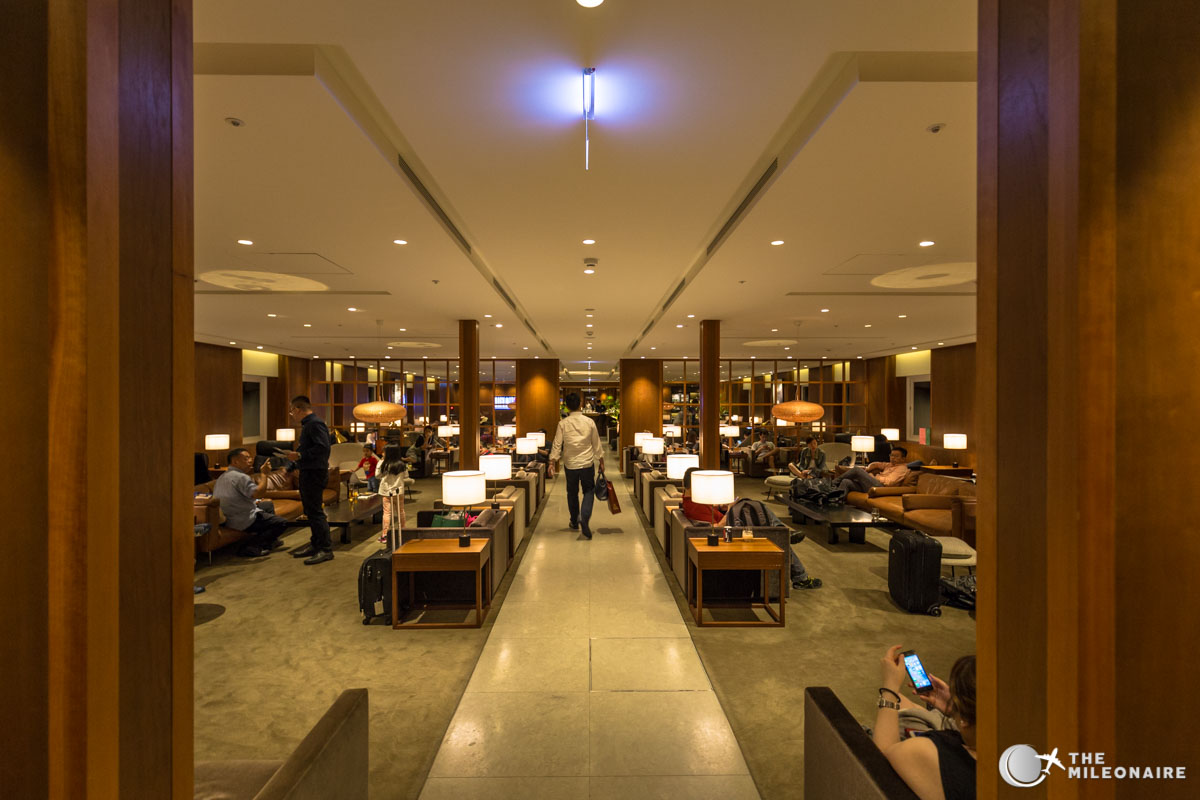 Conclusion: Cathay Pacific Lounge Taipei
Sadly the Cathay Pacific Lounge Taipei was super crowded during my stay, as nearly all CX flights had delays due to an incoming storm. If that's the case, the lounge naturally feels very hectic and not relaxing at all. But during regular traffic, it is a very pretty place that offers comfortable seating, an awesome noodle bar, great drinks, good WiFi and clean washrooms. Even though the lounge is pretty dark, it's another great example of Cathay's excellent new lounge design.