If you want to experience Emirates' Business Class in the A380 for cheap, you'll definitely want to fly out of Bangkok: very often you can get business fares to Hong Kong for under 400 USD, cheaper than any other Emirates A380 flight in C. If you take that flight, you'd definitely want to check out the Emirates Lounge Bangkok at Suvarnabhumi Airport – especially after a hot cab ride from Sukhumvit Road.
I've been visiting the Emirates Lounge Bangkok for a couple of times now and want to give you an idea if it's worth a visit!
Emirates Lounge Bangkok: Location
The Emirates Lounge in Bangkok is pretty easy to find: After you passed security (through the Priority Lane due to your Business Class ticket) you have to turn right, heading for the G Gates. Once you reach the cross-way to the different gates, take the escalator on the left to the concourse level below. From there it's just a couple of steps to the lounge, just follow these signs: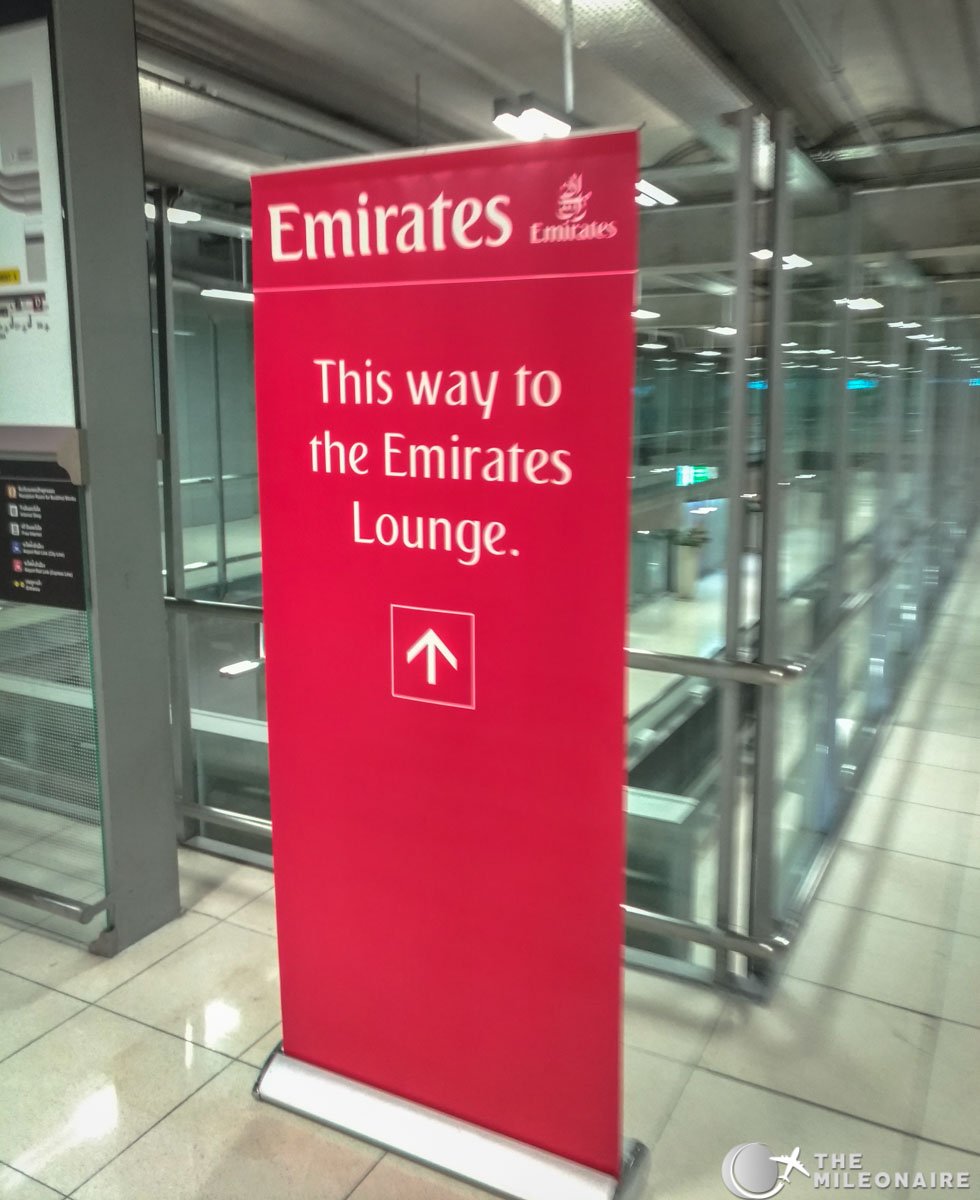 On the right side is the actual lounge entrance with the typical wooden Emirates panels: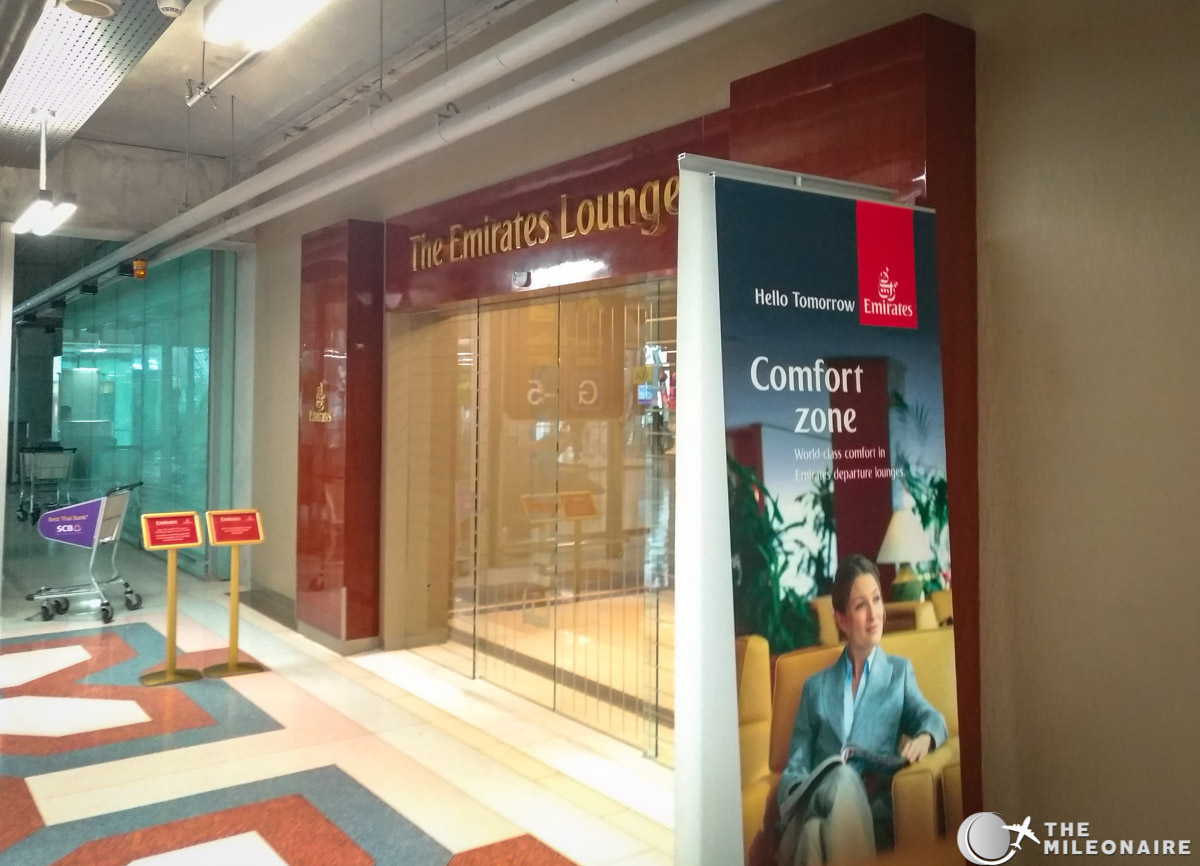 Lounge Access: Who gets in?
The following guests are invited to the Emirates Lounge Bangkok:
Travellers in Emirates' First- or Business Class with a flight leaving on that day
Emirates Skywards Gold- or Platinum members with a flight leaving on that day
Additional guests with paid lounge access (more info here)
Emirates Lounge Bangkok: Review
During my last visit to the Emirates Lounge in Bangkok it was still pretty early, so the lounge was empty – and I kind of surprised the lounge staff with my early arrival. Despite that, everything was already prepared inside for the afternoon flight to Hong Kong (perfect time to take some lounge photos!). The lounge consists of one large room that offers space for up to 200 guests.
Once you're inside, you'll immediately recognize the typical Emirates lounge design that is used for all global lounges: the bright wooden panels, the blue carpets, the golden applications, the beige chairs – everything seems very familiar for Emirates frequent flyers.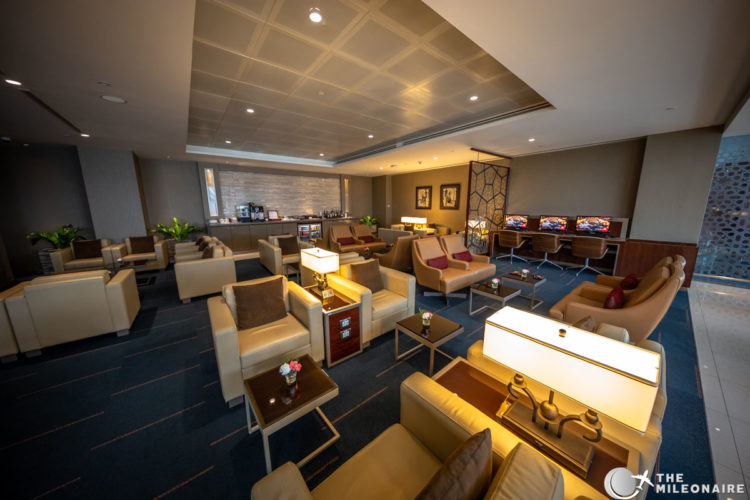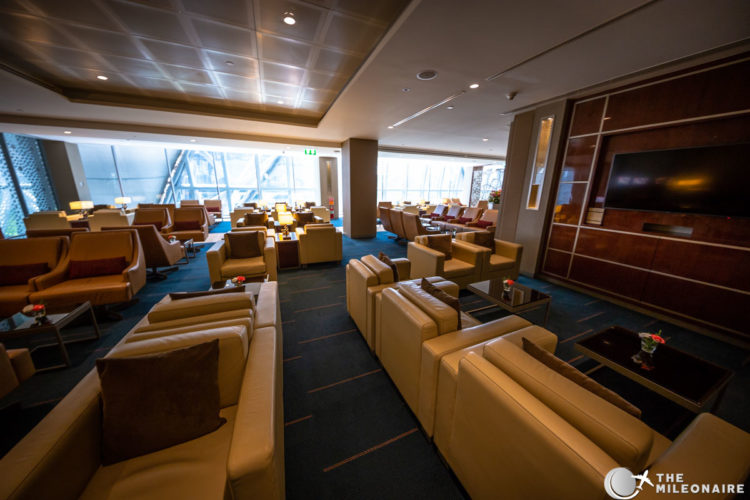 There are also the infamous world clocks near the entrance: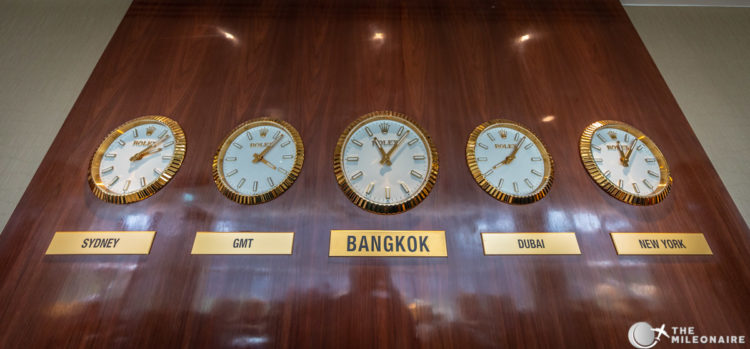 Semi-transparent dividers separate the different lounge areas: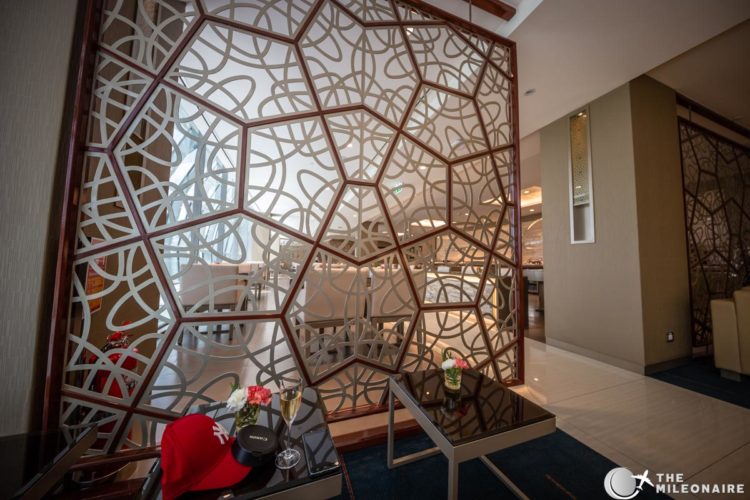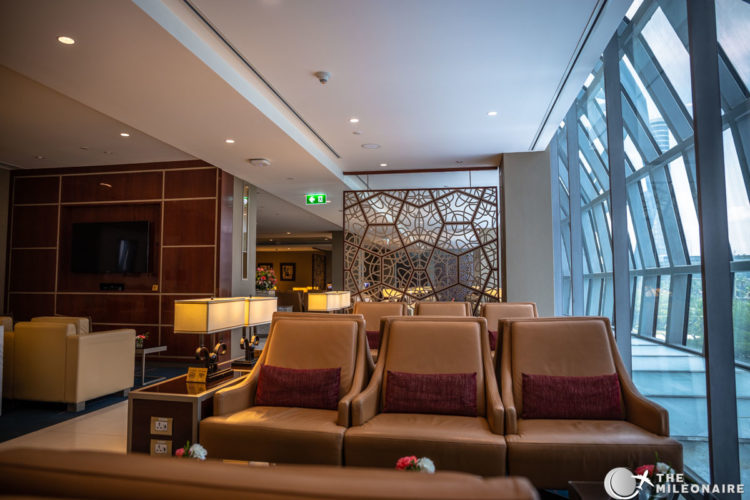 The Emirates Lounge in Bangkok has an overall very bright atmosphere: the whole front is covered with a huge window from top to bottom. Even though the view is kinda limited and non-panoramic (just the airport roads and gardens), the natural light adds a lot of charm.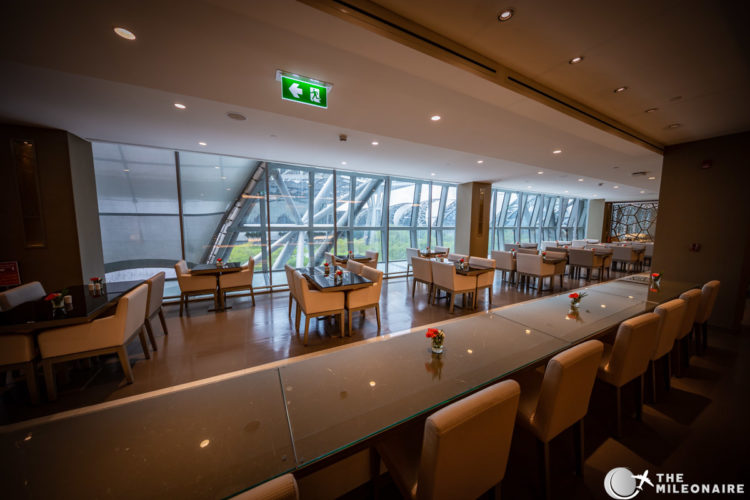 As I didn't eat anything that day, the lounge's food buffet was my first stop. Similar to the Emirates Lounge in Paris there's a small rondel with various cold dishes, beautifully presented: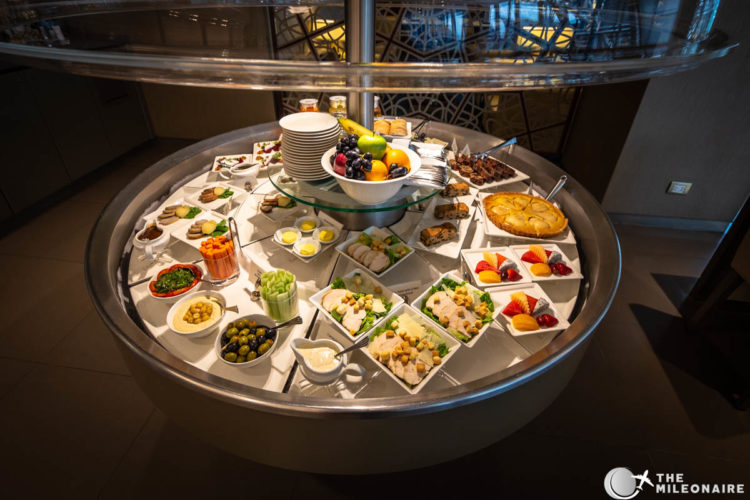 The dishes included duck breast with sauce, mozarella bites, fresh fruit or caesars salad: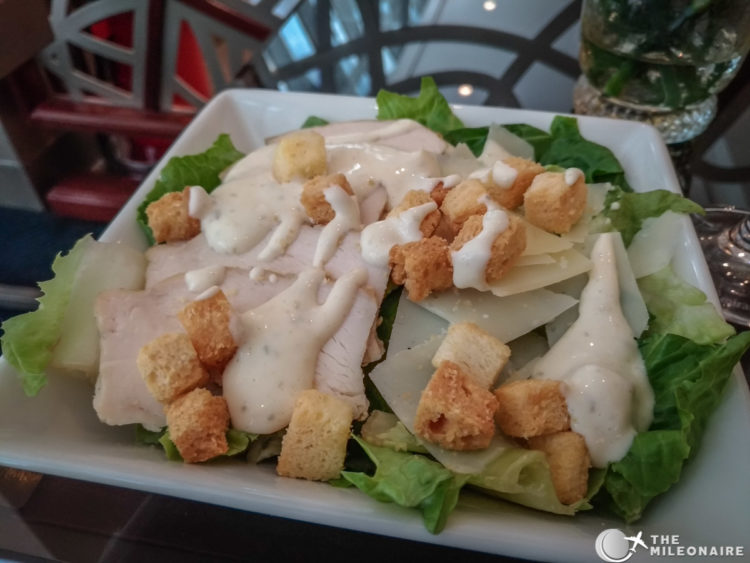 As always, the quality and presentation of Emirates' food is exceptional: the salad was perfectly fresh and tasty. If you're craving for warm dishes, there's a full buffet with multiple hot food options. Here you'll for example find Indian currys, fish or ravioli.
If you rather want to stay hydrated in hot Thailand, Emirates offers the rather expensive Moet Brut Imperial as their lounge champagne (while other lounges only offer prosecco or sparkling wine):
I sat down near the window front with a glass of Moet in one of the lounge's very comfortable chairs. With the fast WiFi you can actually get a lot of work done that way!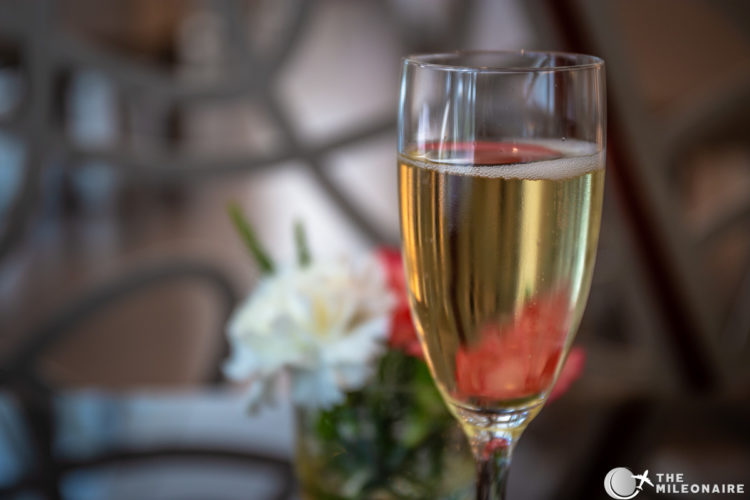 But there are also other ways to stay hydrated on warm Bangkok days: there are two bar stations with big fridges, offering all kinds of soft drinks…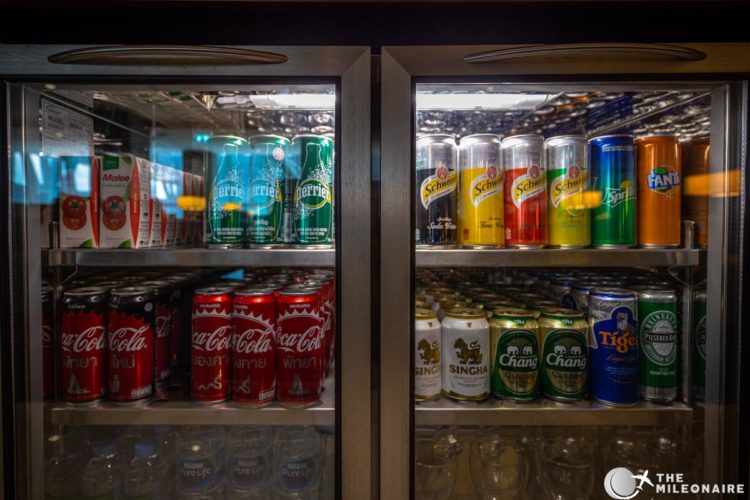 …as well as spirits and liquors to mix or drink 'on the rocks':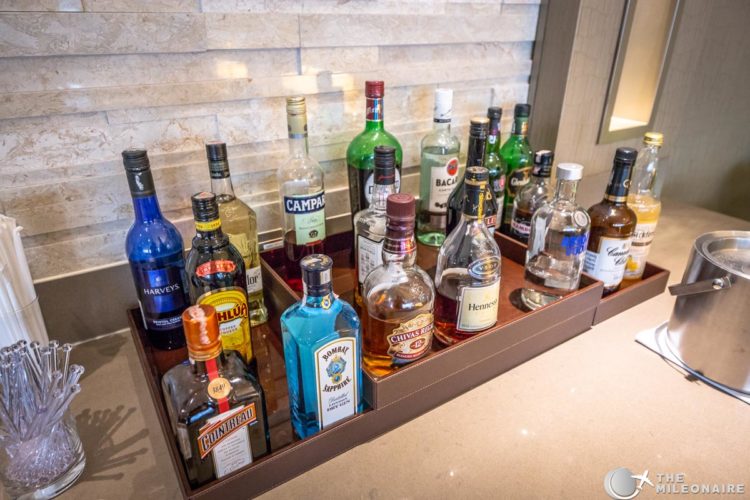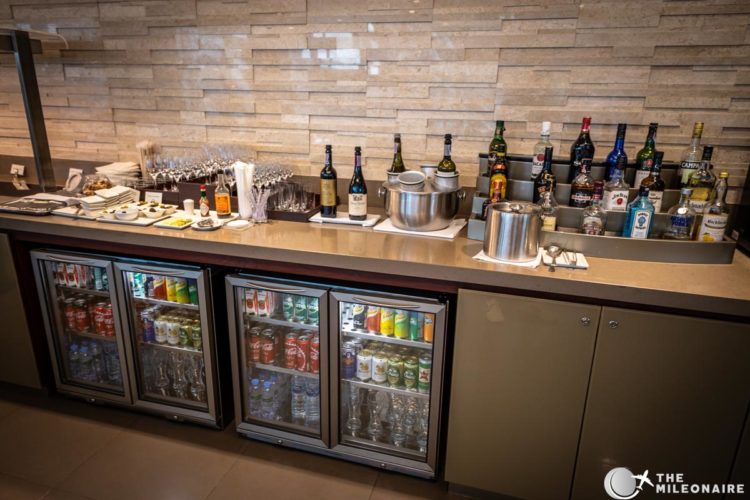 Sadly the lounge became pretty crowded and loud later on as there were multiple families coming in. The Emirates lounge Bangkok is luckily large enough to find a quiter space in the back, and relax with a good magazine. Emirates offers quite a good selection of international newspapers and magazines in their lounge: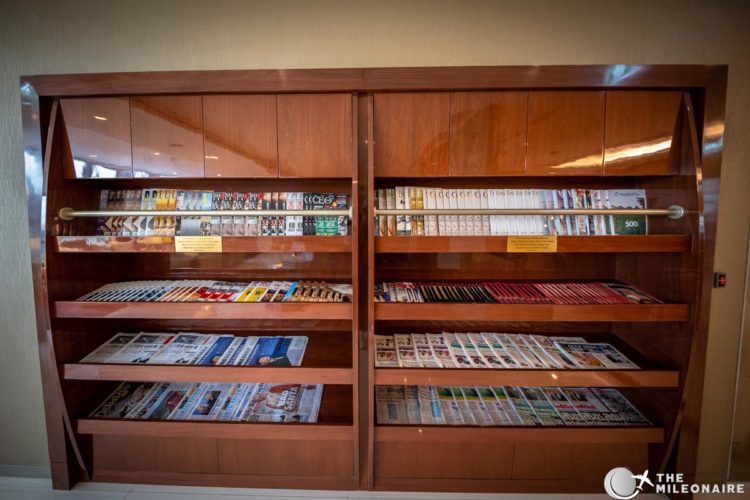 As it was time for boarding, I had to leave the Emirates Lounge Bangkok at some point and head to my gate. On my way I visited the pretty clean and well maintained bathrooms, where you can also find some lounge showers: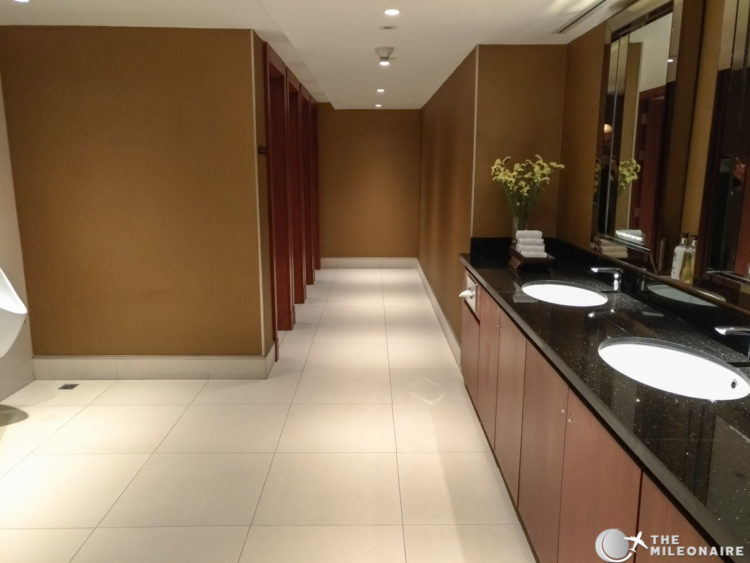 I passed the world clocks of Emirates' Bangkok lounge one last time on my way out, and boarded my A380 to Hong Kong.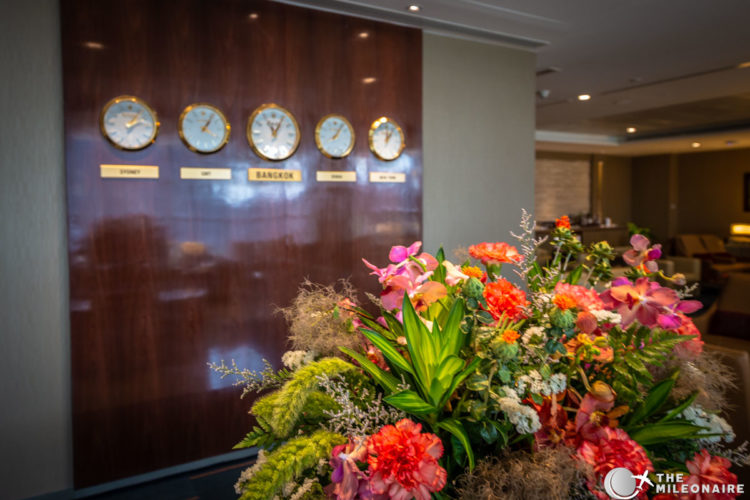 Emirates Lounge Bangkok Review: Conclusion
As I was expecting after visiting other Emirates Lounges world-wide: the Emirates Lounge in Bangkok is an excellent place to spend some time before your flight and escape the business of Suvarnabhumi airport. An elegant interior, excellent drinks, good food to choose from and clean bathrooms – all these nice things let time fly by before your flight. Only the noise level can be bothersome at peak times, when you have to escape from your fellow travellers. When you're flying Emirates out of Suvarnabhumi though, the Emirates Lounge in Bangkok is definitely worth a stop!