When travelling with Etihad to Asia via Abu Dhabi, chances are your trip might be in the Etihad A330 Business Class. Etihad has a total of 29 Airbus A330s in the fleet, one of them even in the infamous Manchester City livery: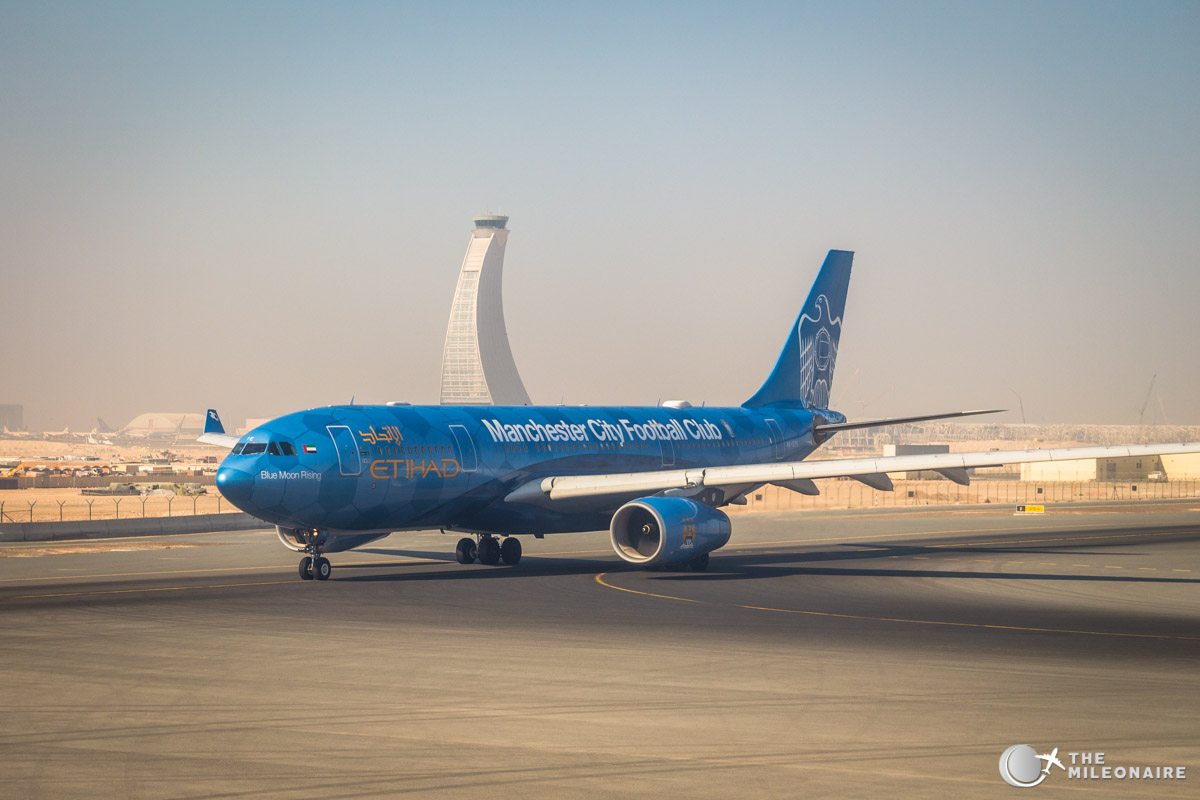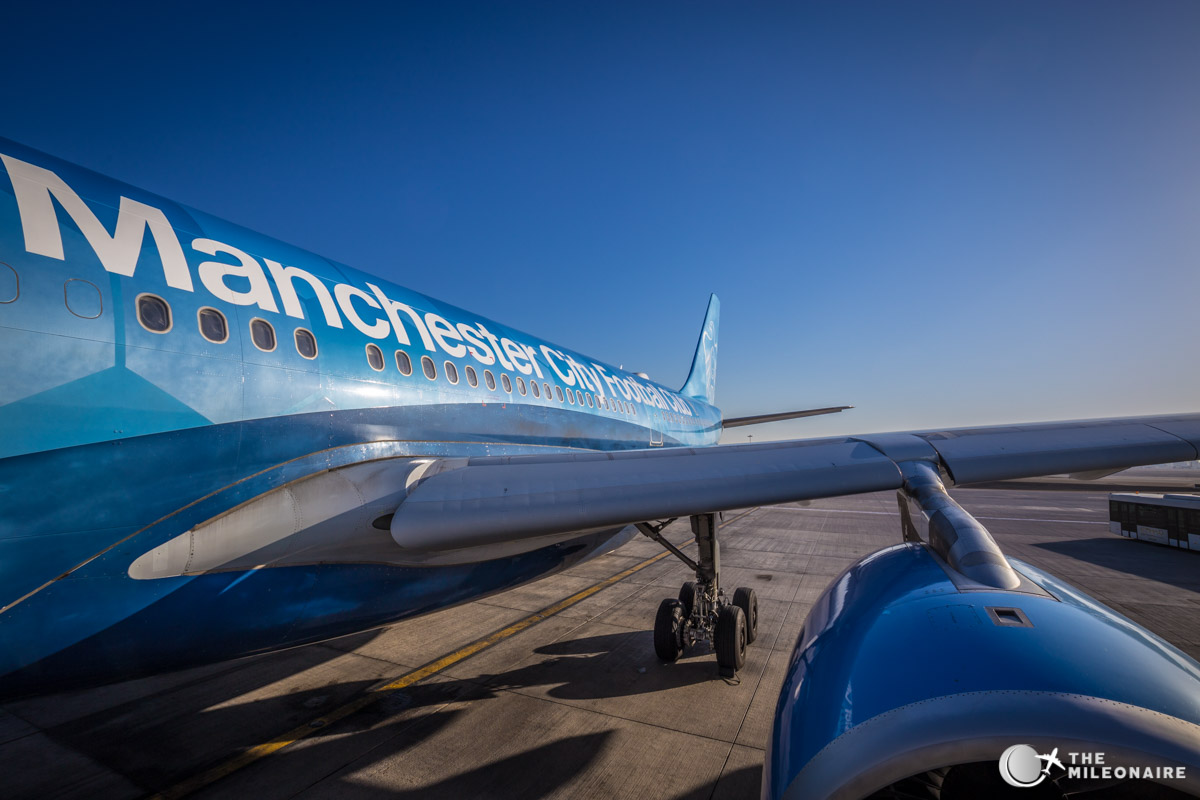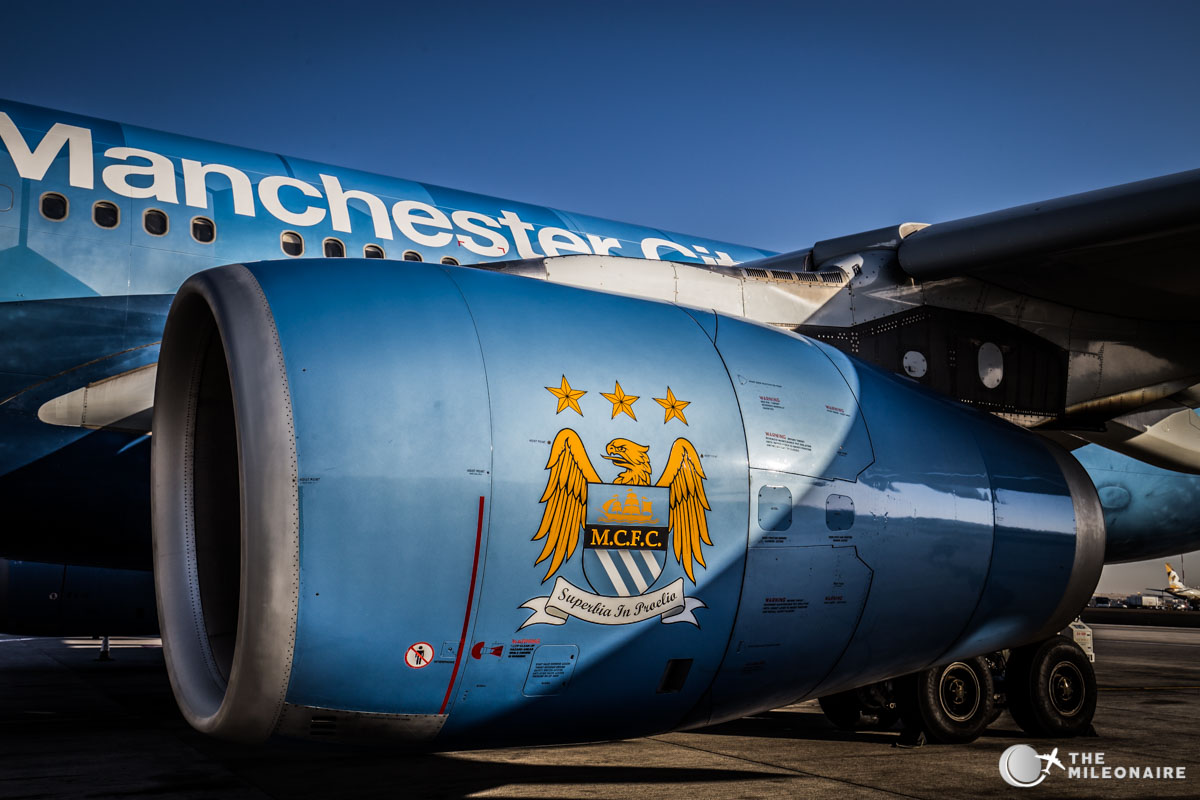 I travelled multiple times with Etihad's Business Class in the A330 already, mostly to Shanghai or Jakarta. In my following review I want to share my experience if Etihad's hard and soft product in the 330 is worth its money.
Etihad A330 Business Class: The Cabin
Etihad equipped its A330 Business Class with a spacious 1-2-1 configuration. Just as a comparison: even Qatar Airways uses a 2-2-2 configuration in its A330 which offers way less privacy compared to Etihad's layout. With Etihad's C, you can choose to either have a single window seat (which also has aisle access) or the honeymoon seats in the center of the cabin.
The Business cabin in the Etihad A330 is pretty small in both variations (A333/A332) as it only consists of 22 or 26 seats overall. The A330s even have another super small Business cabin right behind First Class with just 2 rows of seats. My favorite seats are the "true" window seats in rows A or K (as they are closer to the window compared to C & H). The cabin has a very spacious feel to it, also due to the lack of overhead bins in the center of the cabin.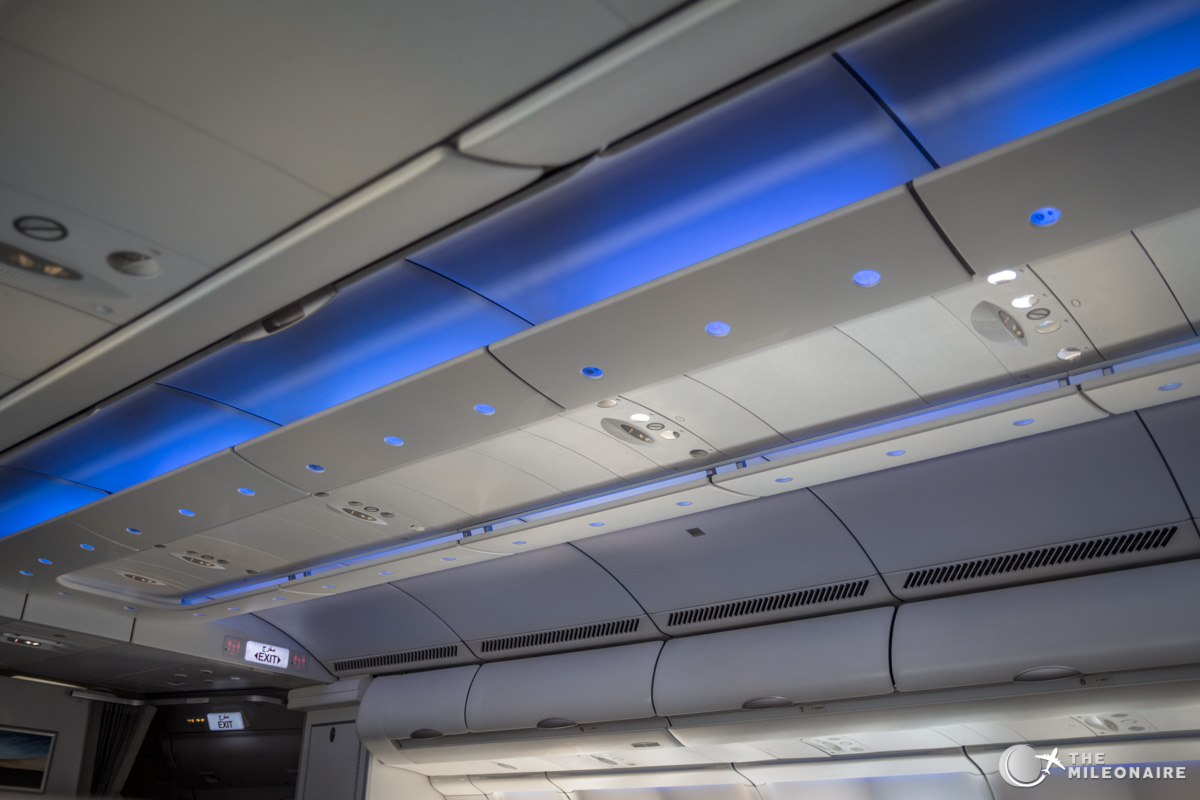 I also like the overall cabin design: even though the Etihad 787 Business Studios are even better, the "classic" Business Class in the A330s is still pretty nice. There's no more ugly turquoise like some years ago, but rather soft colors like beige and brown with the occasional gold or copper tones.
Etihad A330 Business Class: The Seat
Etihad's A330 Business Class is fully equipped with lie-flat seats that can be adjusted via a small control panel on the side. My favorite seats were always 7A, 9A or 7K: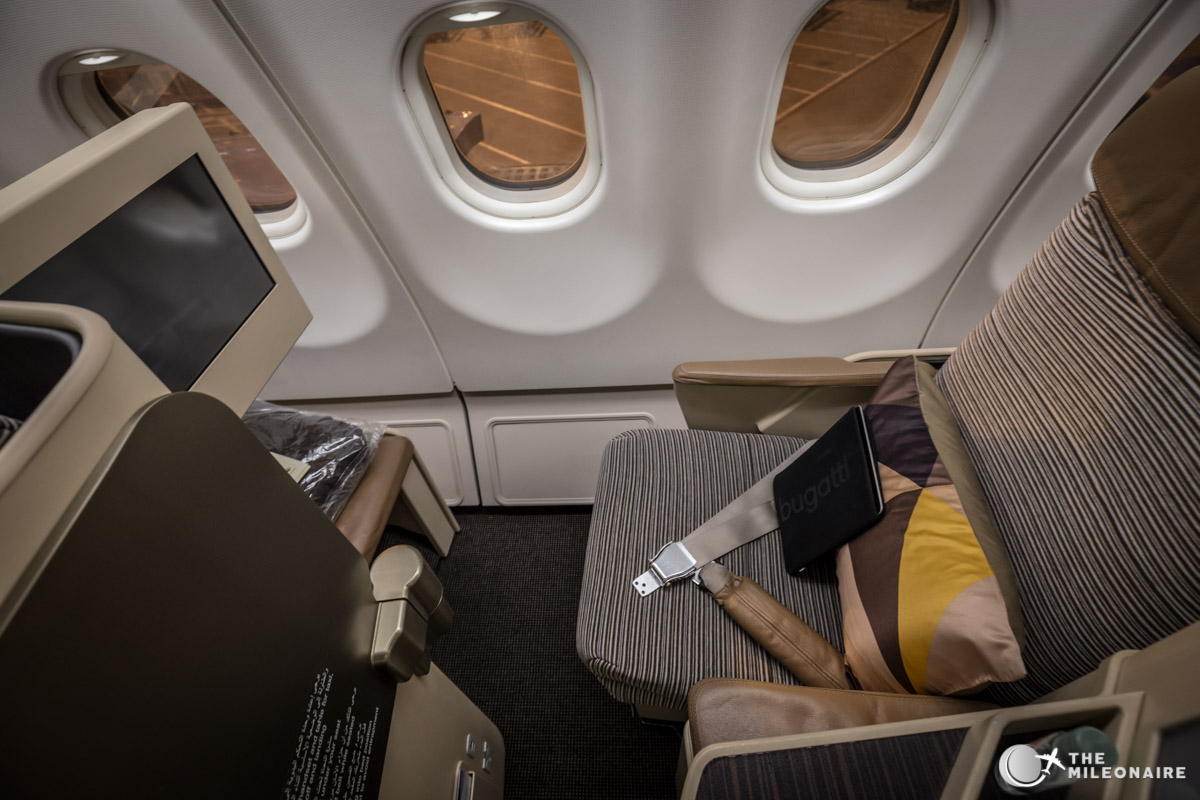 These single seats offer the maximum amount of privacy, and you won't see much of your fellow co-passengers.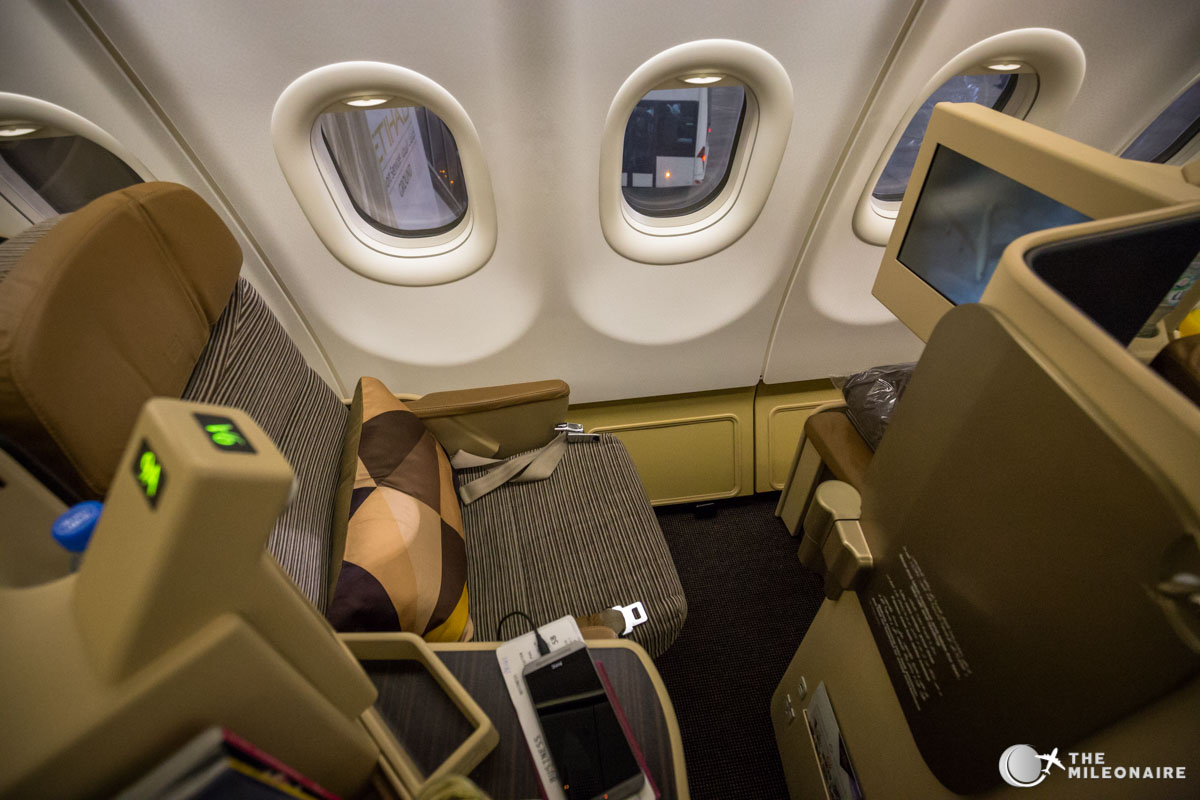 There's also a small foot rest at the front, and a space for your shoes underneath. Above that you'll have the big screen for the in-flight entertainment: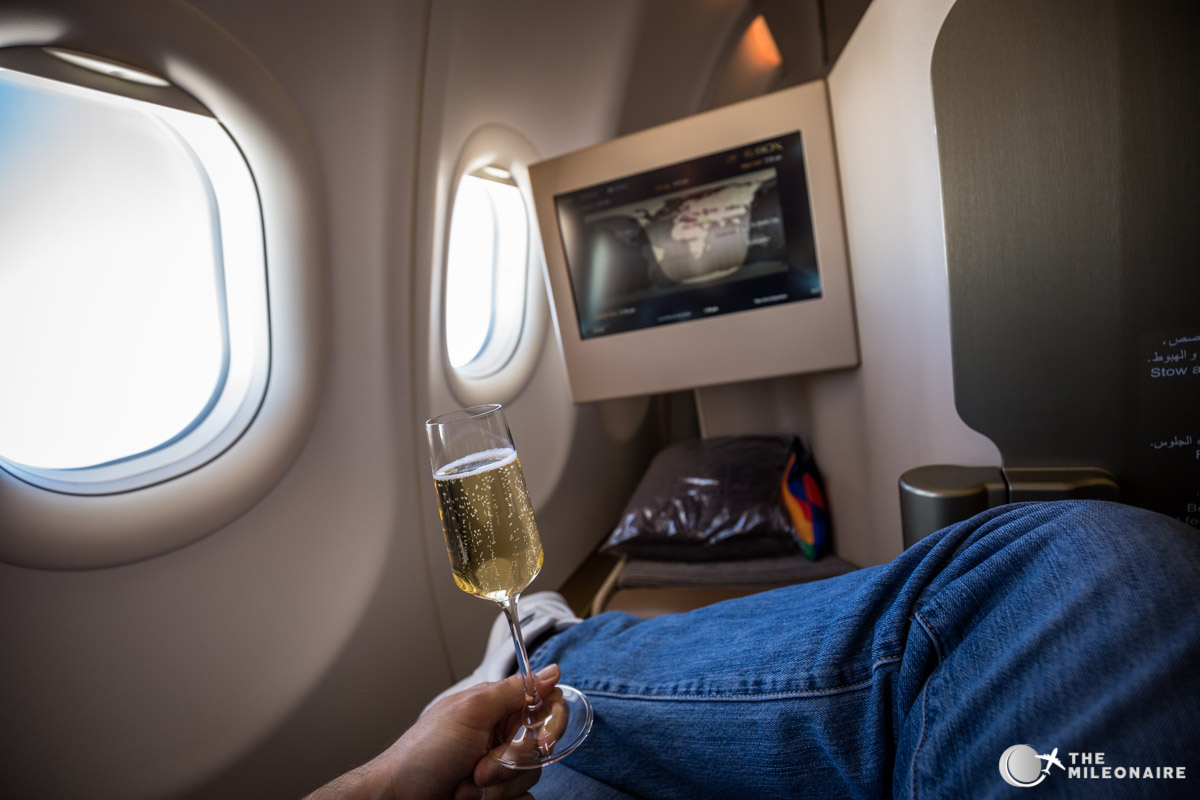 The dinner table is located on the side, and there's a USB plug and a power outlet beneath it. There's also some space on the side of your seat to put your passport, iPad – or champagne: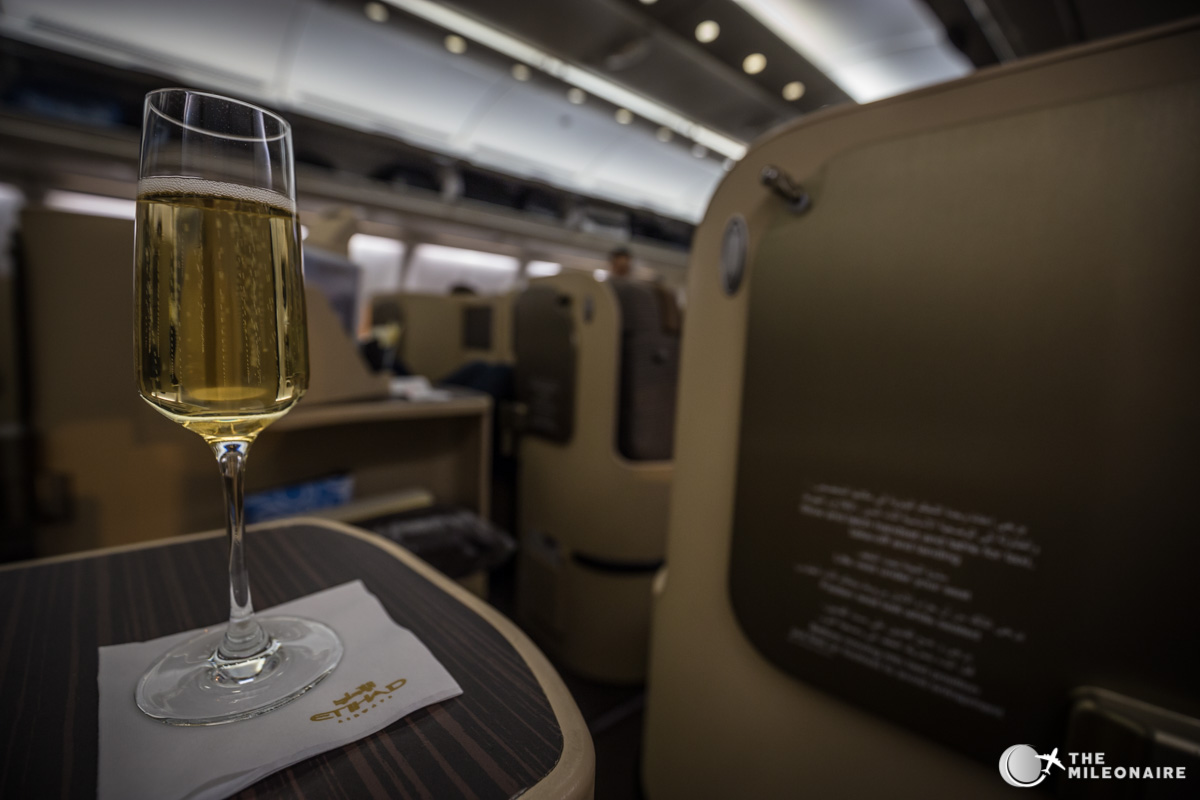 Etihad Airbus A330 Business Class: The Service
As I already mentioned in my review of Etihad's B787 Business Studios, their service tends to be a bit inconsistent from time to time. In 3 out 4 flights, the crew will excel at everything they do – only to completely forget about your dinner order during the 4th flight. In the vast majority of my Etihad flights, the crew did a tremendous job with a great mix of professionalism and passion. Service mostly starts with a drink after boarding, in my case always champagne…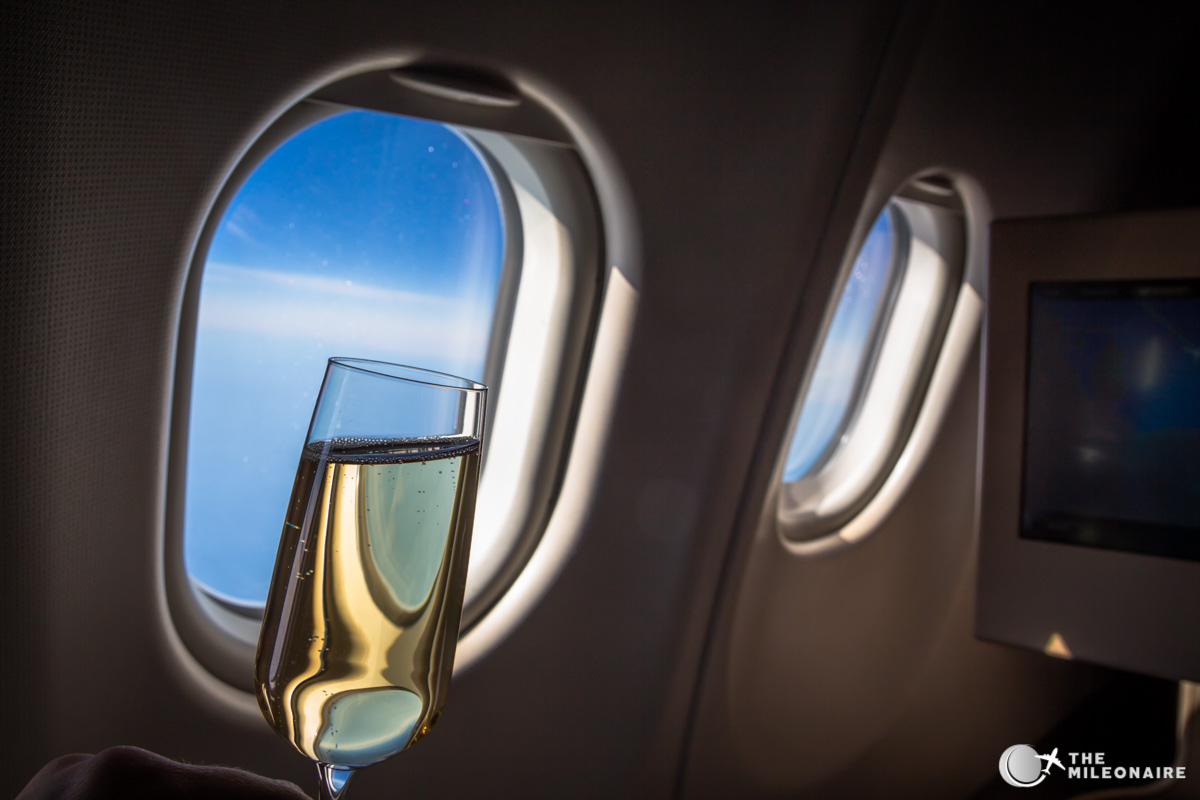 …as well as a hot towel, served on a silver platter.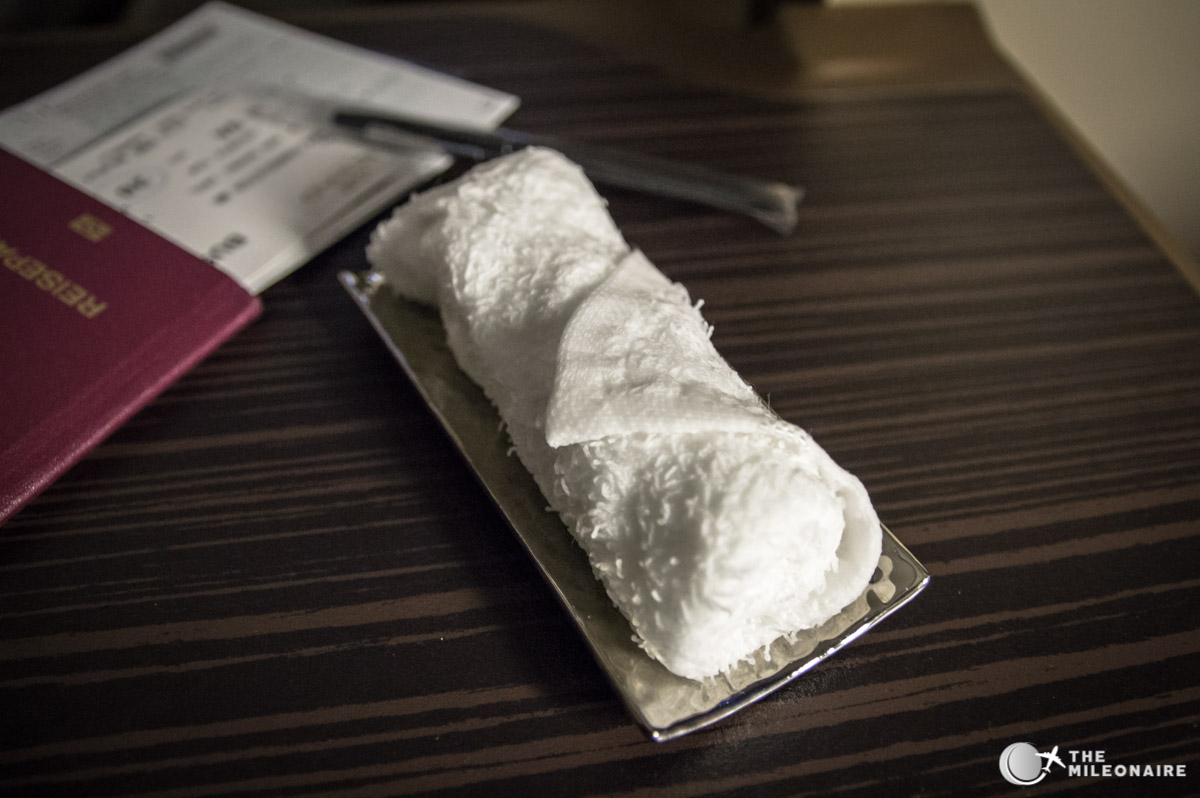 Etihad nowadays only hands out amenity kits for night flights. Some months ago, they still had them for every Business Class flight: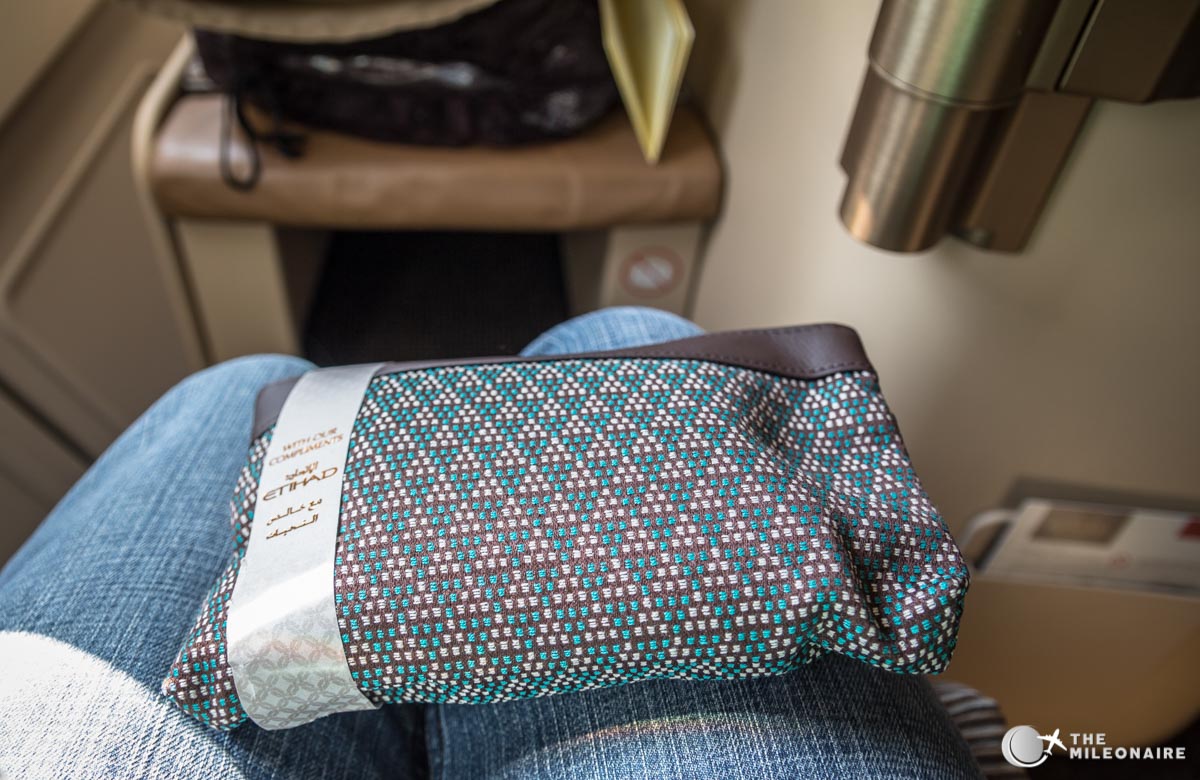 They also have a very comfy blanket and pillow prepared at your seat, same as the menu card. You always order your "Dine Anytime" service before takeoff, when a flight attendant comes by your seat. After takeoff, service usually starts with warm nuts and another drink: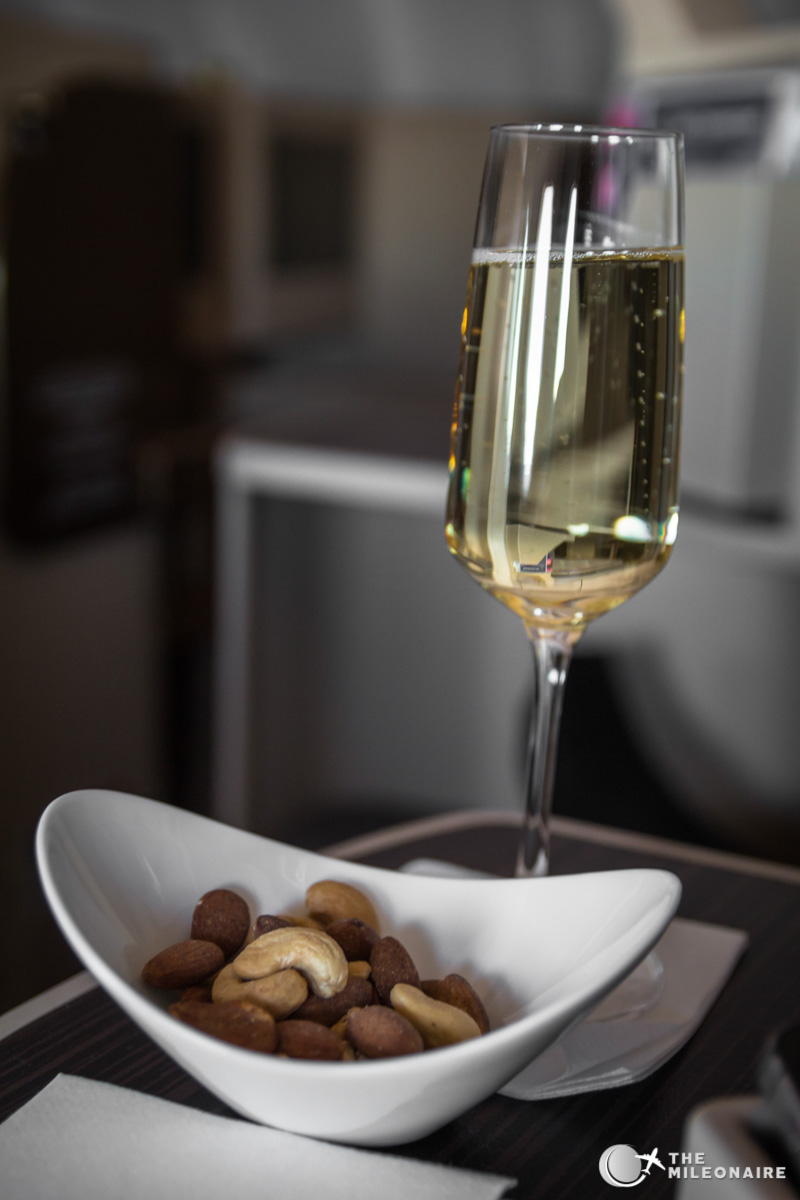 Followed by the appetizer: here's a selection of appetizers I've enjoyed in Etihad's A330 Business Class.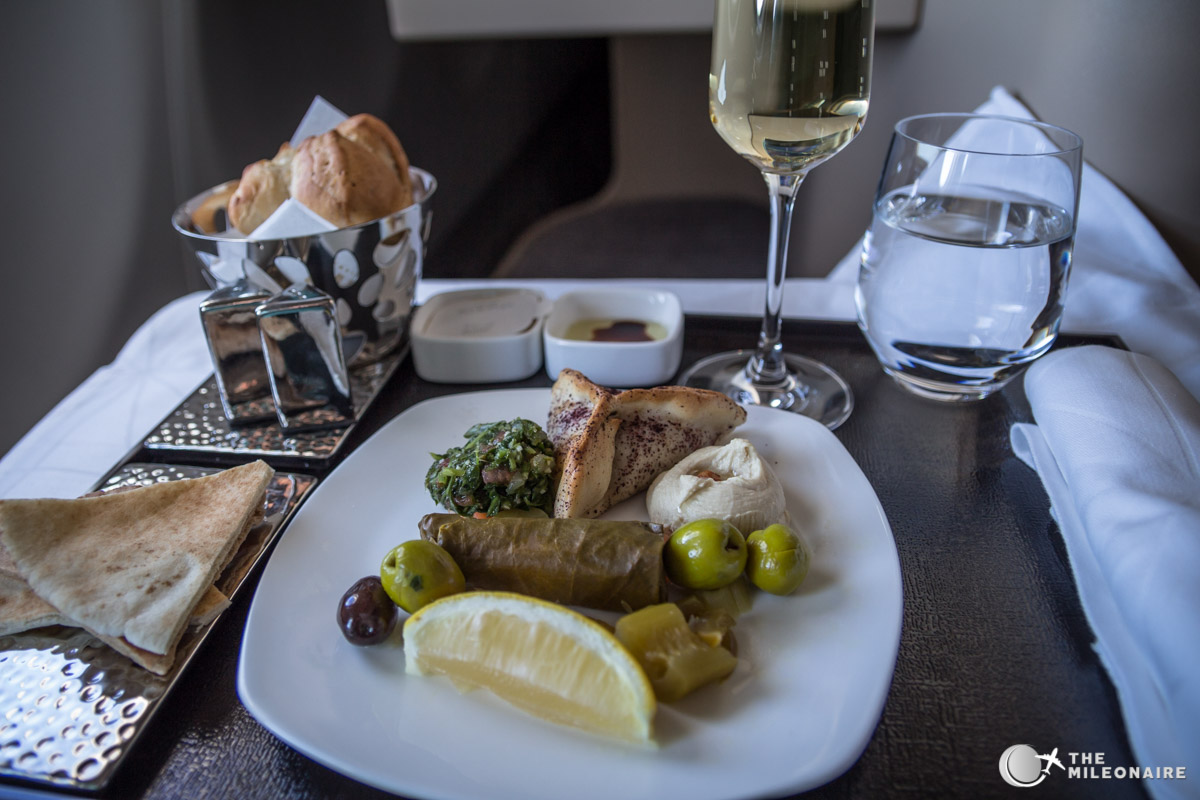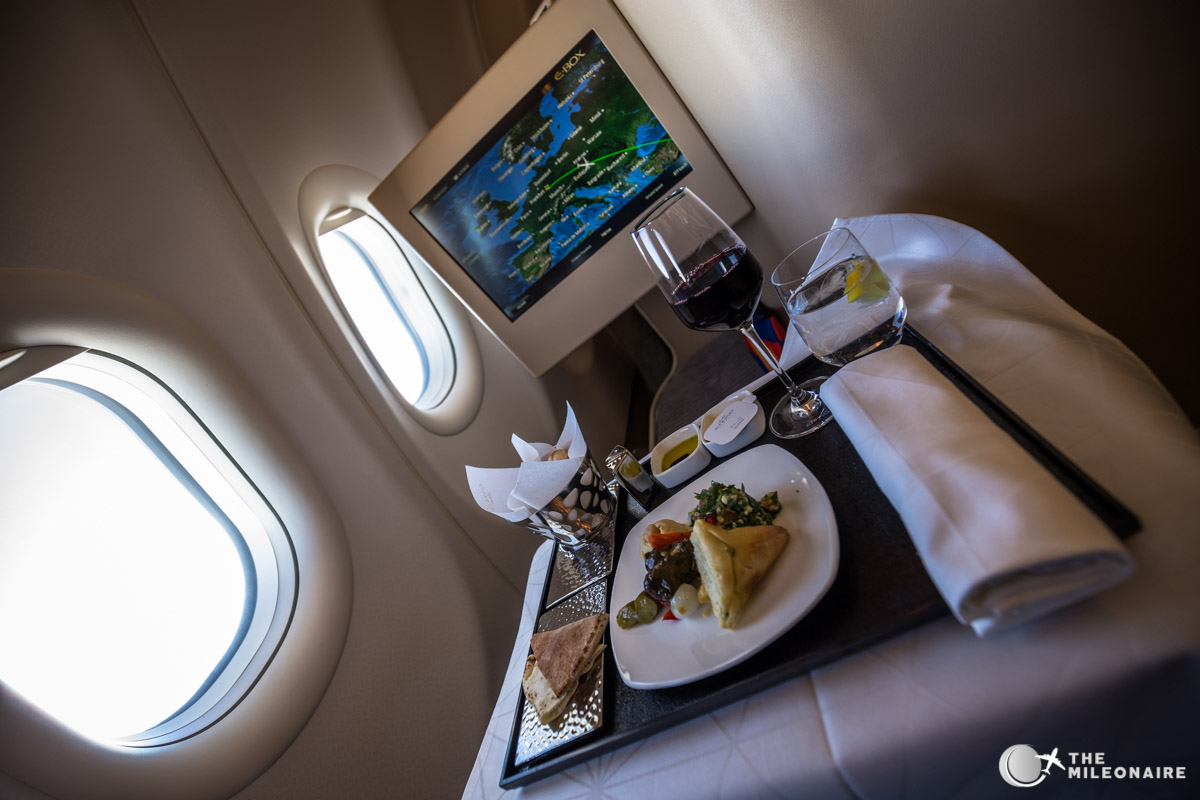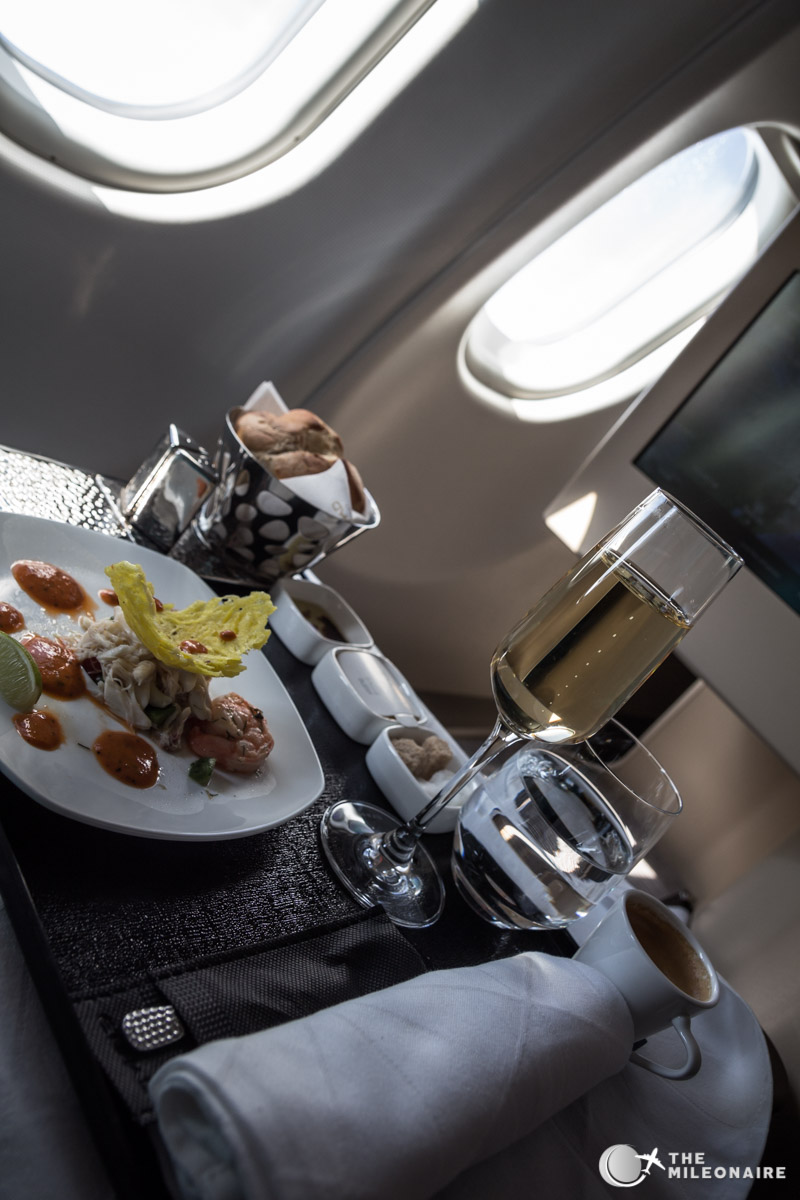 The appetizers were always tasty, and the presentation was very often magnificent. This also spans across most main dishes I had: you can always choose between 3-4 western and arabic options, plus some local flavors of your target destination.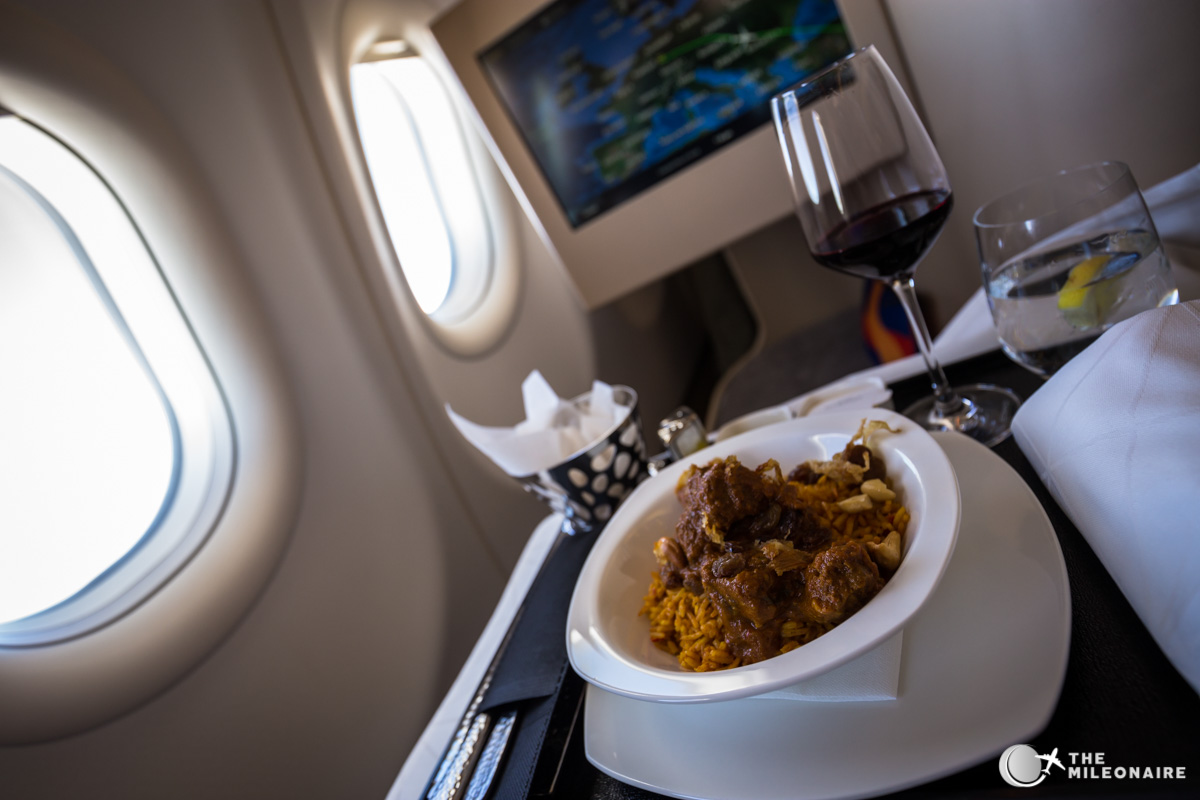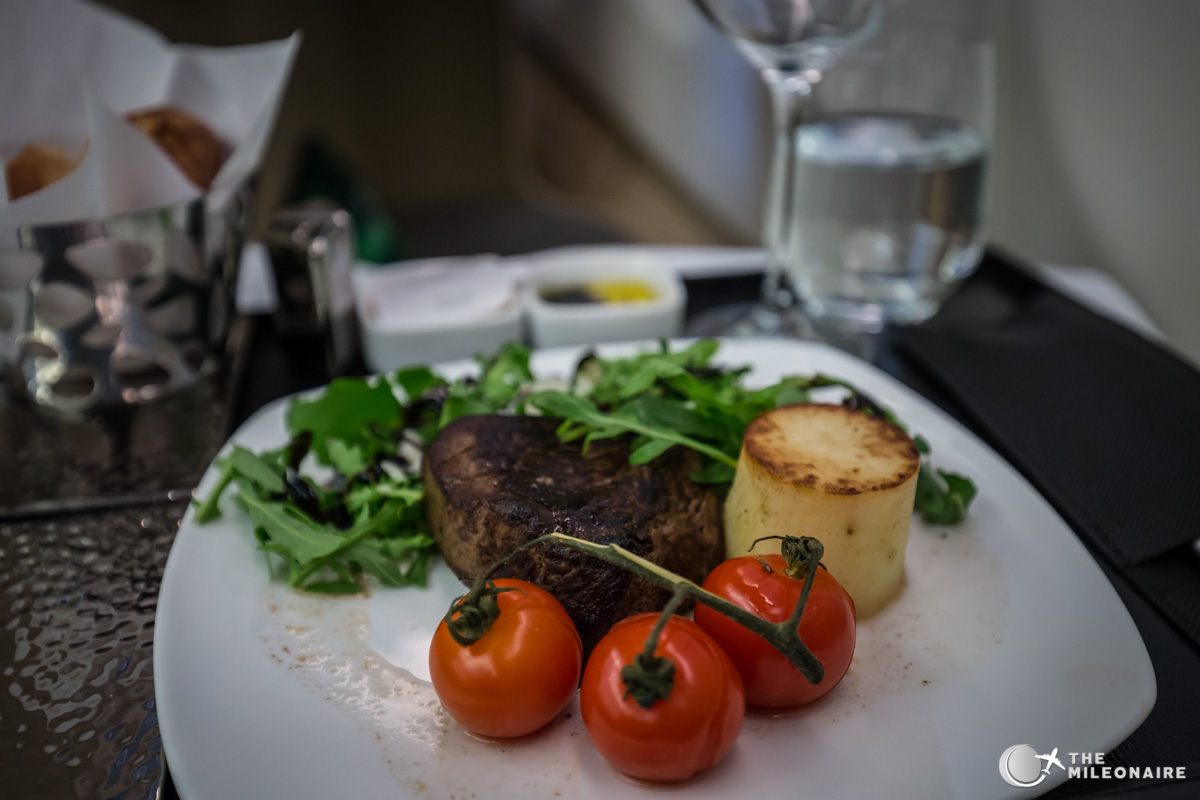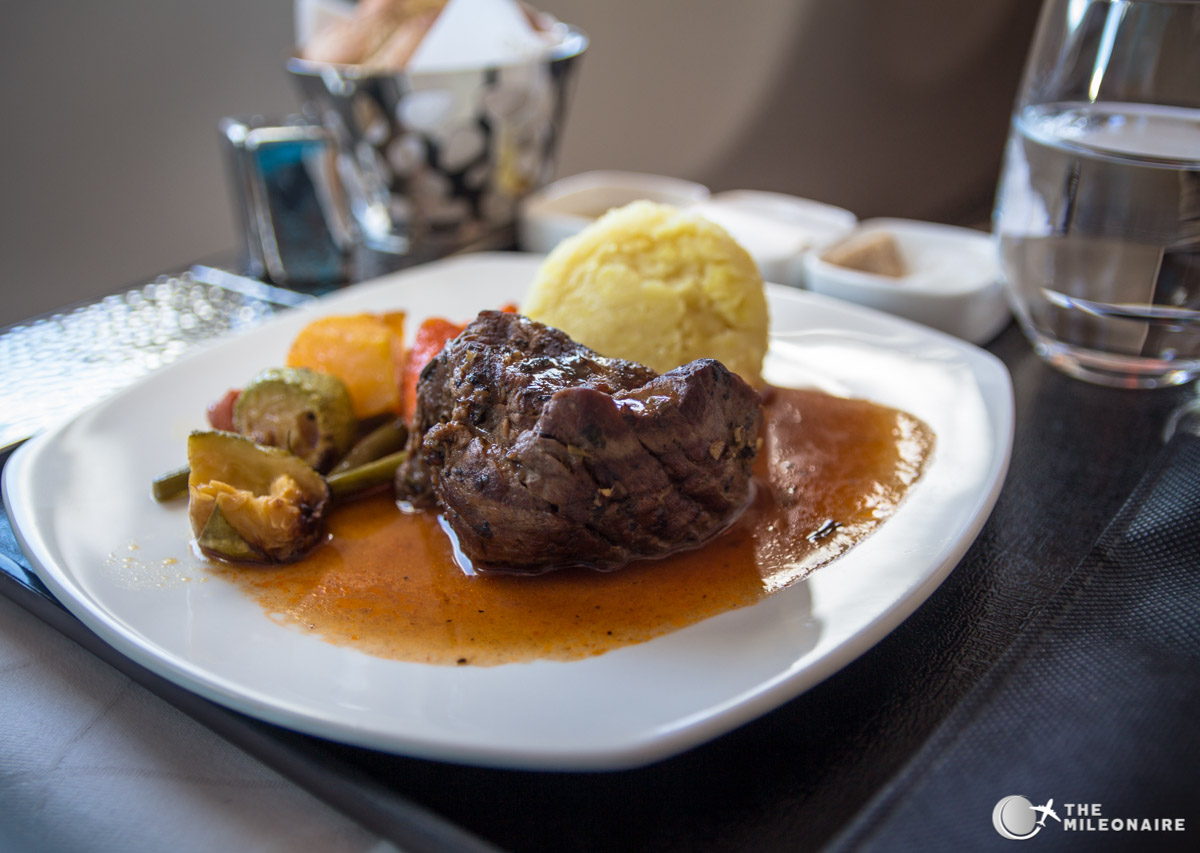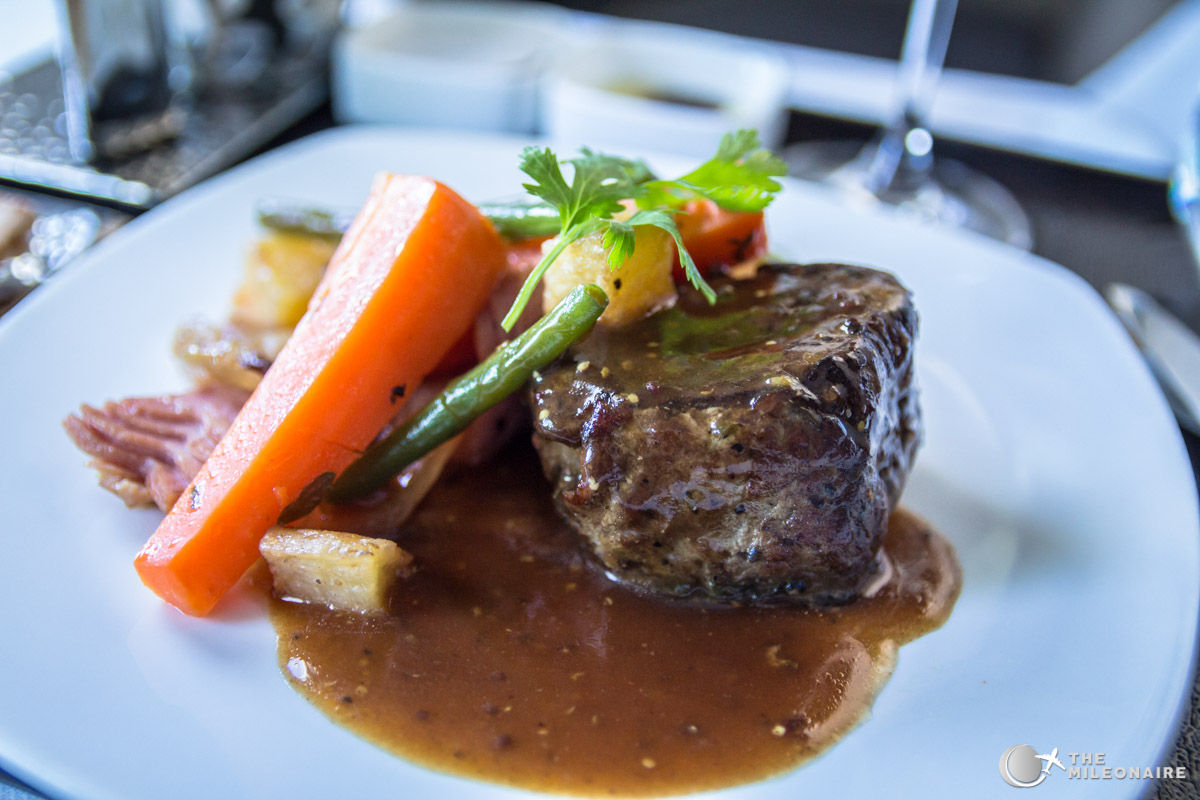 Most main dishes were excellent as well: the Lamb Biryani is super flavorful, and the steaks are (especially knowing about the limitations of aircraft kitchens) tasteful (but sadly never medium).
Afterwards I always had the cheese plate (great selection of cheeses as well)…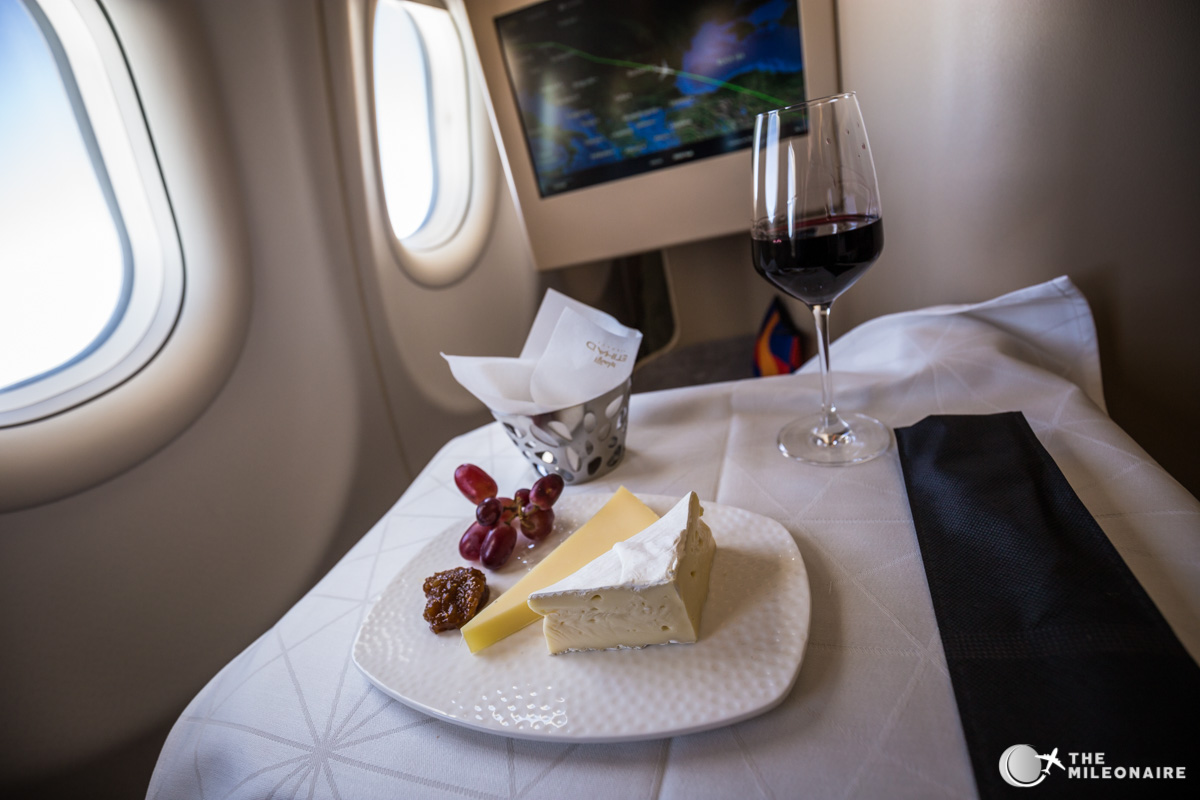 …followed by dessert (2-3 options on each flight):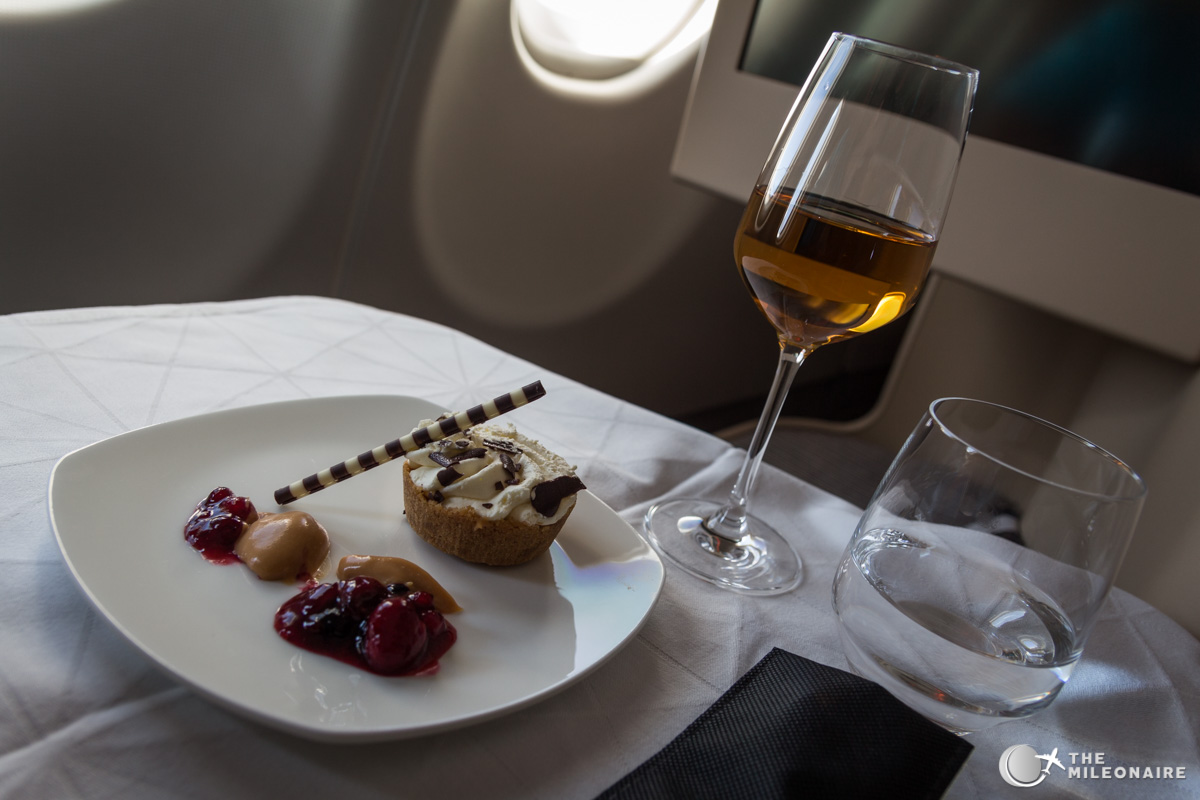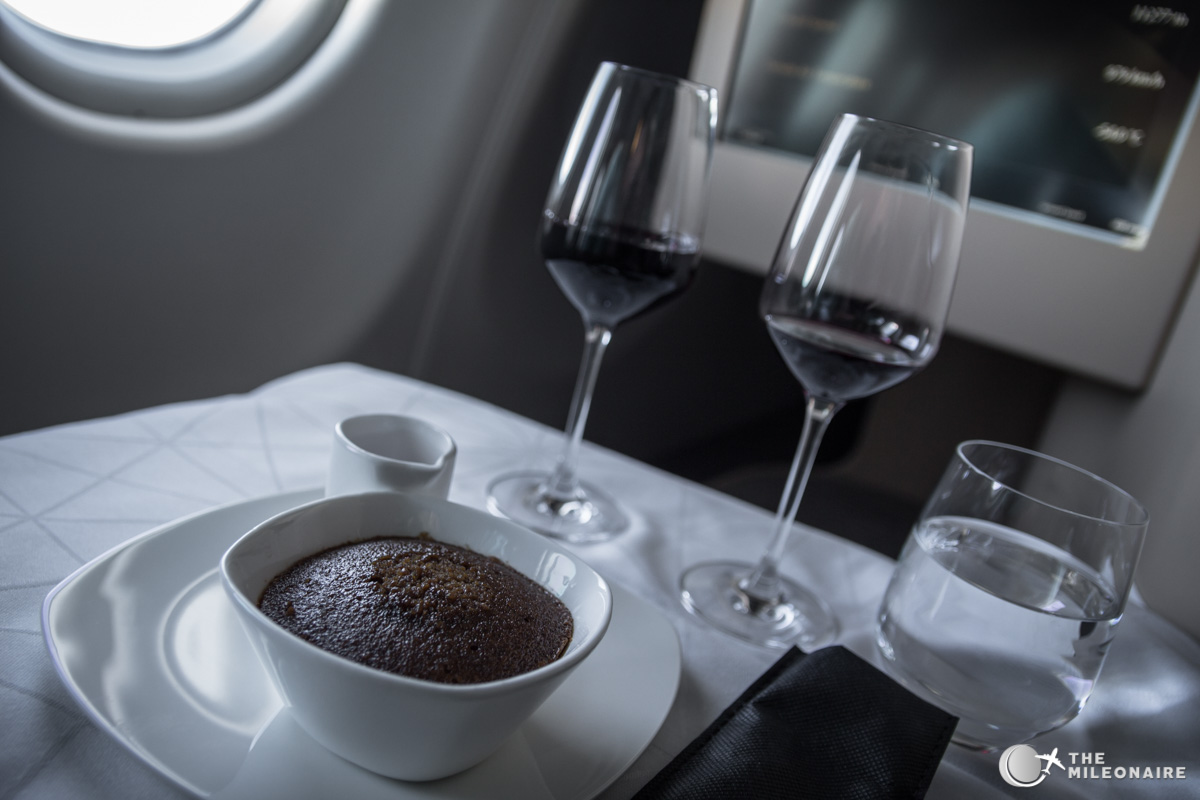 After these long (but not too long) dinner services, I mostly just put my seat into lie-flat mode and napped away for a couple of hours. Before landing, the cabin crew in Etihad's A330 Business Class offers you another snack from the menu – e.g. seafood noodles when flying to Asia: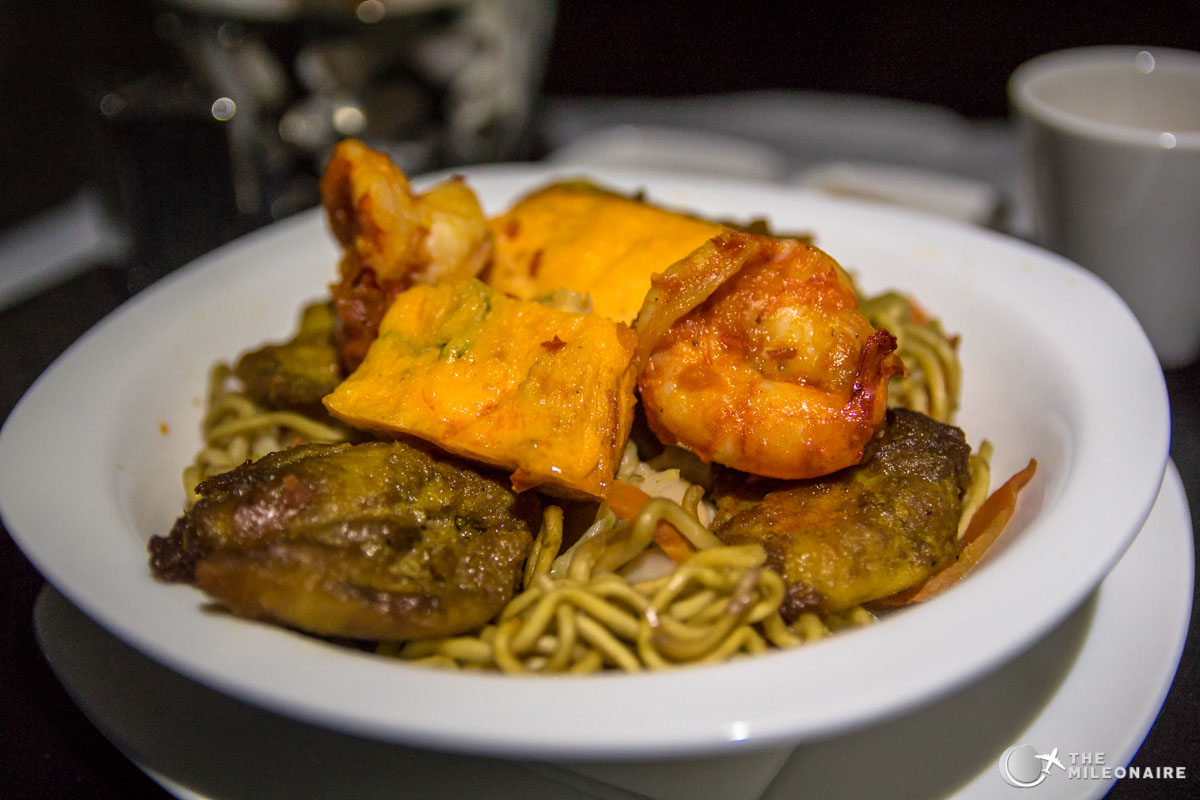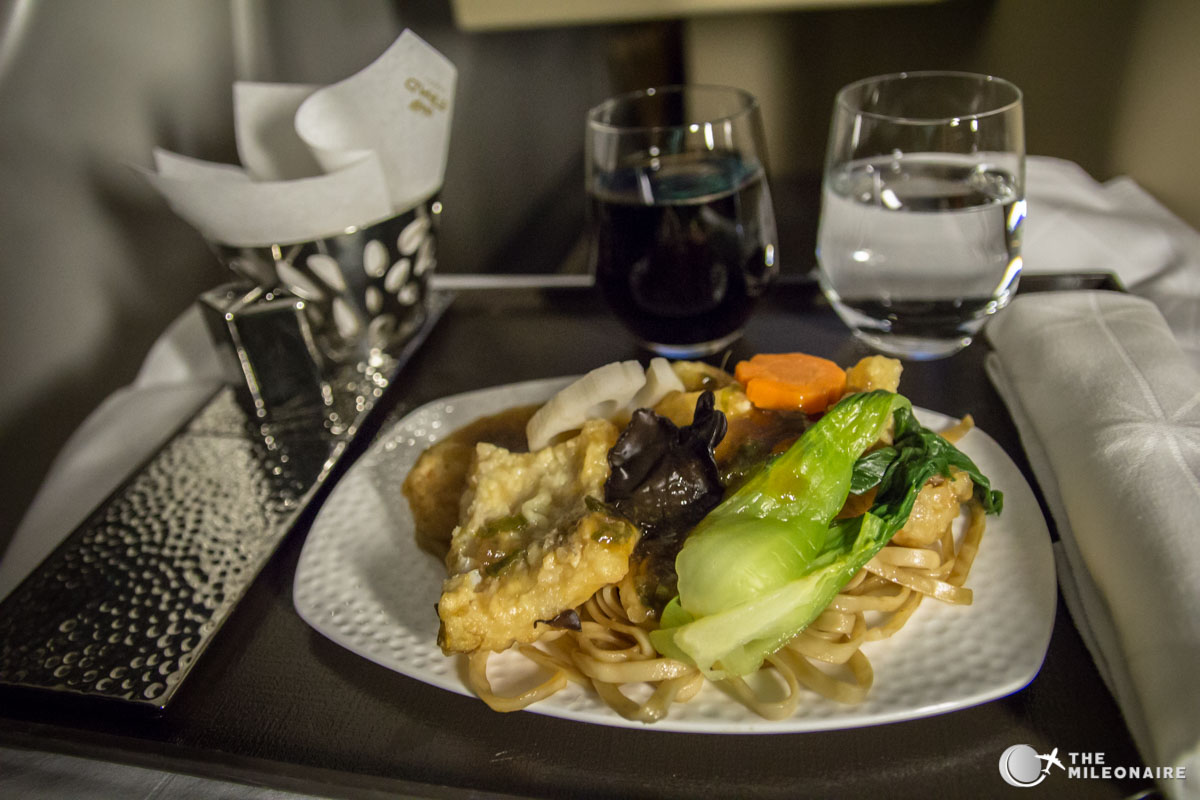 Alternatively you can also grab one of the great sandwiches – sometimes pulled beed, sometimes ham & cheese: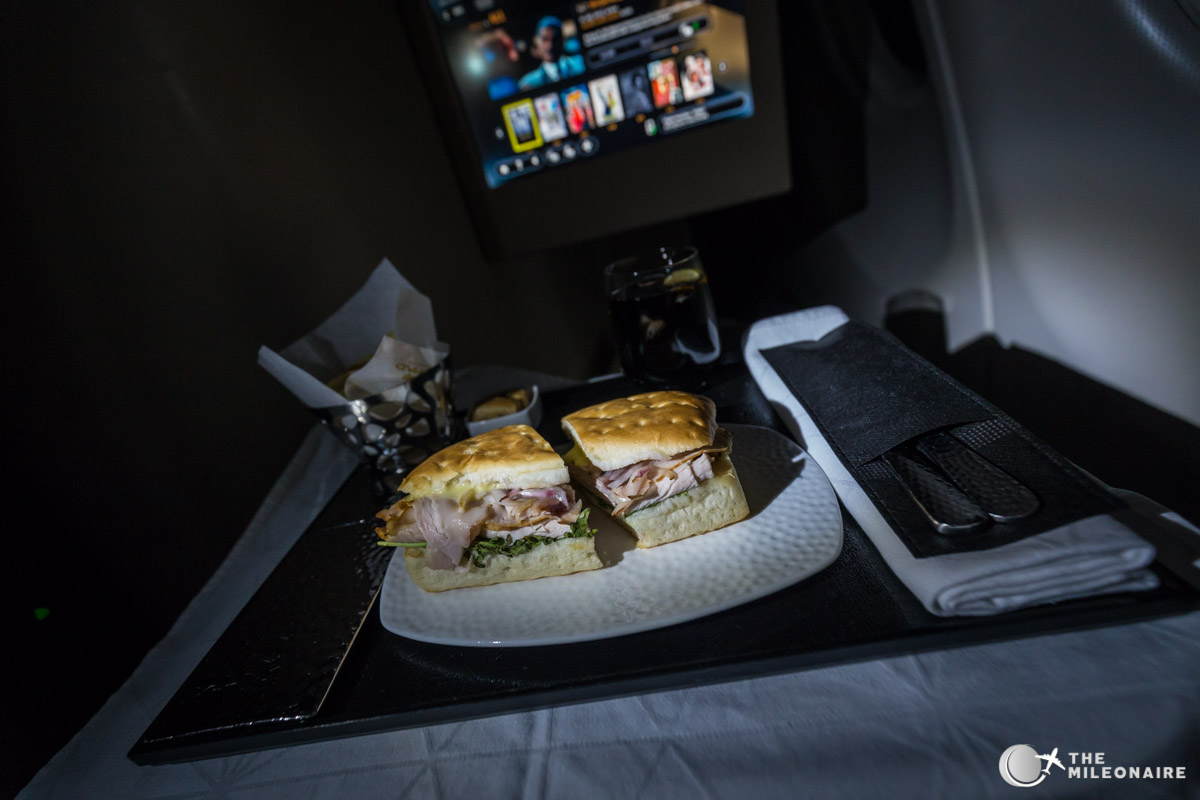 As you might've realized now after seeing the photos: the food and service level in Etihad's A330 Business Class is excellent in 80% of all flights. Quality of food, service, visual presentation, drinks: in all these area Etihad leave most of their competition behind them.
Conclusion: Etihad A330 Business Class
Etihad's A330 Business Class is a great product throughout: Excellent food, a modern "hard product" with a great seat, good service and very comfortable cabin. Obviously, a direct flight seems like the superior option compared to changing planes at night in Abu Dhabi. But: Etihad's Business Class and the (in the meantime) great lounges in Abu Dhabi definitely make up for it.