For a very long time, having a First Class flight connecting in Abu Dhabi felt bad: not only did you have to change planes in the desert in the middle of the night (including long security lines), but you also had to share the "regular" Etihad lounge with all premium passengers. At some point Etihad created a separate First Class zone in its Business Lounge, but that didn't really improve the experience at all.
This has changed: Etihad's new First Class Lounge in Abu Dhabi is finally finished, and I had the chance to do a photo trip report of it during my last stopover.
Etihad First Class Lounge Abu Dhabi: Location
The Etihad First Class Lounge in Abu Dhabi is relatively easy to find: right after security (also for connecting flights) you'll find the entrance to the left after about 50 feet.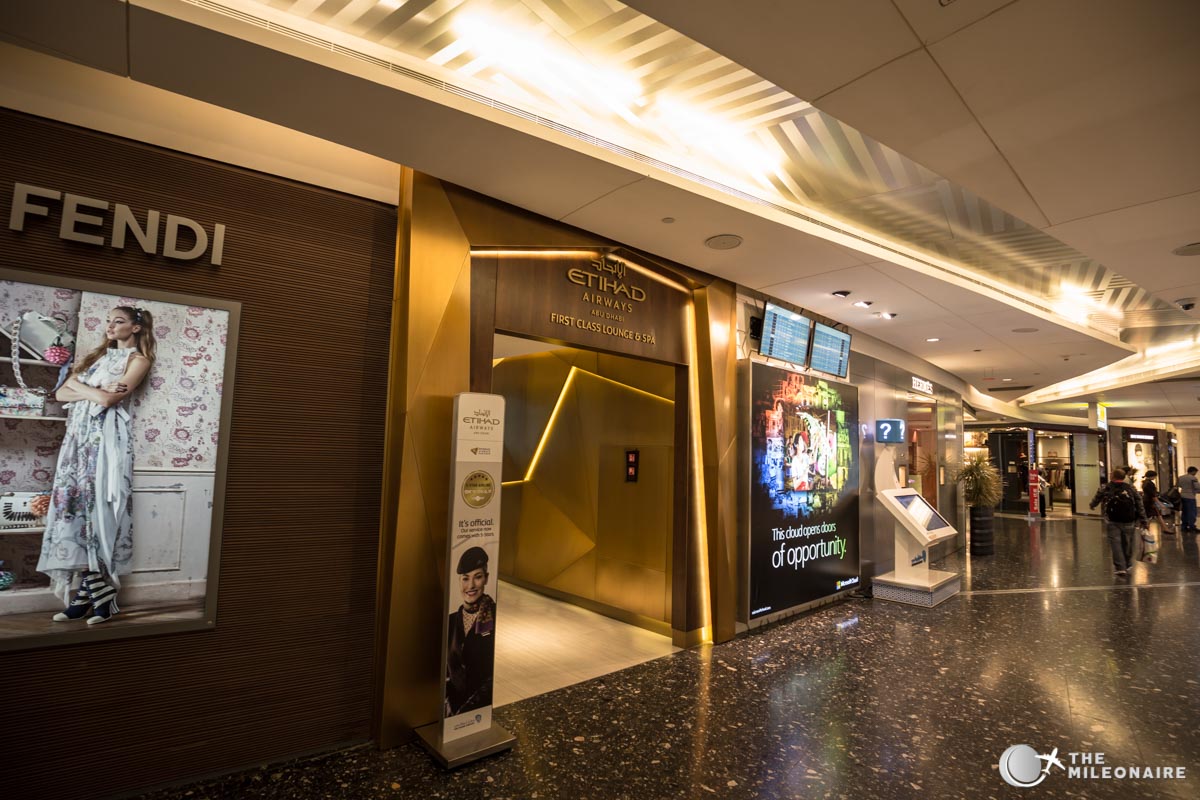 The Etihad First Class Lounge Abu Dhabi:
When entering from the terminal, there's an Etihad employee already waiting for you to check your travel documents and status card (if needed). Sadly, the criteria to enter the lounge has been pretty vague at the beginning (booked a First ticket, but there's only a Business Class at the last segment? No lounge for you!), but nowadays it's pretty clear (see below).
Afterwards you just take the elevator to the left to go upstairs, where the actual Etihad lounge is located. On the right you'll also see a list of all partner airlines (although this would be more useful downstairs).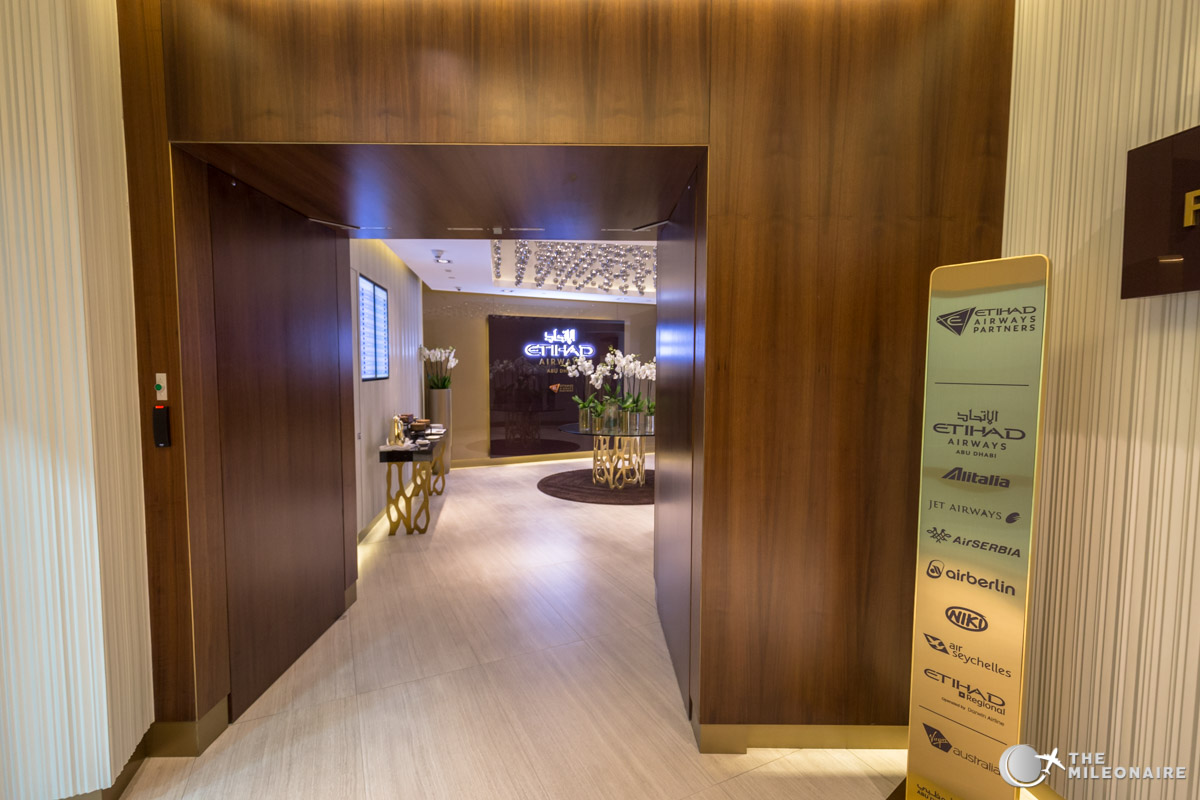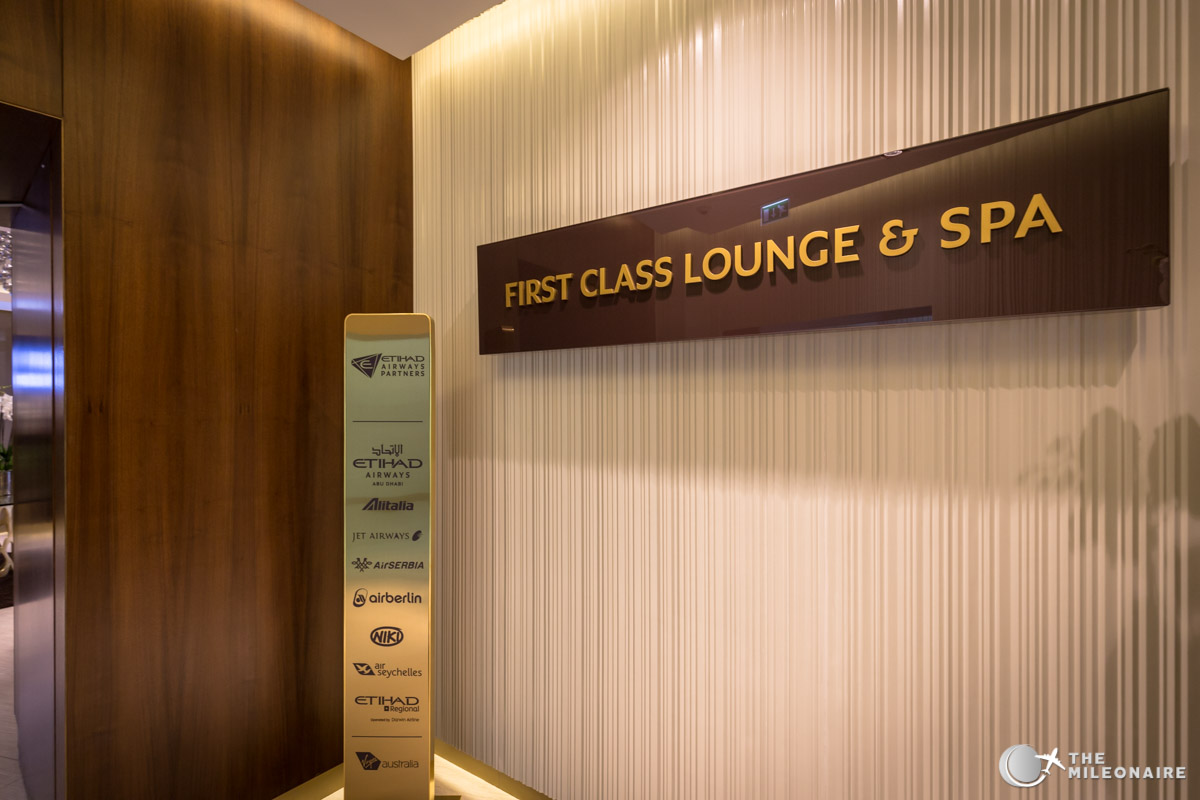 The entrance area already gives a good preview of the impressive lounge design inside. One general thing about the Etihad branding: as a marketing guy I really love you consistently Etihad applies its new corporate brand onto everything around the airline: livery, menu cards, cabin, amenities, lounges, luggage tags, and so on. This also applies to the First Class Lounge in Abu Dhabi, where the typical brown and beige tones feel very consistend with the cabin design, and the overall visual brand that Etihad created. Very often it's just a subliminal feeling, but it all just adds up to a great visual experience throughout the whole product.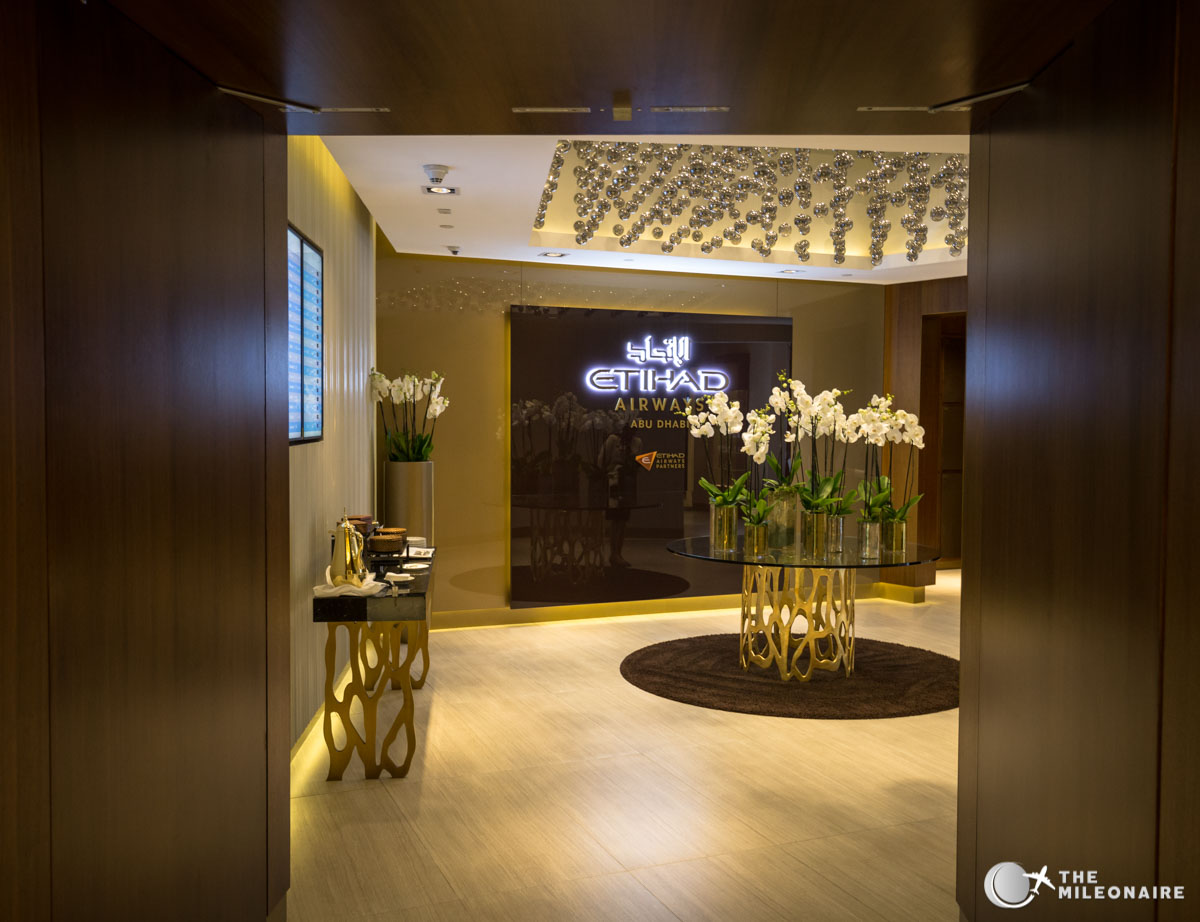 After entering the lounge, you will find a long corridor on the right. This corridor connects all the different elements of the lounge (restaurant, spa, fitness studio, showers, child care, hairdresser):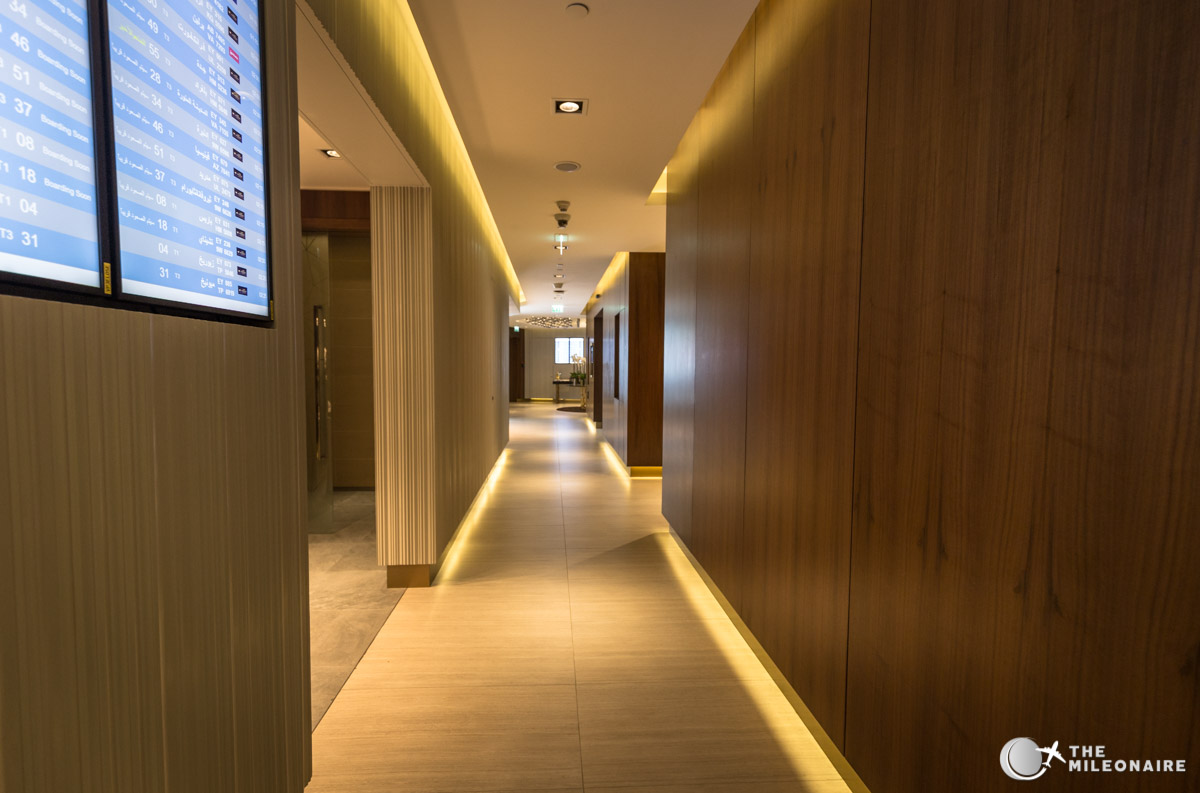 I don't know about you, but my first stop in Etihad's First Class Lounge is a shower room. When connecting in Abu Dhabi, you very often have to take a bus from a remote gate and stand in the desert heat for some time – so taking a lounge shower is the most refreshing thing ever. On top of that, Etihad's lounge showers are just great: super clean, great design with marble walls, good amenities and (at least in First Class) no waiting times yet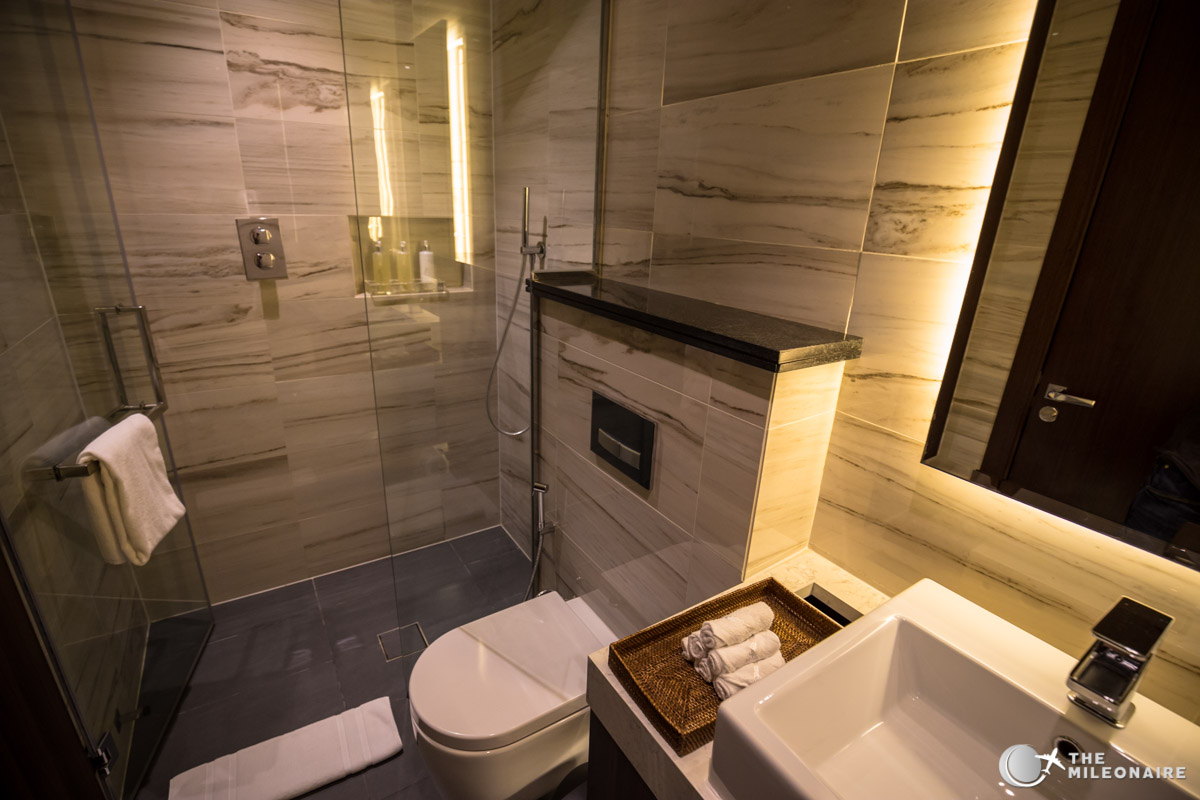 After checking in at the spa desk you'll be guided to one of the free shower cabins. In contrary to the Business Class Lounge, there were no waiting times during my visits in the First Class Lounge. The showers have a beautiful design and are very refreshing, especially due to the rain shower. The only thing missing for a perfect score here is enough space to hang and put your clothes, similar to The Pier First Class Lounge in Hong Kong.
The service is excellent as well: Even though I didn't have enough time for a spa visit that time, I was proactively offered multiple included spa options. Especially the massages and the "Style & Shave" option are excellent.

Another USP of the Etihad First Class Lounge Abu Dhabi is the integrated fitness studio that at least some basic cardio and lifting equipment for a work out.
Etihad First Class Lounge Abu Dhabi: Restaurant
After the shower it was time to check out the real highlight of Etihad's First Class Lounge in Abu Dhabi: the a-la-carte restaurant! The restaurant takes up the biggest space in the lounge and offers a multitude of small and large table setups. Due to its size, it definitely feels more like a posh restaurant than a regular, busy lounge. I was guided to one of the tables at the window, where a waitress welcomed me with separate drink and food menus: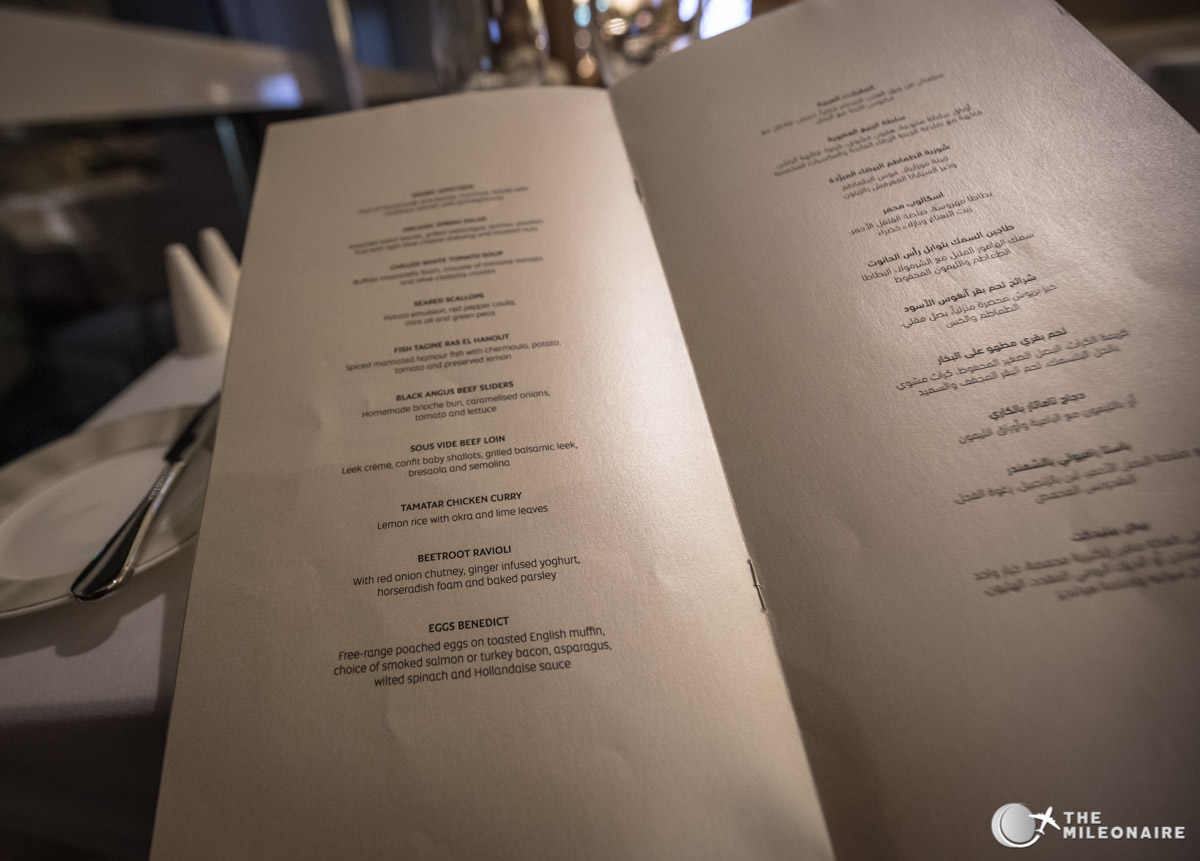 The drink menu offers a very solid choice of wines, champagnes, cocktails and mocktails – including the three lounge champagnes (Billecart-Salmon, 2006 Vintage, NV Brut Rosé). The food menu is pretty small, but very creative and different regional influences. During my first visit I started out with champagne and coke zero, as well as the Seared Scallops as my appetizer: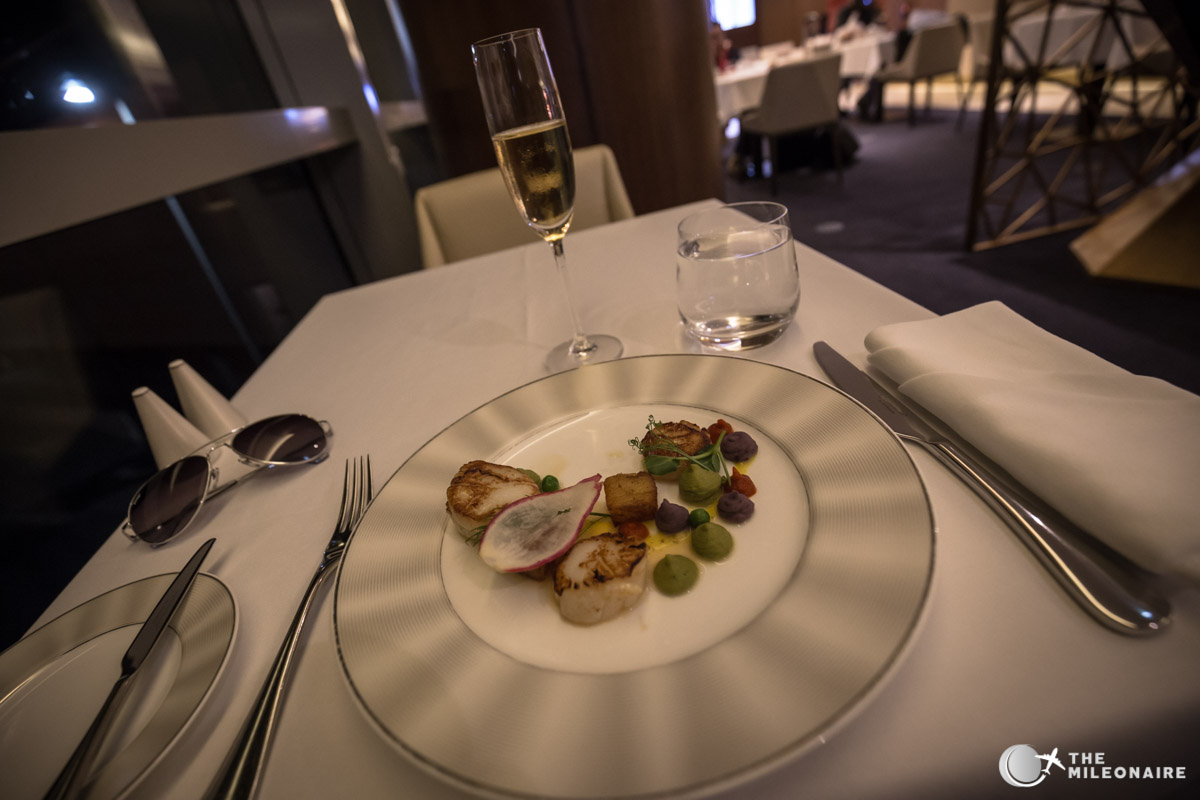 The drinks were perfect, just like the scallops. Afterwards I went for the "Black Angus Beef Sliders" as my main dish. These were excellent as well, with very tasty components and freshly made buns: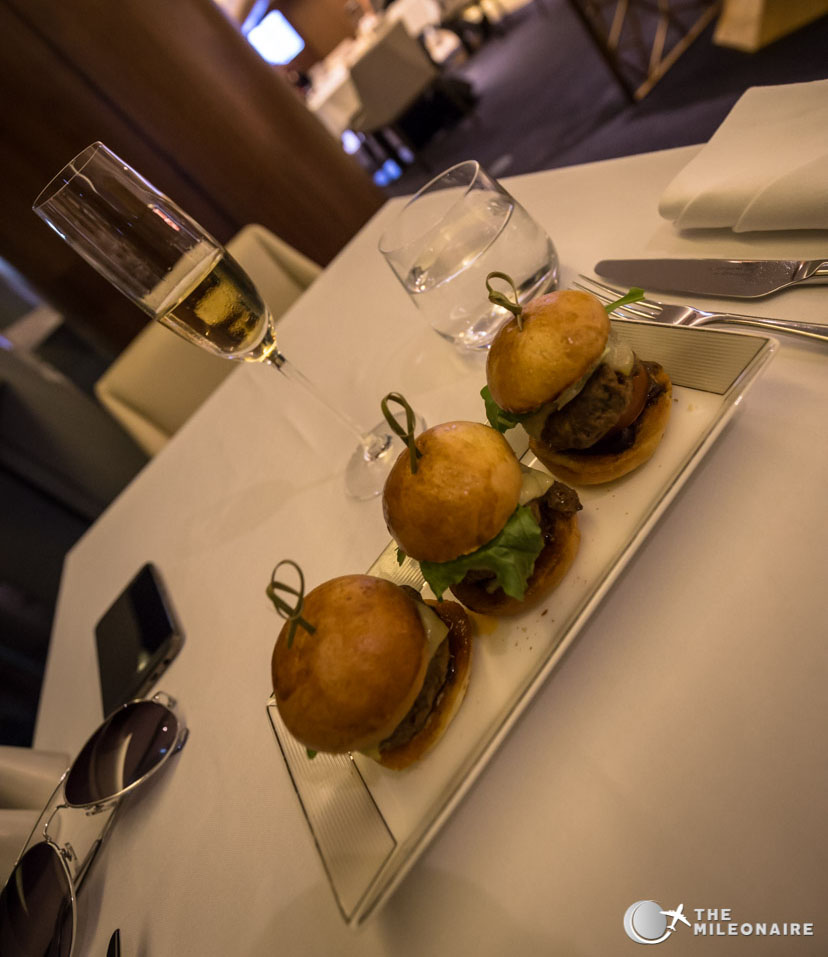 There is no printed dessert menu, rather a special buffet where you can pick from a nice choice of small cakes and cremes. As my food coma started to show, I didn't take a photo that time.
During my second visit I went for some different dishes, and they were even better that time. I started out with the arabic mezze as a starter that you might know from Etihad's onboard menus. The ones in Etihad's First Class Lounge were a whole level above that though, with delicious different Mezze and an outstanding visual presentation: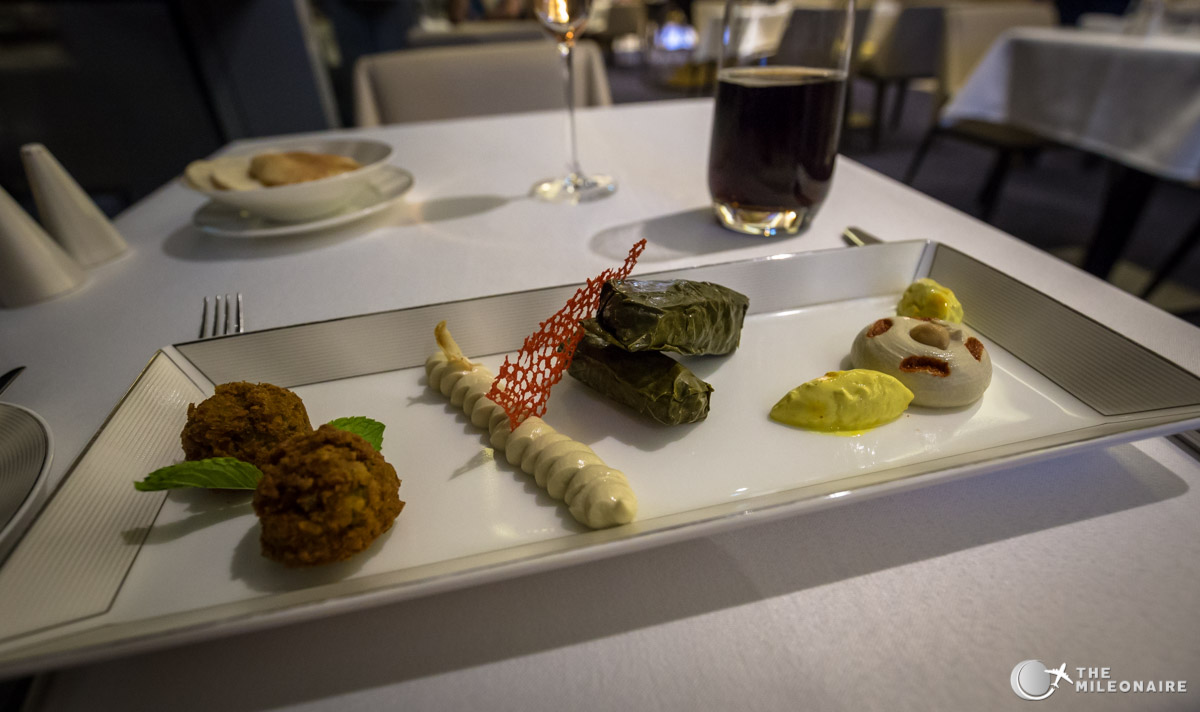 As a main I went for my personal highlight, the Sous Vide Beef Loin: super tender, perfect flavors and again a pleasure to look at as well: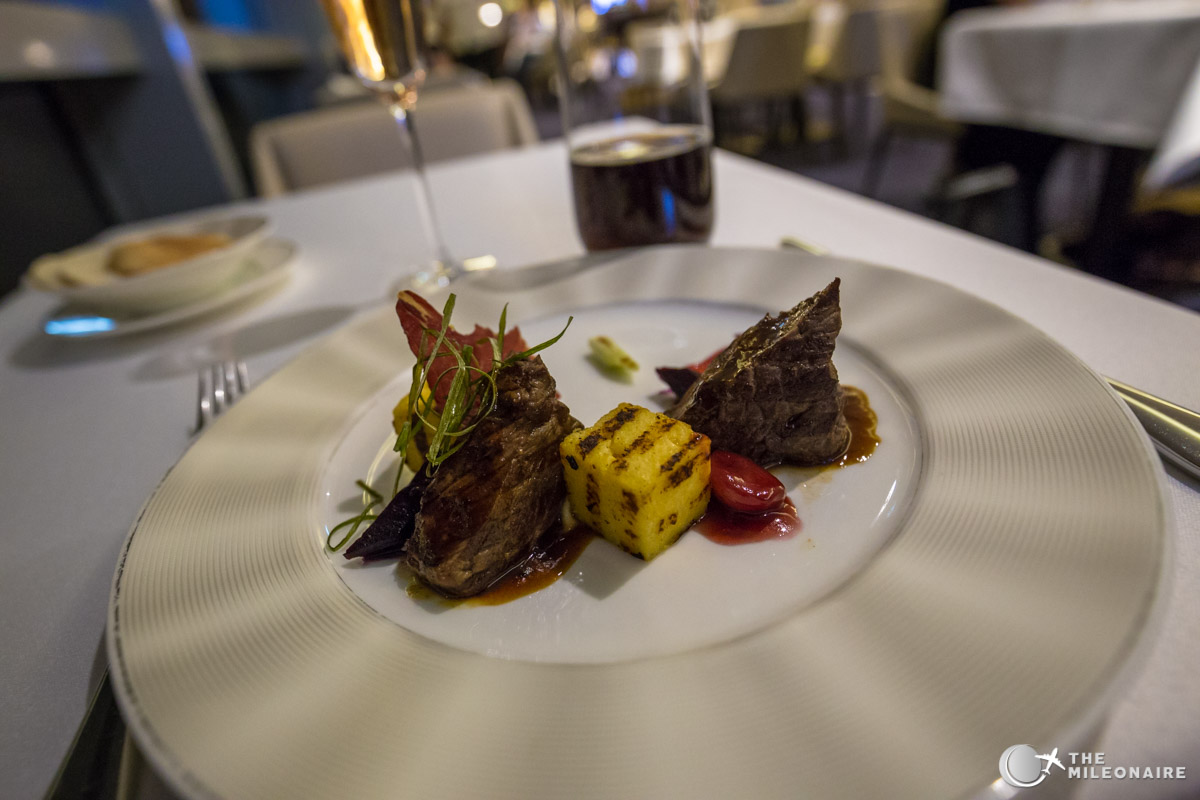 Even though a-la-Carte restaurantare not that uncommon in First Class Lounges worldwide nowadays, the one in Etihad's Abu Dhabi Lounge even exceeded my high expectations: flavors, service, variety and ambience make connecting in the desert surprisingly tasty!
What Etihad's First Lounge also offers:
After dinner I had 30 minutes left until boarding, which was perfect for a quick stop at the lounge bar (located rather in the back of the lounge). The bar has an excellent choice of alcoholic and non-alcoholic drinks, also during Ramadan. The true highlight for me was the bar staff though: it seemed to me as if Etihad hand-selected their best barkeepers for the First Class Lounge bar as they not only serve perfect drinks, but also have excellent soft skills to make your stay enjoyable. Truly "feeling welcome" is a rare sight, even in premium cabins; but it's definitely the case here.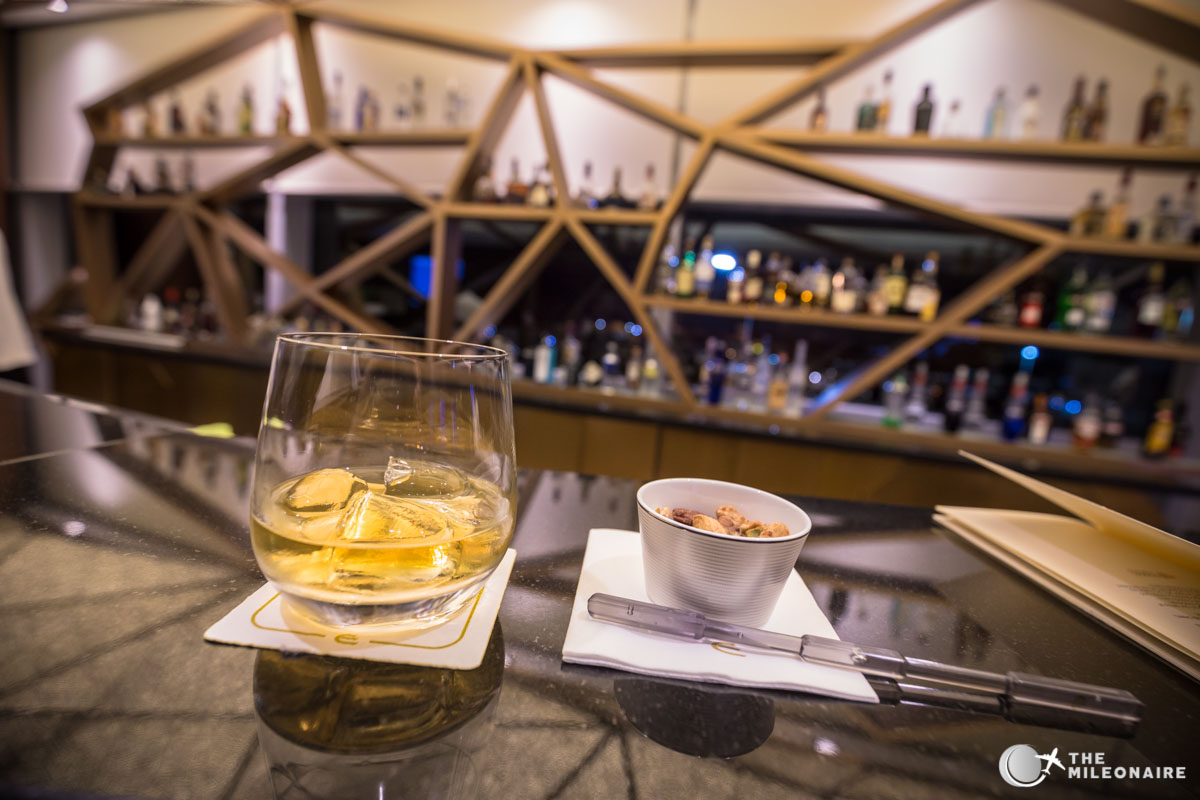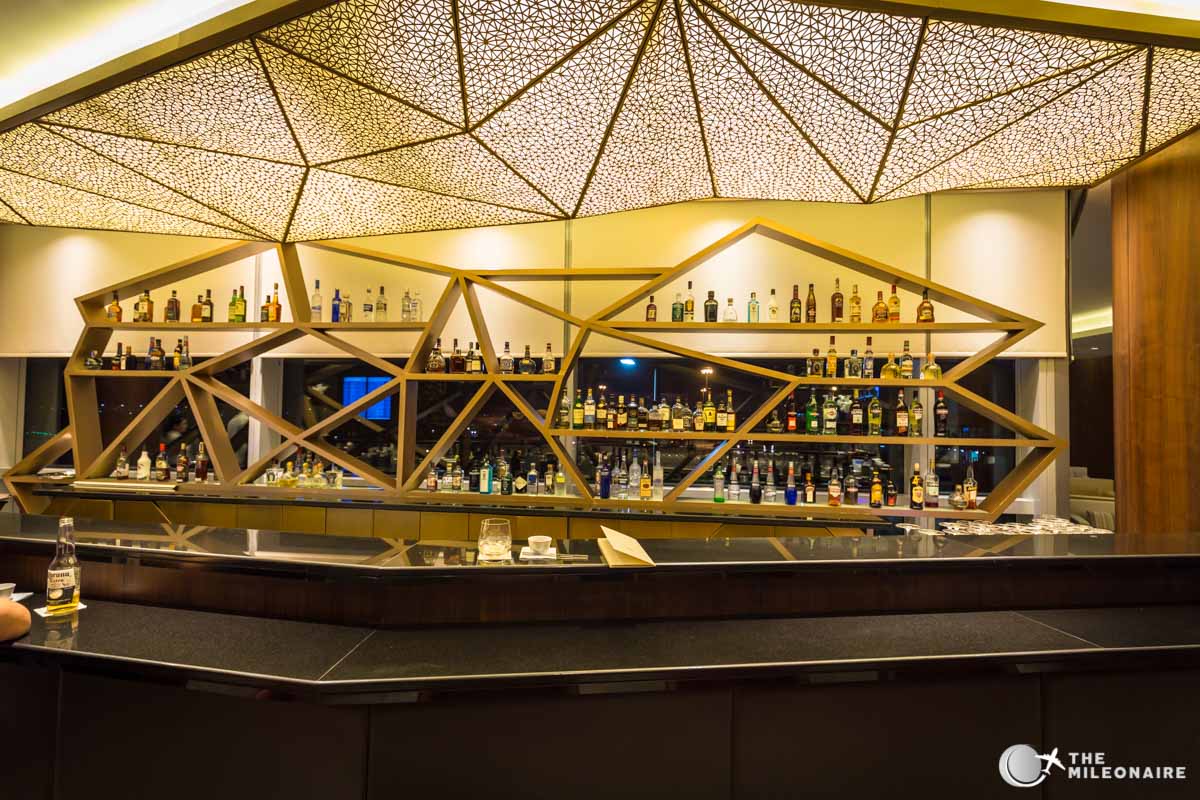 On the opposing side of the bar you'll find additional seating, as well as a self-service snack and drink station. Nearby is also the cigar lounge, where you can have your favorite cigar for free.
Even though there are no "real" sleeping rooms with day beds (like in The Pier Hong Kong), there's at least a relax room with a couple of lounge chairs, as well as a huge video screen with beautiful visualizations.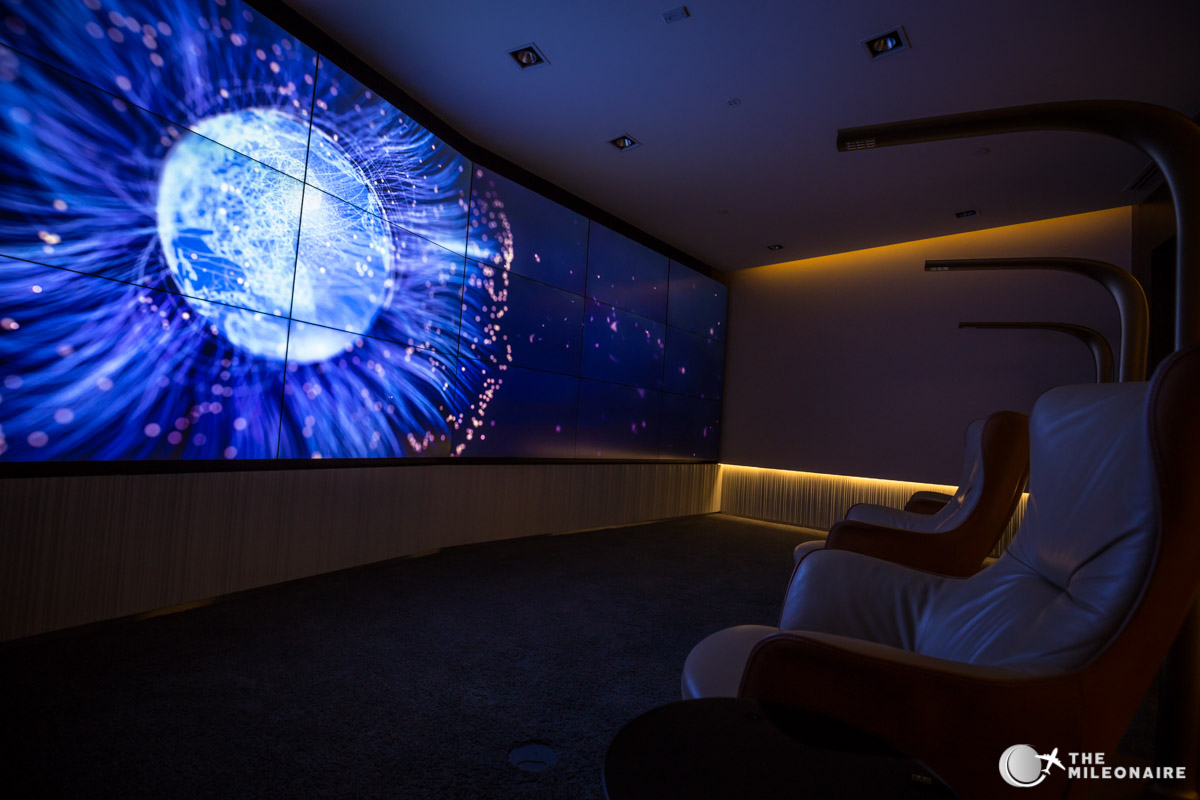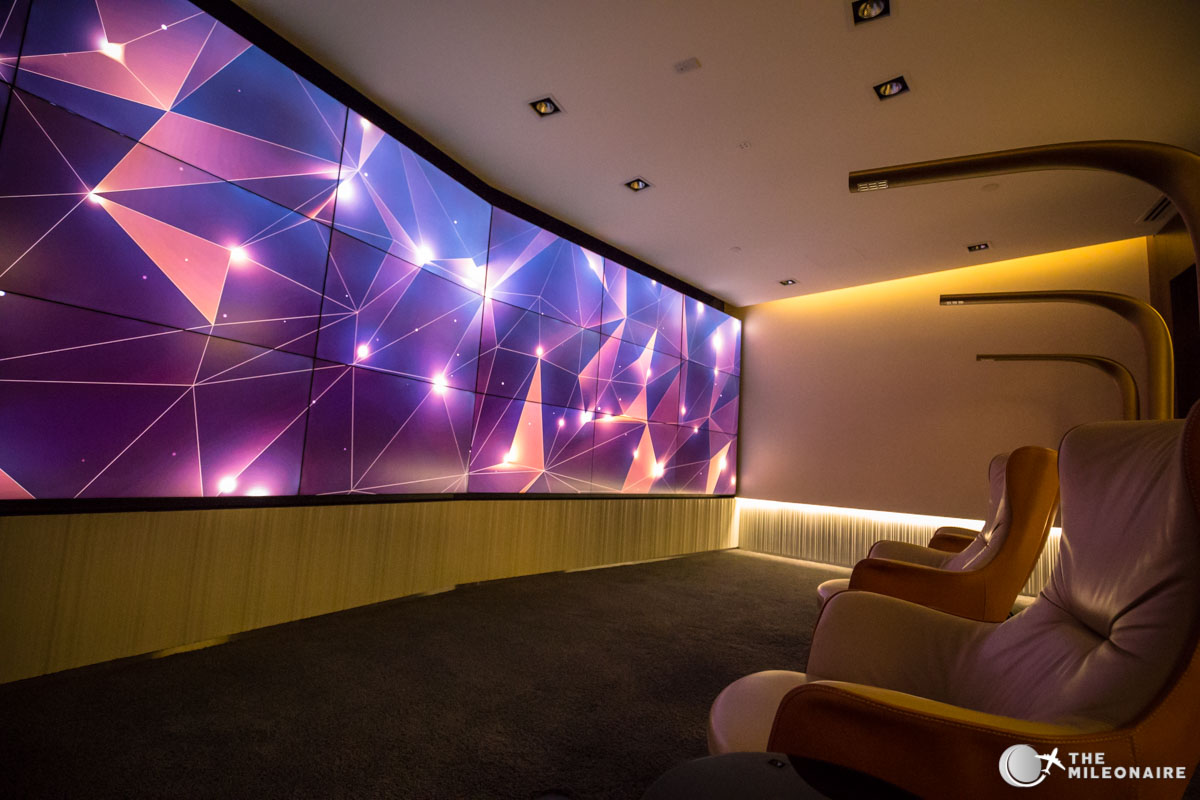 I stayed there for a couple of minutes before I had to head towards my gate. I have to conclude that Etihad's First Class Lounge in Abu Dhabi turned out to be an excellent experience throughout. While connecting in Abu Dhabi always used to be a huge 'turn-off' when booking flights, nowadays it's become a great premium experience on its own.
Etihad First Class Lounge Abu Dhabi: Access
After a couple of changes, the following guests are invited to Etihad's First Class Lounge in Abu Dhabi:
Nach einigen Änderungen dürfen nun folgende Gäste die Etihad First Class Lounge in Abu Dhabi benutzen (jeweils mit Abflug am gleichen Tag, ohne Gewähr):
Guests of The Residence or Etihad First Class
Etihad Guest platinum members (plus one guest)
Platinum members of Etihad's partner airlines (plus one guest)
Platinum members of Virgin Australia Velocity (plus one guest)
Walk-in guests that pay the high entry fee