In April I was finally able to visit a different lounge in Hong Kong, something else than the various Cathay Pacific flagship places like The Wing or The Pier. Even though Cathay is still the dominating force at HKG, a new competitor has risen in its shadows: Hong Kong Airlines offers some interesting routes in Asia with a relatively new fleet. And: with the new Hong Kong Airlines Lounge 'Club Bauhinia' they also offer a cozy way to spend some time before departing!
In this photo trip report of the Hong Kong Airlines Lounge at HKG I'd like to give you an idea if 'Club Bauhinia' is worth a visit.
Hong Kong Airlines Lounge: Location
Lounges at Hong Kong Airport are mostly a level below the actual terminal, and a small set of stairs leads down to the lounge area. This is also the case for Hong Kong Airlines' Club Bauhinia Lounge, which is located below Gate 23. Once you're there (quite far away from security) you'll see a small sign with the lounge logo: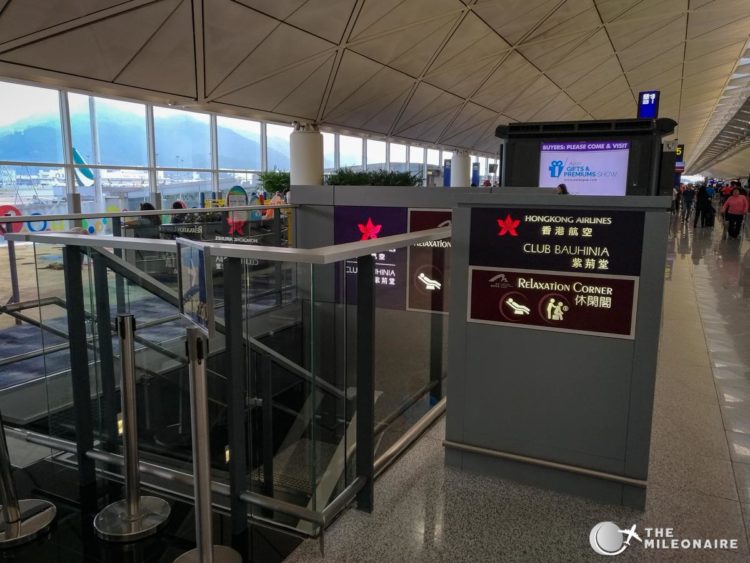 Lounge Access: Who gets in?
The Lounge is quiet busy at certain peak times, but not due to the amount of Hong Kong Airlines departures – but rather due to the amount of partner airlines that can use the lounge as well. The following passengers can access the Hong Kong Airlines Lounge at HKG:
Hong Kong Airlines business class passengers
Fortunes Wings members with silver, gold or platinum status flying with Hong Kong Airlines
Business Class passengers of the following partner airlines (list might be changing): Air Explore, American Airlines, Asiana, Bangkok Airways, Ethiopian Airways, Etihad, EVA Air, Fiji Airways, Finnair, Garuda Indonesia, Orient Thai, Paulau Pacific Airways, Philippine Airlines, Royal Brunei, S7 Airlines and Virgin.
Hong Kong Airlines Lounge 'Club Bauhinia': Review
I was travelling with the Etihad 787 Dreamliner that day, so I got a red lounge access voucher during check-in. This voucher grants you access to the Hong Kong Airlines Lounge, and the directions are described again as well: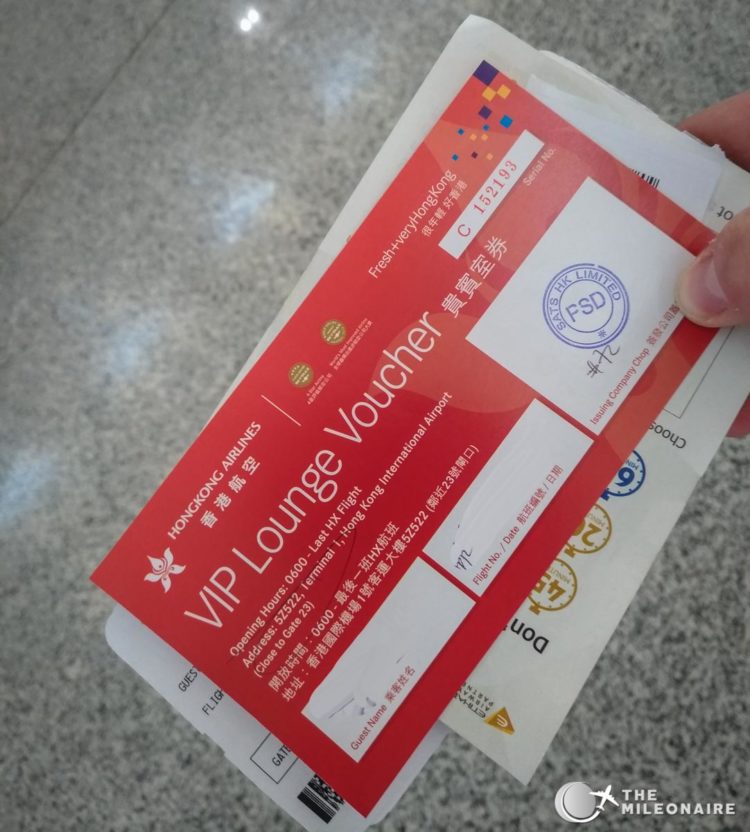 After heading downstairs at Gate 23 there's a pretty nice entrance area waiting for you: you'll not only see all the partners of Hong Kong Airlines on a screen, but also models of various partner planes: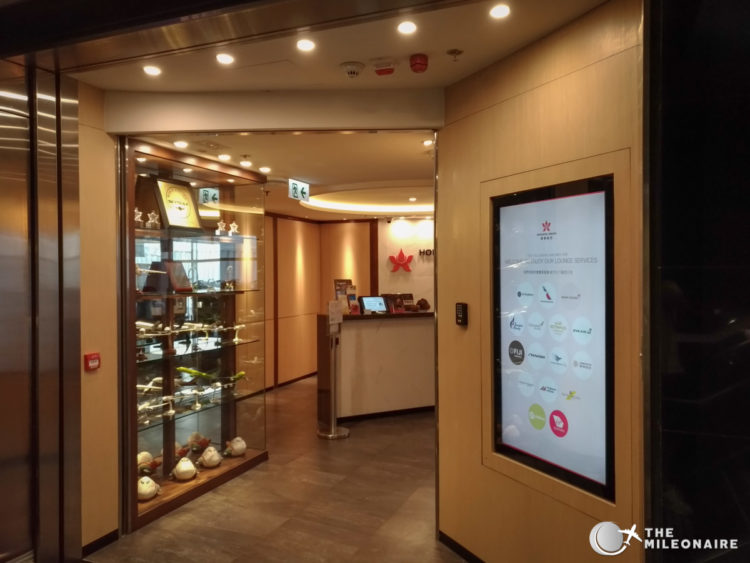 As an aviation fan I think this is a nice touch, and you can also check out some of the industry awards the airline received so far.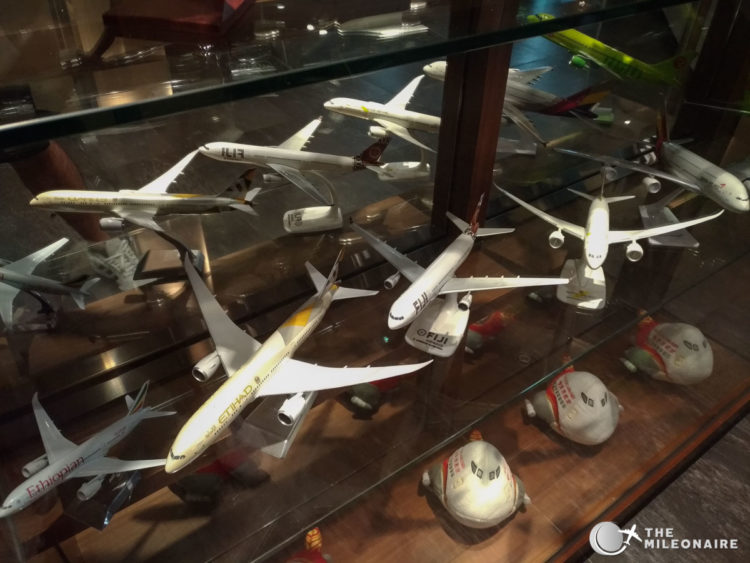 The lounge itself isn't extremely large: it basically consists of one big room along a huge window front. The following photo gives a good impression of the lounge's size, taken from the very back looking towards the entrance area (and the window front to the right):
I really enjoyed the lounge's interior design: beautiful wooden panels, nice carpeting and some warm lighting to accompany the natural light coming in. The back of the lounge is a bit darker as there is a relaxation area with some couches (which I obviously didn't take a photo of as it's rather intrusive). The Hong Kong Airlines lounge is generally designed with Hong Kong in mind, and there are small gimmicks and artworks throughout the lounge to remind you of the city and its history.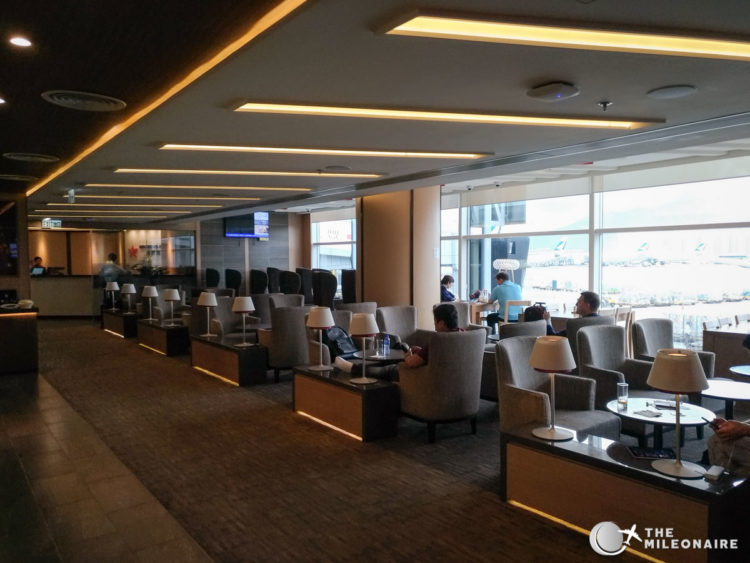 There are various small seating areas with comfortable lounge chairs everywhere throughout the lounge. I enjoyed the ones near the entrance the most, as these are revolving chairs with a large back rest that face the window front – so they are perfect for plane spotters! If you're lucky you can also see the beautiful 'Queen of the Skies' arrive at the gate just in front of you: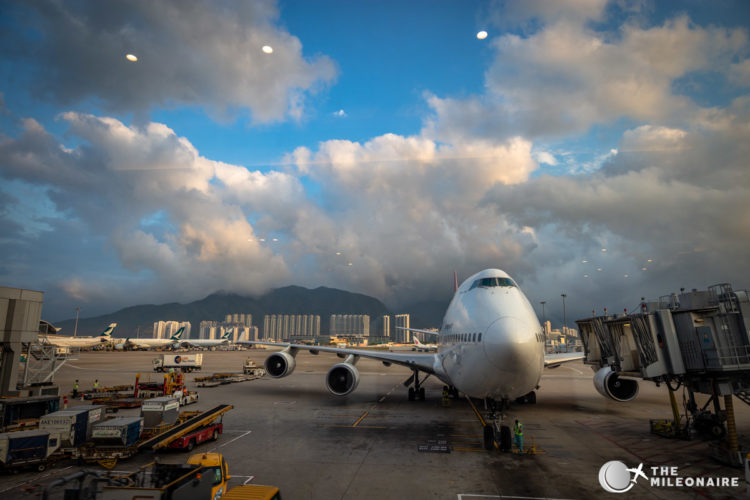 You can also see the runway from that point-of-view, so 'Club Bauhinia' is perfect for aviation fans (like me) who enjoy watching planes taxi and take off with a glass of prosecco in their hands.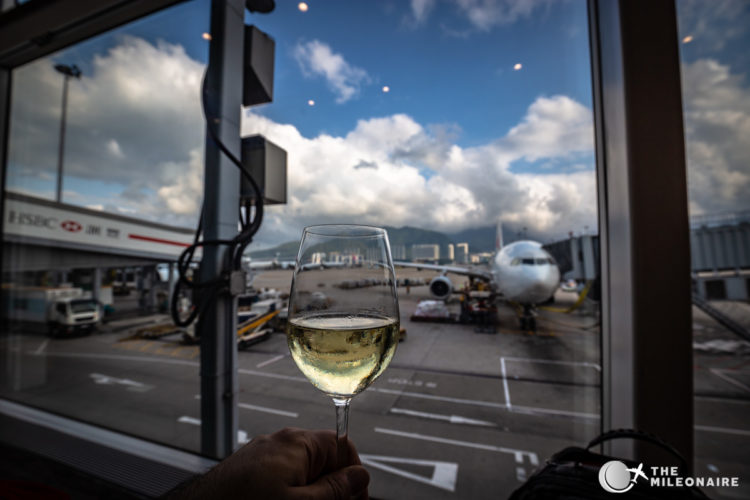 Speaking of drinks: In Hong Kong Airlines' Lounge there's sadly no champagne. There is a rather good prosecco though, as well as two red and two white wines.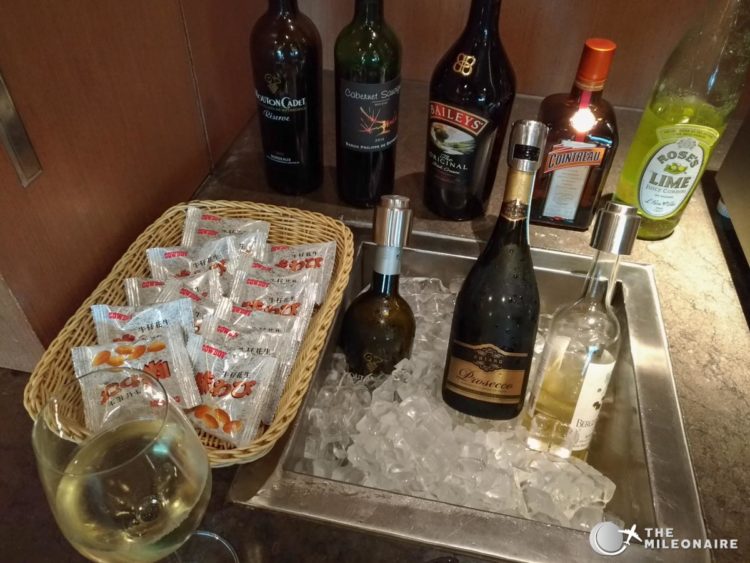 You'll obviously also find a solid selection of spirits and liquors there, but mostly the standard brands like Jim Beam, Bacardi or Gordon's. If you're rather looking for something with less alcohol, a fridge with beers and softdrinks is available as well.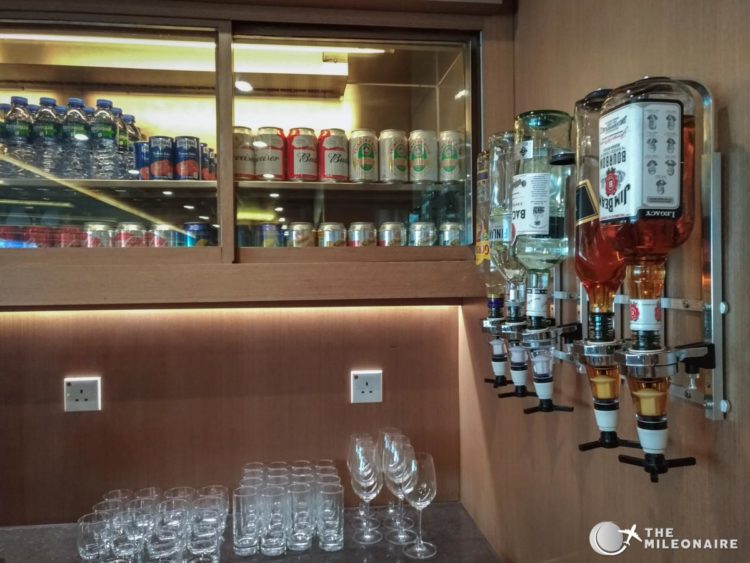 The food offered in the lounge is a mix of Western and Asian influences, just as it should be for an airline from Hong Kong. There are various warm dishes and cold snacks served at the buffet.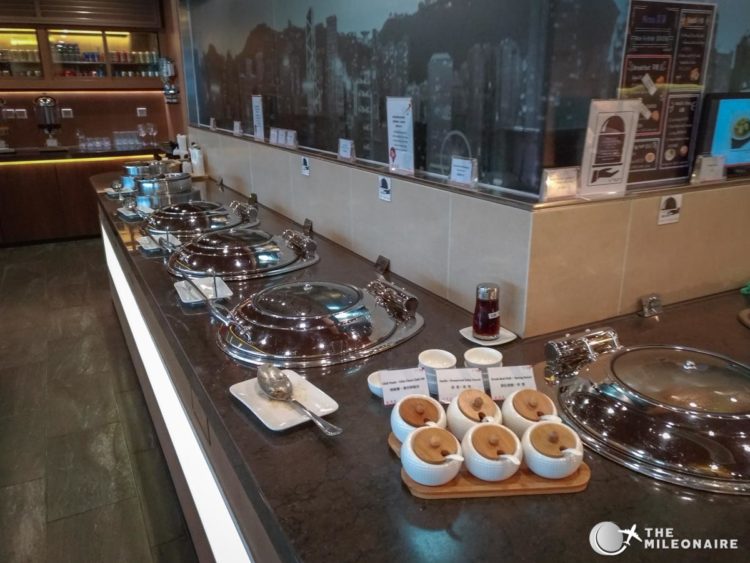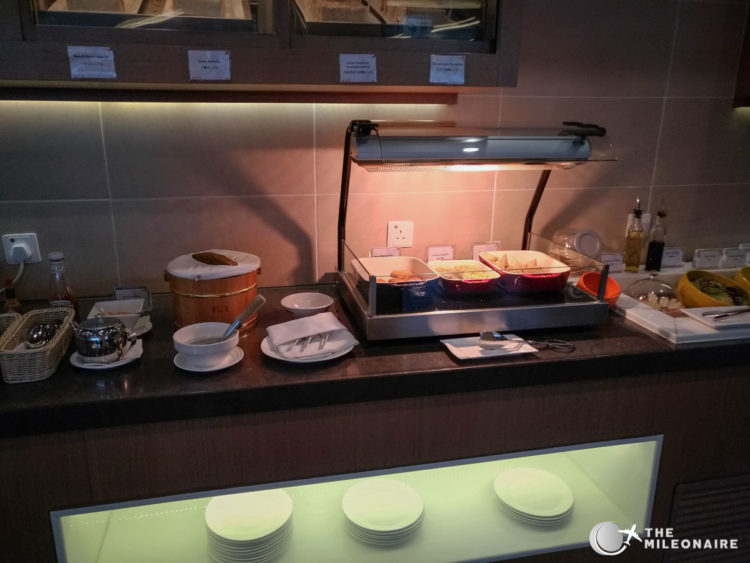 I went for some Chicken Nuggets and fried Dim Sums with chili sauce – simple, but tasty.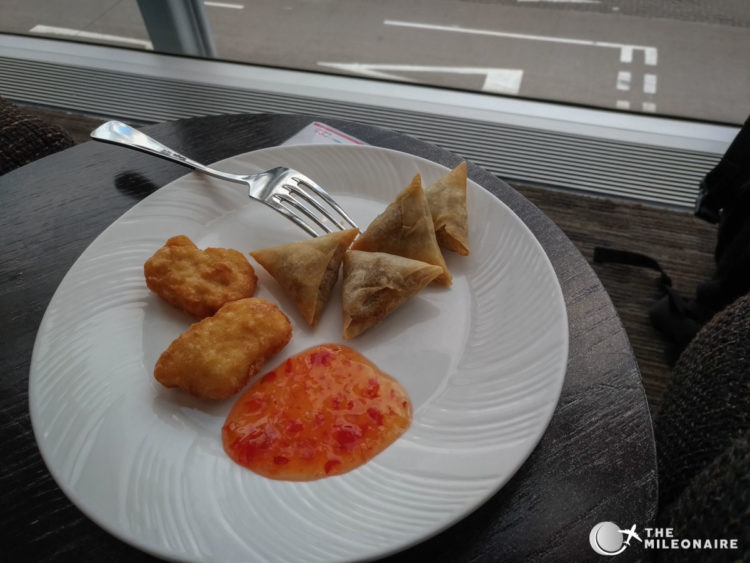 The quality of the dishes was good throughout, but there weren't that many options to choose from. There's also a small a-la-carte service, but I sadly didn't have enough time to use it (and I didn't see any signs highlighting that as well).
I rather decided to get some work done before boarding, and the good WiFi worked perfectly. If you don't have your own laptop with you, there are several Apple PCs to serve as a small business center: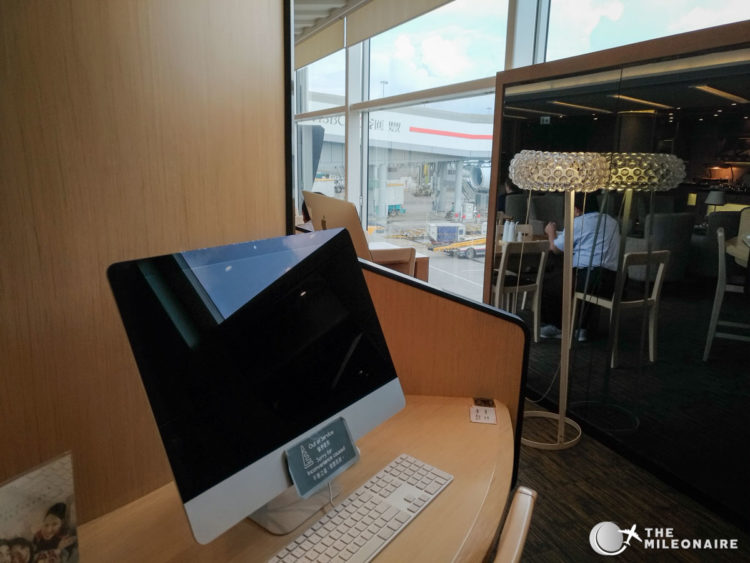 The washrooms were clean and in good condition (as new) as well: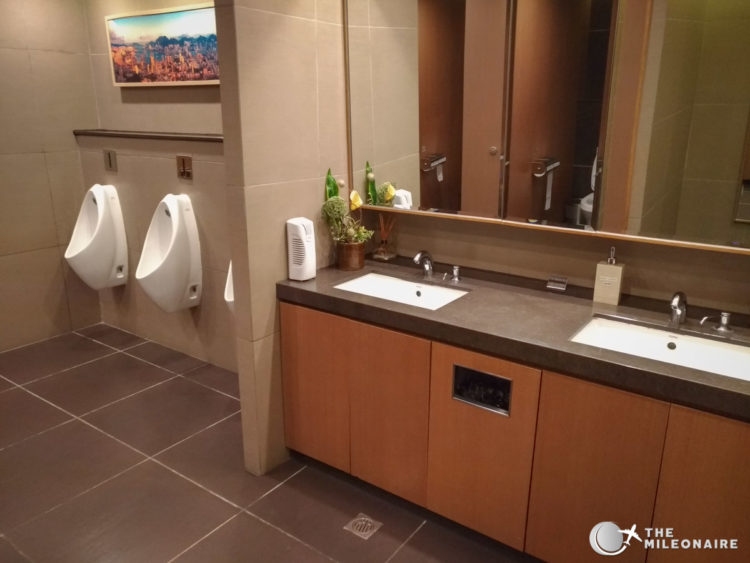 After having another look out of the window front I had to say goodbye to the Hong Kong Airlines Lounge 'Club Bauhinia' and headed off to my gate for my connecting flight to Abu Dhabi.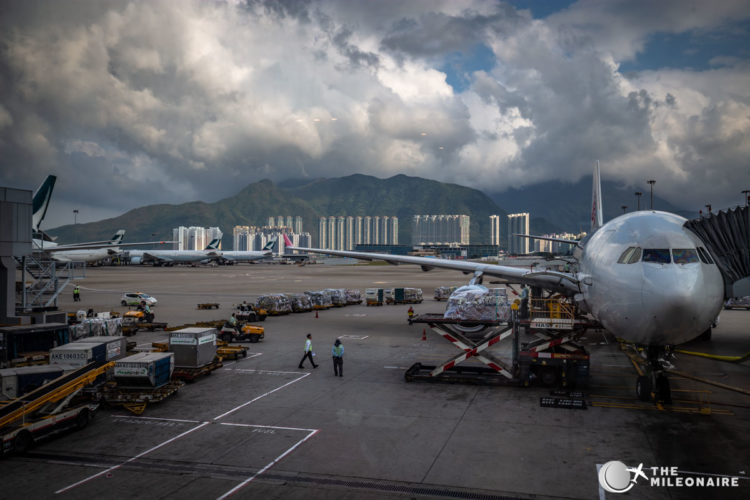 Hong Kong Airlines Lounge 'Club Bauhinia': Conclusion
Sure – compared to the huge Cathay Pacific lounges like The Wing or The Pier, Hong Kong Airlines' Lounge seems really small. But I'd rather call it cozy and just big enough to serve the airlines' (and its partners) guests in an intimate, relaxing atmosphere with a special 'touch of Hong Kong'. If you're considering flying with Hong Kong Airlines or one of its partners, the Hong Kong Airlines lounge at HKG is definitely worth the visit.