As I've been flying around the world in the last years for exceptionally low prices (highlights: roundtrip to Tokyo for 80€, roundtrip to New York for 42€) my friends keep asking me the very same question:
How do you always find the cheapest flights?
Besides the usual error fares (where manual mistakes trigger extremely low prices) there's one best way to find the lowest price for every flight. In the following post I will describe you my perfect recipe to low flight prices, so you'll never overpay again!
Finding Cheap Flights: My Guide
When booking flights, most of you will rely on the standard online travel agencies like Expedia, Orbitz or Ebookers – and just look at the lowest rate for the date you've entered. These online travel agencies are very limited though, as you can only…
…search for flights to one destination at a time
…search for flights only for a specific date (+- 3 days)
…see the prices of that one online travel agency
Because of this, when trying to find the best flight prices you should rely on a professional tool: the ITA Matrix! Only after you've identified the cheapest flight there, you should head over to the regular online travel agencies to book your flights.
Step 1: Search for your destination in the ITA Matrix
Go to Matrix.ITASoftware.com and try to get used to the search engine. Although you can't book your flights in the Matrix directly, it offers the best search tool on the current market (no surprise that Google bought it). There are way more options you can define compared to regular online travel agencies, so that you don't have to run a ton of different searches to find the cheapest price. There are also additional hidden options, where you can e.g. search for flights with one specific plane type if needed.
Step 2: Use flexible destinations
Flights are always cheaper when you're flexible with your destinations. A short example: if you want to explore Southeast Asia for three weeks, you should not just look for flights to Bangkok. The important step here is to also include airports close to Bangkok, like Kuala Lumpur, Singapore, Saigon and Jakarta. In order to do that, you can include all airports in a radius of up to 2,000 miles when searching the Matrix: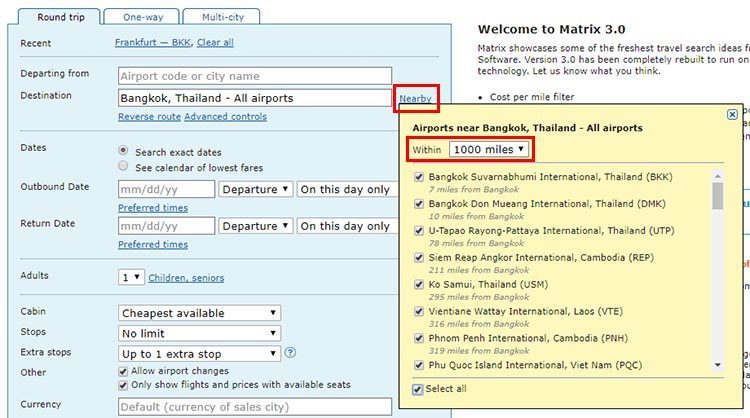 You can also include multiple destinations around the world, e.g. when you have a 'travel bucket list' for the next years. I always have lots of countries that I want to visit, so I can always check all of them at one in the Matrix:
Very often it's also worth to consider different departure airports. For me it doesn't matter if I have to fly from Berlin, Frankfurt or Munich as the train to each city is pretty inexpensive. Especially when flying Business Class, being flexible with your departure airports can save you hundreds of Euros.

Step 3: Use flexible dates
The second trick how I get my flights that cheap: if possible you should be highly flexible with the dates you want to fly on. I know – in many jobs it's impossible to be flexible (or when you have kids in school), but you should at least be more flexible than the +/-3 days regular search engines offer.
The Matrix is the perfect tool for that, as you can search for the flight prices for a whole month. To do that, you just have to click on 'See calendar of lowest fares' and enter the number of nights you'd want to stay:
In the example above I've chosen the whole month of November 2018, as well as 6-11 days as my desired length of stay. This flexibility often allows you to have cheaper rates, as many flight rules have a certain minimum length of stay (e.g. 7 days). With the search I showed above, these were my results (I've been searching for flights to Bangkok, Kuala Lumpur and Singapore here):
The prices are pretty different already, but the cheapest spot is on the 15th with a stay of 11 days: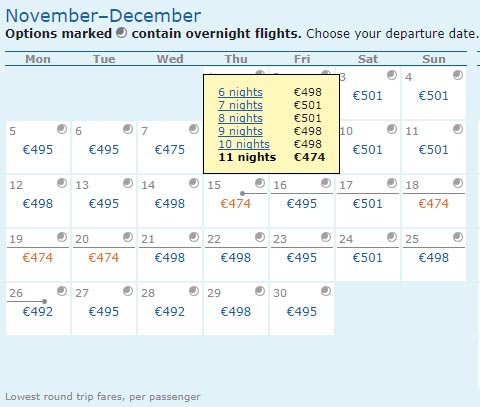 In order to find this specific flight with regular search engines you would've spent a lot of time. Instead of searching for specific days over and over, the Matrix allows you to get all the info at once.
Step 4: Use the Matrix' additional features
Besides the hidden professional features there are additional simple ways to specifiy your search even better: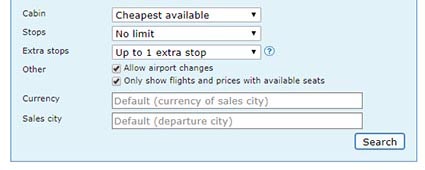 Cabin: Economy, Premium Economy, Business or First Class.
Stops / Extra Stops: Amount of allowed stops
Allow Airport Changes: Allows flights with different airport combinations (e.g. flying to Bangkok, and departing from Kuala Lumpur on your return flight)
Available Seats: Only show flights with available seats
Currency: Enter 'USD' to get all prices in US Dollars
Sales City: Change the city from where you (in theory) buy the ticket
Step 5: Book the cheapest flight on the Airline Website
After you've found the perfect flight in the Matrix, you can click on it to see all details you need on the results page:
In our case the cheapest option is a flight with Air France from the 15th to the 26th of November. As I've mentioned above, the Matrix is the best search engine – but you can't book your flights there. That's why you should write down the exact dates and times of the cheapest flight you've found in the Matrix, and enter these exactly as they are on that specific airline's website (or on sites like Expedia or Ebookers). In our example I went to AirFrance.com and reproduced the exact fare I got on the Matrix:
There you can now book your flight as you always used to – but with the little difference that you know that you have the cheapest flight available!