Krakow is always worth a visit: a beautiful old town, great restaurants and easy to reach from various European airports. Krakow's Airport John Paul II. is small, but pretty new and neat – and it offers a premium lounge for Schengen passengers as well. As I've been quite often in Krakow in the last years, I want to shed some light on the Krakow Business Lounge (Schengen) in my following review.
Krakow Airport Business Lounge: Location
Krakow's Business Lounge for Schengen passengers is located airside. After the security check you just head to the left, where the lounge entrance lies a bit hidden between gates 9 and 10:
Krakow Schengen Lounge: Access
As there is only one business class lounge for all Schengen passengers in Krakow, nearly every status program will grant you access to the lounge:
Oneworld Sapphire or Emerald
Star Alliance Gold
SkyTeam Elite Plus
Etihad Gold or Platinum
Priority Pass
Diners Club
Ticket for Business or First Class
120 PLN Cash Entry
…and various other small programs
Krakow Business Lounge (Schengen): Review
On this day I was travelling back to Berlin with Air Berlin, which is why (back then) I automatically had access to the Krakow Business Lounge for Schengen passengers. After security (by the way, there's a priority lane) I headed left to the semi-hidden entrance area. I showed my Oneworld Emerald to gain access, but with all different airline partners I felt like any random credit card would've gotten me in as well.
The lounge itself is relatively small and basically just consists of one room with a separate business center on the left side. Directly after the entrance you'll find some first seats that (at least to me) seemed like regular seats you'd find in the terminal as well. Overall, the Business Lounge in Krakow has a pretty modern and bright decor, including huge illuminated green surfaces.
The one thing that makes the lounge that bright is the huge window front facing the runway, which allows some great plane spotting (if you're into that). Depending on your departure you might even be able to see LOT's new Dreamliner: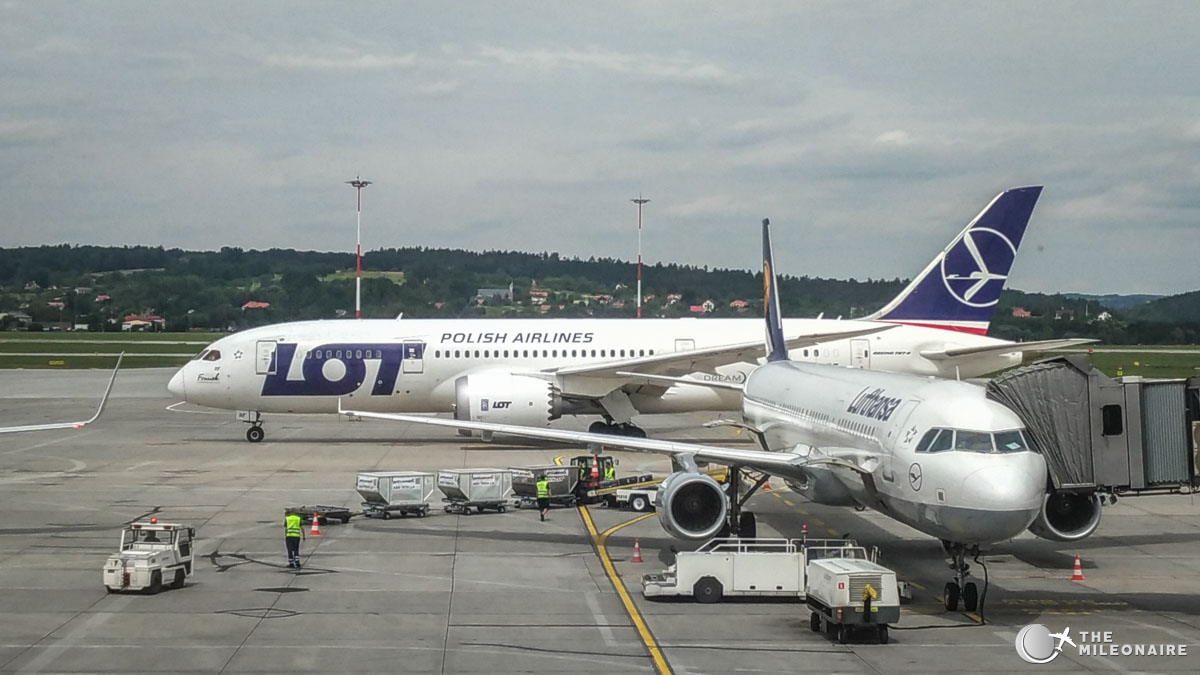 In front of the windows you'll find several small seating areas that are separated by room dividers. The couches and chairs there are pretty comfortable and (combined with the WiFi) make the lounge a pretty good spot to work or just wait for your flight to leave.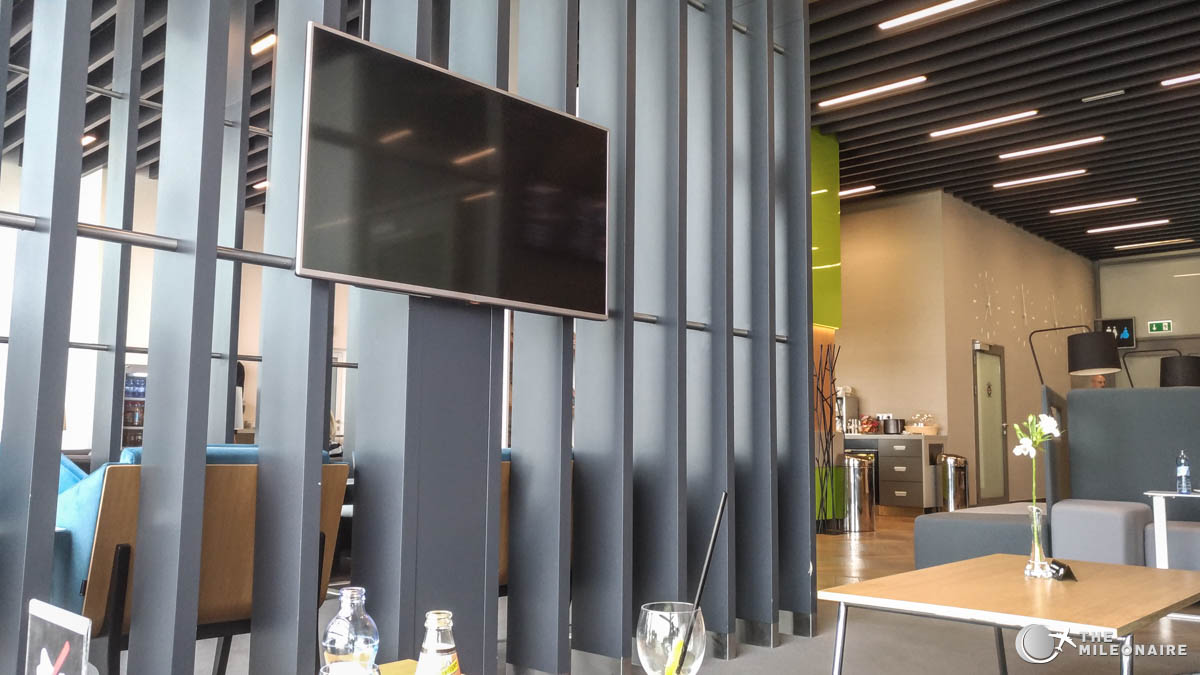 Besides that on the left is the business center that offers some basic desktop PCs. If you're looking for privacy to do some calls, or need advanced technology like printers (ha!) you might be disappointed as these do not exist. At least the business center is pretty quiet, and the WiFi is surprisingly good.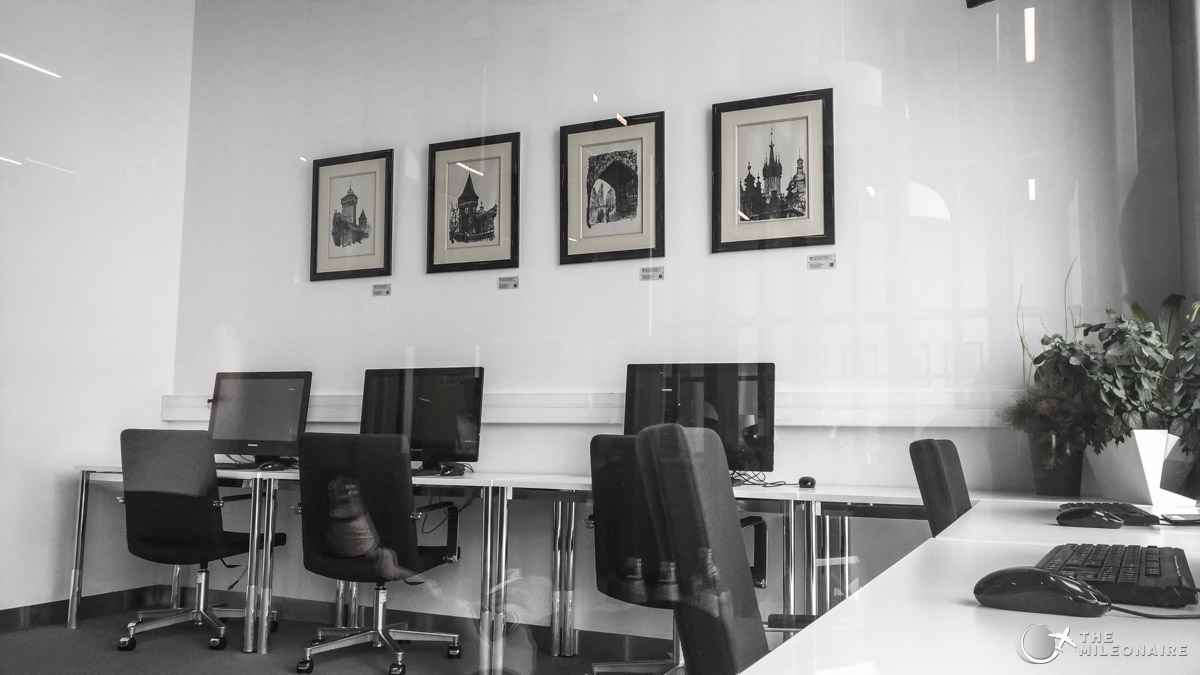 On the other side of the Krakow Business Lounge (Schengen) is the food area, that is dominated by a huge green bar in the middle: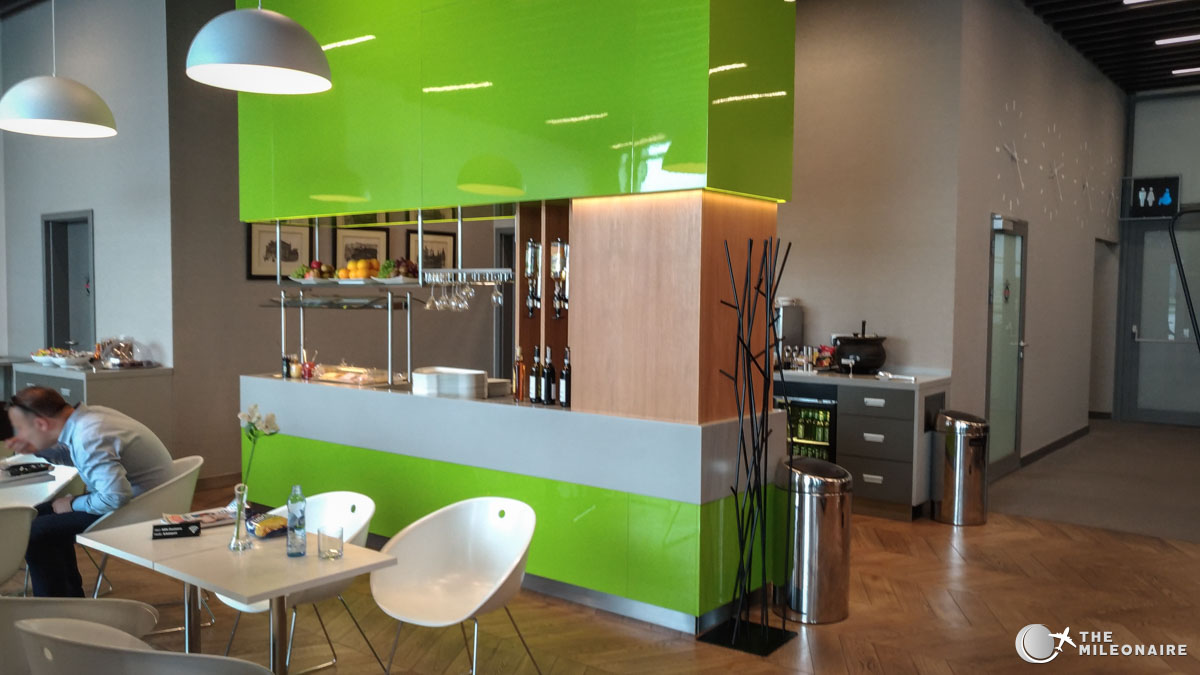 Multiple fridges offer a solid selection of soft drinks (lots of Schweppes) and different beer brands. There's also a small selection of spirits and wines, but nothing out of the ordinary. On the counter in the middle you'll find some snacks; depending on the time of the day, there might be breakfast with different cold cuts, cheeses and jams: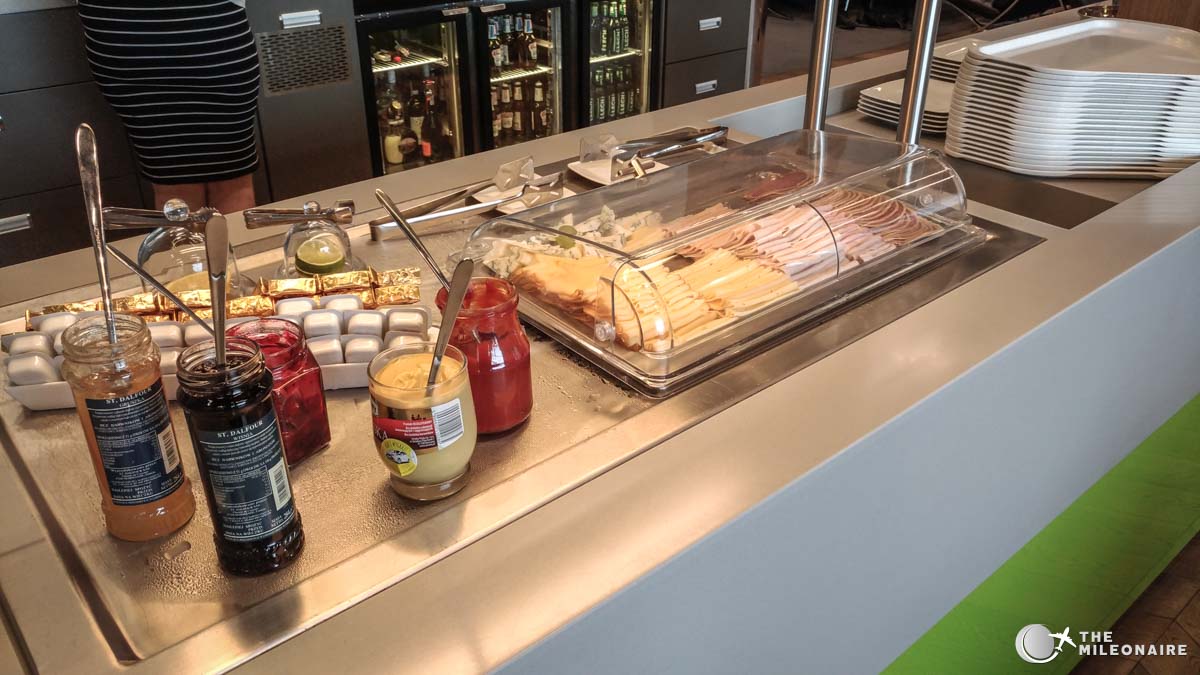 There's also another small area (we're talking about the size of a small table here) with additional chips and sweets. Hidden on the side is also another fridge with pre-packed salads from the Hilton Hotel – so even though the food choices aren't mindblowing, at least you'll get a pretty tasty Greek salad and a local beer.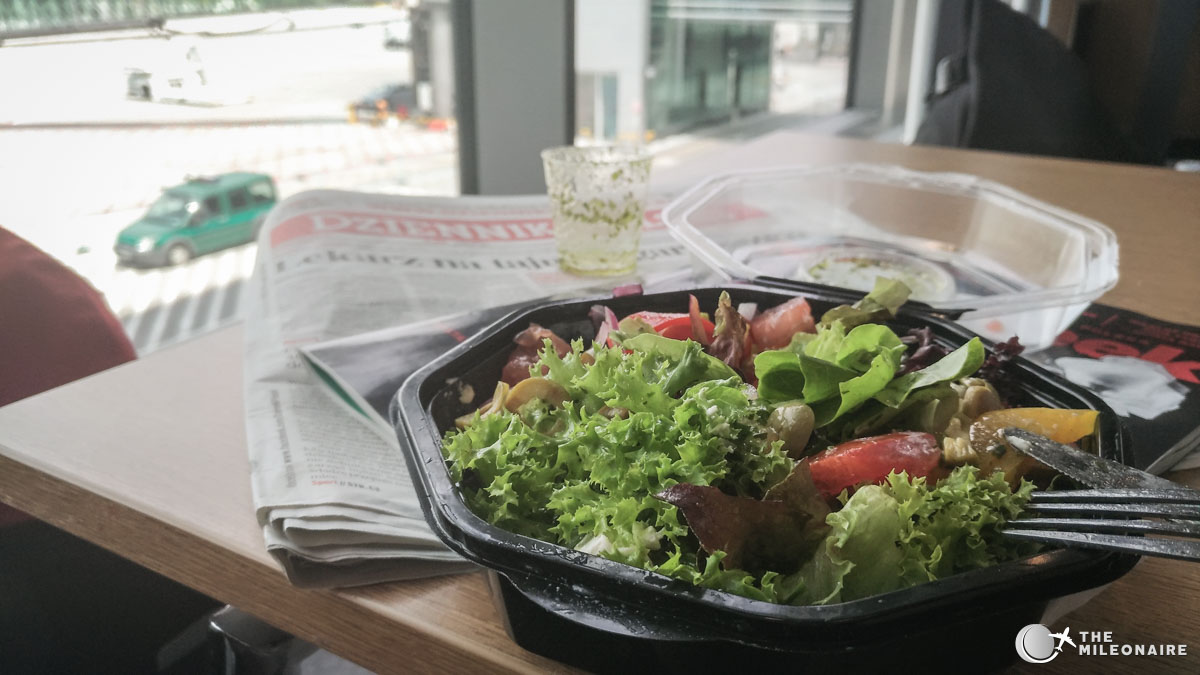 Shortly before departure I checked out the wahsrooms which were basic, but pretty new and clean: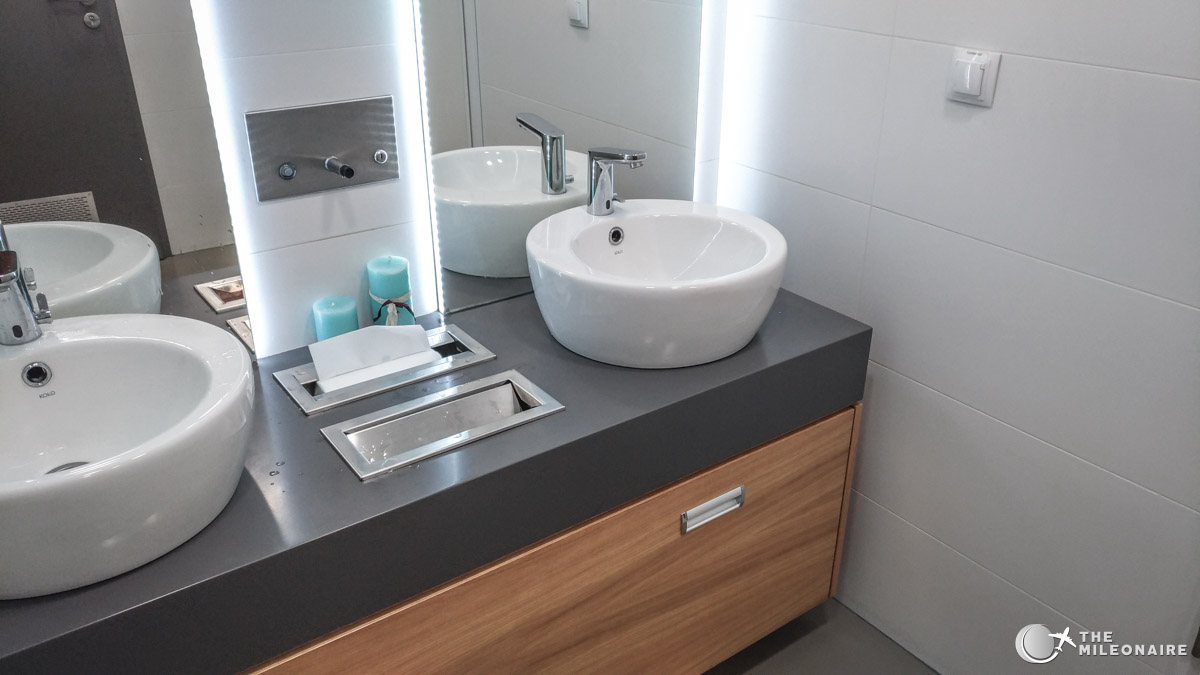 Conclusion: Krakow Business Lounge (Schengen)
While the Business Lounge at Krakow Airport will surely not serve as the new global lounge benchmark, it still is a good area to relax in an otherwise busy airport. It serves the basics in regards to comfort and catering, as well as pretty good WiFi. It might get a bit loud during busy hours (as nearly every silver card grants you entry) and the food choices aren't awesome, but it's still a good place to check out, grab a cold one and do some plane spotting.