When you were travelling via the Italian fashion capital Milan with Lufthansa in the past, there was not much of a fashionable experience at the Malpensa airport: the old lounge was not really worth a visit and just didn't fit to a city with such a strong design history. This has changed a few months ago though: the brand new Lufthansa Lounge in Milan-Malpensa opened its doors!
During my visit in Milan back in May I was finally able to check out the new lounge myself. Was it worth the invest? Check out my Lufthansa Lounge Milan-Malpensa review below with tons of photos to decide for yourself!
Lufthansa Lounge Milan: Location
The new Lufthansa Lounge in Milan-Malpensa is located in Terminal 1, where all airlines except Easyjet depart. Once you're airside through security you have to go past all the duty free shops towards the A-Gates: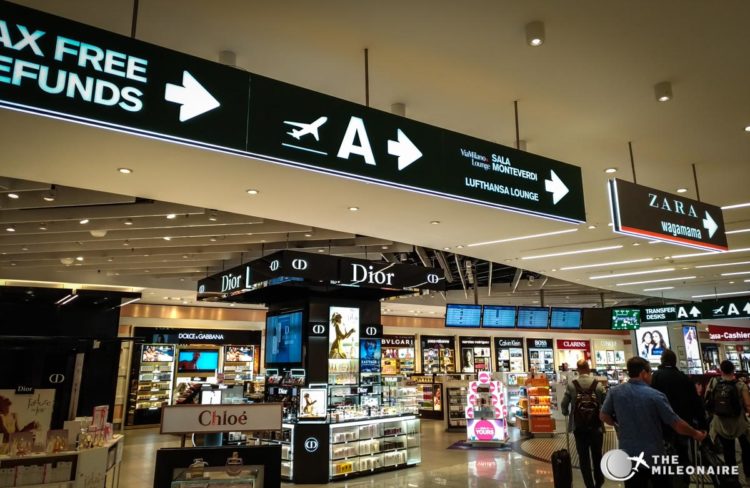 Once you're above the gates A24-A39 you'll see the bright yellow entrance to the Lufthansa Lounge: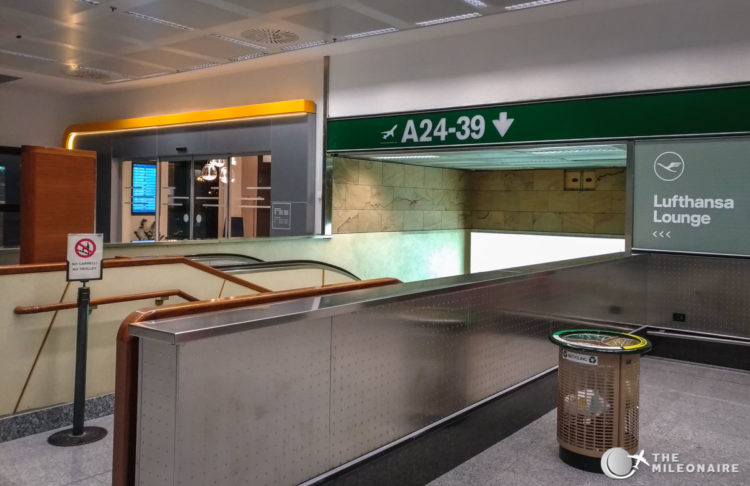 Which passengers can access the lounge?
The following passengers have access to the LH Lounge Malpensa:
Lufthansa passengers in Business or First class (although there won't be a First Class…) and a ticket on the same day
Guests with Senator or HON Status and a ticket on the same day
Guests with Star Alliance Gold status and a ticket on the same day
Lufthansa Lounge Milan-Malpensa: Review
I was booked on the early Milan to Frankfurt flight that morning, so I was happy that the lounge already opens at 5AM. Once you've passed through the glass door, the lounge staff (friendly this time) will be happy to check you in.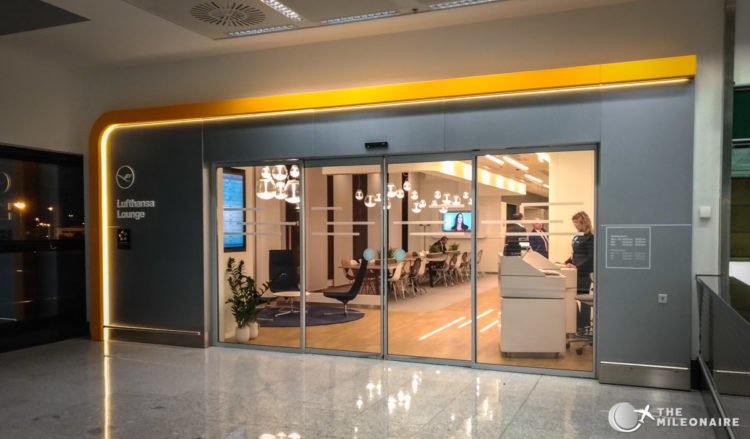 You'll first head through a small corridor at the entrance that leads to the larger part of the lounge.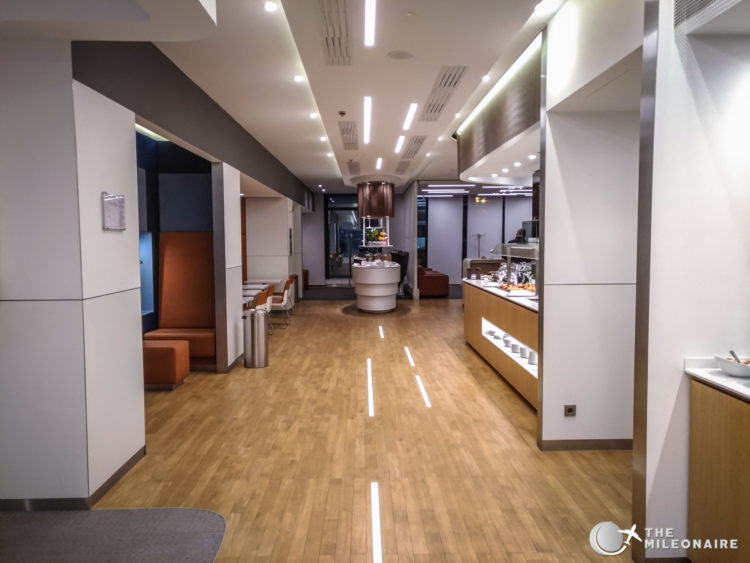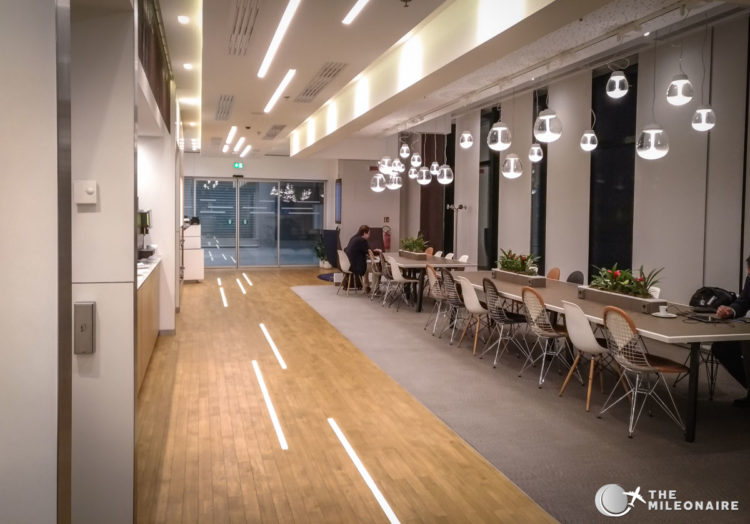 On the left side are some bigger tables with some outlets and chairs, as well as a view of the tarmac. As you'll encounter some more people entering or leaving the lounge there, it might be a bit louder in this area – so you can have some short business meetings if you need to discuss that one presentation before departure.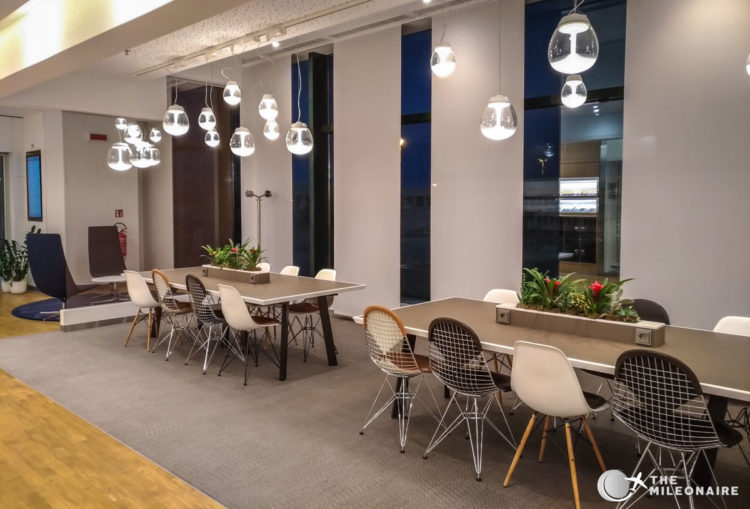 On the other side is a coffee machine with lots of different types of coffee (as you're in Italy, they all taste awesome). There's also a machine with different softdrinks nearby.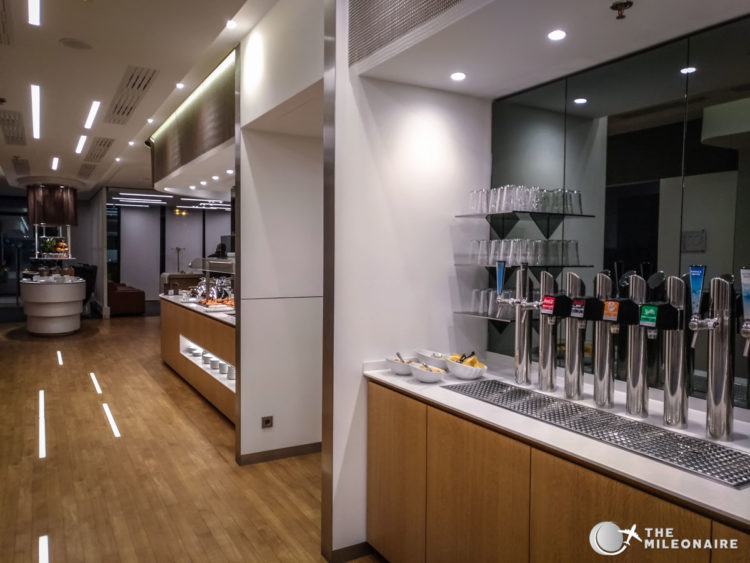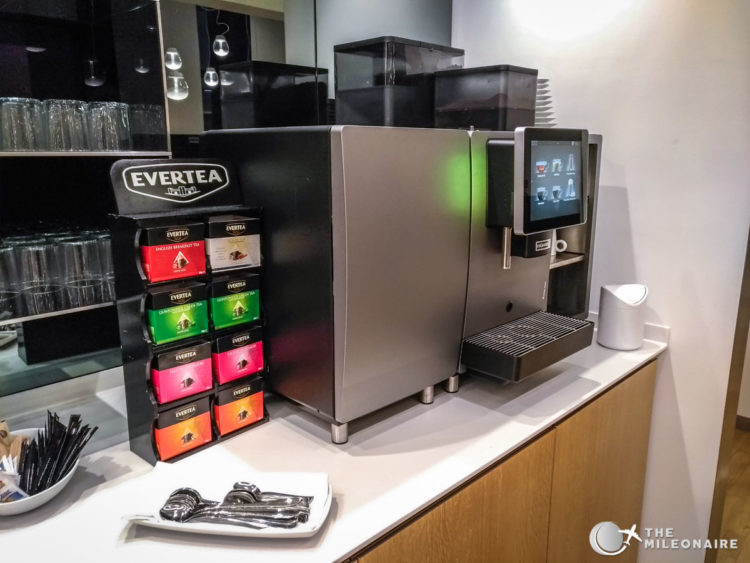 The Lufthansa Lounge in Milan is shaped like an 'L'; once you get further to its back, there are various different seating areas and tables to eat at. Especially the area in the far back is a great place to hang out: you'll find super comfortable leather chairs there, as well as a fake 'library' on the wall with beautiful lighting: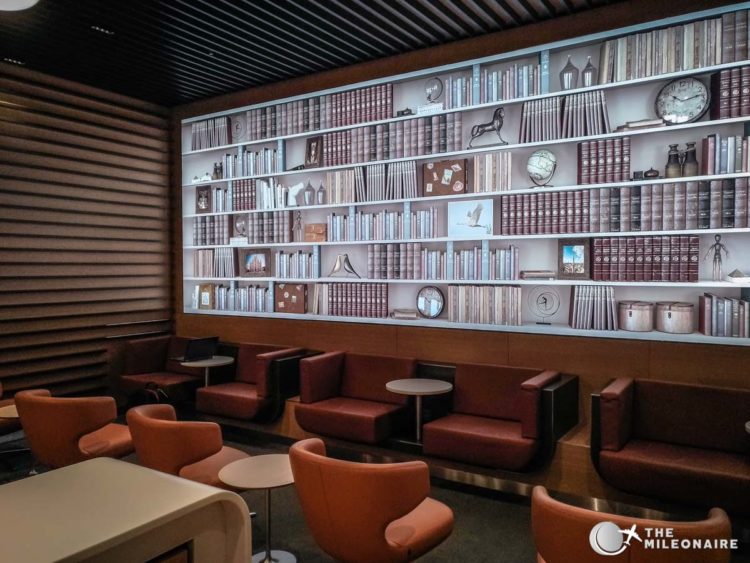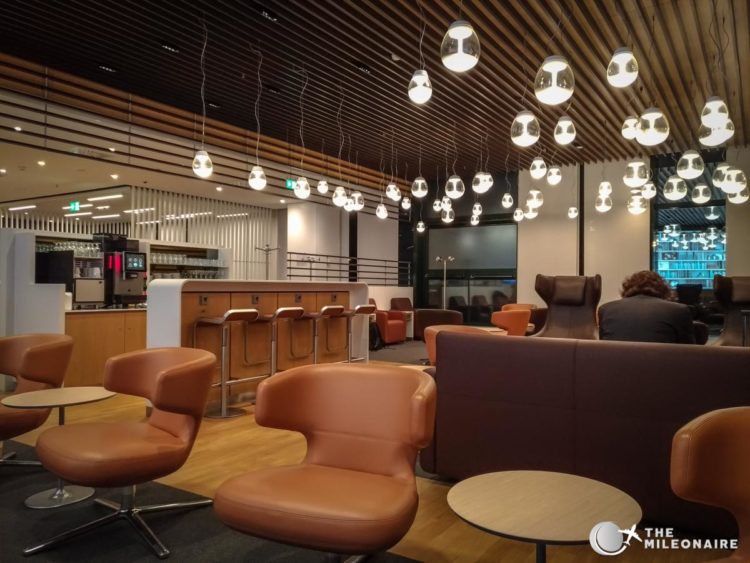 One word about the lounge's design in general: while most domestic Lufthansa Lounges in Germany feel super sterile and uninspired, the one in Milan has a very distinctive, elegant feel to it. Depending on the time of the day, it can be a bit more crowded though.
If you're coming to the lounge hungry, the food choices are pretty solid: Instead of the very same potato salad that Lufthansa normally offers, the choices are a bit more creative in Milan. There's a solid selection of warm dishes and snacks, and even though the buffet is not too big – everything on there was high-quality. There were some sweeter snacks…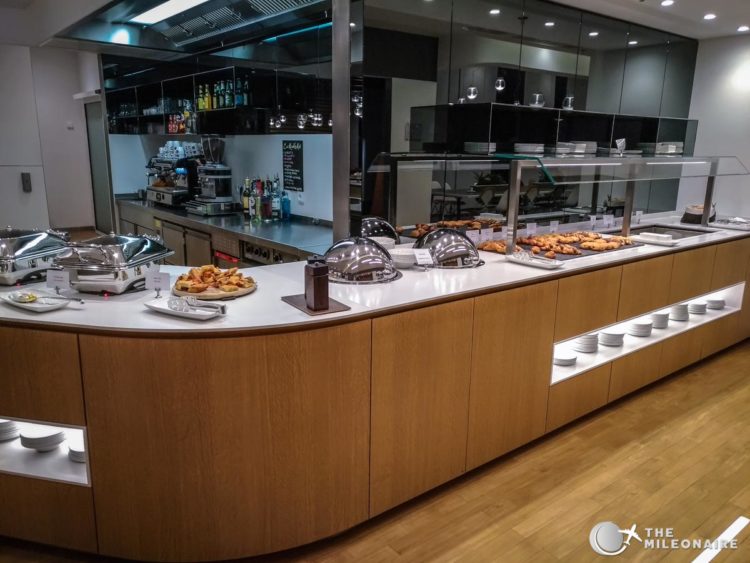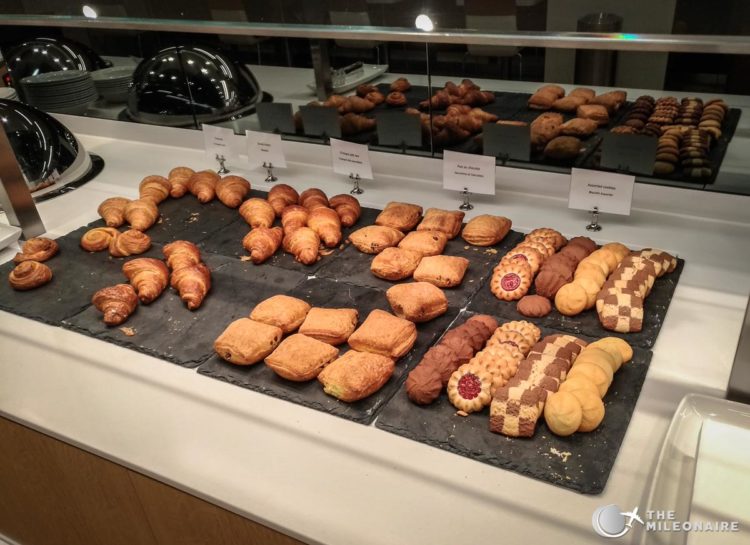 …as well as some cold cuts and specialities from the area: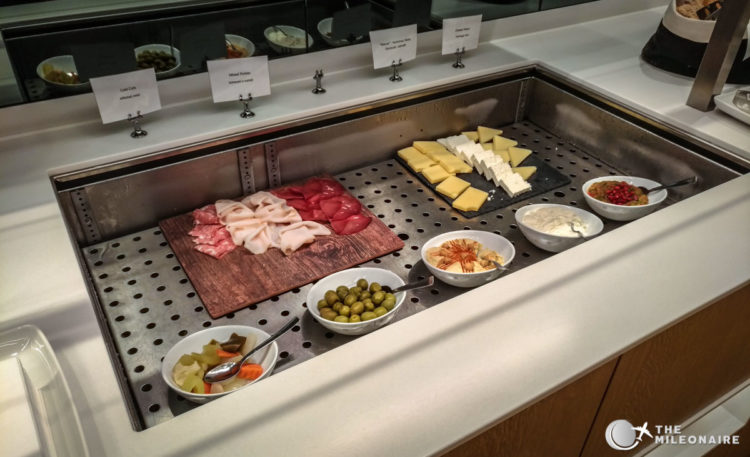 I especially liked the small Pizza bits, and the Espresso from the coffee machine. There was also another small buffet table with chocolate mud pie, juices and fruit salad: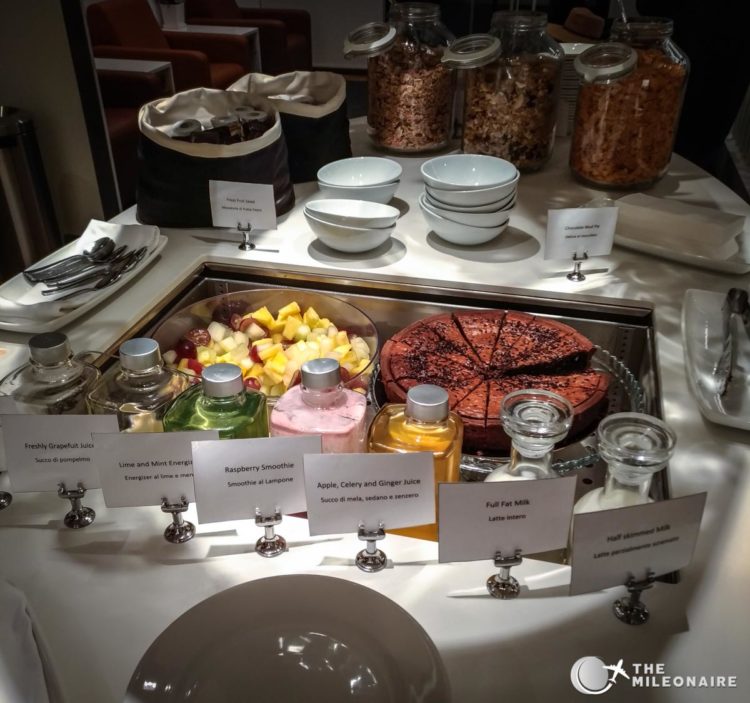 You'll also find the standard amenities in Milan that you'll find in most other lounges: a solide WiFi connection (I could even upload 600MB of data), toilets, printers, fax machines and multiple info screens showing the departing flights.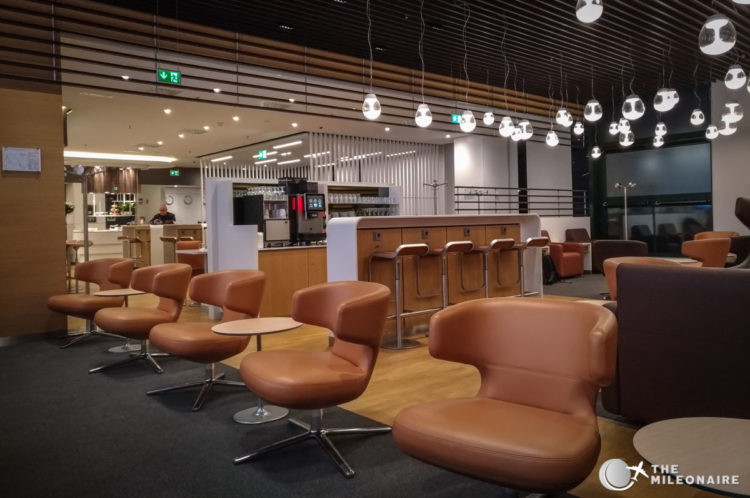 Conclusion: Lufthansa Lounge Milan
Even though the Malpensa airport in Milan lost some of its attractiveness due to cost-cutting, the new Lufthansa Lounge there is a charming exception: the classic design and small-but-tasty food selection make her a very nice choice to spend the time before your flight. Definitely worth checking out!