As you might know, there's A TON of luxury hotels in Bangkok: when you're searching for 4* or 5* properties in Thailand's capital, it's super easy to find an inexpensive luxurious room for around 100 USD or less. I normally prefer the Banyan Tree at Lumpini Park or the Peninsula across the river, but this time both of them were surprisingly pricy.
That's why I gave the Oriental Residence Hotel in Bangkok a shot, and booked a standard room for a quick stopover on my way to Myanmar. But: is it a good alternative in Bangkok though, or are the fancy room photos overyhyping it a bit? Let me show you in my video room tour and review!
Oriental Residence Bangkok: Location
There are multiple hot spots in Bangkok with multiple luxury hotels in the area – for example Lumpini Park or the ever-so-busy Sukhumvit Road. The Oriental Residence Hotel Bangkok is right in the middle of both, so you're closer to the center than when booking hotels at Lumpini Park. It's just around 20 minutes by foot to CentralWorld Mall, and only 10 minutes to the next BTS Skytrain Station (Phloen Chit). All in all it's an A-Tier location in Bangkok, only hotels directly at Sukhumvit Road or Siam might be S-Tier.
If you're arriving by cab, here's the address of the Oriental Residence Hotel in Thai to show your driver:
โอเรียนเต็ล เรสซิเดนซ์ กรุงเทพฯ
110 ถนนวิทยุ ลุมพีนี ปทุมวัน กรุงเทพฯ 10330
Oriental Residence Hotel Bangkok: Review
I arrived at the Oriental Residence Hotel by cab in the evening. The check-in is handled at small, intimate solo desks in the lobby – sadly without the typical welcome drink or flowers you normally get in other hotels. Check-in was efficient though, my luggage was brought to the room and the employees spoke proper English.
I was actually looking forward to the pool during my stay, as the photos on the internet looked awesome. Naturally I was pretty disappointed when hearing that the pool was out of order due to construction work; but at least there was a shuttle service to the Sofitel nearby to use their pool. The Oriental Residence staff made up for the lack of a pool though as they upgraded me to a suite for my stay! As I've just booked the most inexpensive standard room, this was quite a positive surprise. Nice!
Free Upgrade? Room Tour of my Suite!
Of course I had to take the opportunity to film a little room tour with my camera! This is what a suite in the Oriental Residence Hotel Bangkok looks like:
Once you enter the suite it consists of a large living room with a dinner table, work space, couch and TV: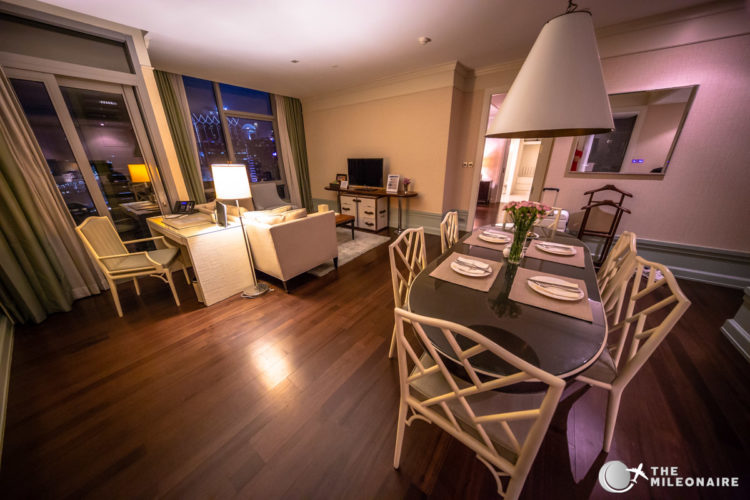 To the left of the entrance is the kitchen with all the amenities you might need:
There are two bedrooms in total in the Suite. One Master Bedroom…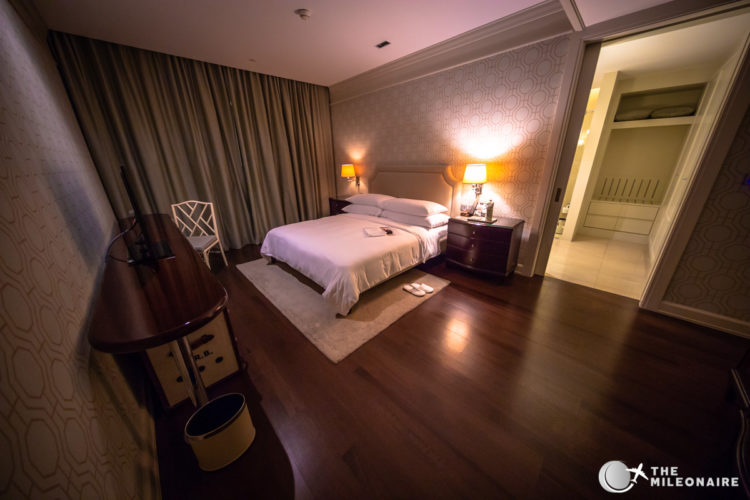 …and a smaller bedroom: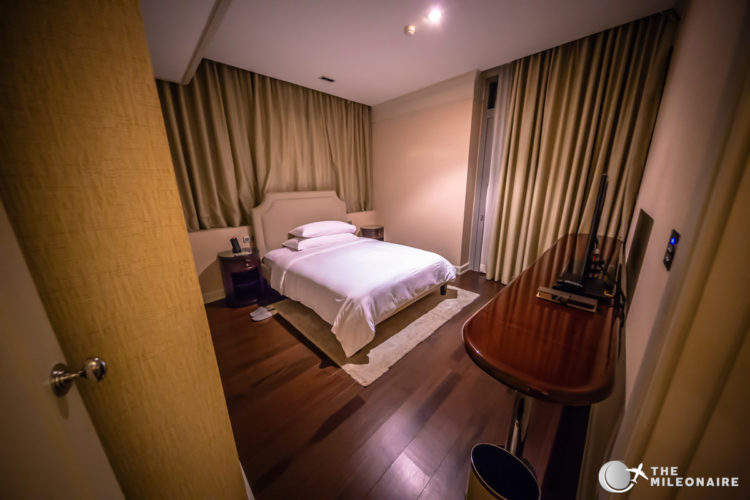 The same applies to the bathrooms, as you have a larger one with a bathtub, shower and two sinks…
…and a smaller one with a shower and toilet: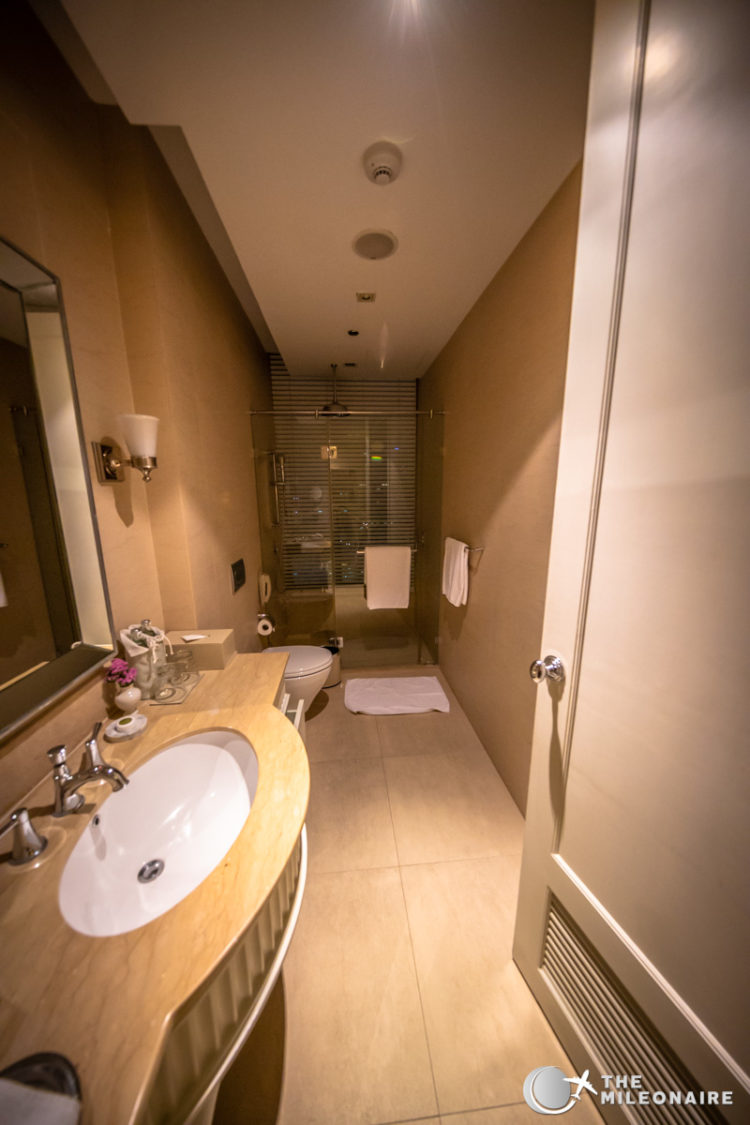 A balcony is rather rare in Bangkok's hotels, but the Oriental Residence Suite has one. Although there's no furniture, you can at least get some fresh air (or at least fresh air in Bangkok terms):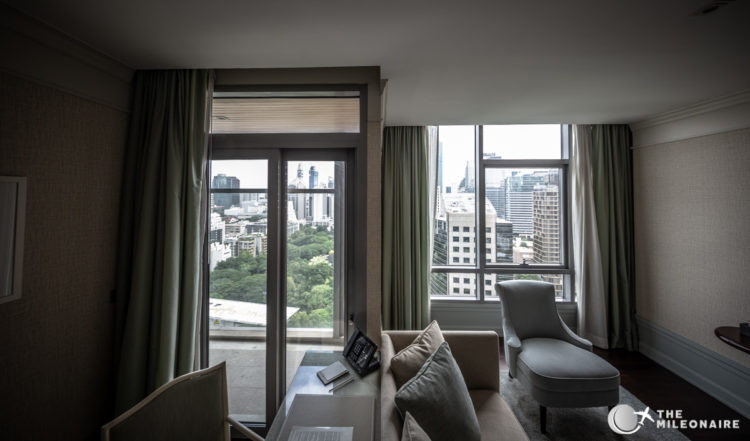 But to be honest, I liked the 'green' balcony view: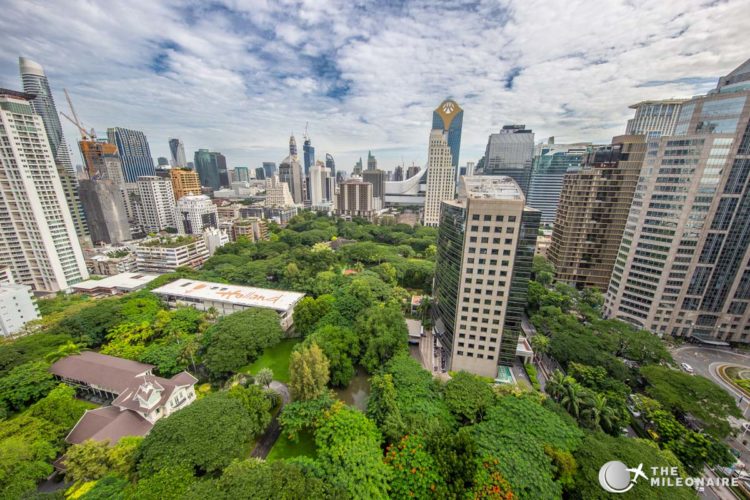 Sadly I only had a one night stay, so that I wasn't able to check out all the amenities of the Oriental Residence Suite in Bangkok. There's a super fast WiFi connection, and all the other amenities you would expect from a 4* hotel like breakfast, room service and a pool. The next morning I checked out at the front desk again, and took a metered cab back to Suvarnabhumi airport.
Conclusion: Oriental Residence Hotel Bangkok
Even though the glamour of the Peninsula or the Okura Prestige might be missing – the Oriental Residence Hotel in Bangkok is a super solid choice with large clean rooms, a good location and apparently a pretty good upgrade policy 😉 As there are often super inexpensive rooms to be had at the Oriental Residence, you should definitely give it a try during your next Bangkok trip!