When flying to Bali you have a ton of options to choose from when it comes to hotels: no matter if you're looking for something at the beach, near the airport or around Ubud – there are luxury hotels everywhere, as well as private villas you can book. After staying in Ubud during all my visits before, I wanted to try something different: last September I booked the Plataran Canggu Resort, mostly due to the excellent reviews I read online.
Are these positive reviews of the Plataran Canggu Resort justified though? Let's find out together!
Plataran Canggu Resort Bali: Location
When I arrived at Denpasar Airport Bali my driver was already waiting for me with a sign when walking out of the terminal. One hotel transfer was included in the price, so I thought it was the easiest choice to just have someone pick me up when I arrive. Just like every other hotel in Bali, the Plataran Canggu Resort suffers from the insane amount of traffic congestion on the island; even though the distance looked small on the map, it took us 45 minutes to the hotel. The ride should be quicker though later during non-peak hours.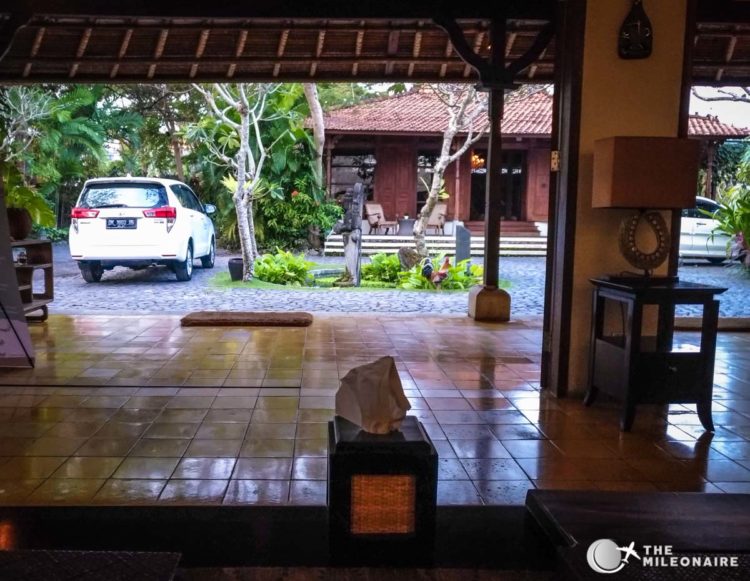 The Plataran Resort is located in the city of Canggu, but a bit away from the beach or city center. That's why it's rather a fit for more intimate occasions where you just want to relax. There is a shuttle service to the beach though, and getting a cab is super easy as well.
Plataran Canggu Resort Bali: Review
The check-in was fast, even though the young staff member at the desk seemed to be pretty new to the job. I still got a fresh towel to wash my face, and a little welcome drink. After all the formalities are done, I was guided to my villa.
The concept of the Plataran Canggu Resort is that you don't just get a room, but you get your whole private villa instead. These villas are spread across the premises and are rather hidden away. I actually had some problems finding my villa again on the next day…but that just adds some more charme. Every villa has its own private pool, and there's a larger public pool near the reception building as well. This was my private pool: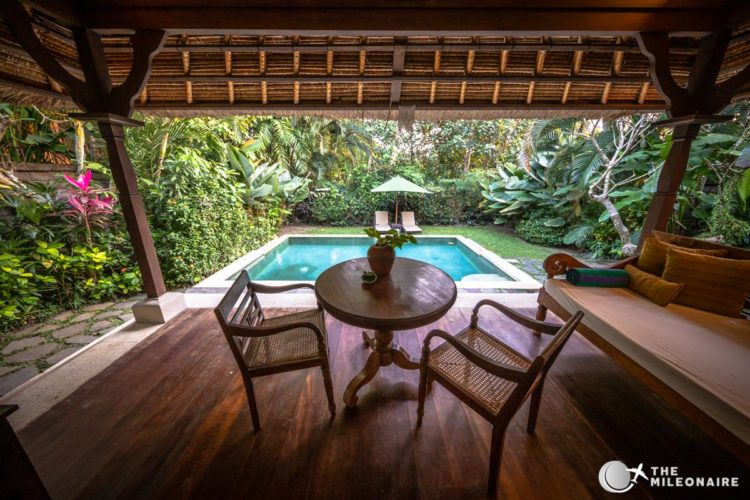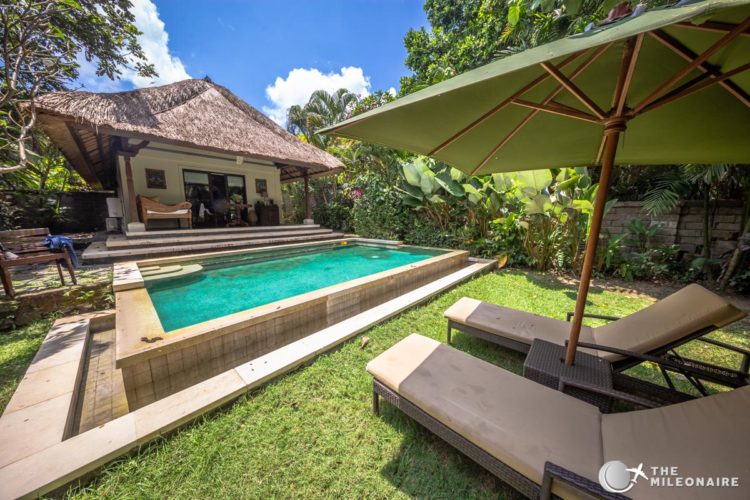 You can really relax here, it's just an awesome feature to have a pool to your own or be able to just get some work done on the terrace in front of it. The villas themselves are rather large and (at least the regular ones) consist of one big room with a high ceiling. In the middle is your bed with a mosquito net and some super comfortable pillows: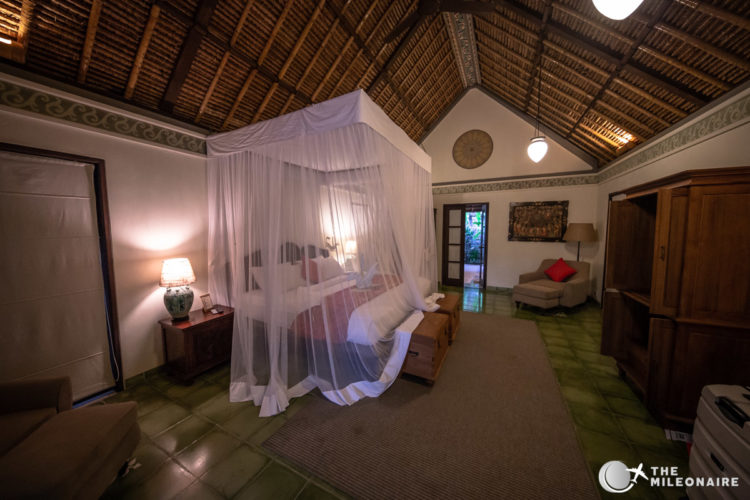 You might ask yourself: where is the bathroom? The bathroom isn't actually a room, but rather a beautiful outside area behind your villa. It features a toilet, a shower, two sinks and an awesome free-standing bathtub. Taking a bath there in the evening is an incredible experience, just surrounded by the sounds of the nature.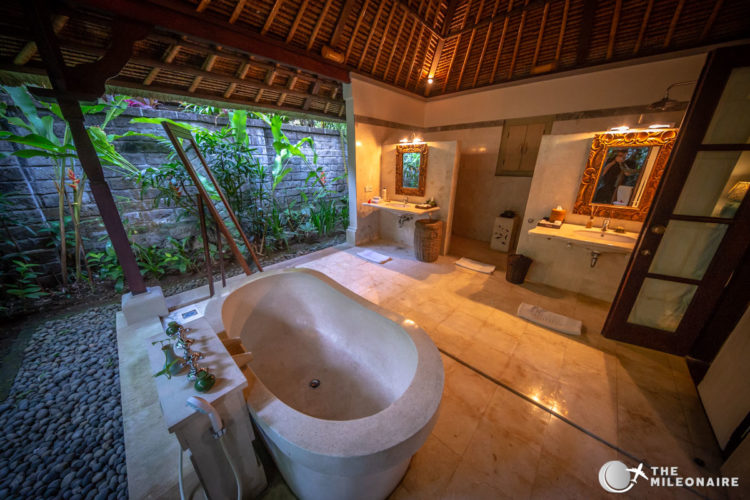 Speaking of the nature: just like everywhere on Bali you should not be afraid of animals. Every morning I was greeted by some chicken and a rooster on my veranda, and in the evening there might be some friendly frogs or lizards around. But don't be scared: the Plataran Canggu Resort staff takes good care of you, and they set up additional measures against mosquitos every evening for you. During my whole stay I didn't get bitten once(!), so they do a great job there.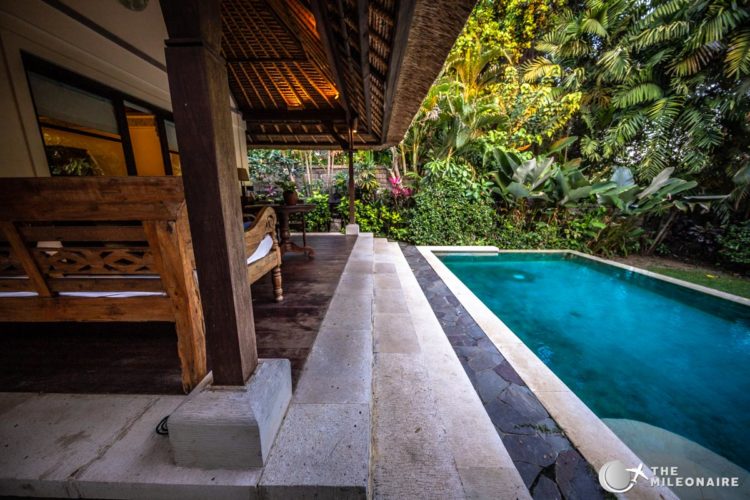 The overall service in the resort was really good. I used the room service to get some dinner, which was fast but with rather small portions. The laundry service was excellent: clean, inexpensive and on time. The breakfast is done a la carte, so you can just choose from all the items on the menu. When you want to explore the island, the hotel has its own drivers to take you on some tours. Even though they might be a bit more expensive than third-party drivers, my experience was excellent with a great car and a nice driver (Daniel).
After two nights at the Plataran Resort Canggu I checked out and had the front desk order me a cab to the airport.
Conclusion: Plataran Canggu Resort Bali
If you're looking for a great resort with an excellent level of privacy, the Plataran Resort Canggu is a great choice. The villas and the service are excellent, but obviously rather remote. Especially for the price I got (100 EUR / 110 USD) it was an excellent choice!