Besides the three airline-operated lounges (like e.g. the Lufthansa Lounge) you can only find independent third party lounges at Milan Malpensa Airport: multiple 'Salas' are operated by ViaMilano, and are open for passengers across various airlines.
During my trip to Myanmar in September I flew in Oman Air's Business and British Airways' Economy Class from Malpensa, and was able to try out the Sala Montale Lounge in Milan. Are these third party lounges worth a visit? Let's find out!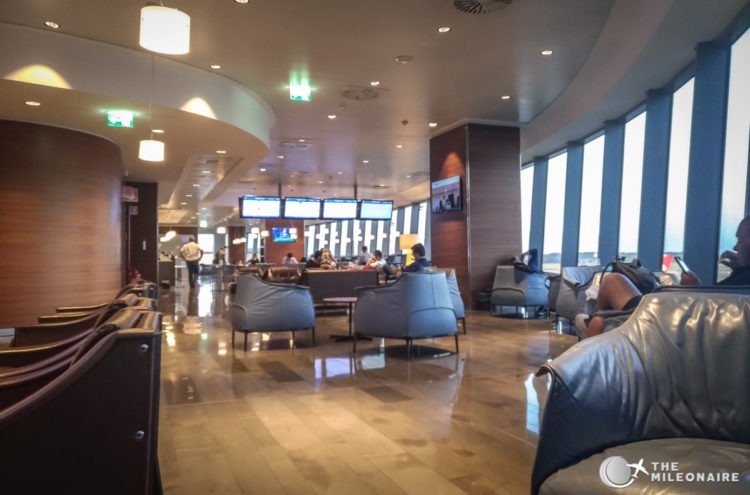 Sala Montale Lounge Milan-Malpensa: Location
Even though Milan Airport is cutting costs everywhere, the signage is still perfect: the Sala Montale Lounge is super easy to find and you can't really miss it.
The lounge is located airside at the B-Gates, after the passport control for non-schengen flights. You just have to fight your way through all the duty free stores and follow the signs to 'Montale':
Once you're there you just have to take the escalator on the left…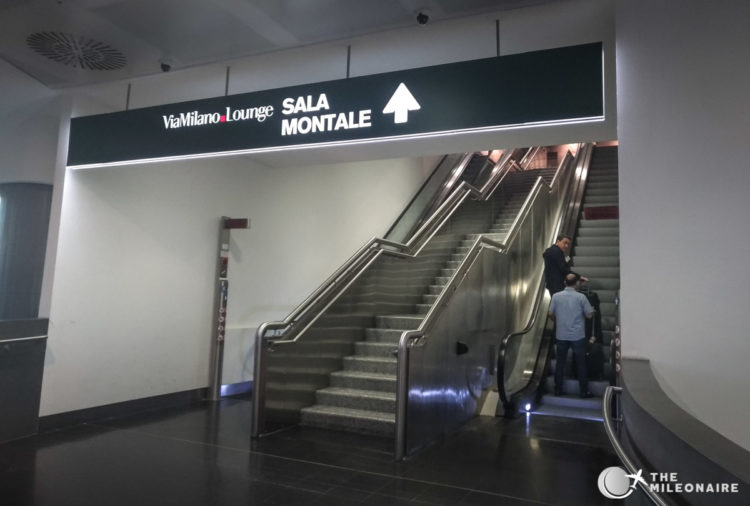 …and then you're standing in front of the lounge entrance: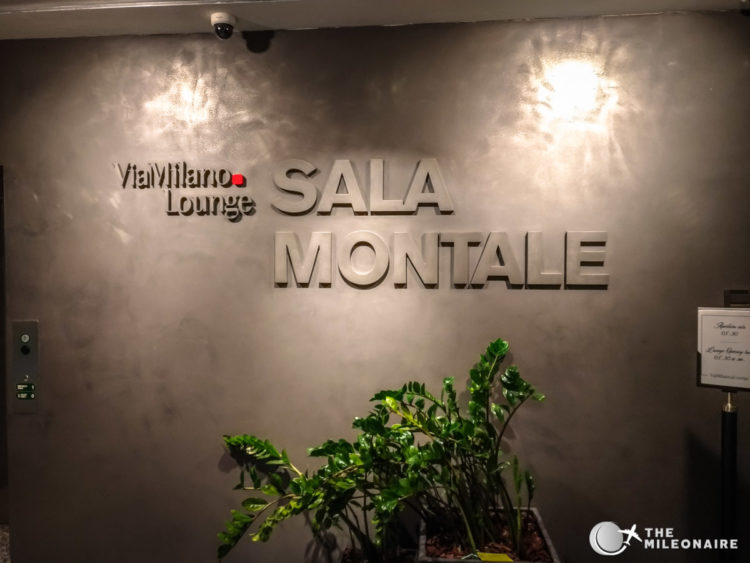 Lounge Access: Who gets in?
As the lounge is operated by ViaMilano and is not connected to a specific airline or alliance, there are a ton of airlines whose passengers have access. Here's a list of the airlines with access to Sala Montale:
Guests with a same-day business class ticket on the following airlines: Air India, Singapore Airlines, American Airlines, British Airways, Cathay Pacific, LATAM, Qatar Airways, Alitalia, Delta, Korean Air, Middle East Airlines, Oman Air and Saudia.
Guests of all flights for a fee of 35€ (depending on availability)
Sala Montale Lounge Milan-Malpensa: Review
Once you went up the escalator you'll be greeted by the Italian lounge staff. Although some people used the term 'lounge dragons' for the Sala Montale staff, I found them to be very nice – they even helped me print out my visa for Myanmar.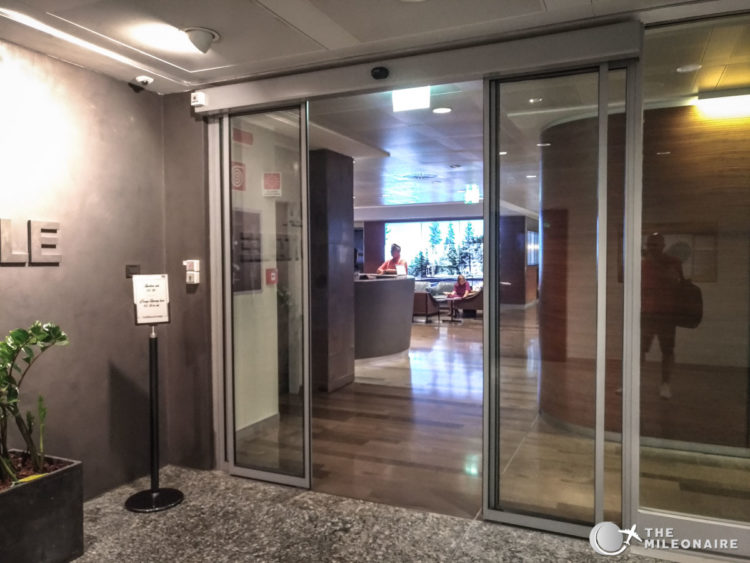 The lounge itself has a decent size, but was pretty full during both of my visits (nearly too full). This map gives you a good overall idea of the Sala Montale Lounge in Malpensa:
The whole front of the lounge is made out of glass, so you can actually get some natural light in the lounge. As it faces the runway you can also do some plane spotting during your stay, depending on how much traffic there is at Milan Airport.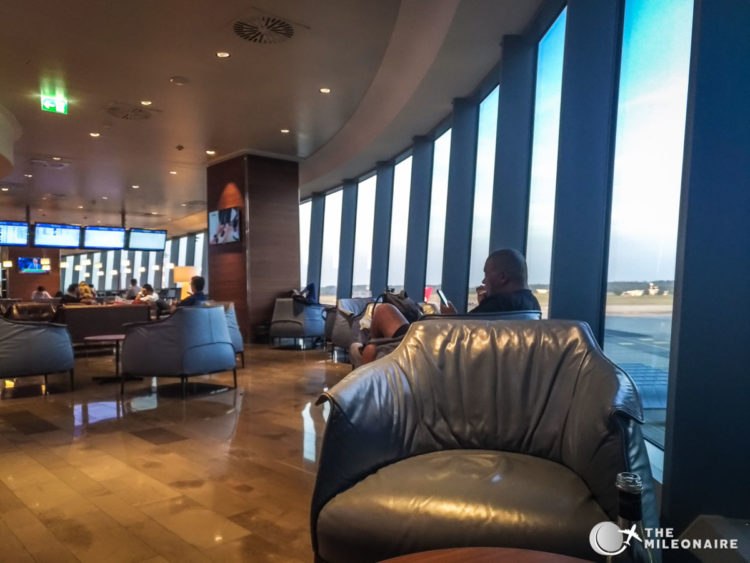 The lounge design isn't too extraordinaire, but at least not too bad either with all the warm lights throughout. In both of the bigger seating areas are nice groups of leather seats, where you can relax pretty well while waiting for your flight.
I spent most of my time sitting there, using the fast WiFi and watching the planes outside.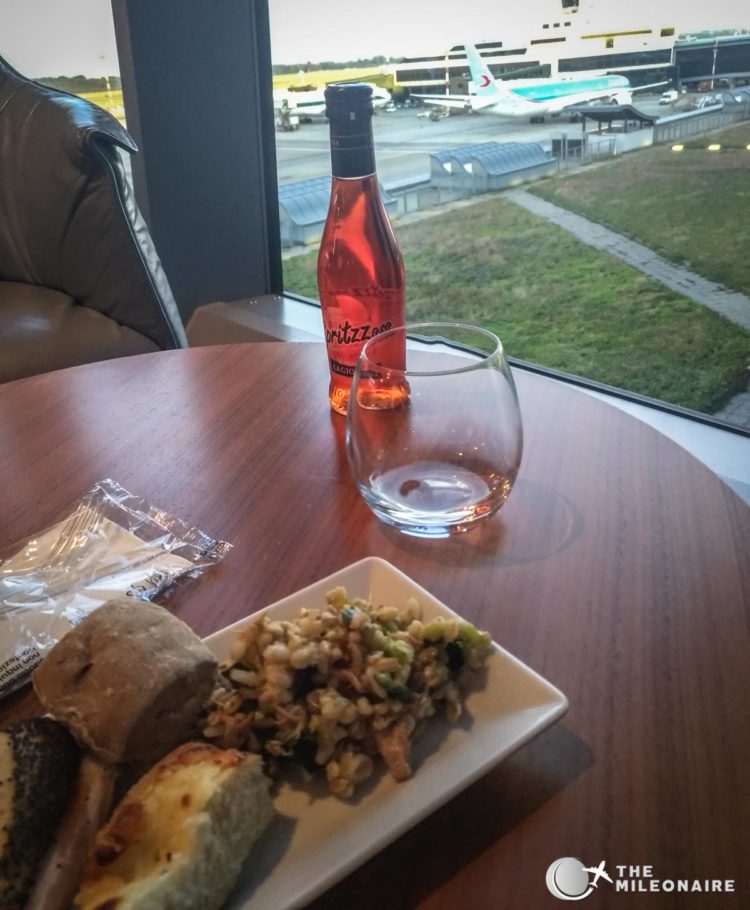 In the middle of the lounge is the food buffet, which seems to be a bit too small when the lounge is full. The area is quite narrow, and you have to navigate around a lot of people to get something.
The food itself in the Sala Montale Lounge was good during my visits, but I would've appreciated a larger selection of different options. There were only snacks during the evening, no warm dishes (besides soup) that you would expect for dinner. At least there were some salads, soups and sandwiches, as well as cake and pizza.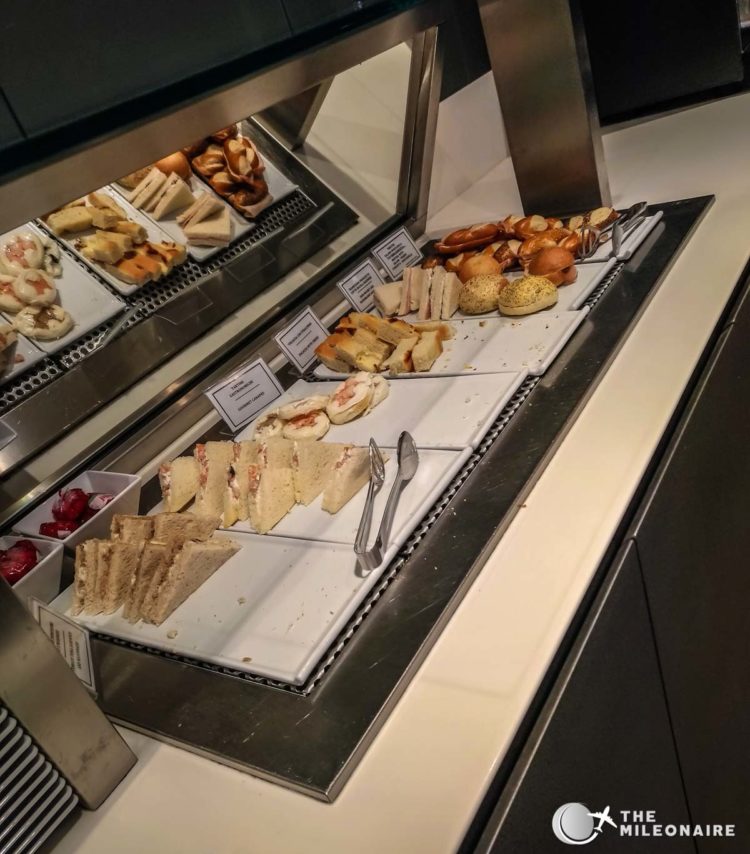 The drink selection was bigger though, with multiple good wines (hey, it's Italy) and a good choice of spirits. I especially liked the Grappa and Limoncello as they added a nice local touch to the lounge (and tasted great!). There were also various beers, fruit drinks and some trendy Aperol Spritz.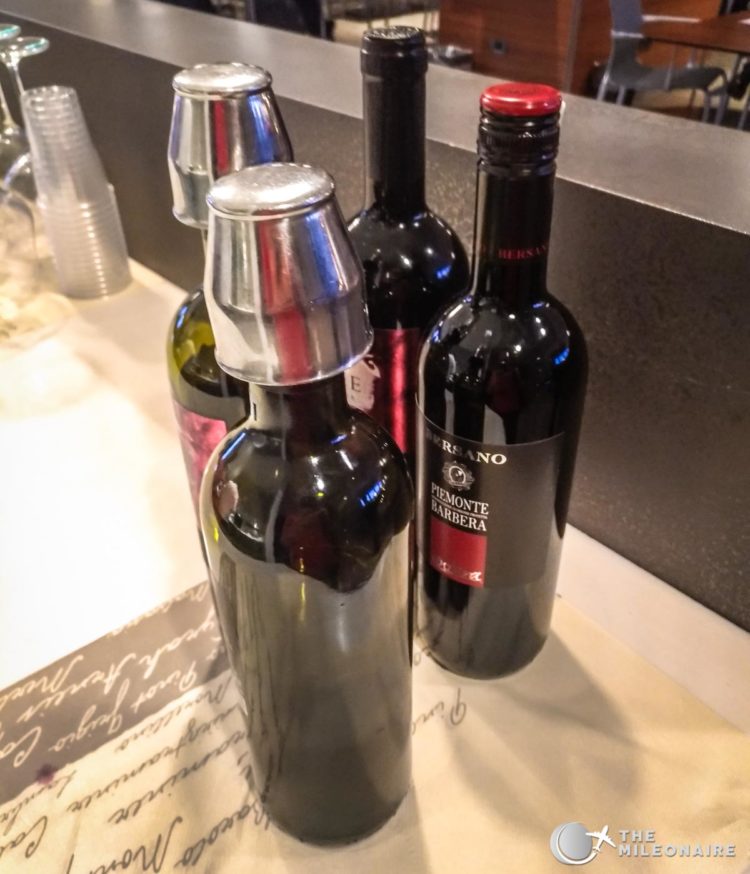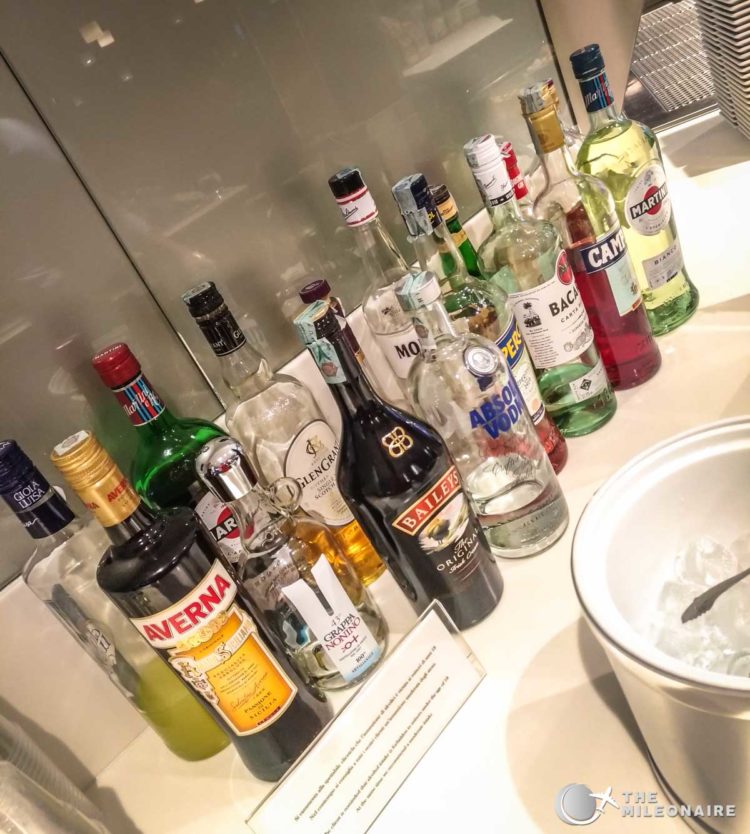 In the back of the lounge are additional rooms: there you'll find the shower rooms and toilets, a family room, a room for meetings,…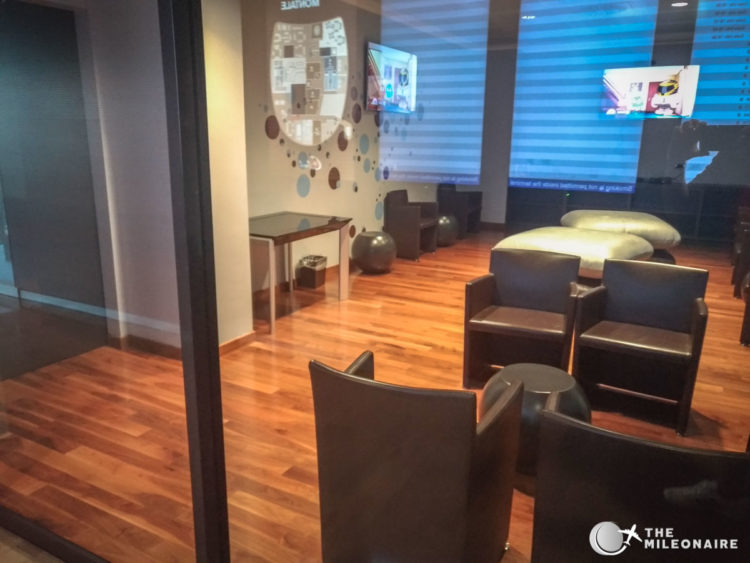 …a place to work (with multiple power outlets) and a smoking room: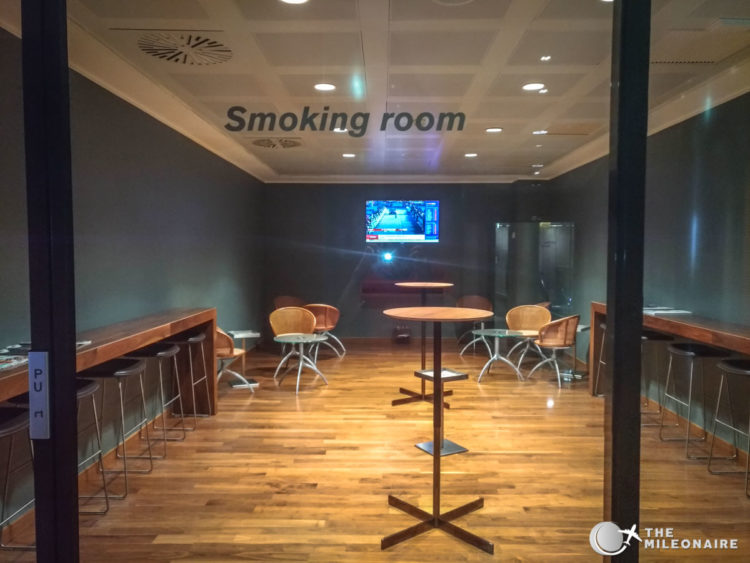 After around 90 minutes it was time for my flight, so I left the Sala Montale Lounge and went to my gate.
Conclusion: Sala Montale Lounge Malpensa
Solid, but too small – that's how I would conclude my review of the Sala Montale Lounge in Milan Malpensa. Lounge atmosphere, food, drinks, seating, view – all of that is definitely OK and offer enough possibilities to relax or get some work done. I would just avoid it during peak hours, as the Sala Montale can become very crowded. During regular hours it's definitely worth a visit though.