If there's a reason not to fly with Etihad, then it's the stopovers in Abu Dhabi: changing planes in the middle of the night in a very often cramped Terminal doesn't sound too tempting for passengers – and non-stop flights with other airlines suddenly feel way more attractive.
There is an oasis in the desert though, an oasis of champagne, relaxation and cold showers: the Etihad Business Class Lounge Abu Dhabi! After visiting the Etihad First Class Lounge last year, I now had the opportunity to visit its Business counterpart. Join me in my Etihad Business Lounge Abu Dhabi review to see for yourself if the stopover is worth it!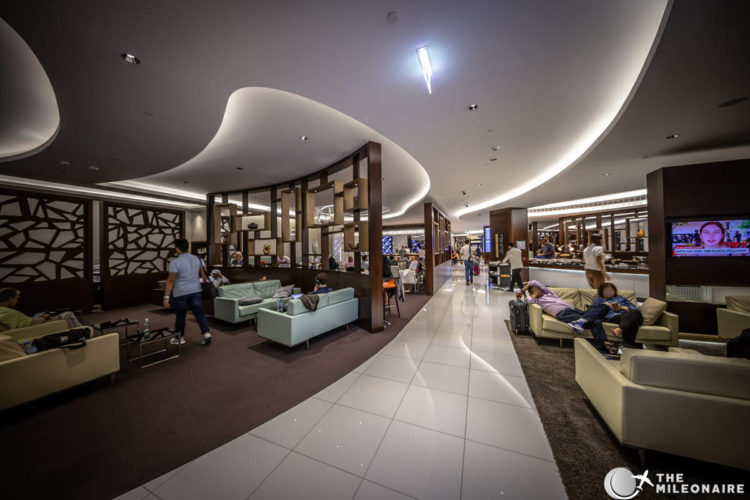 Terminal 1 or Terminal 3:
Which Lounge should I go to?
Etihad offers two business lounges in Abu Dhabi: one in Terminal 1 (where mostly short- or mid-haul flights depart) and one in Terminal 3. As the Etihad Business Lounge in Terminal 3 is way bigger and offers an additional Spa, you should (whenever possible) prefer it over its counterpart. That's why this review mostly covers the Etihad Business Lounge in Abu Dhabi's Terminal 3.
Etihad Business Lounge Abu Dhabi: Location
The Etihad Business Class Lounge Abu Dhabi is relatively easy to find: after security (that you have to go through during stopovers) you'll pass the duty free store and just keep to the left side. There you'll come to the long gangway of the terminal to the left where most of the gates are located. Just follow this direction until you reach Gate 31. On the left hand side is a small corridor that leads to the Etihad Business Lounge Abu Dhabi: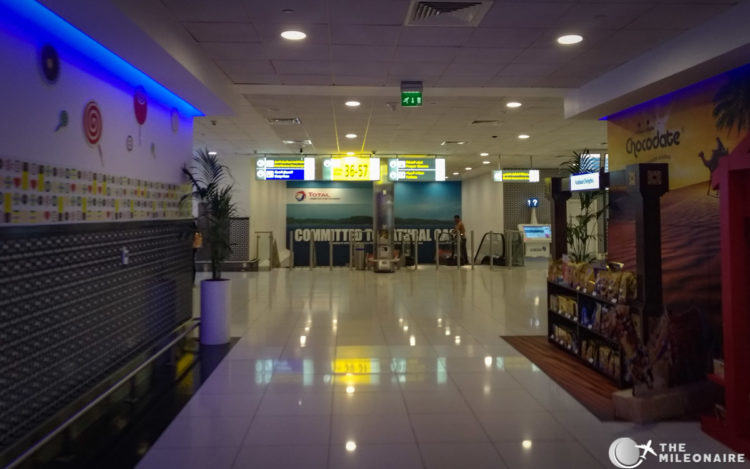 Don't worry, the lounge is easy to find – also due to the amount of signs in the terminal.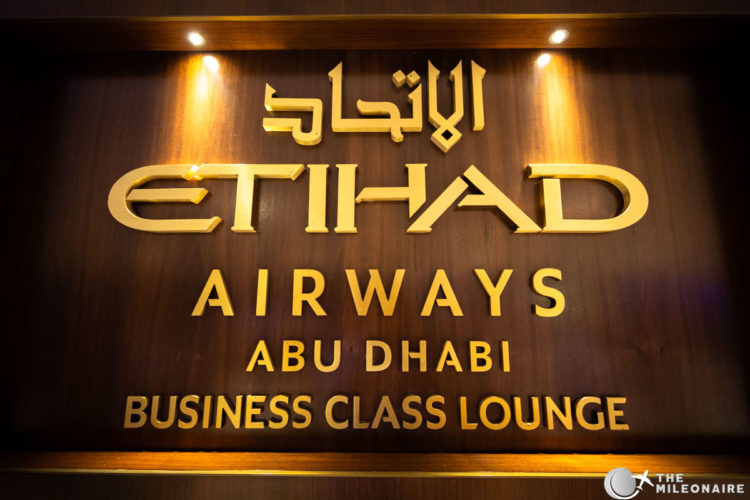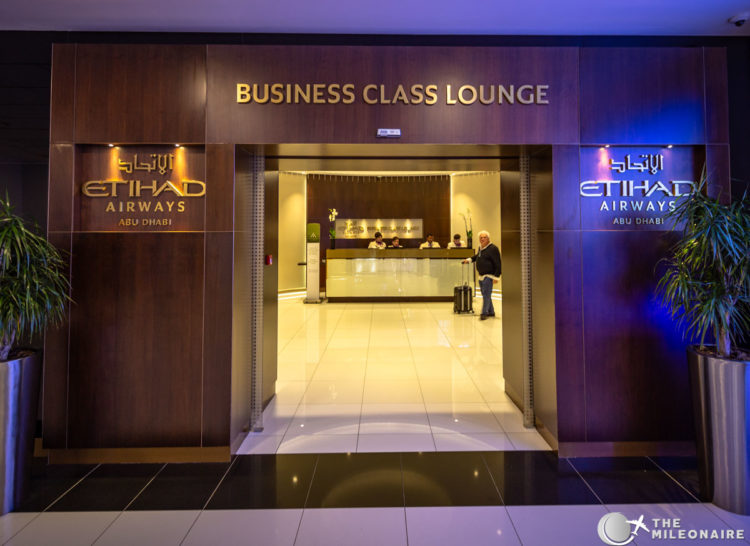 Lounge Access: Who gets in?
The following passengers are allowed to visit the Etihad Business Class Lounge Abu Dhabi:
Passengers in Business Class or First Class (even though I'd always go for the Etihad First Class Lounge in this case)
Passengers with at least the Etihad Gold Status (depending on availability, otherwise you'll have to go to the Al Reem Lounge)
Guests that pay an entrance fee (depending on availability, prices start at 100 USD for 2 hours)
The lounge is open 24 hours, so you can also use it during late-night stopovers which happen quite often in Abu Dhabi.
Etihad Business Lounge Abu Dhabi: Review
After showing my boarding pass in the entrance area I entered the lounge that seems huge at first sight: as every business passenger of every Etihad flight leaving Abu Dhabi is eligible to enter, the lounge has to accomodate a huge amount of passengers during peak hours.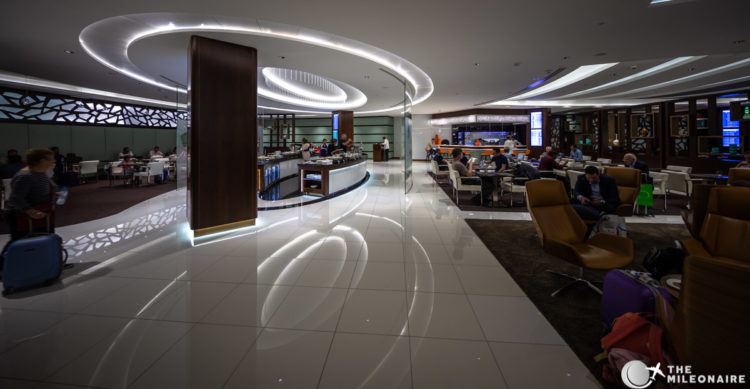 On the right side after the entrance you'll pass the concierge desk first, which was able to help me with several issues in the past. They're able to help with any question you might have about the lounge, or solve most of the problems you might have with your upcoming flight. If the size of the Etihad Business Lounge in Abu Dhabi confuses you, the concierge desk should be able to help.
There are also lots of signs throughout the lounge to help you navigate through it: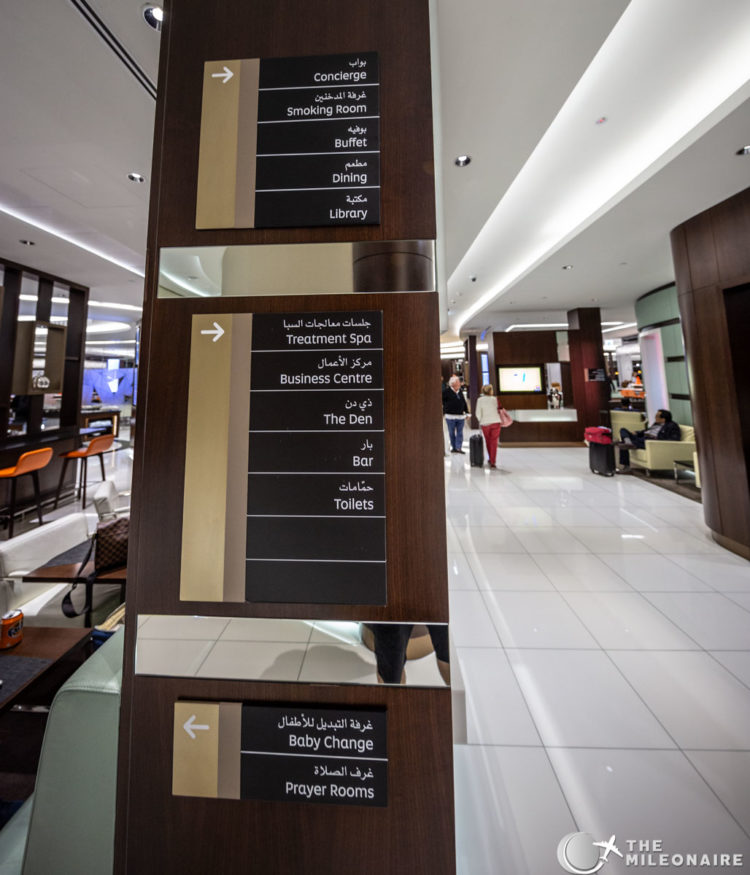 The lounge design is very well executed in my opinion. Even though some areas show a little wear here and there, the overall impression is good: white shiny tiles and brown carpets on the floor, and the dark wood panels on the wall reminded me of the Etihad First Class Suites. Some silver elements and art installations add some more class, and I prefer it over the gold that Emirates likes to use. There's also a huge window front for some natural light – but instead of some plane spotting you can only look at the airport hotel across the street (bummer).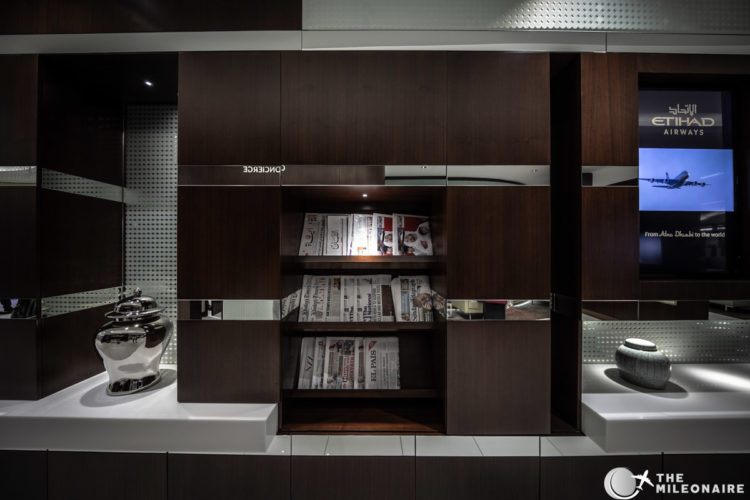 Most parts of the Etihad Business Class Lounge Abu Dhabi consist of various seating areas: depending on your preference you can either choose one of the comfy lounge chairs or couches, or the dinner tables near the food areas. I especially like the large chairs in beige leather.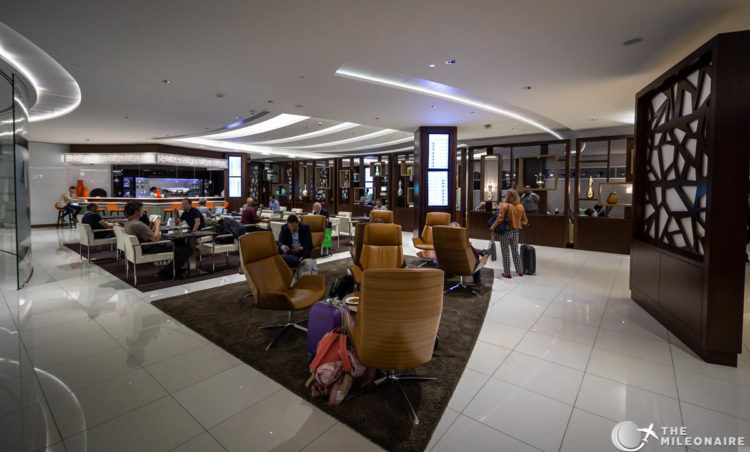 Talking about dinner: The lounge food that Etihad offers in this lounge is pretty impressive. There are three separate buffets that offer a multitude of different international dishes.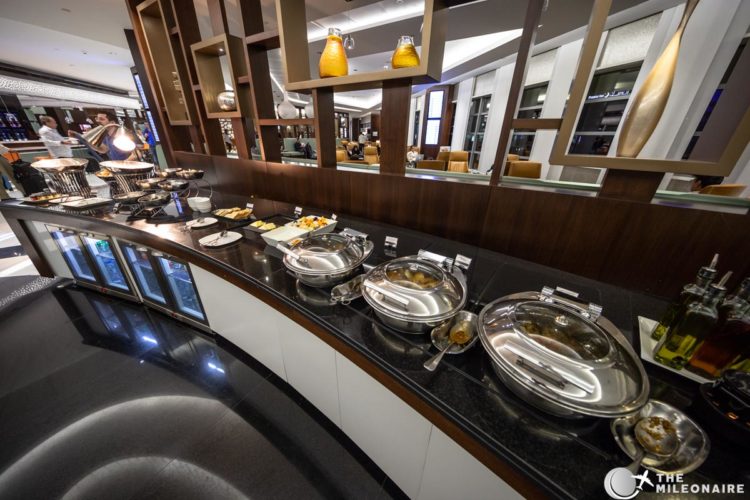 Two of these buffets focused on dinner when I was there, one on smaller snacks and desserts.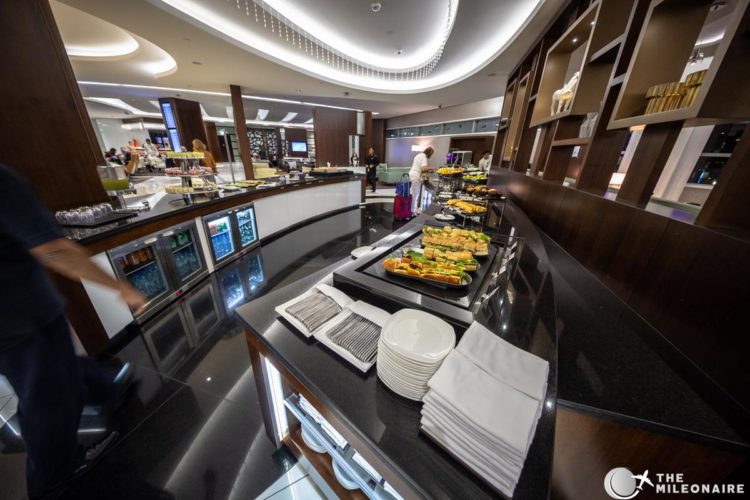 Also nice: The lounge offers a good selection fresh fruit, either cut as snacks or 'as-is':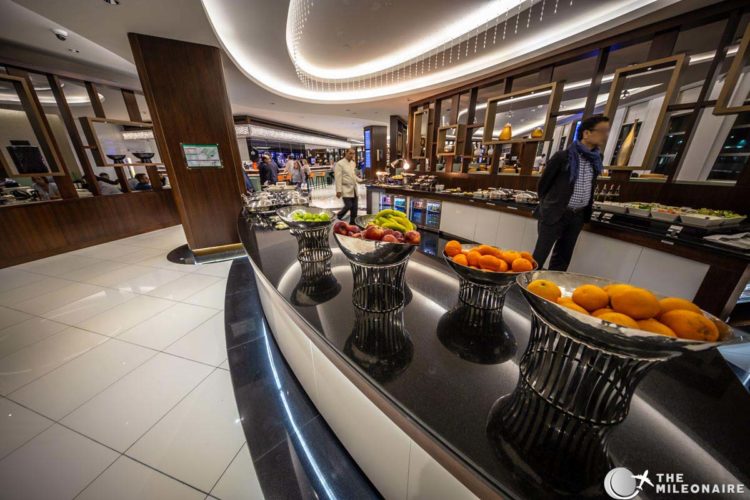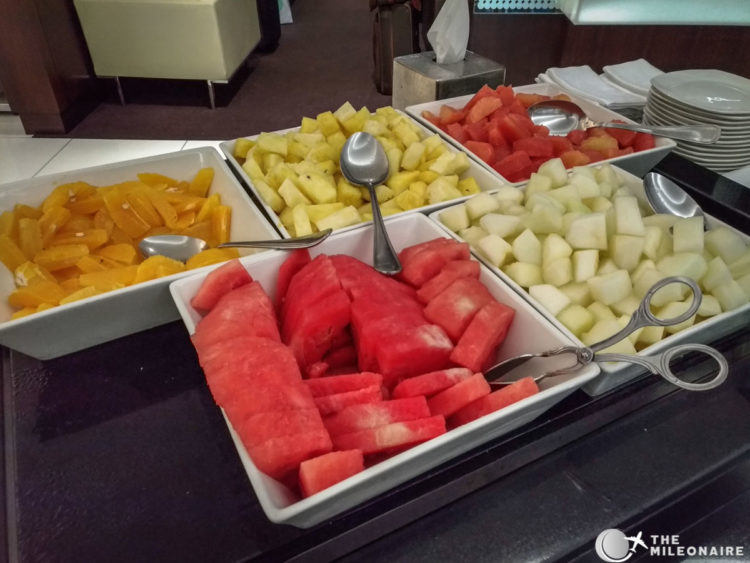 I especially liked the sheer amount of different food options the Etihad Business Lounge in Abu Dhabi offers. As Etihad has to cater to travellers from very different cultural backgrounds, it offers a very diverse food selection in the lounge. You'll find typical Western dishes, but also Indian currys, Arabic specialties and even Sushi: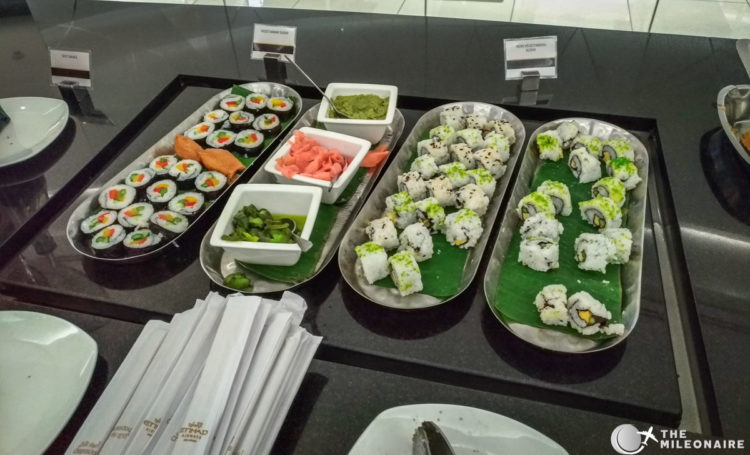 If you're craving for something sweet, there are plenty of options as well. My personal highlight (and recommendation!) is the excellent Lounge espresso.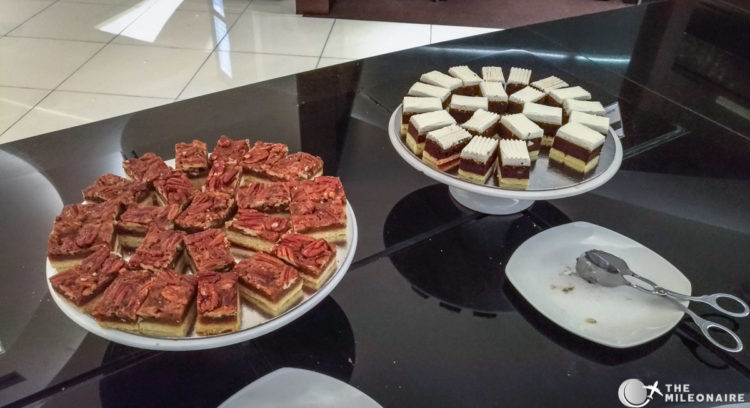 If you're thirsty in the hot desert, Etihad has that covered as well: there are two huge bars in the lounge, where the bar staff is happy to serve you champagne, wine, soft drinks and excellent long drinks or mocktails.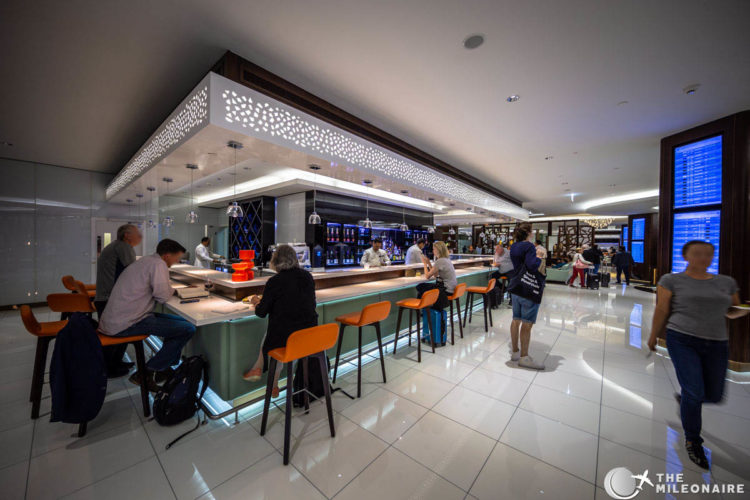 My personal highlight in the Etihad Business Lounge Abu Dhabi is the Spa Area though: once you enter the 'Six Senses Spa' you can either go for one of the various paid massage options, or just have a free shower. Especially the shower cabins are great, as there's nothing more refreshing after (and before) a long flight.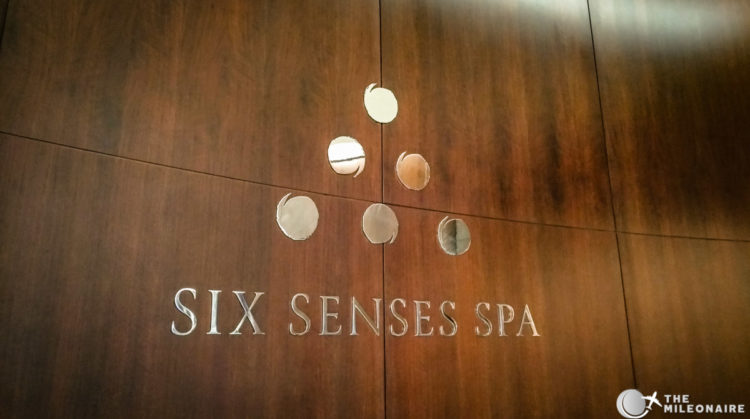 The shower cabins are very well maintained and pretty large: They offer a rain shower, a toilet and a basin, as well as enough space for your hand luggage. This is one of the areas where the Etihad Lounge excels: while e.g. the Emirates Lounge in Dubai only offers very basic showers, the Etihad cabins look and feel great. Also, they're perfectly clean and the staff is very friendly.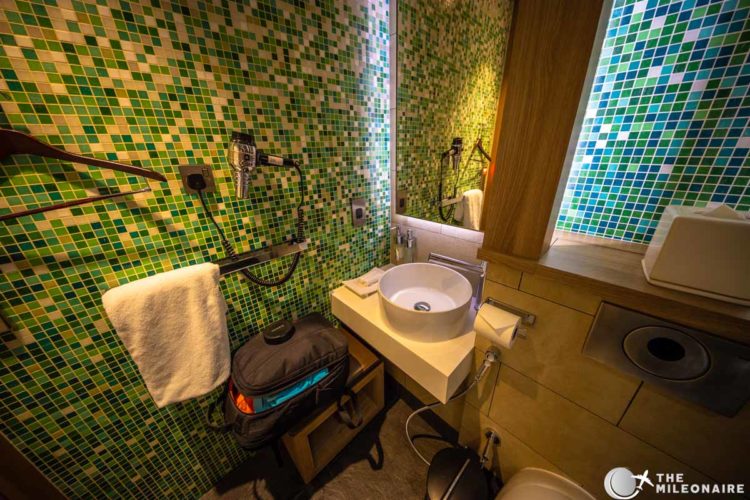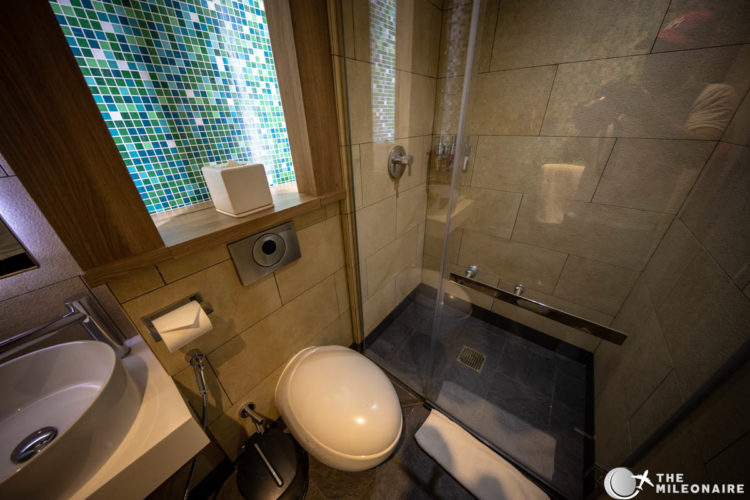 In addition the lounge also offer multiple other services that come in handy: a well-equipped business center with multiple Apple PCs, a smokers' lounge and even a daycare center for kids – which is great for parents (as they can get some rest) and all lounge visitors (as the lounge becomes quiter) alike. I mostly spend my time until boarding with a good glass of champagne and an espresso, relaxing in one of the comfy chairs. One piece of advice at the end: as Etihad uses a lot of bus gates due to the new terminal not being finished yet, you might need to get to your gate relatively early.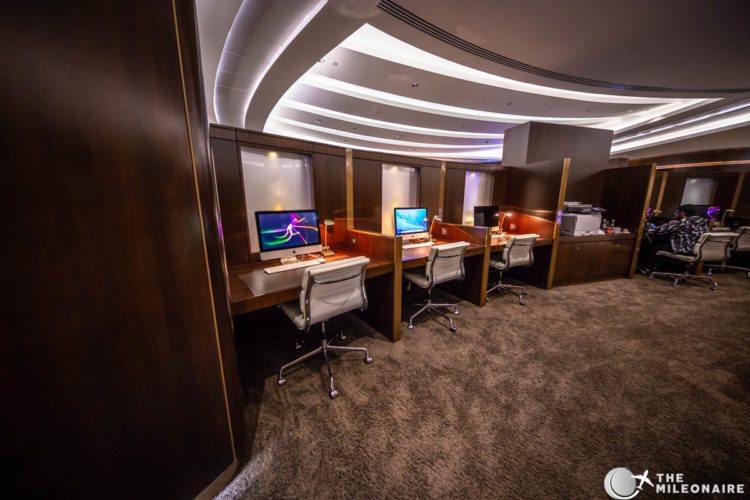 Etihad Business Lounge Abu Dhabi: Conclusion
Etihad's Business Lounge in Abu Dhabi is one of the lounges that has the biggest impact on my airline choices: I always know that the stopover in Abu Dhabi will be bothersome as you lose some hours and have to go through a very busy airport in the middle of the night. But: ever since the Etihad Business Lounge exists, this is a burden I'm happy to accept. The lounge offers excellent spa facilities, a great selection of food and drinks, and everything else you might need to be productive or relax. Sure – the Etihad First Class Lounge is still another step above; but the Etihad Business Class Lounge in Abu Dhabi is an excellent place to spend your valuable time.