When you're flying from Frankfurt to the world with Lufthansa, there are a ton of lounges available for you: from Business over Senator to the most luxurious First Class Lounges, anything is available if you booked the right travel class or own the right gold card. Frankfurt is the main hub for Lufthansa (ahead of Munich), so there are in total 7(!) Business lounges at Frankfurt Airtport alone, depending which gate your flight departs from and if its a Schengen or Non-Schengen flight.
As Frankfurt is my home base I wanted to give you a glimpse of Lufthansa's Frankfurt lounges (also dubbed 'Carsten's Potato Salad Paradise' among German flyers)!
Lufthansa Business Lounge Frankfurt: Location
Lufthansa' Business Lounges are scattered all over Frankfurt Airport – but the good signage throughout the airport should normally help you find your closest lounge. Here is a good map of the Lufthansa Lounges in Frankfurt (from a Lufthansa PDF):
These are the 7 Lufthansa Business Lounge locations in Frankfurt:
Gate A13 (Schengen)
Duty Free Area Z (Non Schengen)
Gate B44 (Non Schengen)
Gate B24 (Non Schengen)
C14/C15 (Non Schengen)
Gate C16 (Non Schengen)
Gate A26 (Schengen)
While Lufthansa's First Class Lounges are on another level, the seven Business Lounges are pretty much similar. For this report I chose the lounge at Gate B44 to show you what they're like.
Access Criteria: Who Gets In?
The following guests can access the Lufthansa Business Lounges in Frankfurt:
Lufthansa passengers in First Class or Business Class with a ticket on the same day
Star Alliance passengers in First Class or Business Class with a ticket on the same day
Guests with Miles & More HON or Senator Status and a Star Alliance ticket on the same day
Guests with Star Alliance Gold Status and a ticket on the same day
Lufthansa Business Lounge Frankfurt: Review
During my last visit I was flying with the Singapore Airlines Business Class (SQ25) to Asia, which normally leaves from Gate B46. The most convenient lounge for that departure gate is the Luftansa Business Lounge at Gate B44 as it's directly nearby. You can access it by going up the spiral staircase after showing your ticket downstairs: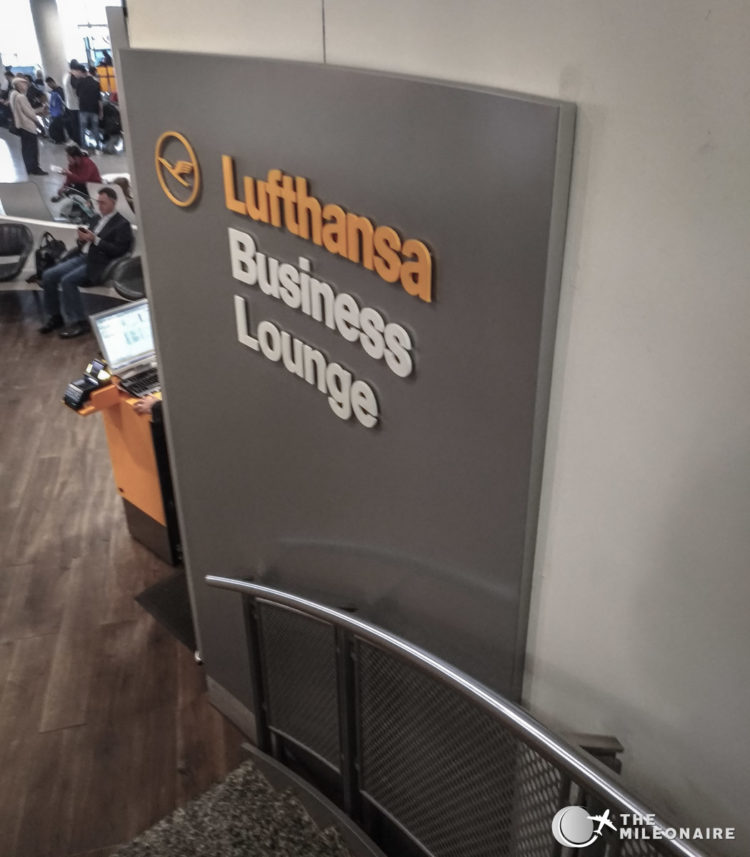 Once you're there, another very yellow entrance awaits you: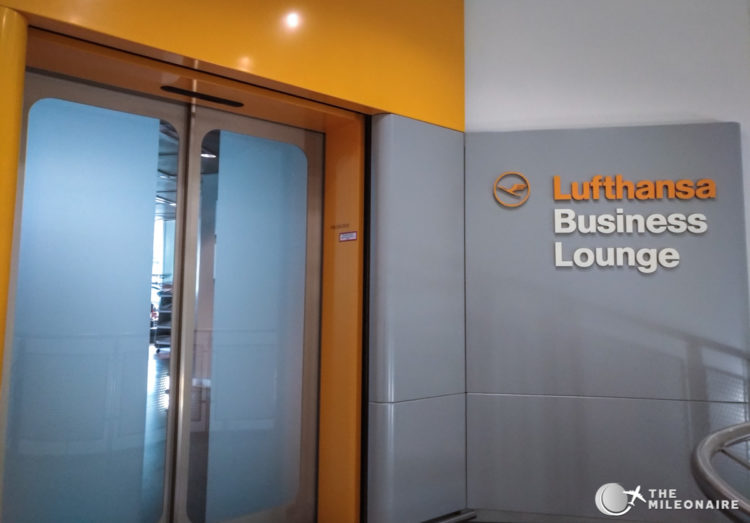 At the entrance are the world clocks by Glashütte, similar to the ones hanging in the Emirates Lounge Dubai. To the left is another info desk, to the right are some screens with the departing flights: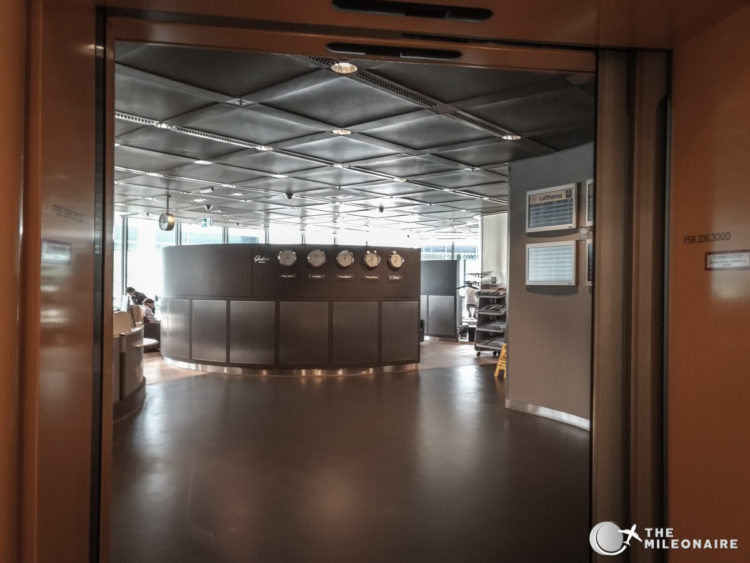 The Lufthansa Business Lounges in Frankfurt all look pretty similar: Big window fronts without a real view, bright wooden floors, leather chairs in beige/blue and lots of silver accents. I think it feels very sterile though and lacks character; when I visit a lounge in another country I would expect at least some local taste or design elements, and both are lacking in Lufthansa's super clean style.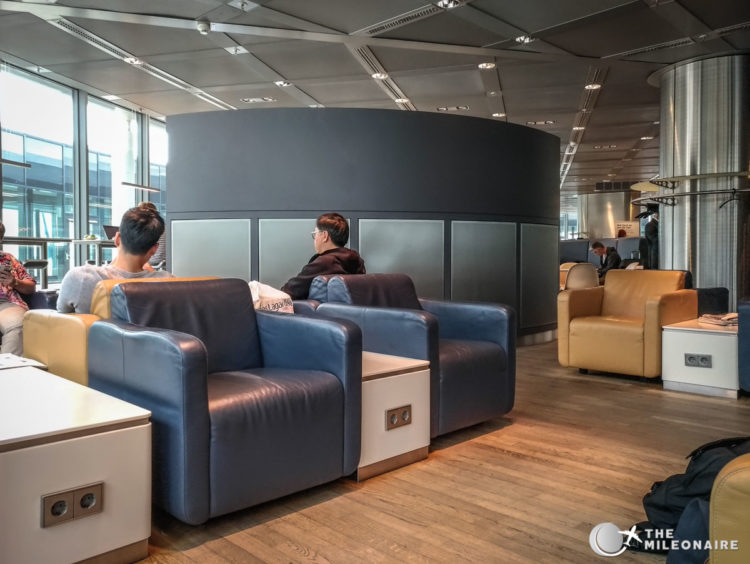 The lounge at Gate B44 is built like a circle around the staircase, and on your right (once you enter) is the buffet. The food selection is the typical Lufthansa standard and a bit limited – I did like the fresh fruit though, and the German bread and bread rolls.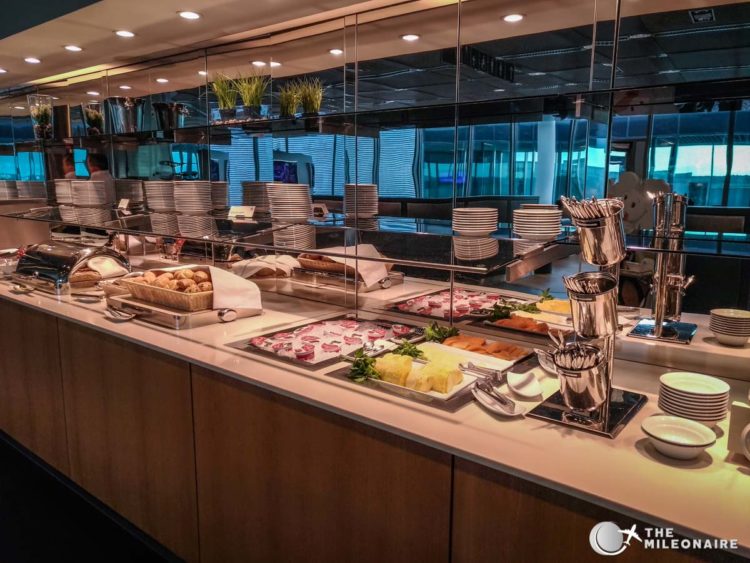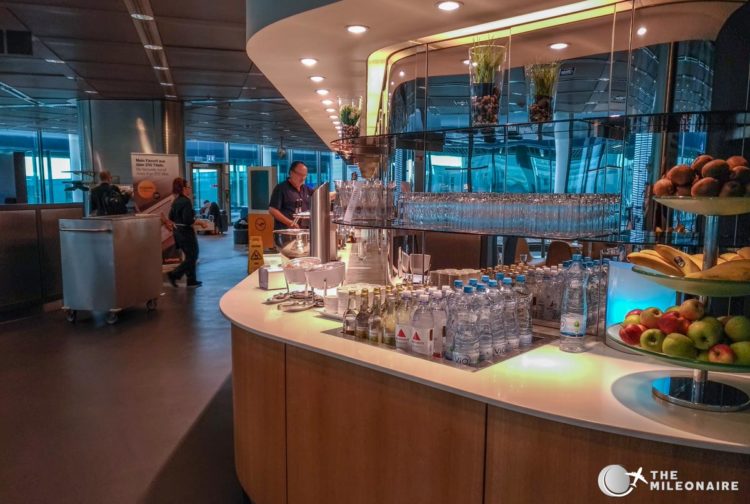 Softdrinks and beers (Becks, Franziskaner) are available on tap, and there's also a selection of wines, spirits and prosecco. Sometimes Lufthansa also offers a food station with a freshly made specialty, which at least adds a bit of a local flavor. But if you ever asked yourself what the most iconic food in Lufthansa lounges is, here you go:
When you've had enough potato salad and need to get some work done, there's a Business Center if you go further to the back of the lounge. There are some smaller PCs and power outlets for laptops und smart phones: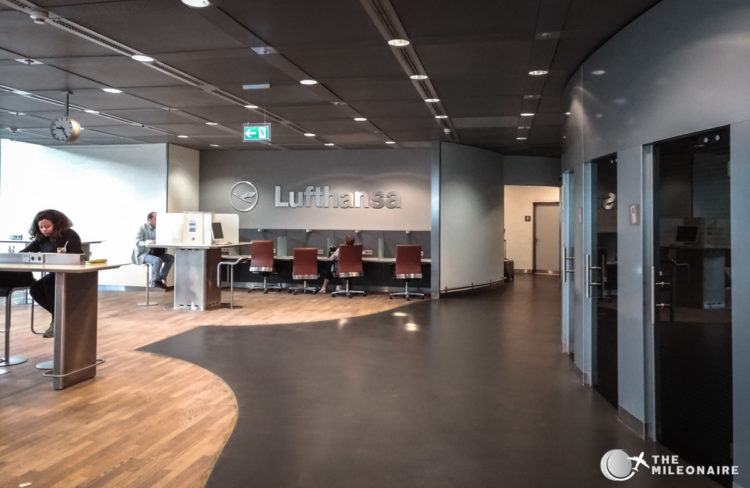 In the same area of the lounge are small cabins you can use for business calls: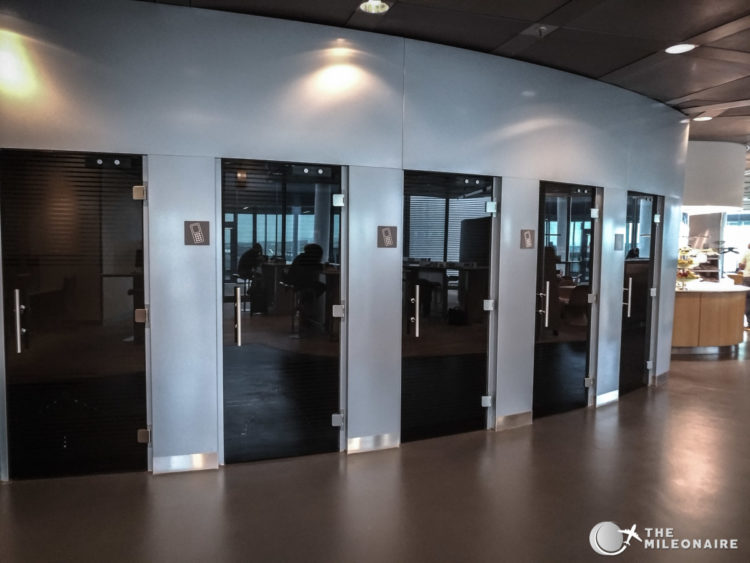 When you go even further down that corridor you'll reach the bathrooms and showers at some point. As I was on my legs for quite a while that day, I decided to grab one of the shower cabins (no waiting time back then). The cabins are perfectly clean and spacious: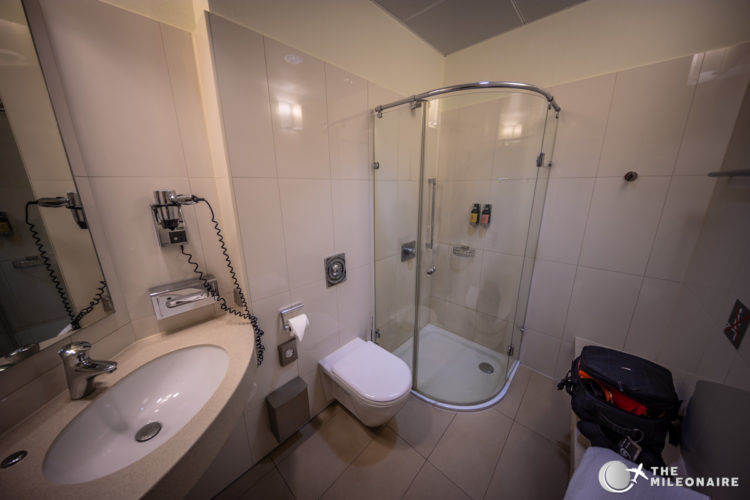 Sadly they also lack that 'special flair' that other lounge showers have – e.g. the ones in the Etihad Business Lounge with their fancy design and the luxurious amenities. The Lufthansa ones feel like hospital showers instead. I just feel like with a bit more love and dedication, Lufthansa could improve the guest experience a lotthe.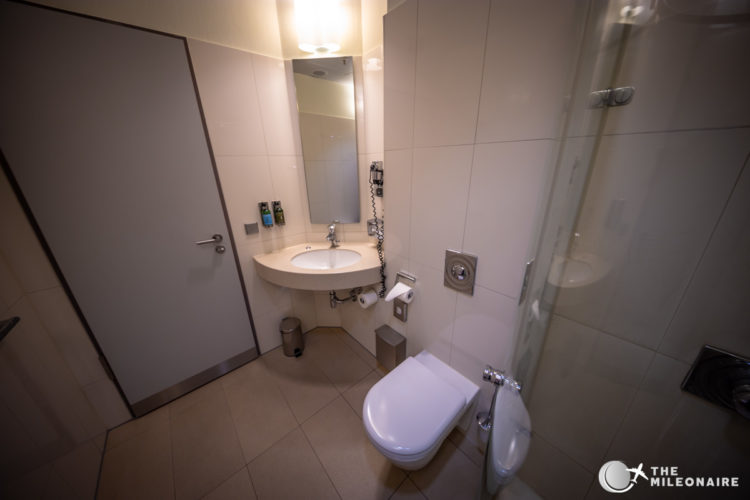 But at least the shower was super refreshing, and I grabbed my favorite newspaper from one of the multiple newspaper stands. With the right drink and the solid WiFi it's actually a very convenient and relaxed place to spend your time and get some work done.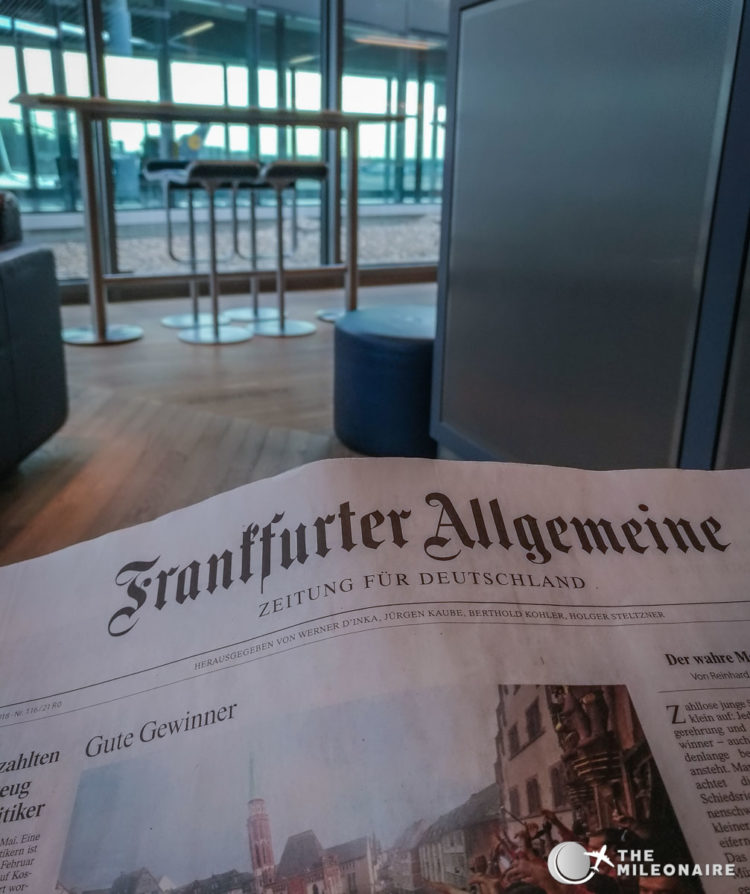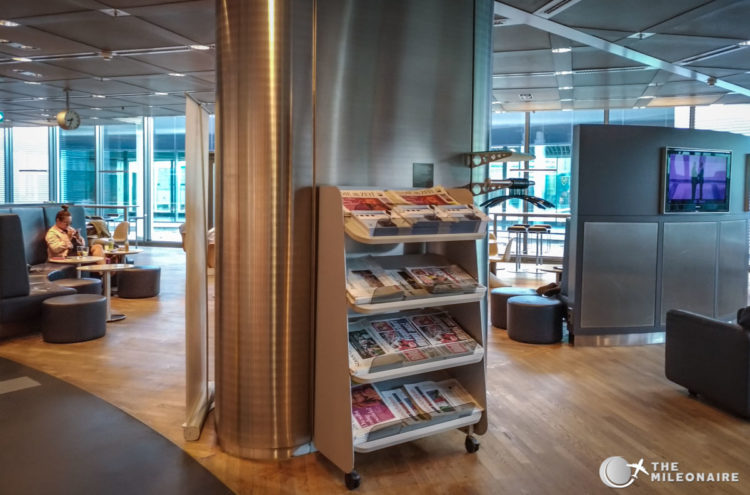 After that it was already time for boarding, and I went back downstairs towards my gate to catch my flight to Singapore!
Conclusion: Lufthansa Business Lounge Frankfurt
Solid, but that's it: The Lufthansa Business Lounges in Frankfurt offer what you would expect from a regular lounge, but nothing more – nothing that screams 'home base' or 'five stars'. Maybe with a little love and a new interior designer, Lufthansa could elevate their game and make their Lounges in Frankfurt feel more special. Don't get me wrong though – it's still a solid place to spend your time and relax.